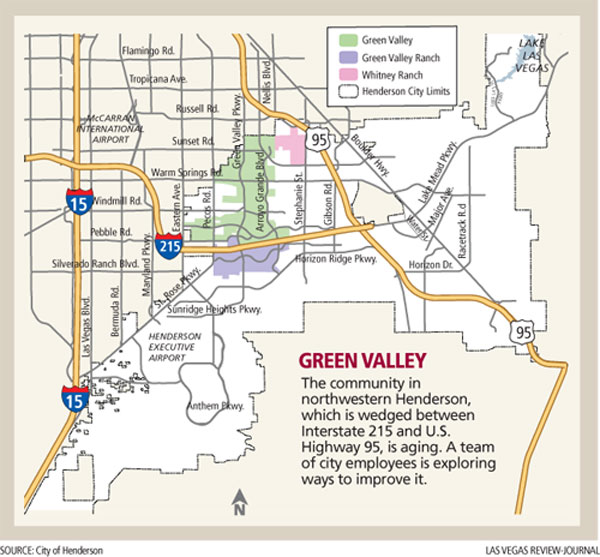 Green Valley, considered the first master-planned community in Southern Nevada, is turning gray.
On a recent morning, Henderson City Councilman John Marz drove around the community he has called home for the past 28 years. He pointed out weeds, dead trees, and block walls with water damage or paint that is peeling away.
"The original part of Green Valley, which is in my ward, is now getting old," Marz said.
The councilman, who was appointed to the Ward 3 seat in January, said his concerns about Green Valley prompted him to approach the city's Community Development Department for help in finding ways to maintain and enhance the quality of life in all of Henderson's "mature neighborhoods."
"There are neighborhoods that are starting to feel the wear and tear of their age," Marz said.
A team led by principal planner Scott Majewski has been identifying problem areas and researching solutions.
"It's not just block walls and landscaping," Majewski said. "It could be sidewalks, curbs, streets."
Marz suggested the team first look at major arterials and gateways into the city that have fallen into disrepair, then work inside the neighborhoods.
"Unless we as a city try to make these streetscapes and these entrances to our city nice, there's not a real incentive sometimes for the people in those communities to keep their properties nice," he said as he drove east on Warm Springs Road. During a 30-year career in marketing, Marz has traveled all over the country. He said his travels have taught him: "The only way you can keep neighborhoods good is to make sure they don't decay."
Decay is what Marz is trying to prevent in Green Valley, a once-upscale area in northwestern Henderson.
American Nevada Co., the real estate development arm of the Greenspun Corp., which owns the Las Vegas Sun, broke ground on the community in 1978. According to American Nevada's website, Green Valley "quickly became one of the most successful master-planned developments in the United States."
But time is taking its toll, particularly on block walls that line major thoroughfares such as Green Valley Parkway and Valle Verde Drive.
"The walls are a big problem," Marz lamented.
Trish Henshaw and her family recently rented a two-story house at 2344 Belvedere Drive. The home, built in 1984, has a block wall between its backyard and Green Valley Parkway. The wall has visible cracks.
"We've already approached our landlord about fixing it, because it wobbles," Henshaw said on a recent morning.
A few days later, she viewed the back of the wall up close for the first time. "Oh God, it's really bad," she remarked.
Devon Gibbs, a Las Vegas real estate agent whose mother owns the house, said he contacted Henderson officials after the Henshaws complained and was told the owner is responsible for repairing the wall.
"When we bought it, we didn't know that it was our responsibility," Gibbs said.
His mother bought the home in December as an investment. She paid $125,000 and spent another $25,000 remodeling it.
Gibbs said the biggest problem they faced with the block wall was that potential buyers thought it was too short to block out traffic noise on Green Valley Parkway. So they decided to take the home off the market and rent it.
Gibbs discovered another problem with the block wall and the walls of neighboring houses. "It's individual walls, and they don't tie together from property to property."
Gibbs, who manages his parents' financial affairs, said he would gladly pay the city a monthly fee to take over maintenance of the wall.
Despite the signs of aging, Gibbs still considers Green Valley a great place to live and a great place for homeowners to rent their property.
Green Valley, which is easily accessible by both Interstate 215 and U.S. Highway 95, commands higher rents than almost anywhere else in the Las Vegas Valley, Gibbs said.
He said Green Valley also appeals to investors because it has many areas, such as Belvedere Drive, without homeowners associations.
The lack of homeowners associations means less money out of pocket for investors, Gibbs said. But it also makes it difficult to improve neighborhoods.
According to city of Henderson records, Green Valley consists of about 3,800 acres, and about 58 percent of the community is covered by homeowners associations.
In most newer developments, Marz said, homeowners associations take over responsibility for streetscapes.
As he drove east on Warm Springs Road, he pointed left toward an area where homeowners associations have maintained the block walls and landscape along the sidewalk.
He then gestured to the right, where individual homeowners are responsible for maintaining the property. In that area, weeds and dead trees can be found in the patch of land between the sidewalk and block wall.
"You've got one side of the street that looks really nice and pristine, and this side of the street doesn't," Marz said.
He pointed out similar disparities as he drove north on Valle Verde.
"That's the difference between older developments and newer developments," the councilman said.
Newer design trends have led to larger areas of landscape between the streets and sidewalks, and between sidewalks and block walls. Those areas typically are maintained by homeowners associations. Some areas of Green Valley have no landscape buffers at all between walls and sidewalks.
On the west side of Valle Verde, beige paint is peeling away from the block walls. "This is a constant problem," Marz said.
He said volunteer groups have painted the walls several times.
"Personally, I'm not sure that painting them was ever a good solution," the councilman said.
Areas without homeowners associations also have inconsistencies, such as a lawn that reaches the street on one property, and a neighboring property that has a sidewalk between the front yard and street.
"I know that HOAs have had a lot of bad press in the last year and a half, but they really can perform a useful function in a community," Marz said.
Creating a homeowners association after a neighborhood is established isn't easy, city spokeswoman Kathy Blaha said, because it requires 100 percent approval from the homeowners.
Majewski said his team, which meets every other week, is reviewing the city's existing programs, as well as "best practices" around the country to come up with possible solutions. One of the group's goals is to find funding sources, such as federal or state grants.
The team has learned that Aurora, Colo., bonded $20 million for a neighborhood fence replacement program in 2003. Under the program, the city becomes the owner of the fence, and the residents are assessed a fee for construction and maintenance costs.
About four years ago, the city of Henderson offered low-interest loans to residents of Whitney Ranch, near Green Valley, when portions of block walls began falling down. Homeowners used the money to replace walls on Whitney Ranch Drive between Green Valley High School and Sunset Road.
"It really was a danger issue," Blaha said. "We had to close the sidewalk for a while."
When property deterioration leads to violations of the city's code, the spokeswoman said, city officials "like to work with the homeowners to bring them into voluntary compliance."
Majewski said his team also is working on informative brochures for residents.
The city's website already provides tips for proper maintenance of block walls, as well as instructions for volunteer groups that want to improve block walls. It also provides a "Neighborhood Leadership Toolkit" that offers tips for forming a neighborhood association.
Contact reporter Carri Geer Thevenot at cgeer@reviewjournal.com or 702-384-8710.
PROPER MAINTENANCE OF MASONRY BLOCK WALLS
When cared for correctly, masonry block walls can have a life span of up to 100 years. Follow these guidelines to protect your wall from damage caused by improper watering:
• Keep all water off your block wall. When using spray heads, make sure they face away from the wall.
• Maintain a ground slope sufficient for surface water to drain away from your wall.
• Plant landscaping at least 3 feet away from your wall to ensure that water from the drip system won't collect there.
• Make sure that all retaining walls are damp-proofed at time of construction.
• Never plant deep-rooted trees adjacent to a retaining wall.
• Consider replacing your grass with water-efficient landscaping that uses drip irrigation instead of sprinklers. You may qualify for the Southern Nevada Water Authority's Water Smart Landscapes Rebate Program. Call (702) 258-SAVE for details.
Source: City of Henderson