Toddler dies in Las Vegas after being left in hot car
Updated July 15, 2017 - 11:44 pm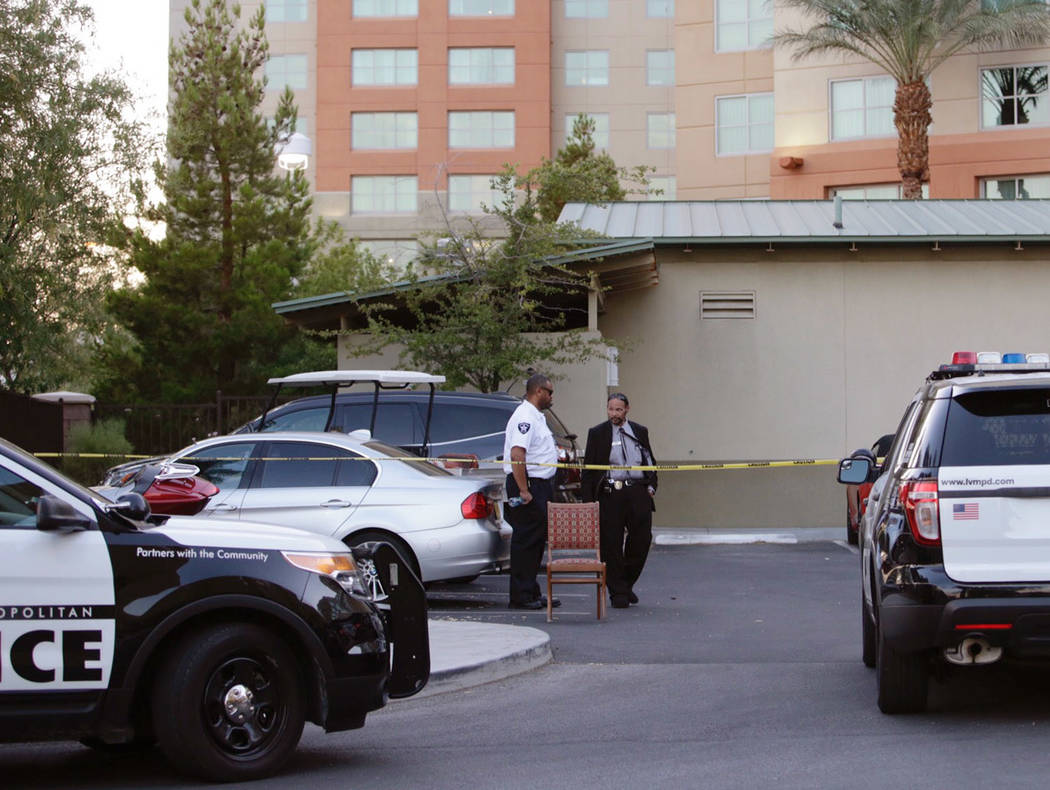 A 3-year-old boy died Saturday afternoon in Las Vegas after he was left in a parked car during triple-digit heat for at least an hour, the Metropolitan Police Department said.
Just before 5 p.m., police responded to reports of an injured child by the Grandview timeshare resort located at 9940 Las Vegas Blvd. South, Metro spokesman Lt. Carlos Hank said.
On arrival at the incident, officers determined that the 3-year-old was suffering from heat-related injuries after being left in a car, Hank said. The child was pronounced dead at St. Rose Dominican Hospital — Siena campus.
Metro Lt. Roger Price, who is with the department's special victims unit, called the boy's death "a tragic accident."
A large family was visiting from out of town and about a dozen children were with the group, he said. The family included relatives from different parts of the country.
The boy went unaccounted for, Price said. "Unfortunately by the time they figured out what had happened, too much time had already elapsed," he said.
Drugs and alcohol do not appear to be a factor in the incident, Price said, adding an investigation is ongoing.
While a reading was taken on the car's internal temperature, he said he didn't have that information available.
With the 114 degree highs, the car's temperature could have reached as high as 170 degrees, Price said.
The windows in the vehicle were up, and the child was in a car seat, he said. Price said the boy was in the vehicle for "an extended period" — at least an hour — but he couldn't specify exactly how long.
"Any amount of time in that environment can be deadly to a child," Price said.
Saturday's high temperature reached 114 degrees, tying the record set in 1949 for the date.
Price warned parents of the dangers associated with leaving children in cars, especially during the year's hottest months.
"Just take another minute to make sure you have everybody with you and then go about your day," he said. "Know where every child is."
The last time a child died after being left in a vehicle in Las Vegas was in August 2015, when 4-year-old Seth Franz was accidently left in a hot car for at least two to three hours. He was found unresponsive in the 4600 block of Welter Avenue, near East Sahara Avenue and Nellis Boulevard, according to police.
The boy's grandfather was running errands and forgot he was in the car, police said. Seth was taken to Sunrise Hospital and Medical Center, where he was declared dead.
Children should never be left in cars, even if a window is cracked open, according to The Centers for Disease Control and Prevention. Cars can quickly heat up to dangerous temperatures.
— To remind yourself that a child is in the car, keep a stuffed animal in the car seat. When the child is buckled in, place the stuffed animal in the front with the driver.
— When leaving the car, check to make sure everyone is out of the car and do not overlook children who have fallen asleep in the car.
The CDC also recommends wearing lightweight, light-colored, loose-fitting clothing; staying in an air-conditioned place as much as possible; and staying hydrated.
Contact Rachel Hershkovitz at rhershkovitz@reviewjournal.com or 702-383-0381. Follow @rzhershkovitz on Twitter. Review-Journal reporter Bianca Cseke contributed to this story.