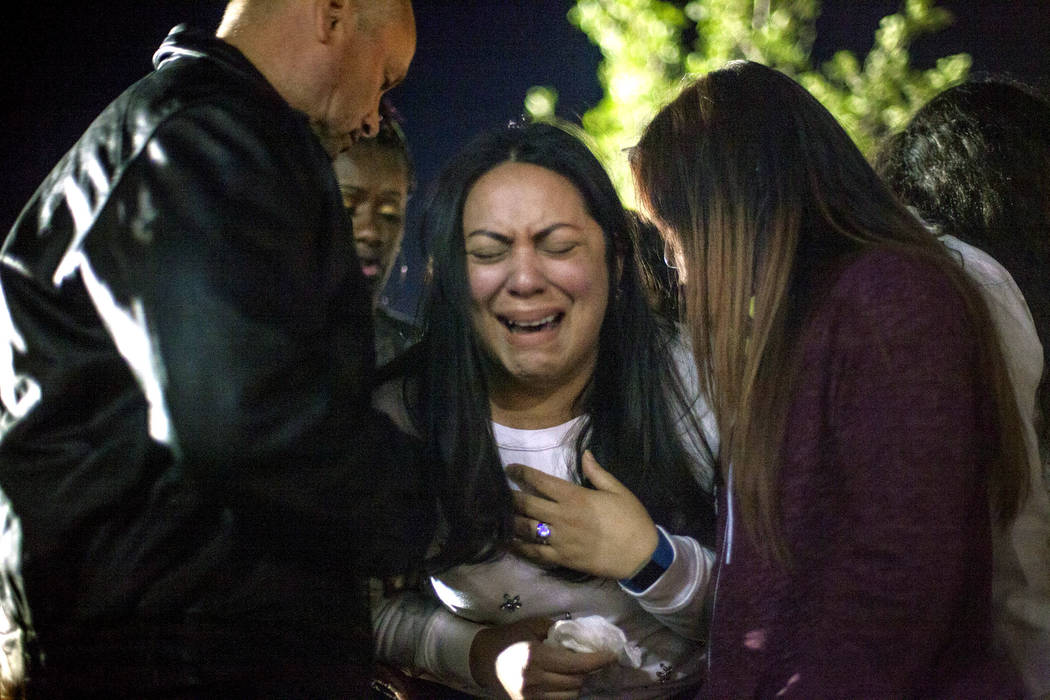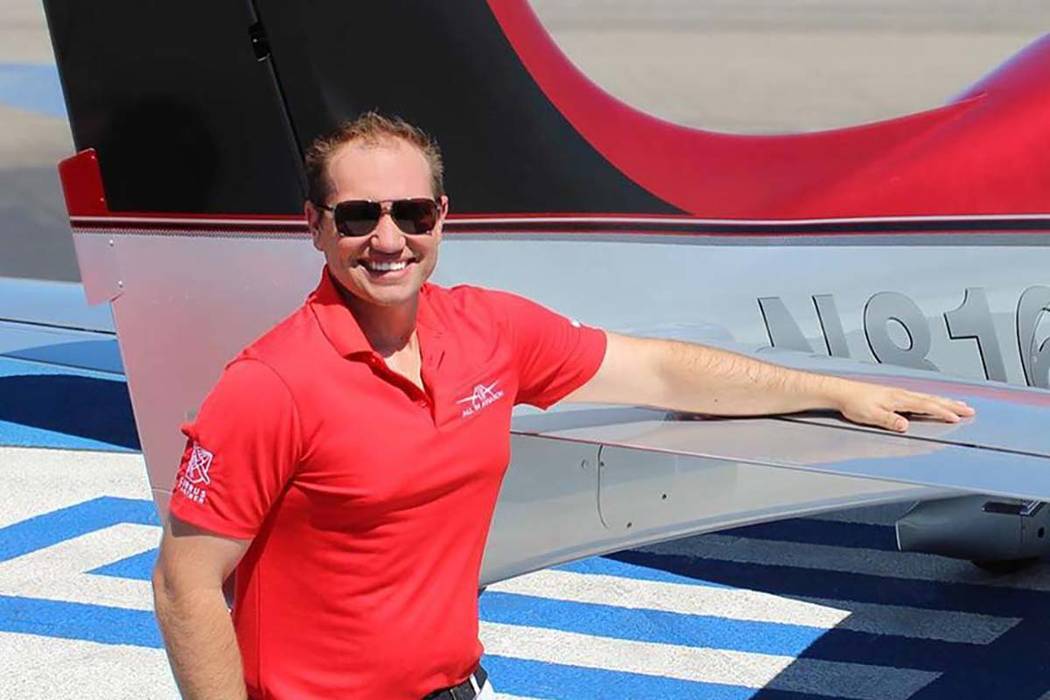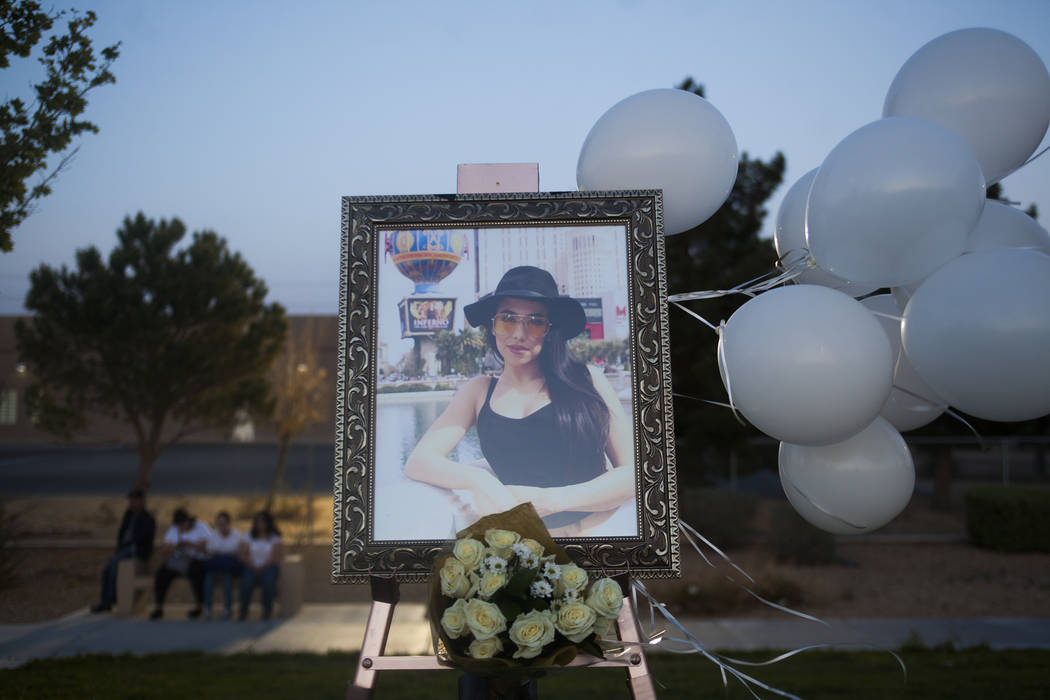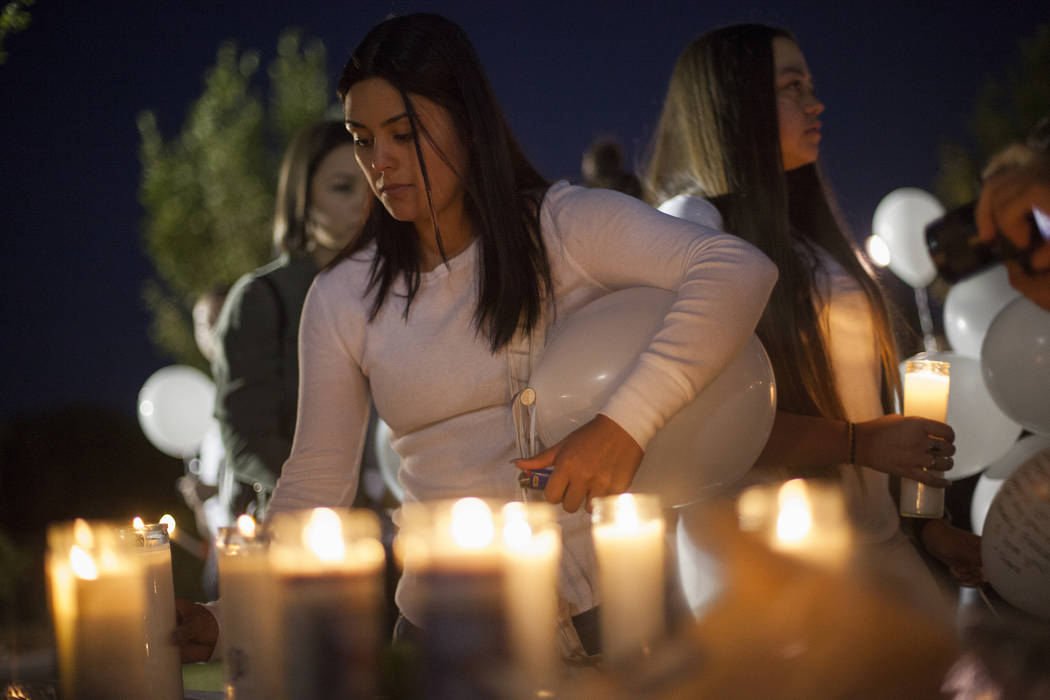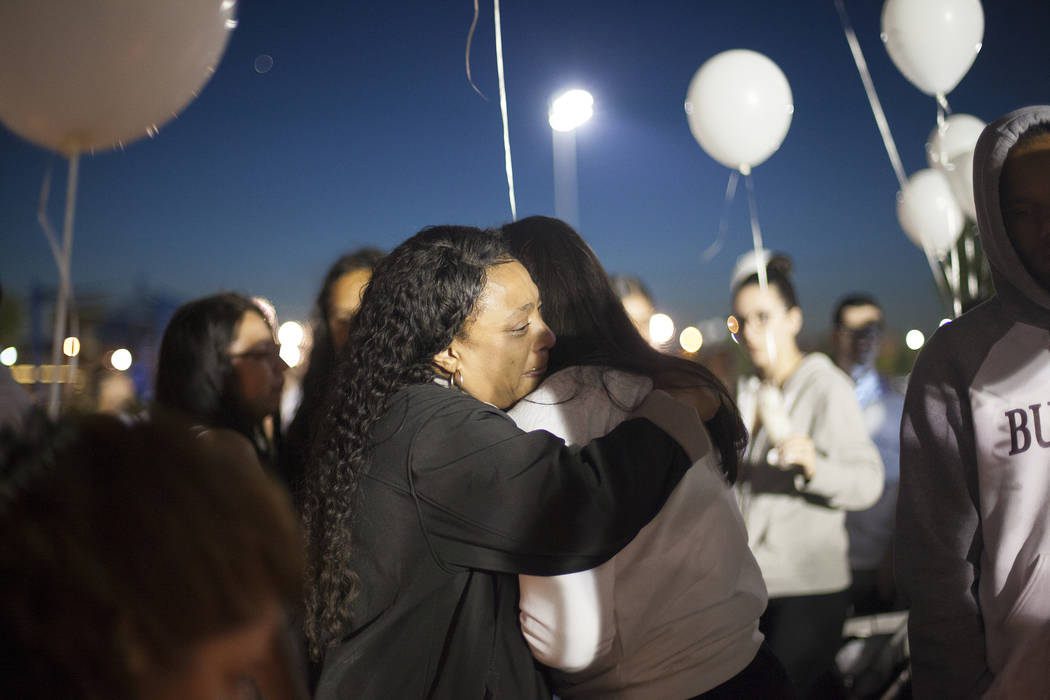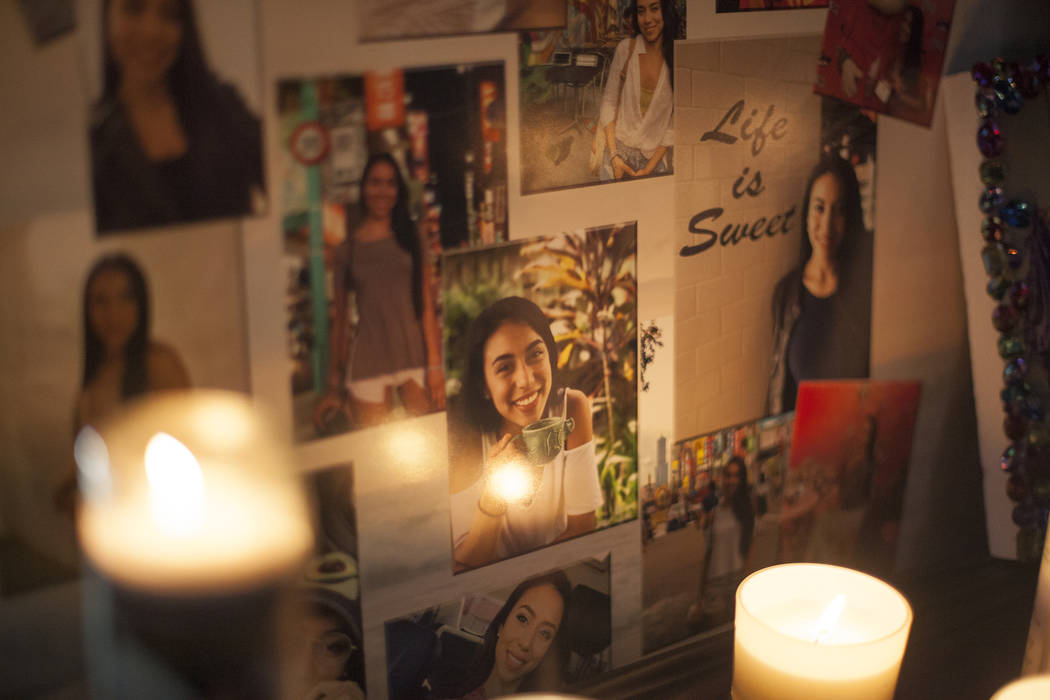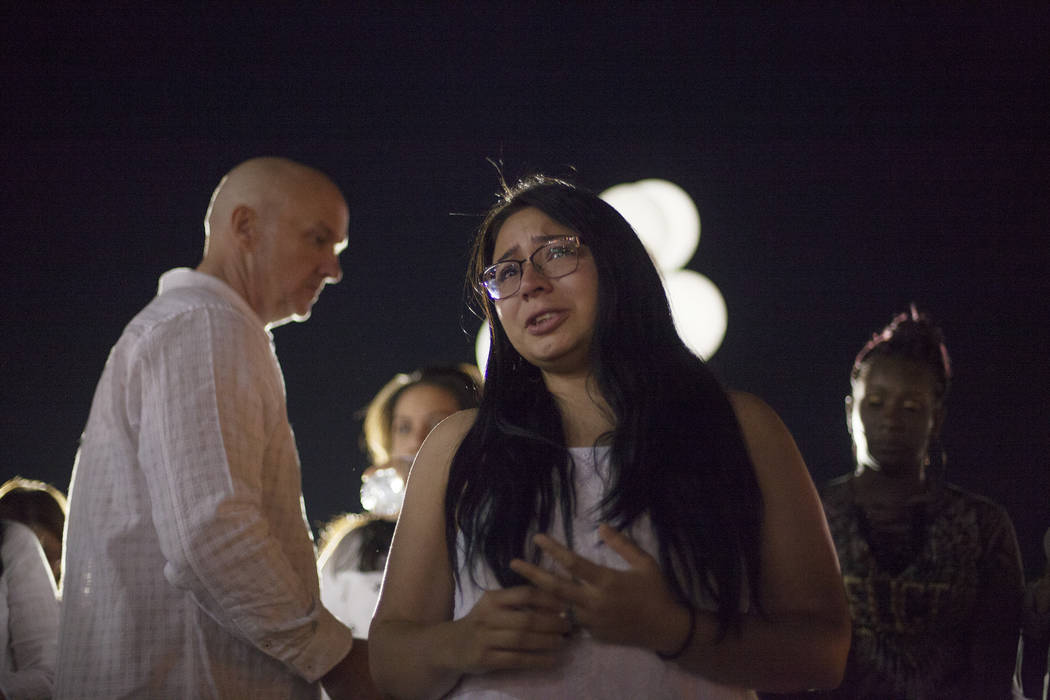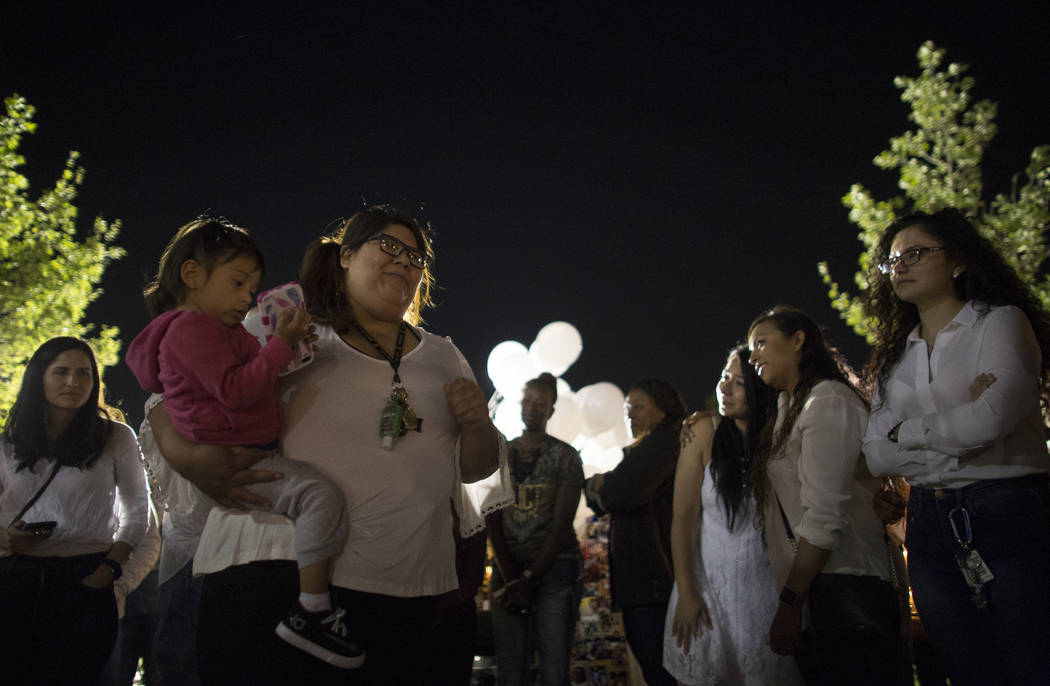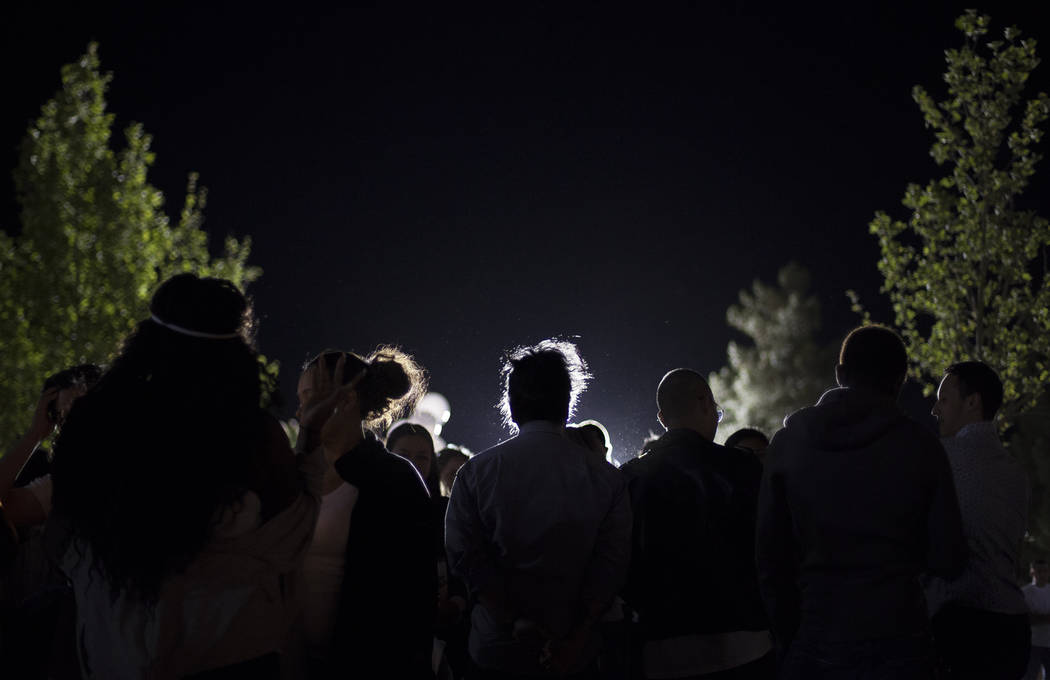 Loved ones gathered Friday night at a North Las Vegas park to remember a UNLV student killed in a plane crash in a Phoenix suburb this week.
Friends and family of Helena Lagos, 22, shared their love and memories at Tropical Breeze Park, near Tropical Parkway and Bruce Street. Lagos was one of six people killed when a Piper PA-24 Comanche crashed on a Scottsdale, Arizona, golf course Monday night.
Many in attendance wore white, matching the color of the balloons they released in honor of Lagos. Several wrote messages such as "Te amo" (I love you) or "I already miss you" on the balloons.
"I can tell you that Helena is seeing all of this," her stepfather, Kash Christopher, told the crowd of several dozen, pausing to wipe tears from his eyes.
Christopher married her mother, Elena Pineda, about 12 years ago. After about a year, he wasn't stepdad anymore; he was just dad, he said. Helena had the drive to be a businesswoman her whole life, Christopher said, and she ran her own import and export business, Rebel Fruits.
At age 8 in her native Honduras, the future international business student at UNLV started selling doughnuts and avocados to raise money to buy a flip phone, Christopher said.
"That's how she's always been," he said.
When she was 14 or 15, her dad joked she should become a doctor to help take care of her parents in their old age. Her reply was dead serious.
"When I make my first million by the time I'm 25, I'll get you the best health care in the world," she told him.
At 19, Lagos invented a portable device that reminded people to take medication. She has a patent pending, Christopher said.
A fashion photographer, Roger Talley, remembered Lagos for her radiant presence and how she helped out her mother with fashion shows she hosted. People felt better simply by being around her, Talley said, and she was always supportive of others.
"There aren't very many people like that," he said.
Before the balloon release, Cami Flowers wrote, "Continue to soar, we love you" on her balloons. She met Lagos through her mother but came to know the bubbly, funny woman as an inspiration.
"She just always made me laugh," Flowers said.
'Aviation in his blood'
Erik Valente, one of the six people killed in the crash, was a Las Vegas-based pilot who had been flying for half his life.
Paul Sallach, president of All in Aviation flight school and Valente's boss, remembered the 32-year-old as a wonderful person and an experienced pilot.
"He was born with aviation in his blood," Sallach told the Las Vegas Review-Journal on Friday.
Another victim, James Louis Pedroza, 28, also was from Las Vegas.
According to a pilot biography page on All in Aviation's website, Valente, who was independently contracted by the school, began flight training when he was 16 at Rancho High School's aviation academy. He received his private pilot certificate before he graduated.
Valente's Facebook profile also shows he has worked as a corporate jet pilot since 2014 and studied aviation management at the University of North Dakota. He also was an Eagle Scout, his family said.
A memorial for Valente is set for 2 p.m. April 21 at Green Valley Baptist Church, 270 N. Valle Verde Drive. In lieu of flowers, donations can be made to Boy Scouts' Las Vegas area council or on his GoFundMe page.
The cause of the crash is under investigation.
"It's a tragic loss, and we're all waiting for answers," Sallach said.
The three others killed in the crash have been identified as Mariah Sunshine Coogan, 23; Anand Anil Patel, 28; and Iris Carolina Rodriguez Garcia, 23.
Contact Mike Shoro at mshoro@reviewjournal.com or 702-387-5290. Follow @mike_shoro on Twitter. Contact Rio Lacanlale at rlacanlale@reviewjournal.com or 702-383-0381. Follow @riolacanlale on Twitter.