Vegas chimp having fun in retirement
August 31, 2014 - 2:16 pm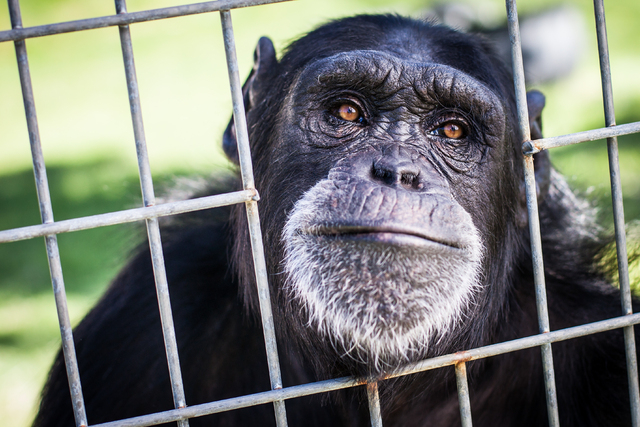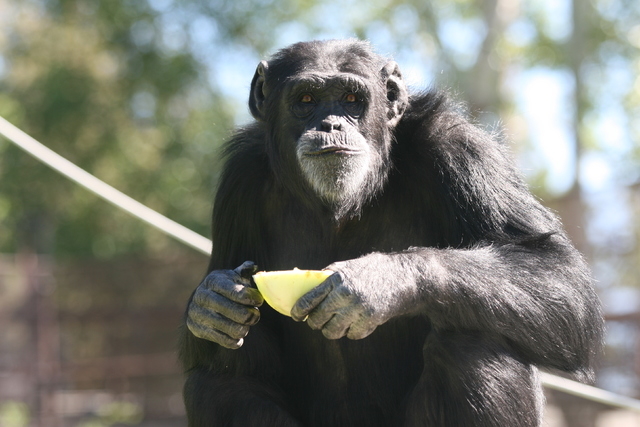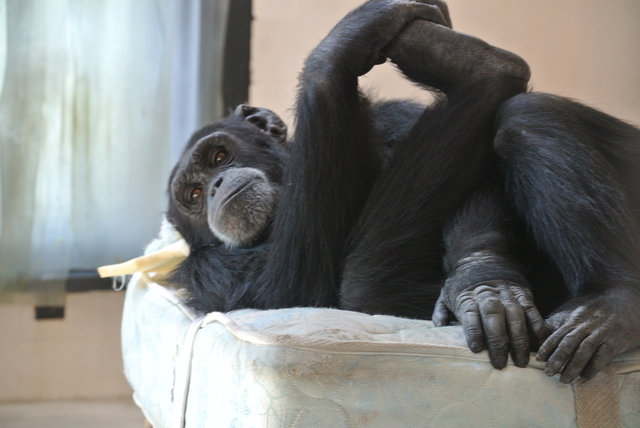 A natural curiosity led to disaster when two chimpanzees escaped from their northwest Las Valley Valley home two years ago, but now the surviving primate is loving her life at an Oregon sanctuary.
The chimps, named Buddy and Calamity Jane, or C.J., belonged to Nikki Grusenmeyer, formerly Nikki Riddell, a longtime exotic animal owner and trainer in Las Vegas who had owned the chimps since the early 2000s.
Neighbors phoned police in July 2012 after seeing the chimps wandering the neighborhood around their enclosure in the 5700 block of Rowland Avenue, near Jones Boulevard and Ann Road.
Chimpanzees can be as dangerous as they are adorable. They engage in aggressive behaviors, such as biting, in nature, and with five times the strength of a human, an adult chimp can make for a dangerous pet, according to the Jane Goodall Institute.
In 2009, a 200-pound pet chimpanzee went berserk and ripped off Charla Nash's hands, nose, lips and eyelids before being shot and killed by police in Connecticut.
Buddy was shot by Las Vegas police after he ran toward a group of onlookers, and, a month later, C.J. escaped a second time. Clark County officials decided she needed to find a new home.
"She's just so darn curious," said Marla O'Donnell, sanctuary director for Chimps Inc.
O'Donnell flew out right away to begin transporting C.J. to the nonprofit's sanctuary in Bend, Ore.
"She was really nervous at first, and she wasn't used to the chimp diet," O'Donnell said.
C.J. wasn't sure how to handle the six other chimps she'd be living with, and she lived the first 13 years of her life on human food. Her diet was gradually adjusted to fresh produce, much of which is stashed around the compound so the chimps can forage.
"But now she's lost a lot of her chubby weight," O'Donnell said. "She's very socially adjusted."
Now C.J. spends her days at the nonprofit's haven for chimpanzees, which features a 40-foot climbing structure.
"It's run a lot like a daycare is run," O'Donnell said. "You have to keep them busy or they get in trouble the way kids do."
After breakfast and a dose of vitamins, the chimps brush their teeth while caretakers prepare their play area, which includes an iPad station.
"She is the absolute master of the iPad," O'Donnell said.
C.J., who also loves to paint and explore, plays a game called "Chase the Mouse," which was actually made for cats and rewards players with enough hand-eye coordination to squash mice with points.
After lunch, the chimps have behavioral training. Caretakers check the primates behind the ears and look at their teeth.
"It's just a way for them to participate in their health care management," O'Donnell said.
A few hours after dinner, the chimps get a treat and watch TV until bedtime.
Because it is an accredited sanctuary, Chimps Inc. is not open to the public.
"The chimps have been exploited most of their lives, and this is their retirement," O'Donnell said.
C.J. turned 15 this year. O'Donnell said chimpanzees can live to about 60 years in captivity.
For more information and to see photos and videos of C.J. and the other chimpanzees, visit chimps-inc.org.
It costs $1,200 per month to care for each chimp. The nonprofit does not receive any federal grants and relies on donations.
Contact Wesley Juhl at wjuhl@reviewjournal.com and 702-383-0381. Find him on Twitter: @WesJuhl.