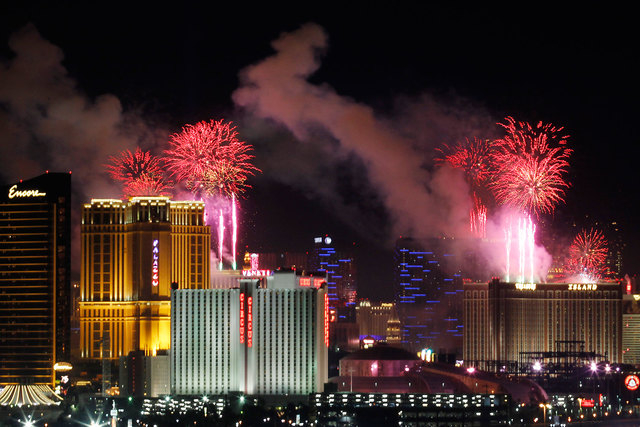 Over 160 fireworks per second will burst in the Las Vegas skies over the Strip to welcome in 2015.
And as usual, the main New Year's Day event will be America's Party on the Strip. More than 30,000 electrical circuits will fire roughly 80,000 loaded pyrotechnic devices on the rooftops of seven casino-resorts: the MGM Grand, Aria, Planet Hollywood, Caesars Palace, Treasure Island, The Venetian and Stratosphere.
The fireworks, coordinated and choreographed to music by Fireworks by Grucci, will last approximately eight minutes and eight seconds. Mariah Carey's version of "Auld Lang Syne" will play first, followed by Whitney Houston's iconic take on the "The Star-Spangled Banner." The national anthem, written by Francis Scott Key in September 1814, turned 200 this year.
"We wanted to include a tribute to the original poem," Phil Grucci, president and CEO of Fireworks by Grucci, told the Review-Journal on Thursday. "People are going to like what they see."
Grucci's 2015 fireworks show, themed "Don't Stop the Party," will continue to the tunes "Girl on Fire" by Alicia Keys, "Counting Stars" by One Republic, "Burn" by Ellie Goulding and conclude with – of course – "Don't Stop the Party" by Pitbull.
"I'm from New York and I've been to many places, but I can honestly say there's no better place to party on New Year's than Las Vegas," Grucci said.
Off the strip, Fremont Street Experience will host the Downtown Countdown New Year's Eve 2015 Celebration. The theme, TributePalooza, will include performances from 13 of what organizers call "the world's greatest tribute bands," paying homage to the likes of Aerosmith, Queen, Duran Duran, and Van Halen.
Most Las Vegas nightclubs have their own New Year's Eve parties planned, as well. Maroon 5 and Lady Gaga are among several concerts scheduled for Strip venues.
With over 340,000 people expected in Las Vegas for one of the world's largest New Year's Eve parties, visitors should take caution and plan ahead.
People driving to the Strip should arrive early, park outside the road closures and walk. Doing so will make it easier to get in and out when the celebration is over.
Those younger than 18 won't be allowed to stay on the Strip after 9 p.m. because of curfew, unless they are accompanied by a parent or legal guardian.
Last year, Las Vegas police also set up a text messaging system for the public to obtain information on traffic updates, road closures and reopening information starting at 4 p.m. on New Year's Eve.
Though Metro spokesman Jesse Roybal said plans for this year's text line will not be made final until next week, Metro encouraged users to text "info" to (702) 800-6776 for live updates on Dec. 31, 2013.
Contact reporter Chris Kudialis at ckudialis@reviewjournal.com or 702-383-0381. Follow him on Twitter @kudialisrj