Vigil to remember homeless who died in 2011
December 15, 2011 - 2:00 am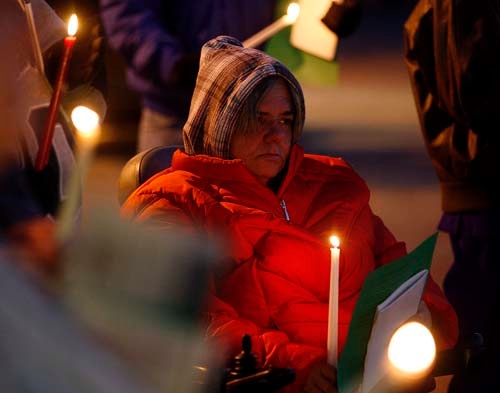 One died after being severely burned in a trash bin fire.
Another committed suicide in a vacant lot.
Two were victims of homicide.
The list of the 50 homeless people who died in Clark County this year is a grim reminder of the brutality of life — and death — on the streets.
"It brings tears to my eyes every year," said Linda Lera-Randle El, longtime director of the Straight from the Streets homeless outreach program. "There's so much sickness out there."
Each December since 1996, Lera-Randle El has organized a vigil to memorialize homeless people who died during the year. This year's vigil will be at 4 p.m. today outside HELP of Southern Nevada, 1640 E. Flamingo Road, near Maryland Parkway. It is open to the public.
The event not only draws attention to homelessness in the valley but also lets those living on the street know that somebody cares, Lera-Randle El said: "Everybody deserves to be remembered."
The holidays are an appropriate time to do that, she said.
"If you're with the spirit of the season, praying for a better life for others falls right in line with that," she said. "It's the time of year for new beginnings."
Some of the homeless who died this year were found in empty lots or desert areas, according to the annual list compiled by the county coroner's office. Two were found dead on the sidewalk. Another two were beneath freeway overpasses.
Three women and 47 men are on the list. The youngest was 32. The oldest, Richard Garcia, was 85. He died in August in an RV park from a combination of factors, including heart disease and hyperthermia, or elevated body temperature.
"The streets are tough no matter what your age," Lera-Randle El said. "But somebody 85 years old definitely should not be on the street. Think of your grandfather and your great-grandfather."
Four of the deaths were caused at least in part by exposure to the elements. Drugs or alcohol were involved in at least 15 of them. Three of those who died were military veterans. Nineteen of the deaths were ruled accidents.
Some of those who died "may have had all kinds of issues," Lera-Randle El said. "But they also were human beings."
Charles Jones, a formerly homeless man who attended last year's vigil and plans to go again this year, has no doubt he would have ended up on the coroner's list if outreach workers hadn't helped him more than a decade ago.
"I've been there," said Jones, 61.
He spent six years living off and on in homemade huts "here and there," drinking and doing drugs, until he got help from Straight from the Streets.
Outreach workers steered him into a substance abuse treatment program, and he has been sober since.
The annual vigil is important because it can inspire others to change and get help before it's too late, Jones said.
"They can change if they ask for the strength and convince themselves to take the challenge," he said. "If you want help, you ask for it."
An estimated 9,432 people are homeless in Clark County on any given day, according to a large-scale homeless count done in January.
Contact reporter Lynnette Curtis at lcurtis@reviewjournal.com.