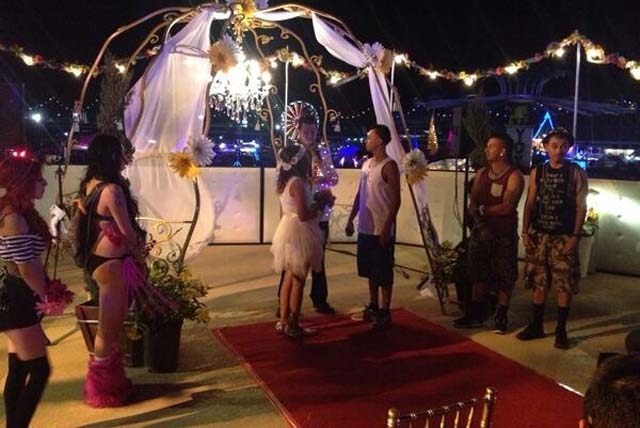 It was a wedding unlike any Brian Mills has ministered before.
Maybe it was the bass-heavy music blaring through Las Vegas Motor Speedway. Or the parade of neon lights flashing. Maybe even, a throng of more than 100,000 scantily-clad people roaming nearby.
Either way, Mills and his Elvis Presley-inspired costume, didn't flinch.
"Do you promise to rave together until the wee hours of the morning?" Mills shouted to drown out the background music Friday night. David Heuillon , 24, and Michael Flores, 25, from Texas, both agreed, becoming the Electric Daisy Carnival's first-ever same-sex newlyweds.
For the couple, marrying at the carnival and in Las Vegas was a no-brainer.
"EDC connects us through the house music. …We decided to do it here because this is where we fell in love," Heuillon said.
It was Heuillon's second EDC trip, with the first being in New York City. However, he said it paled in comparison to Las Vegas.
On top of meshing with the head-throbbing music, the two felt at ease in carnival's warm environment.
"At first, I was nervous because we are gay and we didn't want to face judgment … but being here, I feel like we didn't face judgment," Heuillon said. "It's a place with a lot of different people, lots of different genres of music and it was just the best place to decide to get married."
The pair was showered with applause and high-fives from onlookers after the ceremony.
With more than 500 artists ranging from world class DJs to theatrical performers, 20 art installations, eight art cars, three graffiti walls and a plethora of rides, there was no need to go anywhere else for a honeymoon.
"EDC is our honeymoon," Flores said. "We are going to party all night long and dance our butts off."
Weddings are the newest wrinkle in the electronic dance music extravaganza. The carnival partnered with Viva Las Vegas Wedding Chapels to hold legal weddings during the three-day mecca event.
Gay marriage is not recognized as a legal union in Nevada, although that could change in the 2016 election. In the just-completed 2013 legislative session, lawmakers approved a proposed constitutional amendment to legalize gay marriage. The resolution must be approved by both houses of the Legislature again in 2015 before it can go before voters.
According to Mills, EDC approached the local wedding company a few weeks before the festival.
A "traditional" ceremony ran couples at $99. In true EDC-fashion, the classic wedding song was tweaked for a more electronic-y spin.
Additionally, a $179 package was available that included two song performances from Mills, a professional singer of 16 years.
Both options included photos and a colorful bouquet for the bride-to-be. A marriage license was required from the couples beforehand.
Mills scheduled 25 weddings in advance for the weekend. Weddings take place between 9:30 p.m. to 3 a.m. in the second floor of a cool lounge.
However, the carnival didn't ignore couples seeking a not-so-committed relationship. Faux weekend-only weddings for couples, friends or complete strangers were offered, too.
The actor-minister, Wesley Sellick from Los Angeles, "married" approximately 100 couples on the first night of the event.
"It's been chaotic and fantastic at the same time," Sellick said. "Everyone is so cool and chill, that's hard to come by at an event with this many people."
Nok Phimma, 27, and Sophie Om, 27, of Iowa plunged into the weekend marriage after a six-year friendship.
"It was beautiful and awesome and just a great way to seal our friendship," Phimma said.
Weddings highlighted the opening day that drew a sold-out crowd of 100,000 people. Despite the large turnout, incidents were few and far between.
Overall six misdemeanor arrests, 21 felony arrests (all narcotics related) and one DUI arrest were reported. In addition, 204 medical calls were made, although they were mostly minor and only two patients were transported to a hospital.
Review-Journal reporter Steven Slivka contributed to this report. Contact reporter Sandy Lopez at slopez@reviewjournal.com or 702-383-4686. Contact reporter Eric Uribe at euribe@reviewjournal.com.