With a few final tugs, the Clarion Hotel is history
February 10, 2015 - 7:19 pm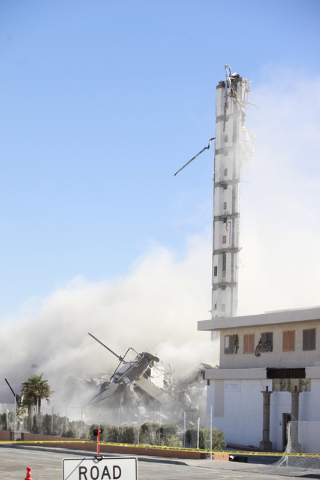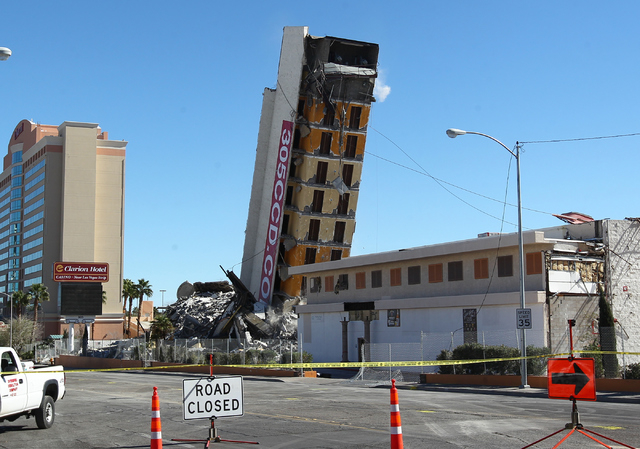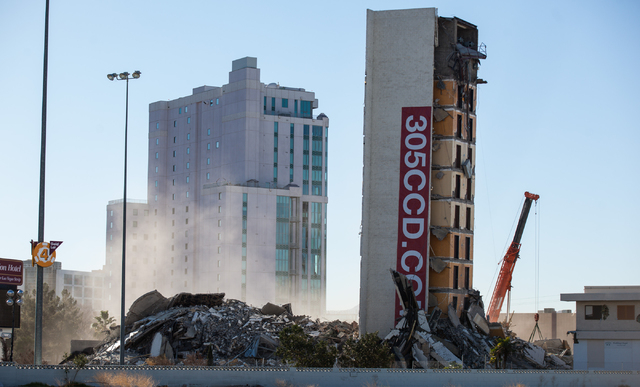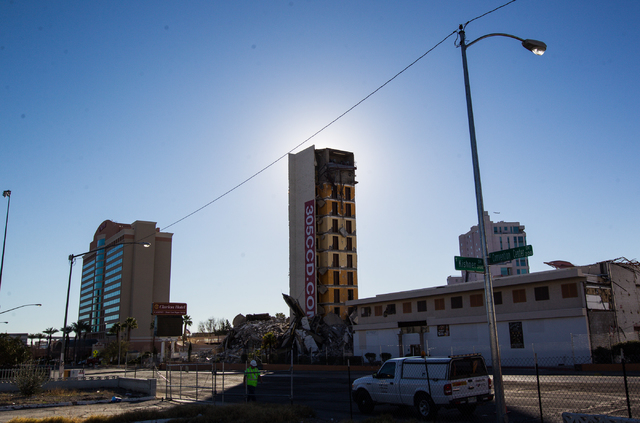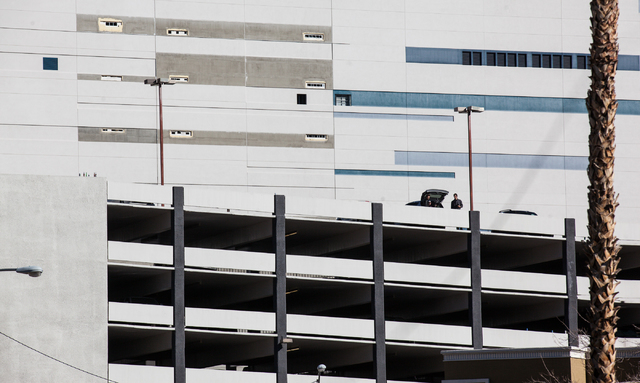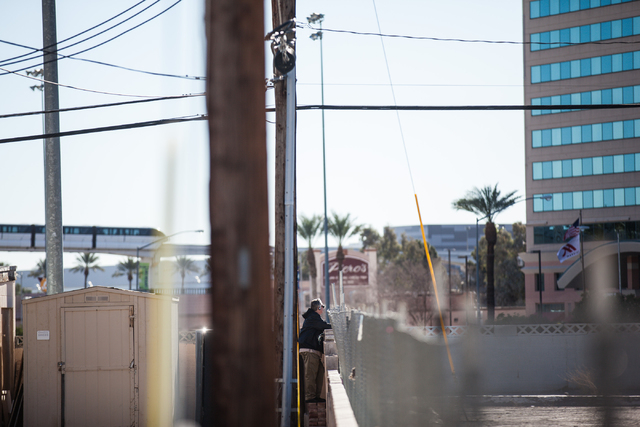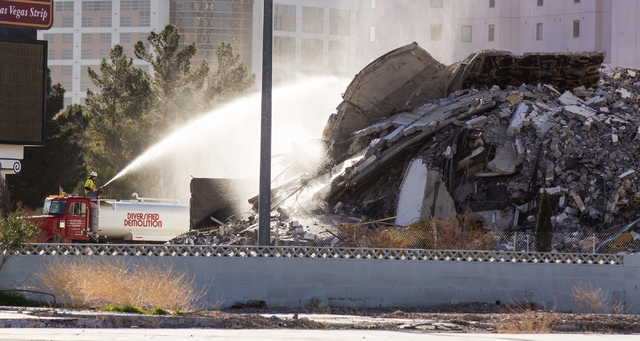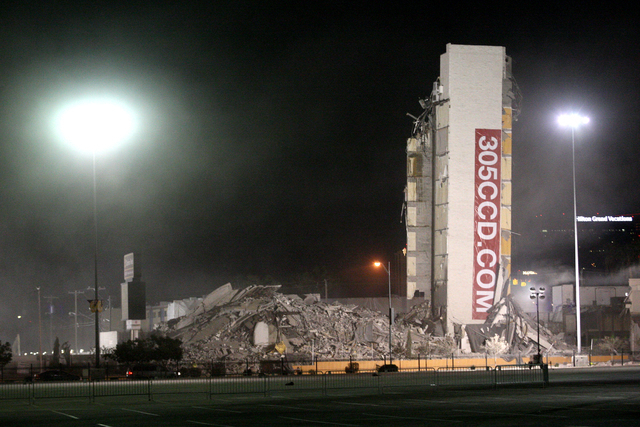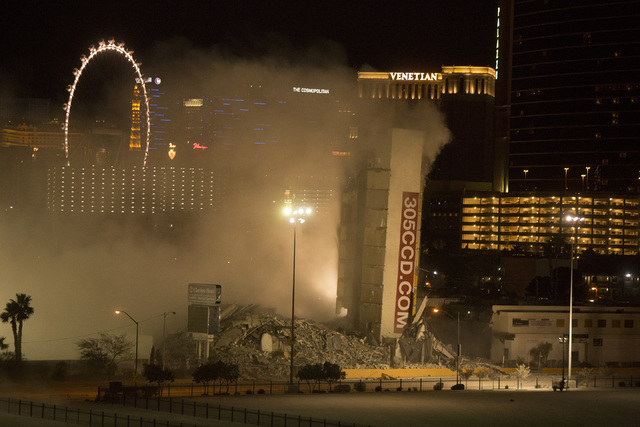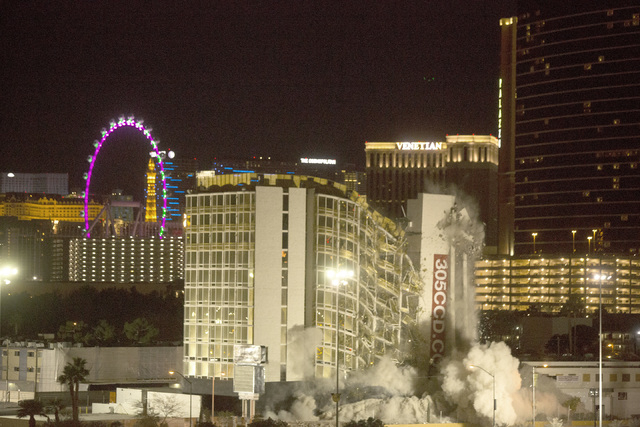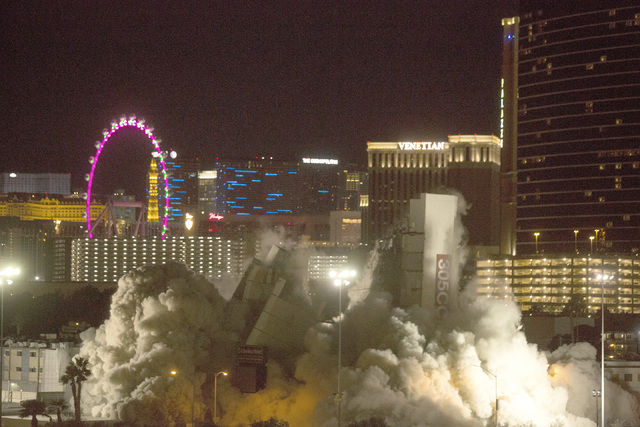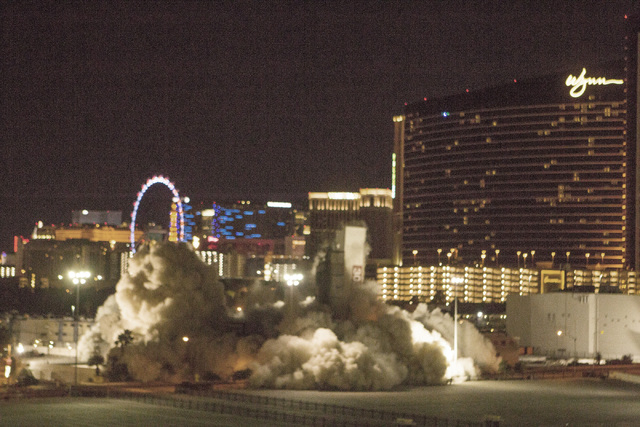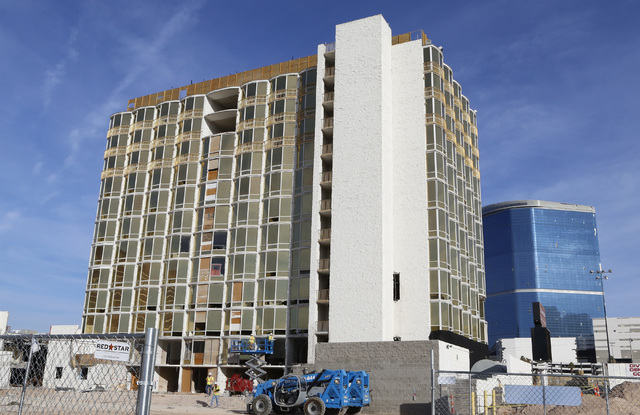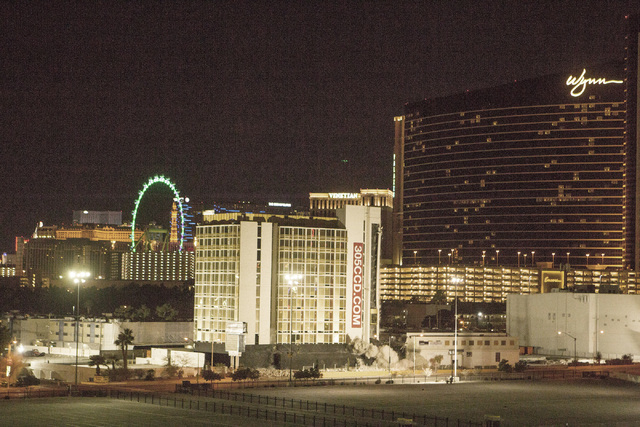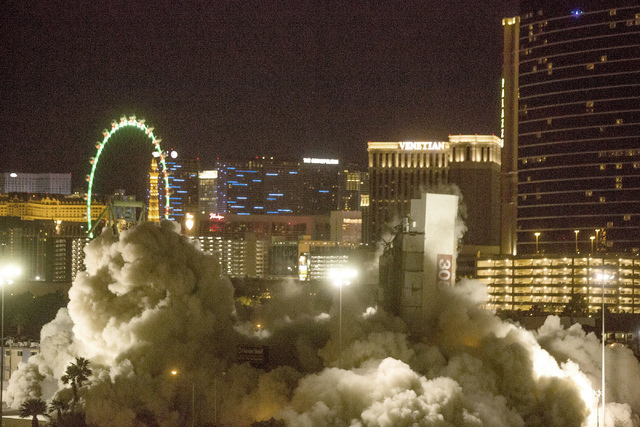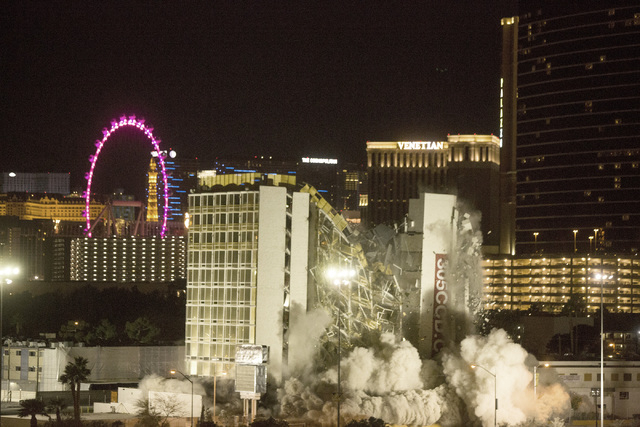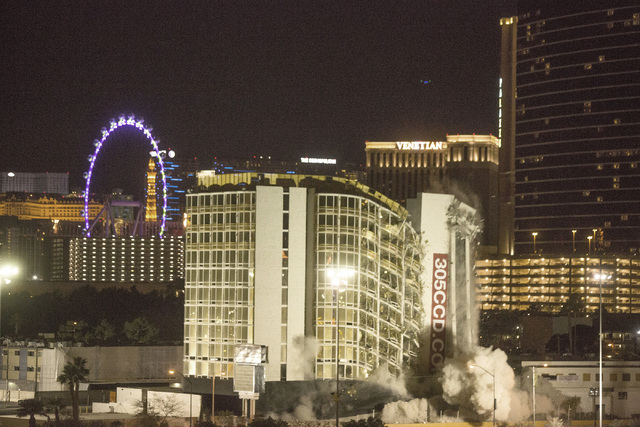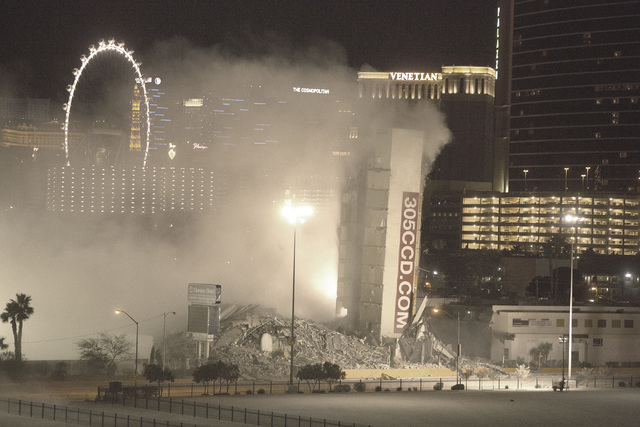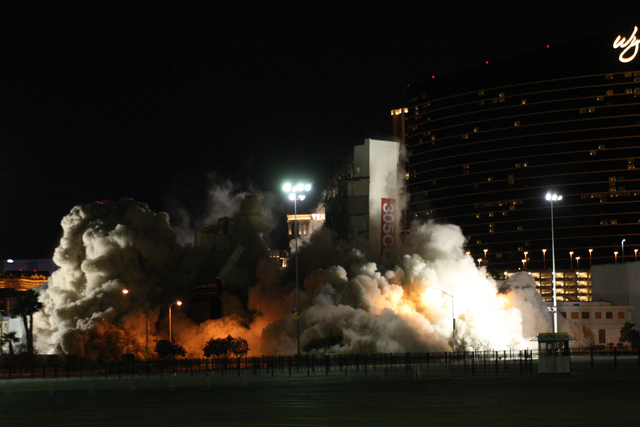 After a post-implosion delay lasting nearly 12 hours, the final piece of the Clarion Hotel and Casino collapsed into Las Vegas history on Tuesday afternoon.
Originally scheduled for a 2:30 a.m. implosion, most of the 200-room Clarion came down in 10 seconds, tossing up a cloud of dust as 1,100 pounds of dynamite sent the 44-year-old resort crumbling to the ground at 2:57 a.m.
But the remains of an elevator shaft and stairwell withstood the blast. The demolition crew eventually brought in a crane that attached cables to the tower and then trucks. With some hard tugs, the rest came down around 2:30 p.m.
Thom Doud, project manager of Controlled Demolition Inc., said the building collapsed too fast for the elevator tower and staircase to fall with it.
"Basically, the debris fell so fast, it choked the base of that tower and didn't give it the opportunity to move," Doud said.
That wasn't the only blunder on Tuesday. The implosion itself was delayed nearly 30 minutes after several residents of a neighboring condominium building refused to leave.
It took a visit from Las Vegas police, who arrived shortly after the 2:30 a.m. scheduled implosion time, to evacuate the building. Nobody was cited, according to Metro spokeswoman Officer Laura Meltzer.
The 6-acre site, at 205 Convention Center Dr., had also been known as the Royal Americana, Paddlewheel, Debbie Reynolds Hollywood Hotel and Greek Isles during its four decades just off the Strip. It underwent several bankruptcies and closures, and at least five ownership changes through 2009.
Las Vegas developer Lorenzo Doumani, who bought the Clarion in October for $22.5 million, took Tuesday's complications in stride.
Controlled Demolition Inc.'s previous implosions had gone off without a hitch, Doumani said.
"They said they had a perfect record since 1957, and looks like the Clarion, Debbie Reynolds broke the streak," Doumani said. "No. 13."
Closed since Sept. 1, the hotel will be replaced by a "unique" development, Doumani said. He declined to offer further detail.
At Tuesday's implosion, hundreds of spectators lined the parking structures of the Riviera and Westgate hotels, while orange and yellow-vested demolition workers stood at attention below in a Las Vegas Convention Center and Visitor Authority parking lot. Many held video cameras and smart phones to document the occasion. A few even flew drones for overhead views.
Meanwhile family, friends, journalists and a pair of showgirls joined Doumani under a hospitality tent for a front-row view of the implosion. Besides offering finger food and sub sandwiches, hospitality staff passed out masks and ear plugs and a glass of champagne to dozens of credentialed attendees.
For some who showed up to watch from afar, the collapse was a nostalgic experience.
Arnie Bartz, a retired Air Force engineer, came to Las Vegas in 1970, the year the hotel opened. The 82-year-old worked there in the mid-1990s when stage and film performer Debbie Reynolds, now also in her 80s, ran the place.
Reynolds, who rose to fame during the Golden Age of Hollywood in such films as "Singin' in the Rain," was Bartz's childhood crush.
"Very fond memories here," Bartz said. "I watched it grow."
Rosemarie Warner, a 20-year Las Vegas resident, worked at the hotel, then known as the Greek Isles, for nearly seven years in the 2000s.
Having worked at now-closed resorts on the Strip for much of her time in the valley, seeing the Clarion go tugged at her heart.
Watching the implosion with her brother, Warner said the sight brought tears to her eyes.
"I met my husband there, and ended up with a big career there," Warner said. "It was the best place I've worked in Las Vegas."
Contact Chris Kudialis at ckudialis@reviewjournal.com or 702-383-0283. Find him on Twitter: @kudialisrj.
Related Stories:
Clarion prepares to crumble into history
Clarion slated for implosion in February
History of Implosions
1. Dunes: Oct. 22, 1993
2. Landmark: Nov. 7, 1995
3. Sands: Nov. 26, 1996
4. Hacienda: Jan. 1, 1997
5. Aladdin: April 27, 1998
6. El Rancho: Oct. 3, 2000
7. Desert Inn: Oct. 23, 2001
8. Castaways: Jan. 11, 2006
9. Bourbon Street: Feb. 14, 2006
10. Boardwalk: May 9, 2006
11. Stardust: March 13, 2007
12. New Frontier: Nov. 13, 2007