6 arrested for gate-related charges in 3 days of Storm Area 51 events
Updated September 21, 2019 - 10:24 pm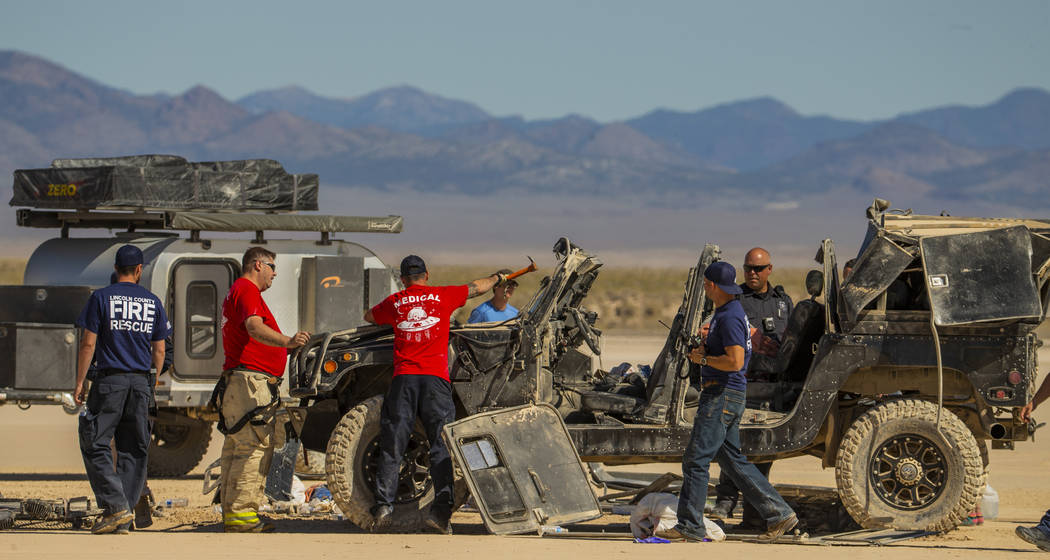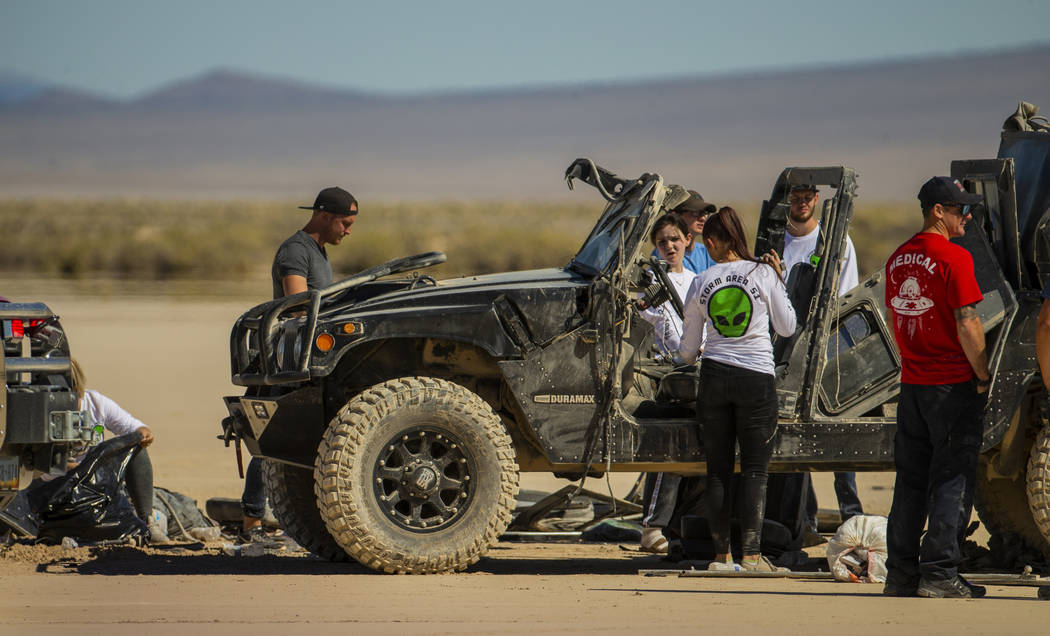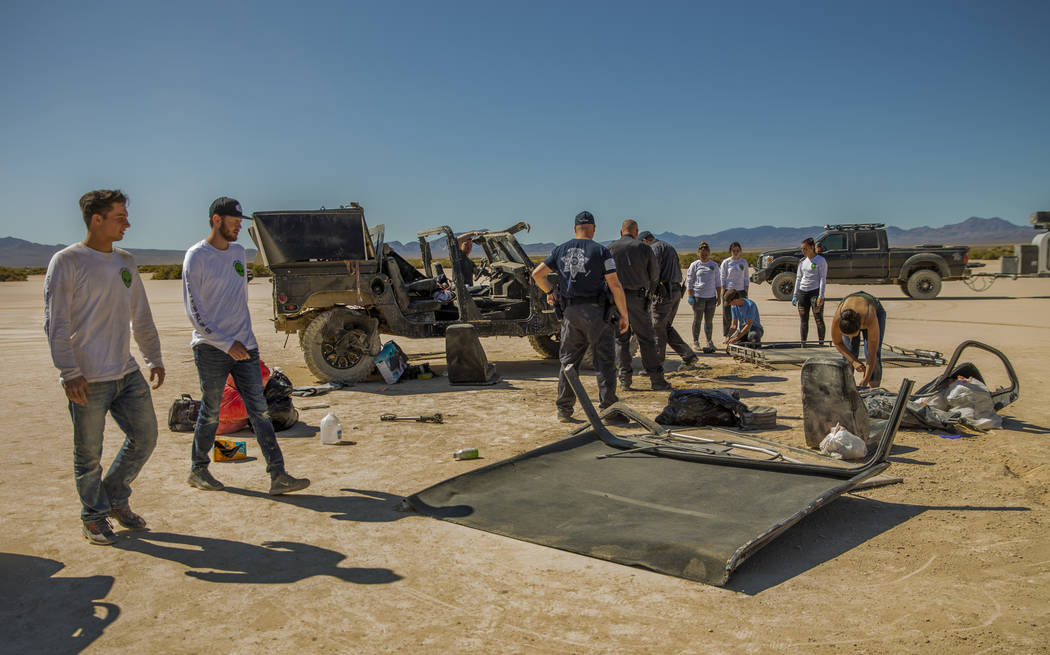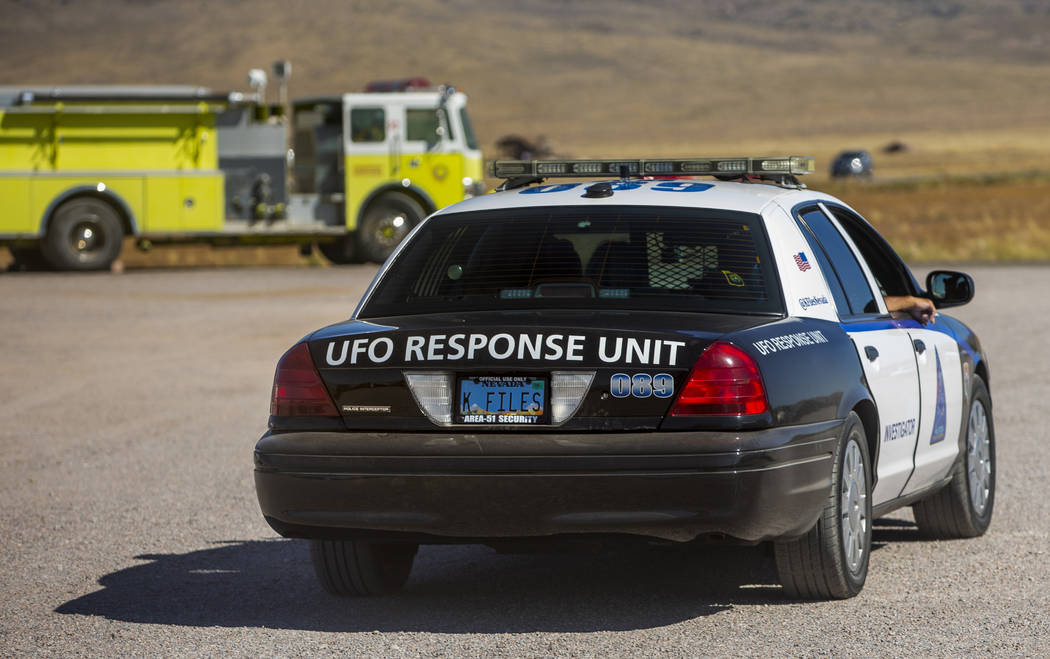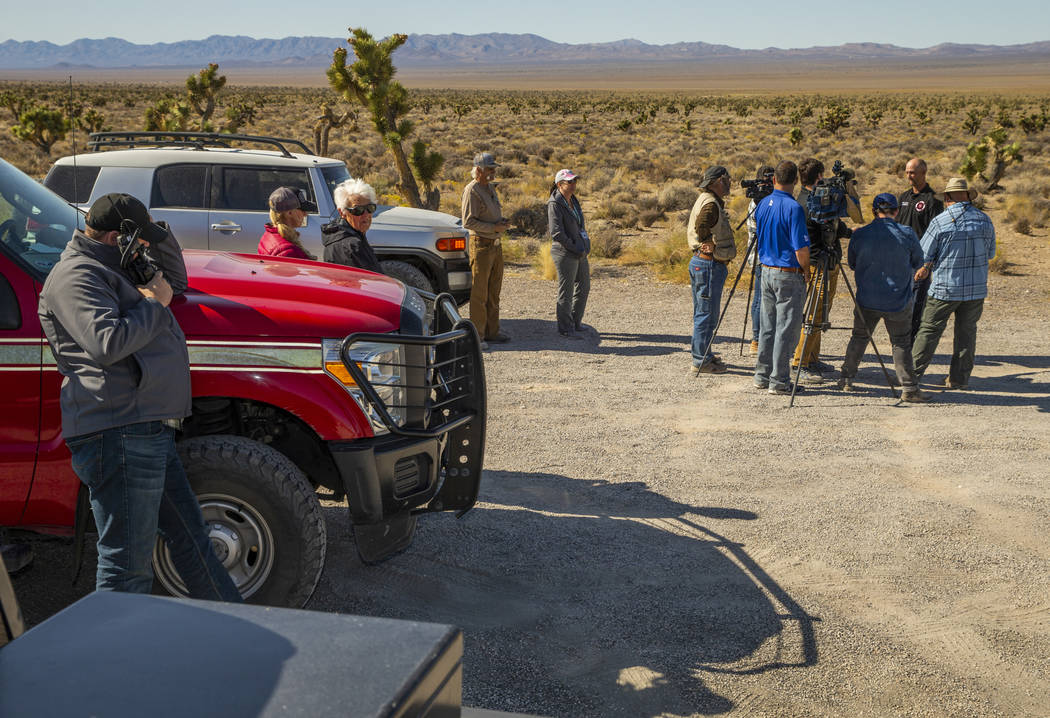 LINCOLN COUNTY — Two people were injured Saturday in a crash in a dry lake bed in Rachel near the Alienstock festival.
A black Jeep carrying three occupants rolled over around 10 a.m., injuring two, with one of the victims being airlifted to receive medical care, according to Eric Holt, Lincoln County emergency manager.
The 19-year-old female victim was airlifted to Dixie Regional Medical Center in Utah for an apparent head injury after not being able to recall where she was or what day it was, according to Jason Strand, who was part of a group from Utah who attended Alienstock.
A 23-year-old male victim who suffered an apparent head injury was able to answer simple questions and was taken via ambulance to University Medical Center, he said.
The group, traveling in three vehicles, were about to head home when the Jeep overturned.
Strand was thankful that first responders were in the area because of Alienstock.
"The medical team and police have been amazing," he said. "If this would've happened when the festival wasn't going on, it would have been a disaster."
'Pretty calm'
Through the first three days of Storm Area 51 events, six people have been arrested for security gate-related incidents.
Most of the arrests were for trespassing, and one was for indecent exposure that occurred when a Canadian man urinated on the back security gate at the Nevada Test and Training Range, where Area 51 is located, according to Holt.
"Most of those were at the Rachel gate (back gate) and Alamo, Tickaboo (front gate)," Holt said.
The second evening, despite two events taking place and more people flowing into the area, was less active regarding incidents.
"Last night we weren't sure what to expect, being the second night of operations. The first night was pretty busy, last night was a bit more calm," Holt said. "At the 'Area 51' gates it was pretty calm. Not a lot of activity."
For the most part event, attendees were there to have a good time, and no major issues at the Alienstock or Area 51 Basecamp were reported, Holt said.
"Everything seemed orderly," he said. "Just enjoying themselves and everything was pretty low-key."
With the Area 51 Basecamp scaling back its festival plans and the first two days going relatively smooth, some first responders, made up of over a dozen federal, state and local agencies, will be sent home, he said. There were 3,000 attendees in Rachel at the peak, and officials had planned for up up to 30,000, Holt said.
"In our morning briefing we put together a (demobilization) plan, and we'll start releasing resources as of immediately," Holt said. "We'll scale that back through the next 24-hour operation period."
Emergency vehicles, including Metro Police's SWAT unit were seen Saturday morning traveling south on state Route 375 toward Las Vegas.
Lincoln County Commission Chairman Varlin Higbee was mainly concerned with the safety of residents and attendees and that visitors respected the land in the county.
"No bad fistfights or nothing yet, people aren't tearing stuff up," Higbee said. "We had some graffiti, but that's been taken care of. As far as incidents, I think we're ahead in the game."
Despite the Storm Area 51-related events ending Sunday with Alienstock's last day, an increase of visitors to the area past this weekend is expected," Holt said.
"Things will start to tame down, but there will probably continue to be activity through out the next few weeks," he said.
The Storm Area 51 events grew out of a Facebook post in June encouraging people to storm Area 51, a secretive Air Force base located inside the Nevada Test and Training Range that has been long-rumored to house extraterrestrial technology.
The Facebook joke went viral, spawning the two Storm Area 51-related events this weekend in Lincoln County.
Contact Mick Akers at makers@reviewjournal.com or 702-387-2920. Follow @mickakers on Twitter.