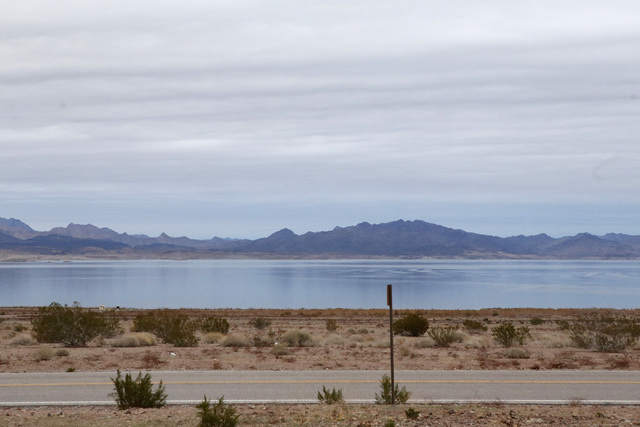 Although the cold kept an audience from forming in an amphitheater at the edge of Lake Mead on Saturday night, National Park Service employee Yolanda Sherwood braved the 45-degree temperatures to deliver an important message: Coyotes aren't to be trifled with.
Sherwood has worked for 16 years as a visitor use assistant for the National Park Service and said she has never seen as many coyotes as she has in the last year. Coyote sightings have been increasing away from the park, too; Sun City Summerlin residents, for example, reported seeing more of the beasts wandering the community's golf course.
She was moved to research coyotes about a year ago, after bicyclists complained to park rangers that coyotes would chase them on their rides. Since then, National Park Service rangers have tracked a pack of seven coyotes that frequent Lake Mead's Boulder Basin area and have been spotted roaming the Boulder Beach campground around dusk and early mornings.
"They may not be larger in number, but we've seen more of them," Sherwood said. "When you start noticing them on a regular basis, you know something's up."
The problem starts with misplaced kindness, she suggested. Over time, after being fed by humans and finding unsecured food in populated areas, coyotes lose their fear of people and become aggressive, she said.
"That's where an injury is going to happen," Sherwood said. "They're going to end up biting someone who is reaching out to pet them because that wall that was once there is no longer there."
Coyotes, which normally eat rabbits, lizards, insects, raccoons and "anything dead," grow used to finding leftover food that visitors didn't wrap tightly, she said, or fish remains at the fish cleaning station at the lake's harbors.
"It means they'll walk right into this campground, which is what they're doing now," Sherwood said. "They're always on the lookout for a free meal."
Coyotes can grow up to 4 feet long and 20 inches tall — about the size of a small tricycle — and weigh 15 to 45 pounds, Sherwood said. They look like dogs, but they aren't, Sherwood said.
"We especially want to make kids aware that coyotes are not pets," Sherwood said. "You shouldn't feed them. They're never going to be domesticated. You can't walk up and pet them."
Sherwood debunked a myth popularized by the Looney Toons, in which a laughable, wild-haired coyote tries repeatedly and unsuccessfully to outsmart his prey, a roadrunner, with complicated traps.
Although Wile E. Coyote's failure to capture his would-be dinner makes for good television, it's an unrealistic scenario, Sherwood said. A coyote can run up to 40 mph; a roadrunner tops out at about 20 mph.
Sherwood advises visitors to avoid sudden movements toward the animals and to make loud noises and throw rocks to scare them away. Humans would fare no better than roadrunners in a foot race with a coyote.
"Do not run. That's the number one thing," Sherwood said. "If you run, then you're prey, and that's just not something you want to do."
Contact Kimber Laux at klaux@reviewjournal.com or 702-383-0283. Follow @lauxkimber on Twitter.
RELATED
Sun City Summerlin residents not getting the answers they want regarding coyotes
Residents say coyote sightings on the rise in Sun City Summerlin
Reader expresses frustration at coyote problem in Las Vegas Valley
Coyote population proliferates even as animal advocates howl over hunt
Summerlin's lush landscape irresistible to coyotes
Officials warn that feeding wildlife can lead to predator problems