Gun show attendees doubt gun laws could have stopped massacre
October 7, 2017 - 1:47 pm
Updated October 7, 2017 - 2:22 pm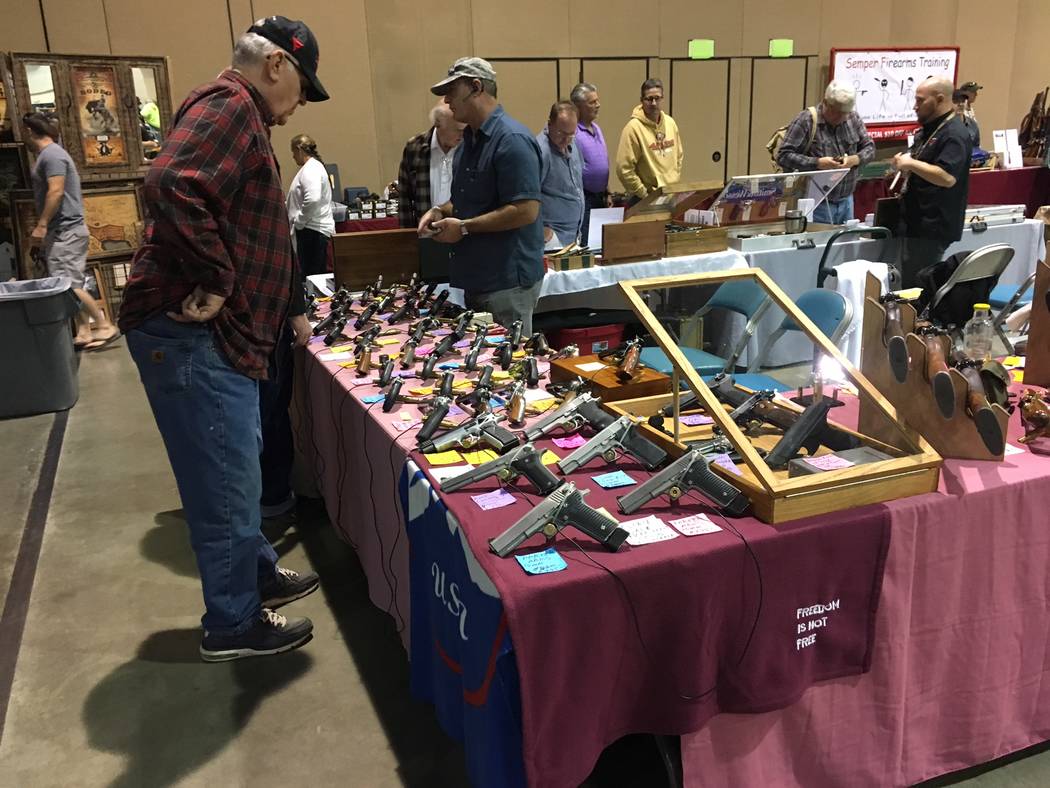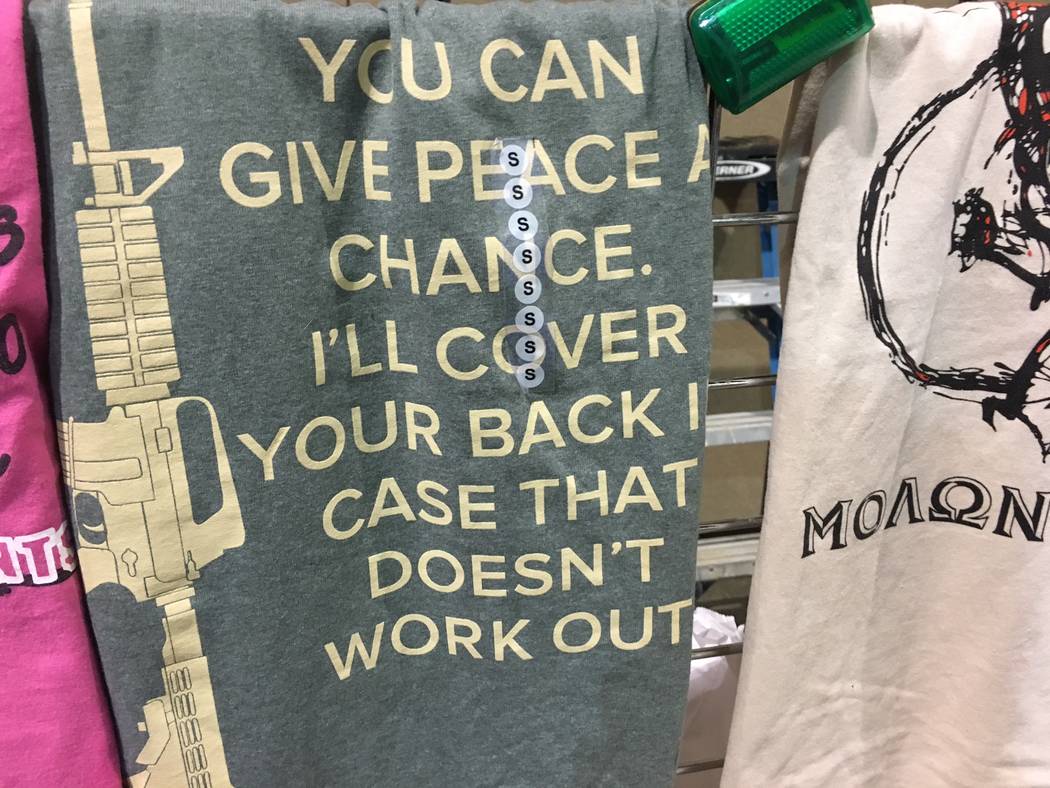 RENO —People attending and selling wares at a gun show here Saturday expressed shock and horror at the mass shooting that happened less than one week ago inLas Vegas.
But those asked about the shooting that killed 58 people Sunday at an outdoor music show on the Strip agreed that the incident could not have been stopped with new gun laws or regulations.
A steady stream of window shoppers and buyers crowded into the gun show, where a variety of weapons and related paraphernalia were on display for purchase.
Sherei' and Bob Williams, along with their two rescue dogs Pistol and Bullet, were on their way into the show from Janesville, California, but stopped to talk about the worst mass shooting in modern American history.
Bob Williams, who served in the Marine Corps, praised the first responders to the Las Vegas shooting, but said the deceased gunman, Stephen Paddock, obtained his weapons lawfully. No background check or other requirement would have prevented him from buying the many guns, he said.
Williams said he has never heard of a "bump stock" and was going to inquire about the device once inside the Crossroads of the West Gun Show.
The device used by Paddock allowed him to fire more rapidly as he rained bullets down on the concert goes from the 32nd floor of the Mandalay Bay Hotel.
"I'll probably buy one," Williams said.
Sherei' Williams said she was devastated by the shooting, but questioned what could have been done to prevent it from occurring.
Nevertheless, Sherei' Williams said she has no problem with requiring background checks on gun sales, or with the 10-day waiting period required in California.
Nevada does not require background checks now for private gun sales despite a ballot measure requiring them that passed in 2016. The law has not been enforced by Attorney General Adam Laxalt because of what he said are flaws in the the measure's language.
Bret Harders of Reno, who was selling self-defense items at the event including stun guns, knives and blowguns, said he does not expect the Las Vegas shooting, horrific as it was, to generate changes in gun laws.
"If nothing happened after Sandy Hook, where children were victims, I don't think anything will happen now," he said. "People have pretty short memories."
Jeff Wickum, from Lincoln, California, was just browsing at the show while staying with a friend in Reno.
An acquaintance was at the Las Vegas concert and while not shot, was one of the injured in the rush to escape the shooter, he said.
No changes to the guns laws would have prevented the incident, Wickum said.
There were several hundred people in the show milling about early Saturday. Items from T-shirts to binoculars to gun sights to large capacity magazines were for sale along with rifles and handguns.
The only obvious reference to the Las Vegas shooting was at one booth where a television offer was available. A banner said a portion of sales would be donated to the shooting victims.
The show was scheduled to continue through Sunday.
Contact Sean Whaley at swhaley@reviewjournal.com or 775-461-3820. Follow@seanw801on Twitter.