Judge gives go-ahead for ballot measure to raise Nevada's minimum wage
January 20, 2016 - 4:28 pm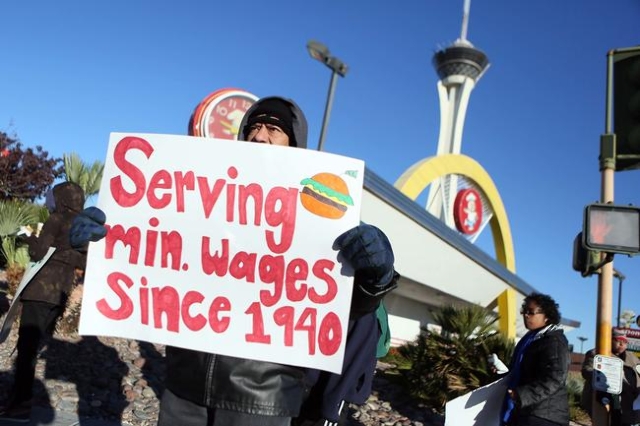 CARSON CITY — A state judge Wednesday rejected arguments challenging language in a proposed constitutional amendment to gradually raise Nevada's minimum wage.
District Judge James Wilson said a coalition of business groups failed to show that a required description of effect was misleading or that language setting dates for when new minimum wage rules must be posted are inappropriate.
Attorneys Matt Griffin and Kevin Benson, arguing on behalf of the Committee to Preserve Nevada Jobs, argued that the explanation on what the initiative would do was misleading because it didn't explain that employers who violated minimum wage laws would be subject to triple damages.
"The description only says it provides for remedies," Benson said, adding the mere mention of it "simply is not good enough."
But Bradley Schrager, representing the Committee to Raise the Minimum Wage in Nevada, countered that explanations do not have to be all inclusive.
"The description doesn't have to be the best possible description," he said, adding those details are included in the body of the initiative.
Judge Wilson agreed, adding that the court's role was to determine whether the proposed initiative complies with laws governing the process and is not a commentary on whether it is good policy.
"The court finds that it is succinct, non-argumentative and not misleading," Wilson said.
Wilson also rejected arguments that dates included in the measure inappropriately dictate administrative actions and are outside the scope of the initiative process.
Griffin said he would talk with his clients — a coalition of chambers of commerce — about whether to appeal Wilson's decision.
Supporters of the measure, including the Progressive Leadership Alliance of Nevada, said they will now begin gathering signatures. Backers need to collect about 55,000 signatures by mid-June to qualify it for the November ballot. If approved by voters, it would have to pass again in 2018 to become law.
Nevada's minimum wage is $8.25 an hour, or $7.25 if the employer offers health insurance. The initiative would abolish the two-tiered rate system and increase the minimum wage to $9.25 in late 2018. The rate would increase 75 cents each year until it reached $13 in 2024. After that, it would be adjusted based on increases to the federal minimum rate or a cost-of-living index.
Supporters say the goal is to provide low-income workers with a livable wage and raise them out of poverty.
Opponents say it would have a chilling effect on businesses, particularly the provision that allows for triple damages and attorney fees for even inadvertent violations.
"This initiative would change Nevada's business climate and send the wrong message to employers who want to hire workers and create jobs," Kristin McMillan, president and CEO of the Las Vegas Metro Chamber of Commerce, said in an earlier statement.
Contact Sandra Chereb at schereb@reviewjournal.com or 775-687-3901. Find her on Twitter: @SandraChereb