Nevada's UFO sightings have been reported for decades, archives show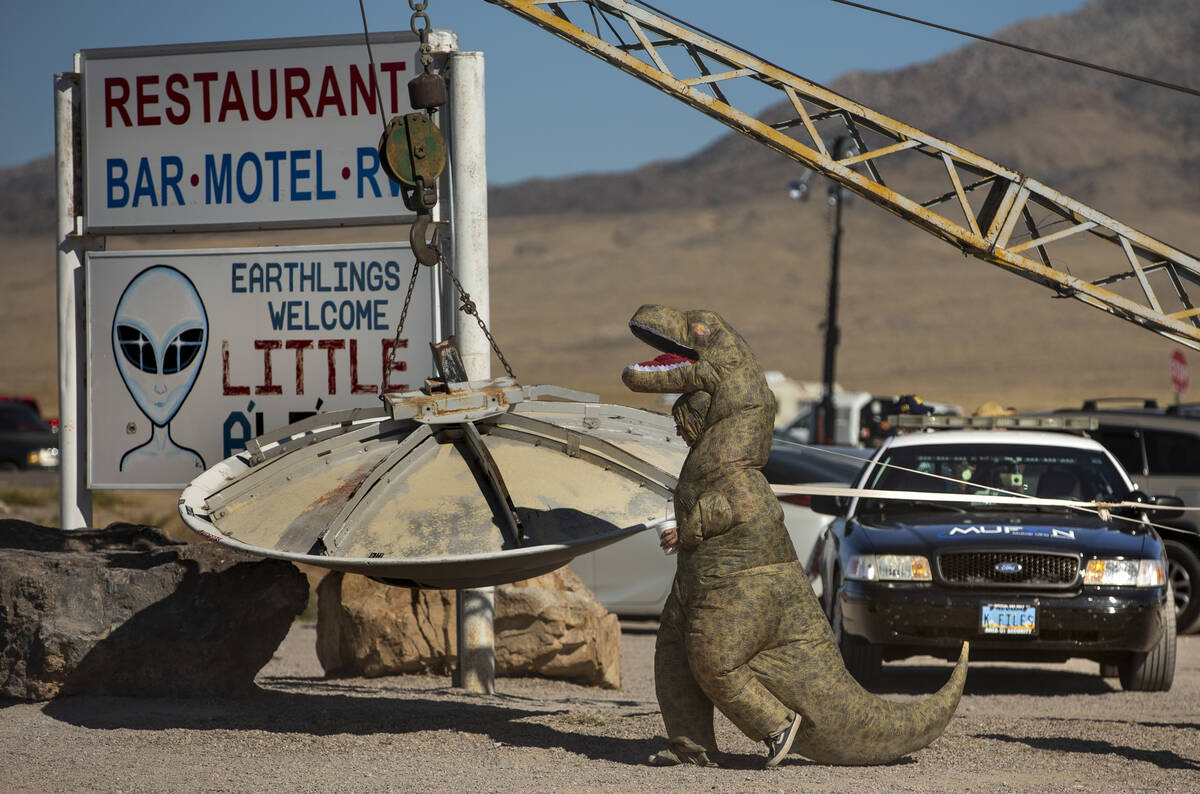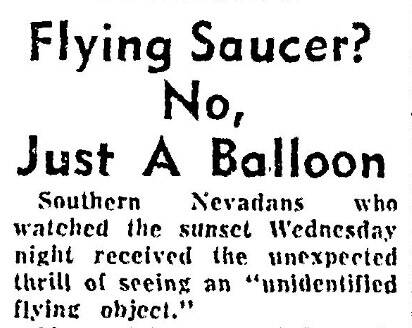 Nevada has long had a fascination with the extraterrestrial that goes beyond the Area 51 conspiracies.
Since a flying saucer sighting in Roswell, New Mexico, sparked the nation's UFO craze in 1947, thousands of sightings have been reported across the country over the past 75 years — including in the Silver State.
Here is a list of the weirdest UFO sightings reported in Nevada from the Review-Journal's print archives.
Nov. 15, 1957: NLV woman 'scared' by bright light
Just 10 years after the Roswell incident, a North Las Vegas woman reported seeing a UFO near McCarran Field (now Harry Reid International Airport).
The woman, Mary Tidwell, said she did not believe the object, which made a whirring noise over her house, could have been an airplane or jet.
Two pilots from different airliners also reported seeing a "lighted object," but Civil Aeronautics Authority tower controllers said nothing unusual could be observed.
Ralph Calkins, a CAA tower controller at the airport, told the R-J, "There is probably an explanation for whatever it was they (the two airline pilots) saw, for they are competent pilots and when any pilot reports he has seen something, you can be sure he isn't imagining something."
Calkins suspected the UFO was a reflection from Las Vegas' neon lights.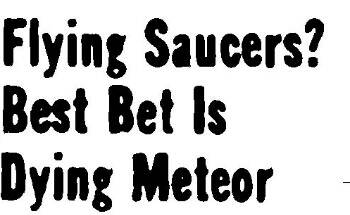 June 18, 1959: Flying saucers? Best bet is dying meteor
A year after the last "flying saucer" sighting, more reports of a flying saucer rolled in. Both Nellis Air Force Base and McCarran Field told the R-J that the object was most likely a meteor that burned up before reaching the earth.
"The initial sighting touched off a wave of succeeding reports of UFO's, which authorities generally blame on mass hysteria," the R-J wrote.
The R-J reported that the only people disappointed by the meteor explanation were avid science fiction readers and UFO purveyors.
"A tourist also reported seeing a UFO, but then tourists see a lot of things," the R-J concluded.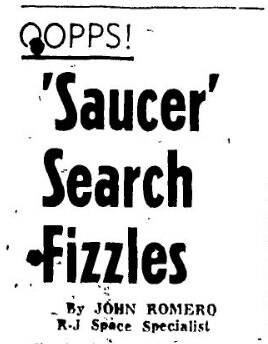 Nov. 20, 1959: 'Saucer' search fizzles
A second UFO sighting confused Nevadans in 1959 when a pilot at McCarran Field radioed the air control tower with reports of a UFO.
The R-J's space specialist (a now-defunct role) John Romero interviewed Ed Miller, a McCarran air controlman, who reported seeing something that was "red, black orange — all colors."
That UFO turned out to be 30 balloons from the now-closed Mint hotel and casino that got lose and landed in a family's trees, to the delight of their young children.
Sept. 28, 1960: Flying saucers are prettier these days… at least around Las Vegas
R-J columnist Pauline Wellington reported in the "We Heard…" column, which typically announced weddings and birthday parties, reported a UFO sighting from a Las Vegas woman who saw a "fluorescent, emerald green object" around 3 a.m.
The woman, Mrs. Ivan Decker, said she saw the object for a few seconds as it traveled quickly across the sky.
"It definitely wasn't an airplane," Decker said. "It was going twice as fast as a plane and it had light rays around it with a long tail. It was as big as the moon."
The object was never identified, but Wellington wrote for all those questioning the newsworthiness of the column entry, "'We Heard' would rather believe and be right than not believe and be wrong."
Oct. 21, 1973: Reno officer sees UFO
More than decade after the early UFO-frenzy days, Reno police Sgt. Harold Thompson reported seeing a UFO near Sparks with his wife. The R-J's report says the couple saw a "mysterious light" around midnight. Several other Sparks residents reported the UFO to police, and said the object emitted reddish flashes.

June 11, 1978: Couple says UFO sighting near Vegas killed dog
A couple driving on U.S. Highway 93 just 35 miles north of Las Vegas reported seeing a UFO with a bluish tint.
Ray Thomas, who saw the UFO with his wife, Cathy, said "It was some type of aircraft… large, round. It had a dome or 'blister' on top of it. It was sitting on three little tripod-type legs. It looked as though it was made out of brushed aluminum. Because of the bright light, it was hard to see everything."
Thomas said the object made no noise, left the couple with a tingling sensation and made their watches go haywire.
After watching the object for about 20 minutes, the couple finished their drive back to Las Vegas and called Nellis Air Force Base to ask if the Air Force was testing any aircraft in the area, which it denied.
About 24 hours after the couple's encounter, their dog, which was in the car during the encounter, died. Thomas said the dog had been to the vet just three weeks prior and no issues with the dog were found.
Dec. 24, 1989: Something's going on at Nelson — but what?
Many Nelson residents reported seeing a flying saucer for several years in and around Eldorado Canyon in the late '80s, according to Nelson resident Jack Jacksis.
Jacksis said some residents attributed the sightings to the magnetic pull of the canyon or to the tectonic movement of the mountains.
Marguerite Knickerbocker, who was considered Nelson's matriarch at the time, suggested Nelson's residents should be more welcoming to the possible extraterrestrials — and even offer them an invitation to dinner.
"My advice to my friends in this community is to invite them in, feed them — don't try to shoot them like some people have done."
Knickerbocker said some other Nelsonites had even seen aliens inside the saucers.
"They said they were little people, with things on their back like antennae, and pointed dog-like faces."
UFO sightings in the area ranged from a saucer hovering above a resident's outhouse to abducting residents by Nelson's Landing.
Even so-called geologists that visited the area weren't safe from speculation. One man told Jacksis he was a geologist, but later changed his story and said he worked for the Air Force. Jacksis was skeptical.
"I thought this one fella acted kinda strange," Jacksis said. "He pretended to be interested in collected rock samples. Then I saw him head off in the direction all the UFOs had gone, climbing up hills of nothing but bentonite (clay)."
Resident Ron Firestone said one reason why Nelson residents might report so many UFO sightings is because of the amount of time residents spent outdoors.
Still, despite the many UFO sightings, many Nelsonites said they were afraid to report sightings in fear of the government's reaction.
"I don't want them reading this in the paper," one 85-year-old resident said. "But I thoroughly believe they're out there (alien beings), and I believe in what I saw."
While the R-J today does not see as many UFO reports, the paper has reported on the legacies UFO conspiracy theorists Art Bell, founder of Pahrump's Coast to Coast radio broadcast; UFO researcher Bob Lazar, who alleged he worked on reverse-engineering alien spacecrafts at a top-secret facility near Area 51; Facebook-organized raids on Area 51 in search of alien life and SpaceX rockets mistaken for aliens that have kept the spirit of UFO-frenzy in Nevada alive.
Contact Taylor Lane at tlane@reviewjournal.com. Follow @tmflane on Twitter.