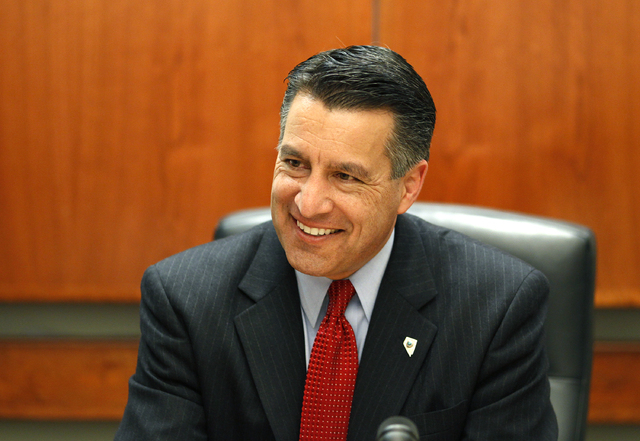 The tea party revolution will not be televised, at least not in Nevada.
All of Republican Gov. Brian Sandoval's endorsed candidates won their primary elections Tuesday over an array of tea party contenders, outsiders and uber-conservatives challenging the establishment.
The governor's campaign team did it by building an election machine outside the Nevada Republican Party, whose endorsed candidates went down in flames.
Heading into the Nov. 4 general election, Sandoval's more moderate GOP brand will be tested against the vaunted "Reid machine," the Nevada Democratic Party operation that U.S. Harry Reid, D-Nev., built to ensure his own re-election, that of President Barack Obama and the senator's personal picks up and down the ballot for the past decade.
The proxy Sandoval versus Reid political war will play out in the race for lieutenant governor with Sandoval's choice, state Sen. Mark Hutchison, R-Las Vegas, challenging Assemblywoman Lucy Flores, D-Las Vegas, an up-and-comer Latina backed by Reid, partly to block Sandoval from leaving office early to challenge Reid's own re-election bid in 2016.
The lieutenant governor would move up into Sandoval's job if the governor didn't complete his four-year term.
"It is now well-established that the Sandoval brand is the strongest GOP brand in Nevada," said Greg Ferraro, an unpaid political adviser to the governor. "Nothing else compares. This becomes even more important in a general election because he has such tremendous cross-over appeal. Sandoval's imprimatur is a highly valuable asset."
Sandoval won his GOP primary with 90 percent of the vote. He faces almost laughable general election competition in Bob Goodman, a 79-year-old former economic development executive who finished second in the eight-Democrat field — behind "none of these candidates."
THE REID MACHINE
Reid and his machine failed to recruit a top-tier Democratic challenger to the popular Sandoval, Nevada's first Hispanic governor, who has a 60 percent-plus approval rating and long coattails as the top of the GOP ticket.
Apart from the governor's race, Nevada Democrats are putting up strong candidates in down-ticket contests after avoiding divisive and expensive primaries — which the GOP endured — while building financial war chests for the general election.
Zach Hudson, spokesman for the Nevada Democratic Party, laughed off the GOP's boast of having a robust political machine, although there was greater GOP turnout in the primary, which drew 19.25 percent of registered voters statewide.
"It wouldn't be general election season in Nevada without Republicans puffing their chests about meaningless turnout numbers in non-competitive primaries and boasting of a grass-roots organization that come November never materializes," Hudson scoffed. "Every election cycle Republicans try to start over and create from scratch what Nevada Democrats have spent over a decade building."
"The reality is: While Democrats largely avoided competitive primaries, Republicans are entering this general election at a serious disadvantage after being heavily damaged by nasty primaries that forced them to spend money they never anticipated having to spend," Hudson added.
Hutchison spent more than $1 million this year alone (while raising half that) to defeat well-known businesswoman Sue Lowden, a flawed candidate who carried baggage from her failed U.S. Senate race in 2010 and $600,000 in unpaid debt from that contest.
Meanwhile, Flores quietly raised nearly $350,000 and spent about $103,000 in a non-competitive primary.
Republicans in three decisive state Senate seats in Districts 20, 9 and 8 also spent more than they raised to win primaries against outsider foes. Senate Minority Leader Michael Roberson, R-Las Vegas, spent $235,000 to defeat Carl Bunce, who ran the Nevada presidential campaign of former U.S. Rep. Ron Paul, R-Texas.
In November, Roberson will face Democrat Teresa Lowry, who had no primary opponent. She raised about $112,000 for her campaign and spent more than $17,000, giving her a financial head start.
If the GOP wins those three state Senate races, where Roberson's picks for Districts 8 and 9 won their primaries, the Republican Party will retake control of the Nevada Senate, now led by Democrats who hold an 11-10-seat majority.
"They have to go three for three, but at least they have stronger general election candidates than they might have had otherwise," David Damore, a political science professor at the University of Nevada, Las Vegas, said of Republicans.
Damore added, however, that the primary results can't foretell the general election outcomes "because there was minimal action on the Democratic side, which allowed them to keep their powder (mostly) dry and stockpile their money."
THE SANDOVAL MACHINE
Indeed, the question remains whether Sandoval is counting on sheer popularity to carry his chosen Republican candidates to victory, or whether his team has created a serious get-out-the-vote operation that wins elections like Reid's machine has done.
"Is there a ground game kind of turnout effort such as Reid has been able to produce with an army of volunteers? That I don't know," said Eric Herzik, a political science professor at the University of Nevada, Reno. "Sandoval saying vote for him or her, that's very different than having an army of volunteers that Reid produced in '08 and 2012."
The Democratic Party, much like a bear in hibernation, didn't seem to emerge from its lair to get primary voters to the polls. That could hurt them going into the general election because there is no presidential or U.S. Senate race — or competitive gubernatorial contest — to lure their voters, Herzik said.
"The Reid machine was pretty invisible during the primary," Herzik said. "They need to wake up and get moving quickly. You're able to turn out people when you have a Barack Obama or a Harry Reid involved. But now your big name is Lucy Flores. And that's quite a comedown."
Flores, well-known in Hispanic activist circles and in Clark County, "is invisible up here," in Northern Nevada, Herzik said.
With Sandoval behind him, Hutchison is considered the slim favorite to win the lieutenant governor's post, but Flores will be very competitive with both candidates able to raise plenty of money and even more so if the Reid machine comes alive.
THE BEAR AWAKENS
Ahead of the primary, Reid sent an email to supporters, appealing to them to donate to Flores' campaign. The senator detailed her tough upbringing, a North Las Vegas teenage gang member who eventually went straight, earning her GED and a law degree and winning election to the Nevada Assembly, where she has served two terms.
"Lucy doesn't have the background of a typical candidate — but she is the perfect choice to be Nevada's next lieutenant governor," Reid wrote.
Sandoval, after Hutchison won the GOP primary, sent an email touting his choice as the best person for the part-time job, which focuses on tourism, transportation and economic development and serves as president of the state Senate.
"Nevada needs a lieutenant governor who will help grow and diversify our economy and build upon the improvements in our education system — that candidate is Mark Hutchison," Sandoval wrote.
Four hours before the polls closed at 7 p.m. Tuesday, the Democratic machine began to stir from its slumber, noting Hutchison, an attorney, had fought Obamacare in court for Nevada and battled a redistricting plan that spread Nevada's Hispanics across its four congressional districts, making Latinos a ready swing vote for many Democrats.
"The reality is Mark Hutchison is a partisan legal attack dog who led the charge to put private insurance companies back in charge of health care, tried to dilute minority representation by packing minority voters into as few districts as possible, praised the tea party and has donated to far-right, fringe candidates like Sharron Angle and Michele Fiore," Nevada Democratic Party spokesman Hudson wrote in an email, referring to Reid's 2010 GOP tea party Senate opponent and a conservative assemblywoman who has become a frequent Democratic target.
Let the political games begin.
Contact Laura Myers at lmyers@reviewjournal.com or 702-387-2919. Find her on Twitter: @lmyerslvrj.