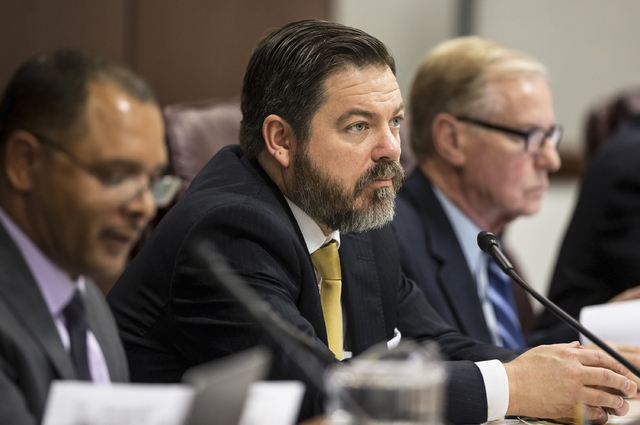 The Nevada secretary of state found no evidence of wrongdoing by four political action committees overseen by state Senate Majority Leader Michael Roberson.
A citizen's complaint, filed in February, alleged that the PACs were used to make "conduit contributions" to illegally circumvent limits for donors — $5,000 per election, or $10,000 for a primary and general election cycle.
The secretary of state's office said a review of the PAC filings doesn't support "a reasonable inference" that any of the committees "engaged in concerted action with contributors" in violation of state law, according to a letter dated Monday. The office sent the review to the complaint's filer, Michael Brown, a Las Vegas resident and friend of Republican congressional candidate Danny Tarkanian.
The Review-Journal obtained a copy of the letter Wednesday.
"In summary, based on the allegations in the complaint and this office's review, the facts are legally insufficient to identify a violation of the identified campaign laws by Senator Roberson or the PACs in question," Deputy Secretary of Elections Wayne Thorley wrote in the letter. He added that no enforcement action would be taken.
The letter was sent one day before Roberson lost the GOP primary in the 3rd Congressional District to Tarkanian. Thorley said the office needed time to review all the reports and filings of candidates who received contributions from the PACs.
The complaint had asked the state's elections chief to investigate, citing possible violations involving Victory PAC, Senate Majority PAC, Reform PAC and Jobs First PAC. It cited examples, including a series of donations Las Vegas Sands Corp. made in 2013.
State campaign finance disclosure reports show that on Dec. 18, 2013, Las Vegas Sands donated $10,000 to the 2014 state Senate campaign of Becky Harris. The following day, Dec. 19, the casino operator donated $10,000 to each PAC and to Roberson's own Senate campaign fund. In the same election cycle, each PAC gave $10,000 to Harris.
The complaint didn't accuse donors of any wrongdoing.
Roberson couldn't be reached for comment Wednesday, but his campaign released a statement: "The complaint was without merit and nothing more than a political attack by my primary opponent. As expected it has been dismissed."
The Review-Journal is owned by the family of Sheldon Adelson, chairman and CEO of Las Vegas Sands Corp.
Contact Ben Botkin at bbotkin@reviewjournal.com or 702-387-2904. Find @BenBotkin1 on Twitter.