Taxpayers' challenge of constitutionality of Catalyst Fund argued
January 5, 2016 - 2:02 pm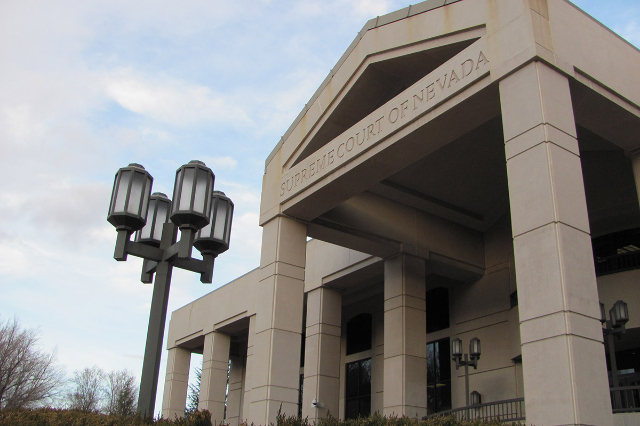 CARSON CITY — Nevada Supreme Court justices heard arguments Tuesday on whether an average taxpayer should have legal standing to challenge the constitutionality of a state fund that has been used to provide financial support to private companies for economic development purposes.
The court heard an appeal on behalf of Nevada resident Michael Little, who has sought to challenge the constitutionality of the state-created Catalyst Fund, which channels state money to local governments, which is in turn distributed to eligible companies.
Little, with the legal backing of the Nevada Policy Research Institute, challenged an award to the rooftop-solar company SolarCity, which received Catalyst funding through an application by Clark County.
Little and critics of the Catalyst Fund, created by the Legislature in 2011, argue the program violates the gift clause of the state constitution, which says the state cannot donate or loan money to most private companies.
NPRI, a conservative think tank, argues that the constitutional prohibition has been illegally circumvented by first channeling the Catalyst funds through local governments. Nevada voters have on three occasions, in 1992, 1996 and 2000, rejected amendments to the state constitution to allow for such economic development activities.
But Little was denied standing as a taxpayer to challenge the award in Carson City District Court.
Little and NPRI then appealed that decision to the Nevada Supreme Court, which heard debate on whether the state's rules on legal standing should be changed. Little wants the lower court ruling overturned so he can continue his challenge as a taxpayer.
Opposing the appeal was the Nevada Legislature, represented by its attorney Kevin Powers.
The court heard arguments but made no immediate decision.
Attorney Joseph Becker said in his petition on behalf of Little that the Nevada Supreme Court has thus far avoided the issue of taxpayer standing. But without such standing, "citizens are largely without recourse to vindicate their state constitutional rights," he said.
Powers argued that taxpayer standing allowed in other states typically occurs when there are no other alternatives for such a legal challenge. In the case of the Catalyst Fund, someone showing standing as a competitor could make such a legal challenge, he said.
Both Becker and Powers agreed, however, that Little unlikely will be able to show standing as an aggrieved competitor.
Justices questioned whether Nevada's rules on standing cover all scenarios in such matters.
"Why should we limit the taxpayer's ability to challenge, say hypothetically, a direct loan made by the state to a company for which there are no competitors in this state," asked Justice James Hardesty. "It seems to me that there is no way to contest what the government would do in a direct violation of the constitution.
"There does seem to be an awful lot of states that have recognized taxpayer standing in the United States and it is not predicated on competitor standing," he said.
Several states recognize "public importance" as a reason to grant such standing, Hardesty said.
Powers said such standing is granted in other states when there is no other alternative.
The Governor's Office of Economic Development in 2013 granted SolarCity $1.2 million from its $10 million Catalyst Fund, which helps job-creating companies expand or relocate to Nevada. SolarCity opened an office in Las Vegas.
Since then, however, SolarCity has announced it will no longer sell or install rooftop-solar installations in Nevada following the adoption of a new rate structure for Nevada net metering customers that took effect Jan. 1. SolarCity said the new rate will eliminate the industry in Nevada.
Contact Sean Whaley at swhaley@reviewjournal.com or 775-687-3900. Find him on Twitter: @seanw801