Water is back on and safe to drink at Goodsprings school
August 31, 2016 - 3:32 pm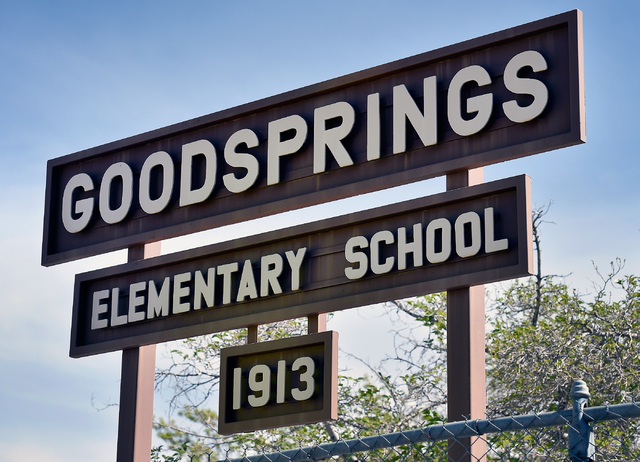 Clark County's smallest public school started the new year Monday with eight students and full use of its water system for the first time since a minor lead scare six months ago.
The students and staff at Goodsprings Elementary School stopped drinking water from the facility's faucets in February after another part of the same water system showed lead contamination above the federal safety limit.
None of the faucets or fountains at the school showed unhealthy lead levels, but bottled water was used as a precaution for the rest of the 2015-16 school year, according to Michelle Booth, spokeswoman for the Clark County School District.
The school is now back to using its own water, Booth said.
On March 30, health officials administered voluntary blood screenings to seven children and four adults at the K-5 elementary school 40 miles southwest of Las Vegas. None of the people tested showed signs of lead exposure.
The historic schoolhouse, which opened in 1913, gets its water from a groundwater well that also supplies the community center in Goodsprings.
JoAnn Kittrell, spokeswoman for the Nevada Department of Environmental Protection, said the spike in lead levels that triggered the scare was likely the result of standing water in the pipes at the little-used community center.
Samples collected April 28, after the water system was flushed out, showed lead levels well below federal safe drinking water limits.
Kittrell said the water at Goodsprings Elementary and the community center is currently on a six-month testing schedule and will be sampled again in October.
She said the school district also is planning to install equipment that will flush out the system periodically to prevent heavy metals from building up over time in standing water.
In the late 1800s and early 1900s, Goodsprings was at the center of a thriving mining district that produced copper, zinc, gold, silver, platinum and lead.
Today the town is home to about 200 people.
Contact Henry Brean at hbrean@reviewjournal.com or 702-383-0350. Follow @RefriedBrean on Twitter.
RELATED
Report: Las Vegas' drinking water safe — even with that pinch of uranium
Schoolchildren tested for lead after water scare in Goodsprings