Nevada JAG teacher inspires at-risk students to excel in post-high school life
November 3, 2016 - 5:00 am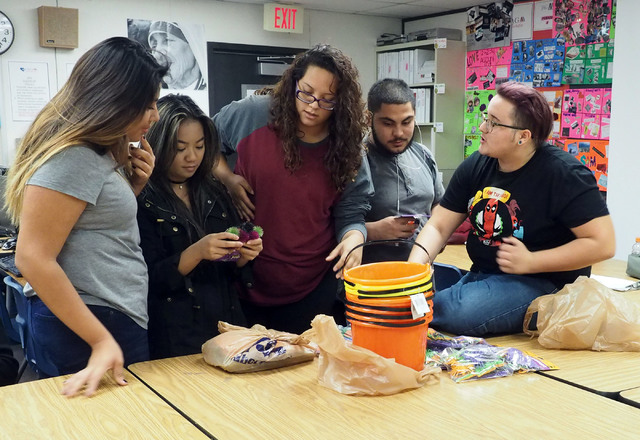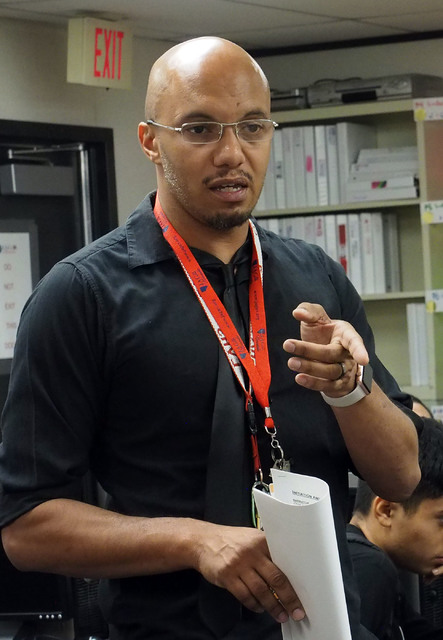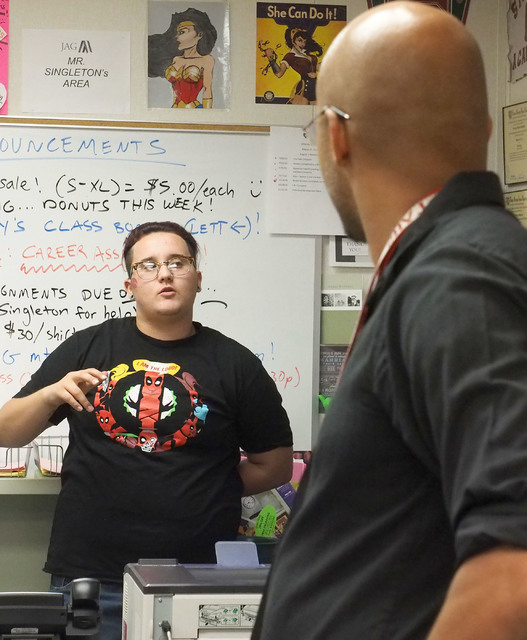 Sometimes when students come to school, they are carrying obstacles that distract them from doing their best in class and prevent them from being prepared for life after high school.
"We all have things to overcome," said Brandon Singleton, a specialist with Jobs for America's Graduates (JAG) in Nevada. "That's why Nevada JAG exists."
Singleton is a mentor to at-risk students facing any problem, from a lack of credits to problems at home.
JAG Nevada is part of a national program designed to raise graduation rates and prepare students for post-high school life.
Rene Cantu, executive director for JAG Nevada, said the program came here in 2013.
"It's currently in 43 high schools in Nevada," he said. "We work with the school district to determine which schools it needs to be in."
Last year, the program served more than 1,600 students. It keeps growing, with an estimated 2,100 students in the program this year.
Right now, Singleton has 54 students in his class, up from last year.
JAG Nevada takes a variety of things into account, such as GPA, history of absences and mental or emotional obstacles. Specialists help students by motivating them to catch up on school work, prepare for potential post-education opportunities from going to college and joining the military, to finding employment.
Motivating students to make life changes takes the right kind of mentor, Cantu said.
"We have 54 specialists like Brandon," Cantu said. "Our specialists are our secret sauce. They are what make the program."
Singleton wasn't always in the education field. For years, he worked in production, traveling with shows such as "The Lion King." Wanting to settle down, he took a job working for "Jersey Boys."
Though he loved it, he said it was the same thing every night.
"You don't get much feedback from the audience," he said. "I needed more of an immediate response. I wanted to do something that allowed me to make a difference."
In 2012, he retired from show business and began as a substitute teacher for the Clark County School District, working regularly at Las Vegas High School, 6500 E. Sahara Ave.
During that time, he was introduced to JAG Nevada.
Cantu said people like Singleton make sure kids don't fall by the wayside. When the JAG program's former teacher was promoted, the program eyed Singleton as the replacement.
"And I jumped on that position," he said.
He started full time with the program in 2015.
Cantu said it takes people such as Singleton to make the program effective.
"They give each student the attention they deserve," he said.
Singleton said he learned a lot his first year with the program, including how to provide students with a safe space to fail if they that's what they need.
"Sometimes, they need to fail so they can learn," he said. "This is the best place to do that. In the real world, they can't have that."
The best part of his job, he said, is seeing how it shapes students.
Mary Grace Batangan, a 17-year-old senior, wasn't into school — let alone school groups — before she joined Nevada JAG.
"Mr. Singleton helped me get my grades up," she said.
A lot of other things have changed for her since joining JAG. She has been inspired to start volunteering for The Animal Foundation and said one of her biggest accomplishments was landing her first job.
"I don't think I would have been able to do that without (JAG)," she said.
Even if Singleton has days in which he misses show business, it can't compete with the feeling he gets when he sees the difference he has made with students, he said.
"I've used my experience in show business to help me in the classroom," he said. "I've found a new stage."
Visit jagnv.org.
To reach Henderson View reporter Michael Lyle, email mlyle@viewnews.com or call 702-387-5201. Find him on Twitter: @mjlyle.
Jobs for America's Graduates
For more information on Nevada JAG, visit jagnv.org.