9-year-old north valley artist's imprint extends beyond T-shirts
August 14, 2017 - 12:52 pm
Updated August 17, 2017 - 4:56 pm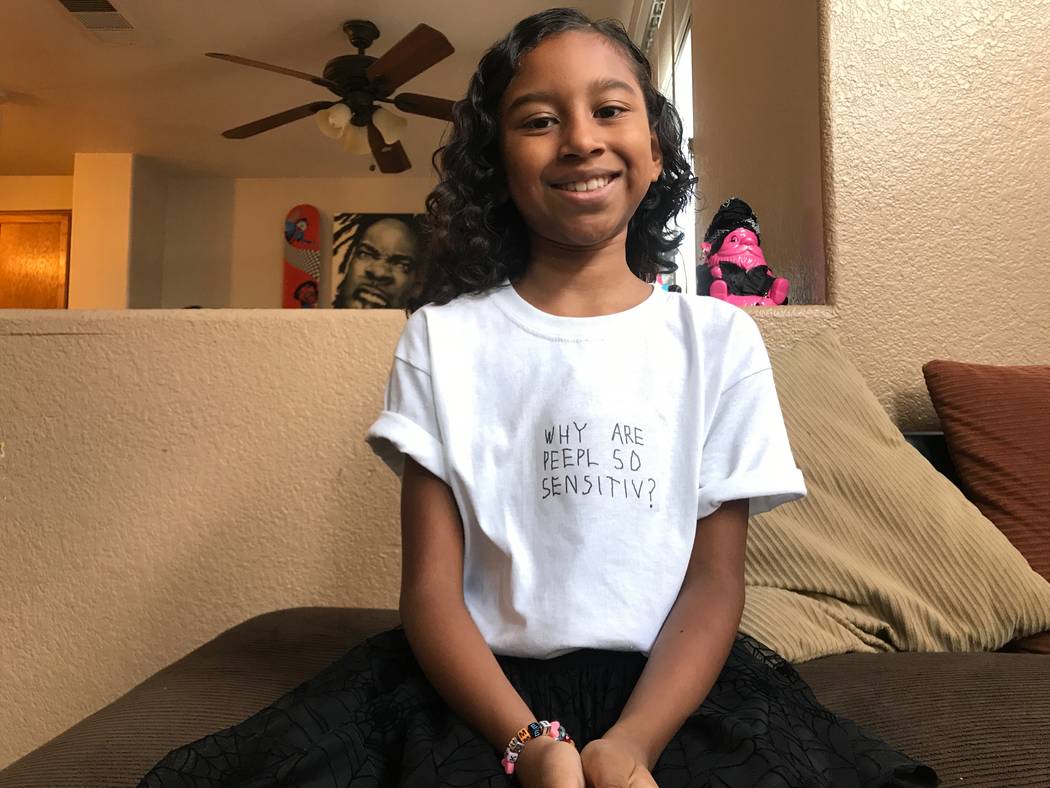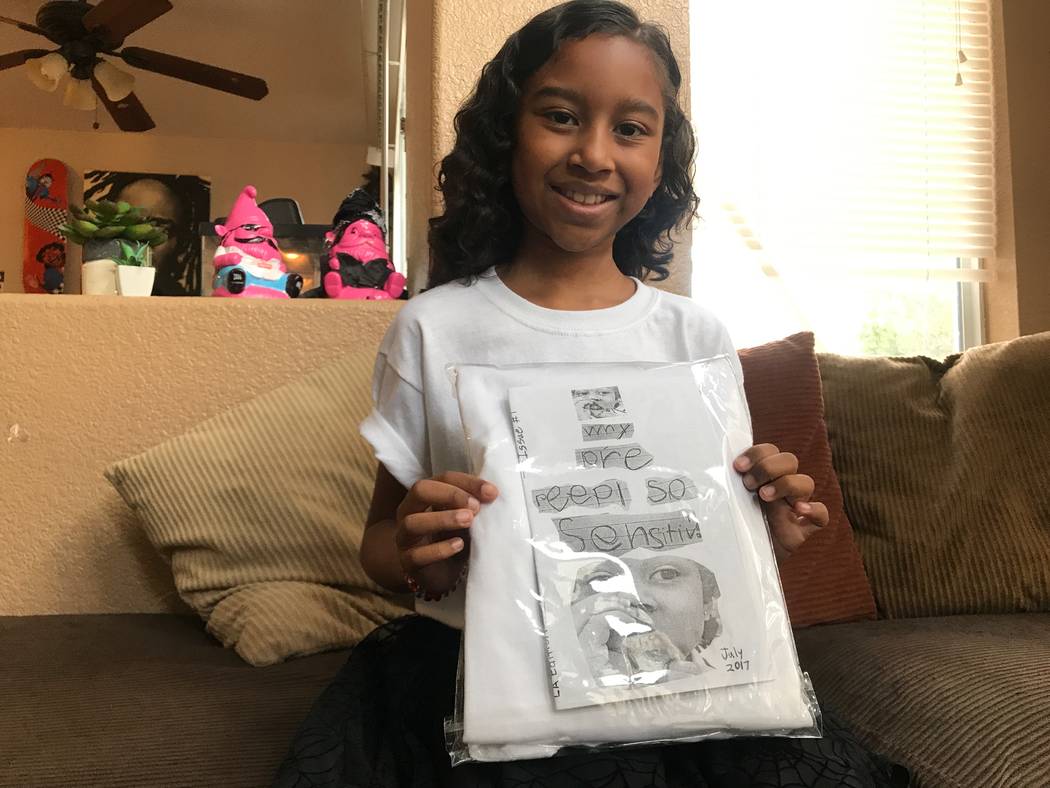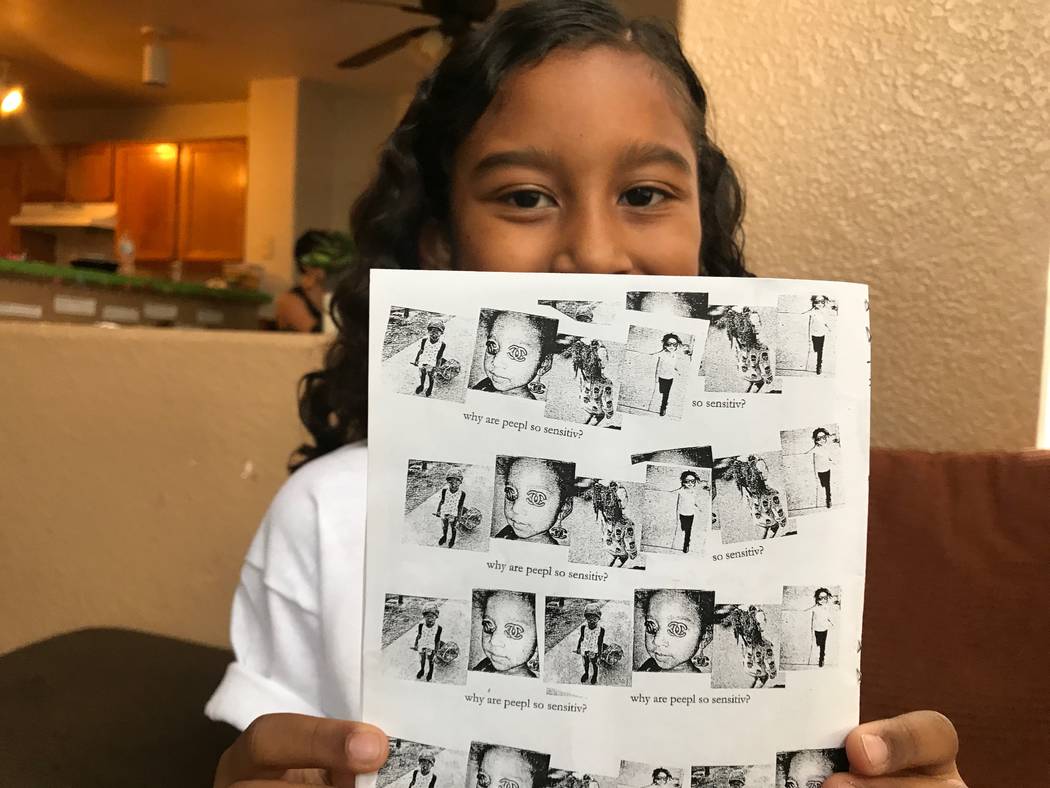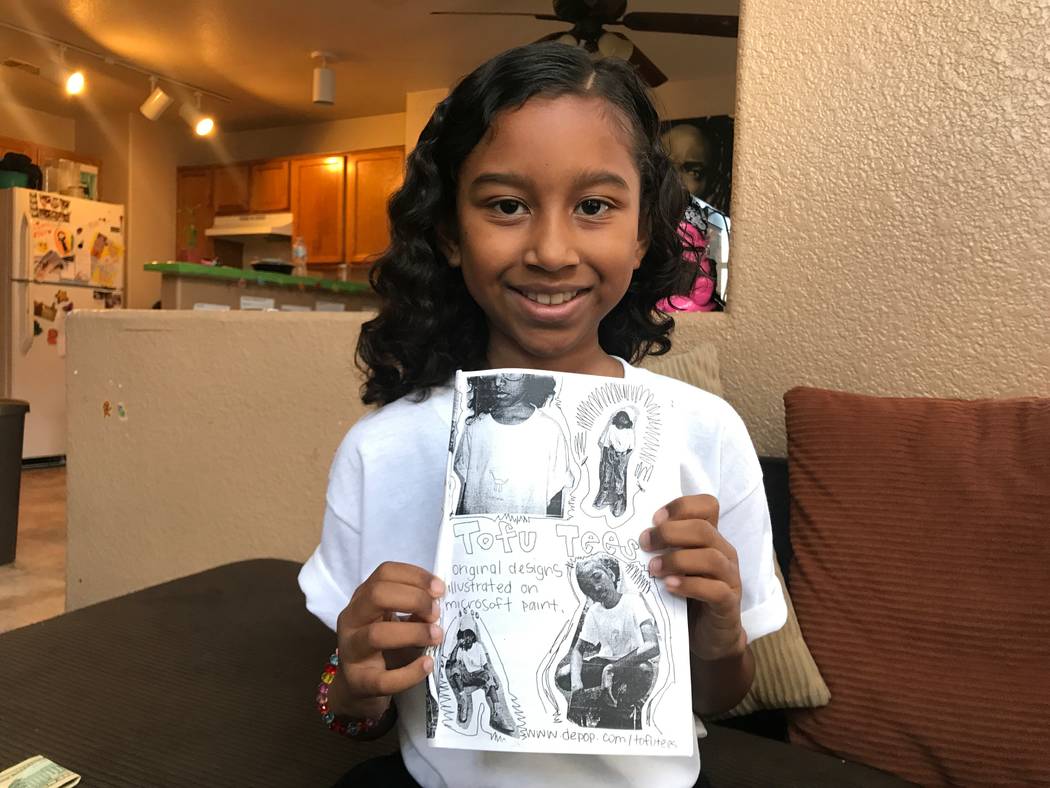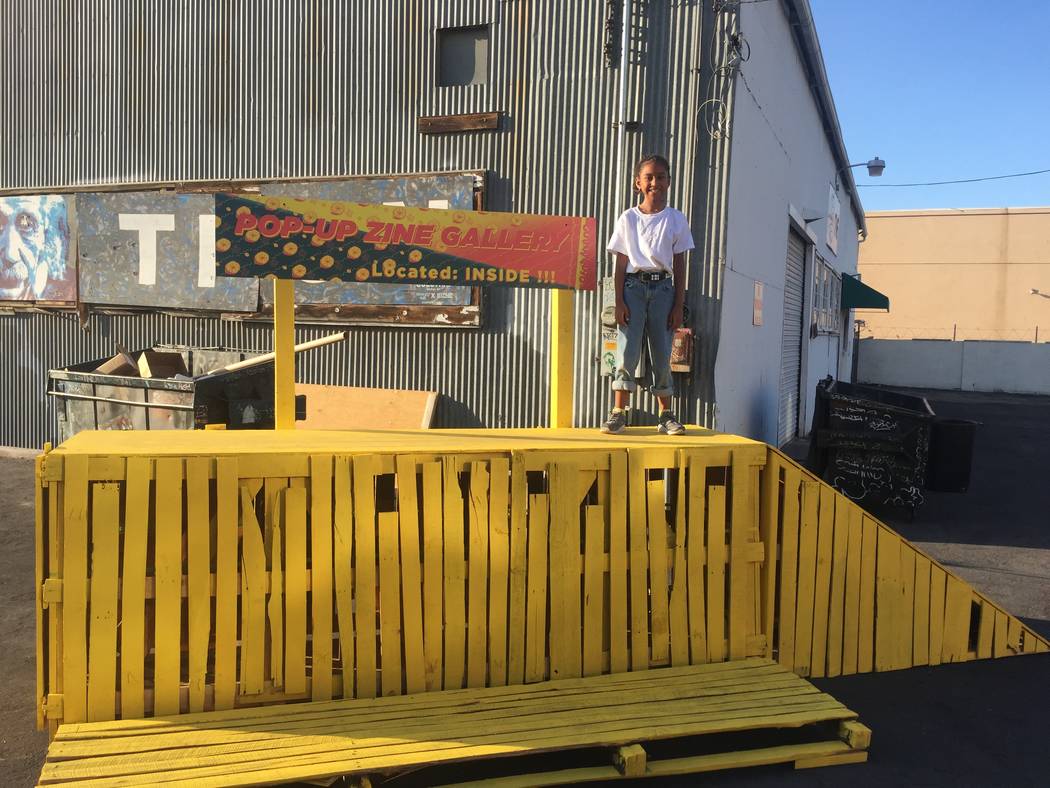 Nine-year-old Kumei Norwood hasn't just had an entrepreneurial spirit for years; she also has artistic talent.
At 5, the now-fourth-grader at Richard C. Priest Elementary School made wish bracelets (each with a handwritten poem) and sold them for $1 at craft fairs and at an event called Civilian Riots that she attended with her mother, a jewelry designer. Kumei also sold the bracelets online for about a year.
So when Kumei took an interest in drawing about two years ago, her mother, Tiaree Norwood, encouraged her to start a T-shirt line.
"She was drawing really well," Norwood said. "She was drawing weird things, and they looked really cool."
Kumei named it Tofu Tees, because she likes eating tofu. She does the designs and her mother irons them onto the T-shirts. She has six designs so far. They include a drawing of a herbivore dinosaur with the word "vegetarian" underneath, another with an ankh and one with a penguin. Kumei said she draws what she likes, but she also takes custom orders.
"I think my work stands out because it was made by me and I'm a kid, and I'm a pretty good artist," she said. "I draw it by myself. My mom just helps me. … My goal is to make people happy with my T-shirts."
Kumei's T-shirts aren't just for kids, she said, adding that she hopes to expand to putting her designs on other pieces of clothing, such as the pockets of pants. Kumei said she's inspired by her parents — her mother, who has owned a jewelry line called Littered Nation for more than five years, and her father, Devon, a photographer.
"It's just a family of creatives," she said.
One of Kumei's early designs that have proved popular includes a message she wrote when she was about 4: "Why are people so sensitive?" Her mother thought the note, which contained misspellings, was cute and kept it.
Kumei said that she considers herself silly, which is why she wrote the note. She used that same message for the title of a zine (handmade magazine) she created for a zine pop-up show in July at Downtown Spaces, which attracted about 50 people, she said. Norwood was the second-youngest of the 10-12 exhibitors. Gavin Perez, 6, also displayed art at the event.
Kumei, who hails from Hawaii, said the inspiration for her zine came from the two years in which she lived in Los Angeles with her mother. She has lived in Las Vegas for about four years. In the zine, she used several old images of her experiences in the city, such as spotting strange people on Hollywood Boulevard and meeting celebrities such as Sarah Jessica Parker and Pharrell during a video shoot filmed in her apartment complex.
She also wrote notes about things she likes, such as stuffed animals, yard sales, cookie swirls and Pokemon (the newer version). On a page titled "Kumei's jams," she listed some of her favorite songs, including "Liberation" by OutKast, "Numb" by Rihanna, "Golden Slumbers" by The Beatles and "Bad" by Michael Jackson.
She said that she was nervous at the July event at first because she wasn't sure if people would like her work, but she ended up making about $100. She sold copies of her zine for $2 each, and the T-shirts were $10 for youth sizes and $12 for adults. She also traded art with other artists, she said.
Artist Zet Goldheld the event at her studio, known as The Bakery.
"Kumei definitely stuck out like a sore thumb," she said. "Not only was she the (second) youngest during the event, but her work was really inspiring to see. I mean, for 9, making these cool zines and T-shirts that were up to par with what's current in today's creative community … I can't wait to see where she goes."
Andrew Dwyer, who hosted and organized the event, said she's an authentic artist.
"I believe that every creative individual is striving for blatant rawness of an idea in its simplest form," he said about Kumei's work. "Kumei is special in that her child mind allows her to make the work as straightforward as she knows how."
Kumei, who said her favorite artist is Frida Kahlo because her art was unique, said she wants to remain an artist when she grows up.
"(I want to be) a free drawer," she said. "An artist that draws just anything that comes to mind."
She said she also wants to continue designing and to get into modeling. Her next zine editions will detail her life in Hawaii and Las Vegas so far, she said. Kumei hopes to continue showing her work at events.
Contact Kailyn Brown at kbrown@viewnews.com or 702-387-5233. Follow @kailynhype on Twitter.
Online
For more information on Tofutees, visit depop.com/tofutees or instagram.com/tofutees.