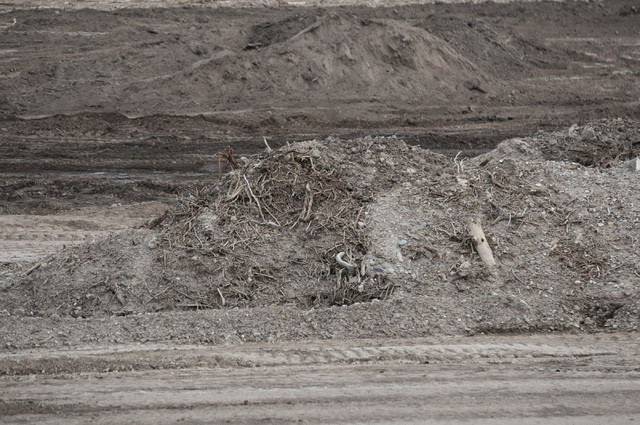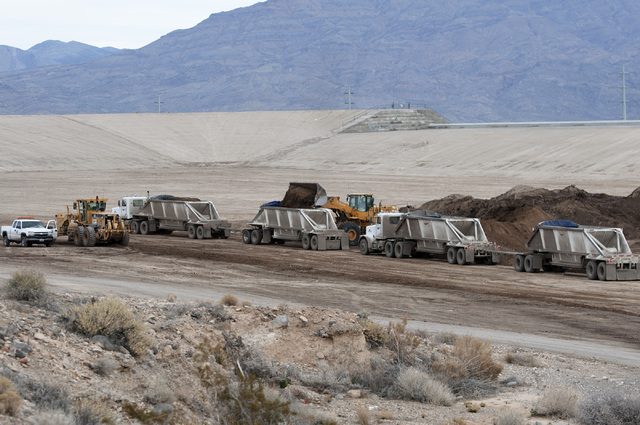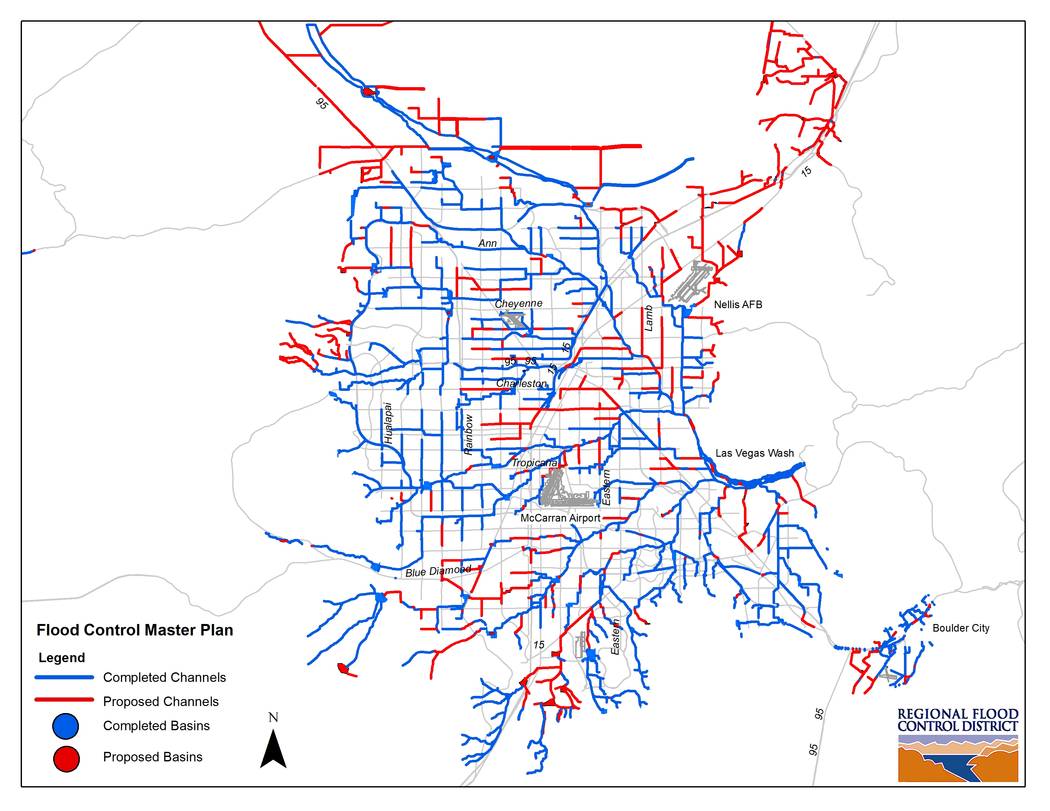 About a month after the Clark County Regional Flood Control District started a $4.4 million storm drain collector project including a trail near Floyd Lamb Park, a rainstorm dropped about 1.34 inches in the area.
The July 25 flooding prompted road closures, a two-hour closure of the park, limited access to neighborhoods and erosion and left debris on the roads, Flood Control District spokeswoman Erin Neff said. No homes were flooded, and one person reported carpet damage, she added.
"We knew that we had to fix it; it's just Mother Nature proved that we had to fix it," Neff said.
Workers are installing 3,000 feet of 8-foot-by-6-foot concrete boxes in culverts under Brent Lane near Durango Drive, where there wasn't a system in place at the time of the storm. The project will be finished by June, Neff said.
The Regional Flood District tweeted a photo of the work being done July 31 on Brent Lane. Some of Meadow Valley Contractors' work was damaged, but the company was able to continue working that week and the project is set to meet its deadline, Neff said.
It will take about 400 staff hours to clean the area, which will require fixing erosion and discarding debris, Las Vegas operations and maintenance director Jerry Walker said. The estimate for labor is about $20,000, he said.
"Brent Lane is probably the worst storm we had to clean up (after) since the 2013 storm," he said, referring to the aftermath of the Carpenter 1 fire, which burned through nearly 28,000 acres in the Springs Mountains for more than three weeks in July 2013. "This is five to 10 percent of what we had before."
A mix of water, ash and debris flowed from the mountain onto Grand Teton Drive after being caught by the Kyle Canyon detention basin. Erosion also took out roads, Neff said. However, the basin, which had been built prior to the storm, collected 30 feet of water and protected thousands of homes, she said.
The Flood Control District also had designed and planned to improve the detention basin in the area before the storm hit; however, it had not been funded yet. After the storm, the city asked the district to prioritize the $20 million project, which involved improvements to Grand Teton Drive.
Detention basins are now widespread in the northwest valley; the Flood Control District has spent more than $100 million adding them since the early 2000s, Neff said.
One of its most recent projects involved developing the flood-control channel at the Centennial Bowl beltway. It was finished last year, she said.
The district was taking bids on a project to put a flood-control channel along U.S. 95 from Hulapai Way to Grand Teton Drive for $28 million. It is aimed at preventing stormwater from crossing the highway and closing it down, Neff said. If the project is approved, construction should start by late 2017 or early 2018, she added.
North Las Vegas hasn't been hit by flooding anywhere near as bad as the northwest valley's in at least 15 years, public works director Jennifer Doody said. The city's most frequently flooded areas include Hollywood Boulevard and Centennial Parkway — where the city plans to coordinate with Nellis Air Force Base to plan and finish improving the storm drain by early next year — and Grand Teton Drive and Centennial. The developer has not set a construction date for that area, Doody said.
The city has an upcoming project to build storm drains near the east end of Centennial Park, close to the railroad tracks, which it hopes to finish by the end of next year. Similar work at the Vandenburg North Detention Basin near Centennial Parkway and Pecos Road is set for six to eight months after the first project, Doody said.
Contact Kailyn Brown at kbrown@viewnews.com or 702-387-5233. Follow @kailynhype on Twitter.
About Clark County flood-control systems
The Clark County Regional Flood Control District was created in 1985 to develop a coordinated and comprehensive master plan to solve flooding problems and regulate land use in flood hazard areas. The district works with jurisdictions, such as North Las Vegas and Las Vegas, to faciliate the areas they are responsible for as part of the master plan, North Las Vegas public works director Jennifer Doody said.
The master plan for the valley is 75 percent complete but won't be finished for 25-30 years, Flood Control District spokeswoman Erin Neff said. The master plan is updated every five years.
There are roughly 20 detention basins in the northwest valley and 91 total in Clark County.
For more information, visit ccrfcd.org
Detention basins
They are designed to collect stormwater and slowly release it so downstream areas are not flooded or eroded. Some, such as the one at the Lone Mountain Detention Basin, are multiuse and include things such as parks and tennis courts.