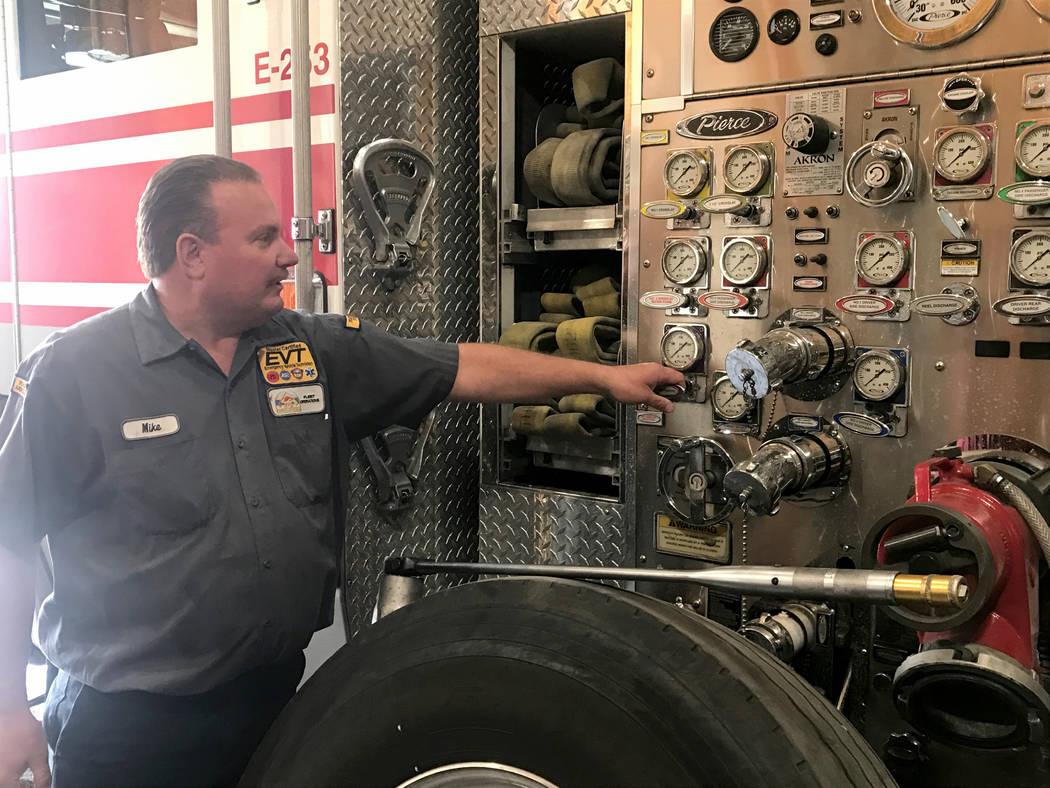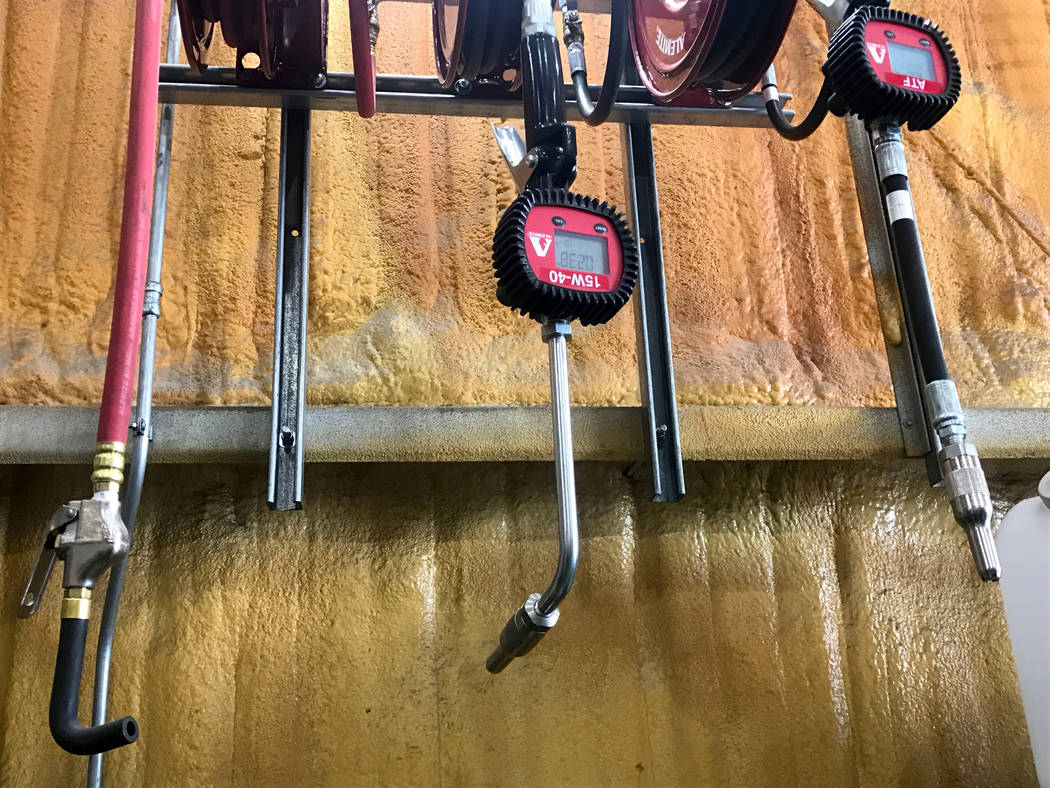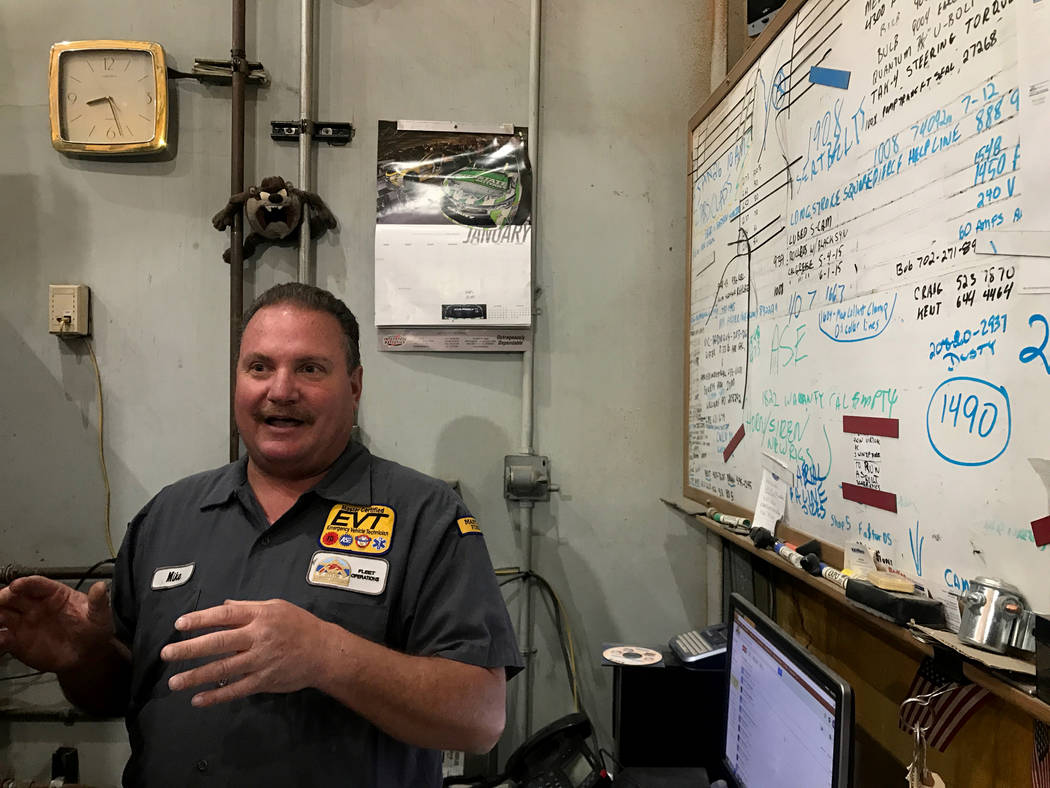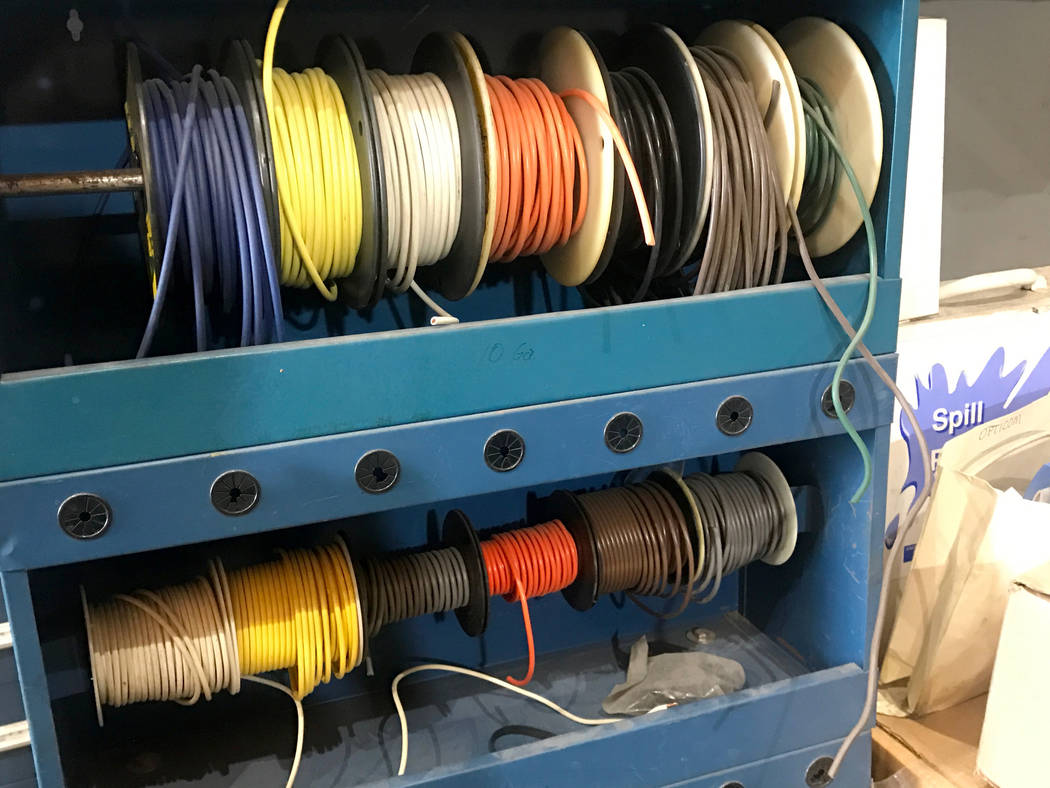 When a fire threatened Mike Jerums' California hometown in 1985, he and a friend were determined to save their horses.
The fire had been burning for days, and smoke was creeping over the mountaintops and ever closer to the town of Ojai, the northwest Las Vegas resident recalled. Fleeing residents clogged the roads, and burning items fell onto cars, he said. Jerums and his friend walked the horses through traffic, and he remembers his shoelaces smoking and having to wrap a wet towel around his head.
"We had a good (likelihood) of being killed," he said. "Nowadays, I would not have done that."
Jerums, 48, was in high school then; he since has incorporated his interest in fighting fire and fixing vehicles into his role as a mechanic for North Las Vegas' Public Works fleet operations department. He specializes in working on fire vehicles and ambulances. He's one of two men certified to work on these vehicles for the city.
There is a mutual respect between firefighters and mechanics because they wouldn't be able to do their jobs without each other's support, Jerums said.
"You feel like you're part of the system," he said. "Even though you don't fight the fires, you give them the tools to do so."
Acting Fire Chief Ray Kessler said Jerums and Lewis are "hypercritical" to the department's operations.
"We consider them a part of our team," he said. "Without those guys, our fire trucks don't roll and we can't provide our services for the community."
Kessler said the fleet services team also assists with designing the fire trucks and adding speciality equipment, such as brackets or toolboxes.
Jerums said there's a misconception that all his department does is oil changes. When a fire truck or engine breaks down or is not working properly, Jerums and partner Steve Lewis fix it as quickly as possible. There are about five fire engine reserves and one fire truck — older vehicles that can be used as substitutes — to serve seven stations in the North Las Vegas district.
"Sometimes you're down to where you have no more reserves and you're going to have to get it fixed and get it back out; otherwise, that engine (pumper) goes out, that fire station has no engine and it basically shuts it down," Jerums said.
Jerums and Lewis are responsible for 40 pieces of rescue- or fire-suppression-related fire equipment, including engines and ladder trucks, as well as 21 support vehicles. Jerums said the most common job he does is change emergency lights.
The fleet services department also works on police motorcycles and cars, street sweepers and armored vehicles and assists with investigating fatal crashes involving vehicles, he said.
Jerums got his start in the automotive business at Ventura College in California in 1986, through an internship program that placed students at car dealerships. He worked at General Motors and other dealerships in California and Las Vegas, where he moved 10 years later.
Jerums' wife, Daisy, encouraged him to apply for a job as a mechanic in North Las Vegas after seeing an advertisement in the newspaper.
He began working for the department in 2006 and started working on his fire and ambulance certifications the following year. Because Nevada didn't offer classes at the time, he had to travel to Arizona for testing. It took him about four years to become certified with a Automotive Service of Excellence (ASE) dual master in automotive and medium/heavy duty trucks and Emergency Vehicle Technician with a dual master in fire apparatus and ambulance (and paramedic rescue). He is one of two mechanics in the state to have this certification, supervisor Pete Fitterling said.
In 2010, amid the recession, Jerums was laid off. He worked in Carson City until 2015, when he was offered a job in North Las Vegas.
Fitterling was hired at the same time.
"He's a tremendous asset to the city," Fitterling said. "He's very dedicated and focused on his work."
Jerums said a sense of civic duty fuels his passion for his work.
"People's lives are dependent on what we do," he said. "You have to make a conscious effort. We treat every vehicle that comes out of here like it was our own."
Contact Kailyn Brown at kbrown@viewnews.com or 702-387-5233. Follow @kailynhype on Twitter.
Fleet services department
The department is one of three work groups that make up North Las Vegas' Transportation Services department; the others are traffic operations and traffic engineering and support. For more information, click here.