Construction starts on movie theater complex in North Las Vegas
November 6, 2017 - 4:47 pm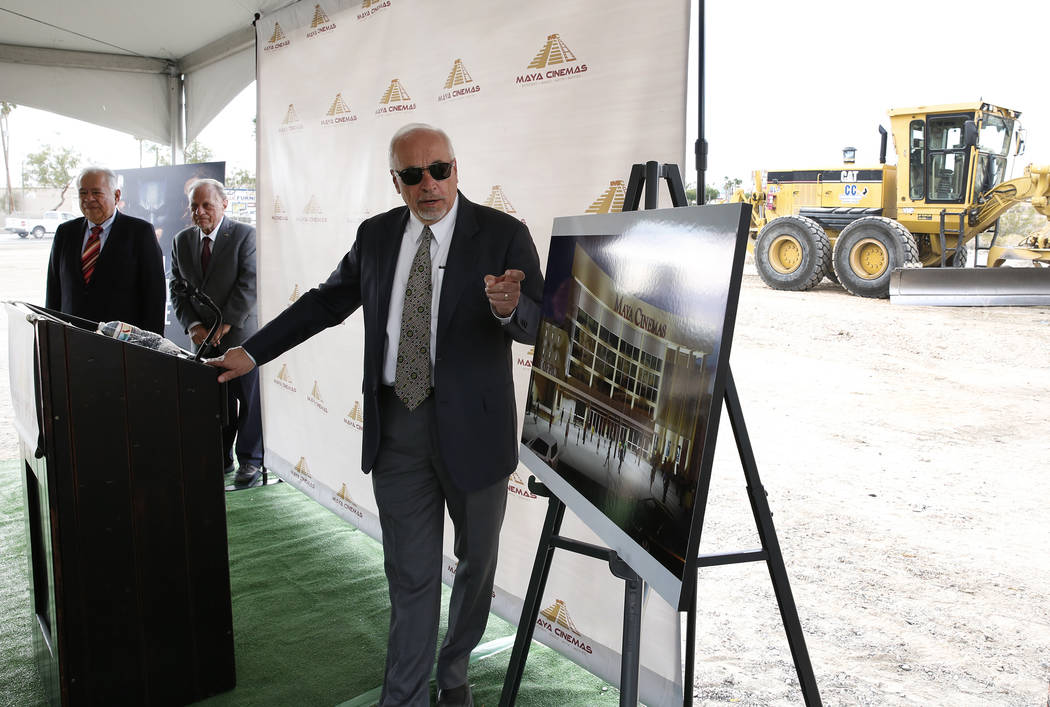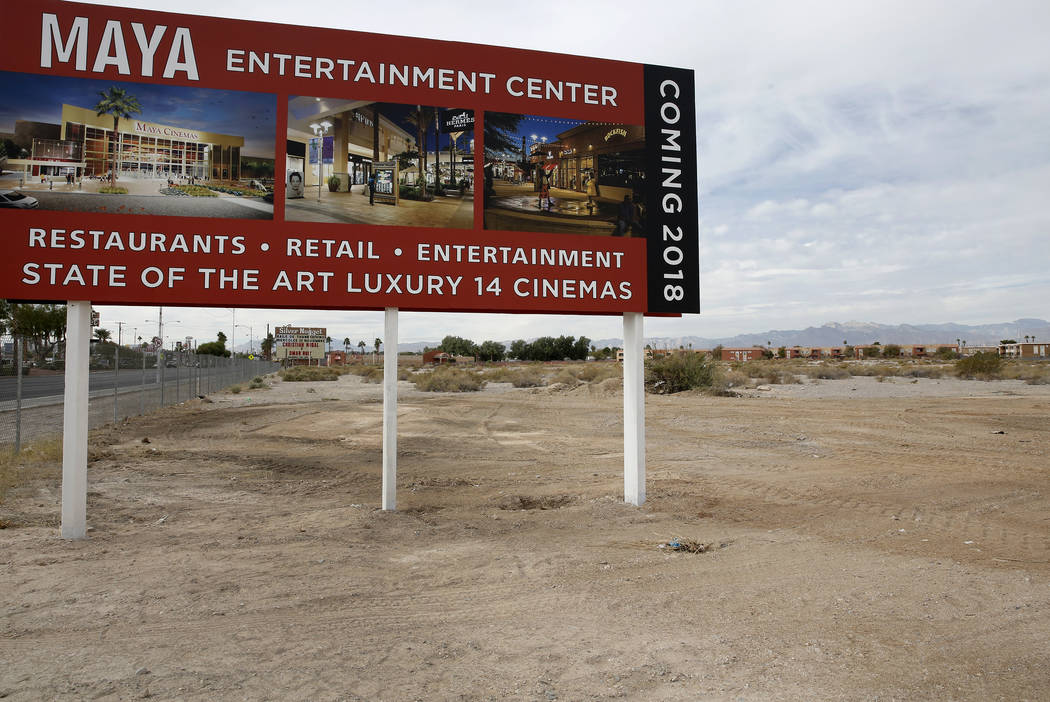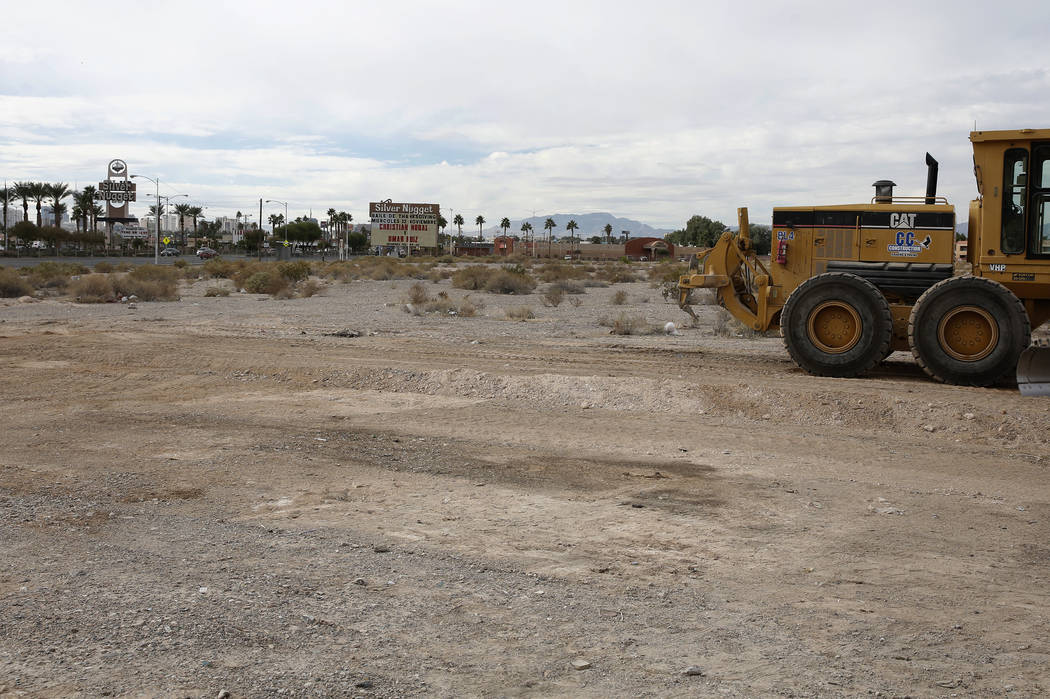 Construction started Monday on a 14-screen movie theater in North Las Vegas, showcasing one of the first visible steps toward redeveloping the economically depressed downtown area.
The $75 million Maya Entertainment Center is expected to cater to the city's burgeoning Latino population and preview what's to come for one of the city's oldest neighborhoods.
"We want to bring some of Hollywood to North Las Vegas," Maya Cinemas North America Vice President Larry Porricelli said.
The two-story theater, spanning 65,000 square feet, will rise from a dirt lot across the street from North Las Vegas City Hall and the Silver Nugget, set to open by Christmas in 2018.
Design and financial challenges sent costs soaring higher than first expected, prompting developers to delay construction of some shops and restaurants at the commercial until 2019 at the earliest, Maya Cinemas President and Chief Operating Officer Frank Haffar said.
Despite the setback, city officials said they're confident that Maya Cinemas' arrival will draw other shops, restaurants and housing that could transform the downtown area into a vibrant urban core tentatively known as Lake Mead Village West.
Just blocks from the movie theater, city officials are spending a $1.2 million federal community block grant to start converting the shuttered Canyon Electric Building at 1936 White Street into a two-story library with 7,000 square feet of space.
A museum or gathering space is planned for Washington Continuation School, which the city purchased last year for $260,000. Studies are underway for a new transit station on Fifth Street. A park spanning six to eight blocks would connect each of those areas.
"This project is a great catalyst for the revitalization we want to do, so we are extremely enthusiastic and excited about what this will do for the confidence level of all the plans and ideas we've been talking about behind the scenes," said Gina Gavan, economic and business development director for North Las Vegas.
"There can always be a lot of talk," Gavan said. "But we're making sure that these projects are thoughtful and meaningful."
North Las Vegas has long struggled to jump-start its downtown. Developers last decade sought to convert the Maya Cinemas site into a 350,000-square-foot retail complex known as Las Flores. After several stalls in construction, the plan failed and Dallas-based Sarofim Realty put the land up for sale.
Maya Cinemas, led by movie director Moctesuma Esparza, spent $7.1 million to buy the land in February, beating out a developer who wanted to build a minor-league soccer stadium across the street from City Hall.
Esparza, a Mexican-American activist-turned-movie producer best known for his work on "Selena," said his four Maya Cinemas theaters have helped spur economic activity in cities with large Latino populations.
"We know it will happen here, too," Esparza said of the company's venture into North Las Vegas, its first outside of California.
With a 38.8 percent Latino population, North Las Vegas could potentially see additional Latino-owned businesses spring up as downtown redevelopment progresses, Councilman Isaac Barron said.
"It reflects the fact that this area isn't just seeing an influx of Latino residents, but Latino money," said Barron, whose Ward 1 includes downtown. "Private industry is seeing the real-life potential of the Latino dollars and the influence of Latinos in this area."
Contact Art Marroquin at amarroquin@reviewjournal.com or 702-383-0336. Follow @AMarroquin_LV on Twitter.