North Las Vegas Airport celebrates 75th birthday with open house
December 11, 2016 - 11:30 am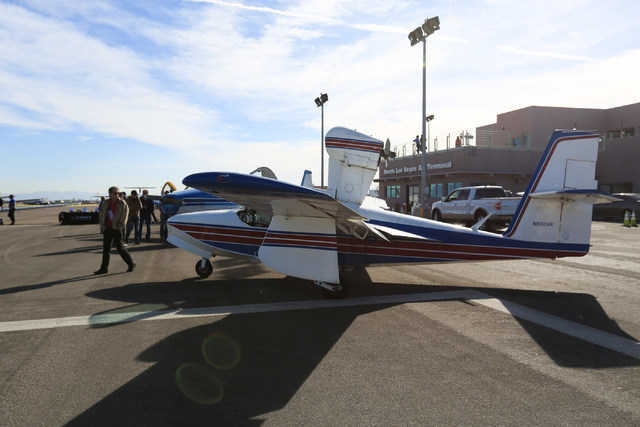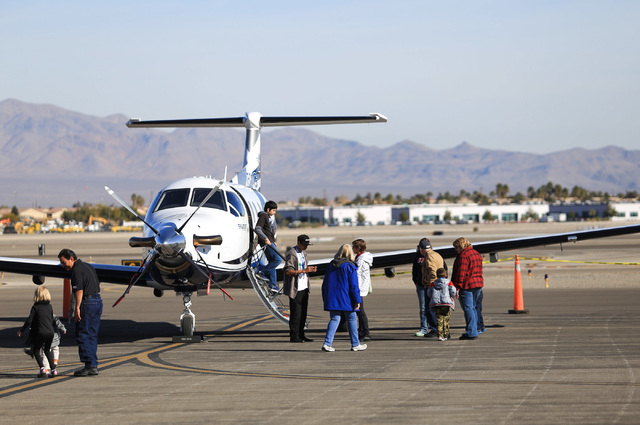 With booming engines and airplanes galore, the North Las Vegas Airport belatedly celebrated its 75th birthday Saturday, welcoming aviation enthusiasts to an open house event.
Plane owners and organizations based at the facility manned booths where members of the community could ask questions about everything from the airport to earning a pilot's license. Meanwhile, attendees got a glimpse of planes that fly into and out of the facility as owners stood by to offer tours and information on the aircraft.
"Some residents may not be aware of the many businesses and services that operate out of North Las Vegas Airport, such as Metro Search & Rescue, the helicopter of a local media outlet, sight-seeing tours and even life flights," Clark County Director of Aviation Rosemary A. Vassiliadis said in a news release Wednesday. "It is an integral resource to our community, and has been for some 75 years now."
The airport, now the second-busiest in the state based on takeoffs and landings, debuted as the Sky Haven Airport on Dec. 7, 1941 — the day of the Pearl Harbor attacks in Hawaii. Officials commemorated the actual opening date anniversary on Wednesday.
The attacks on opening day interrupted scheduled festivities and shut down a flying demonstration as planes were forced to remain grounded. In the following years, the airport faced a series of name and ownership changes, including a 20-year stretch during which it was helmed by Howard Hughes' Summa Corporation.
Inspecting his plane outside of the airport building, U.S. Air Force Capt. Richard McCann was occassionally interrupted Saturday morning by groups of giddy children.
McCann's plane, which was built in 1980 by a man in Wisconsin, was just one of the aircraft lining the rear of the airport, ready to wow visitors at the open house.
Covered in bright red fabric, the plane — named "Lovely Laura" after his girlfriend — fulfilled a dream of his when he bought it nearly five years ago.
"I've always wanted to fly an airplane, and I remember going to things like this as a kid," he said.
McCann said that he attended in part to show support for the airport, which he believes is an important space for small aircraft owners in the area.
"Having a place that you can do this kind of flying is nice," he said.
Cathy Stockdale, who also flies her plane out of the airport, agreed.
"It doesn't get the credit it deserves," she said. "They just do so much out here."
Contact Pashtana Usufzy at pusufzy@reviewjournal.com or 702-380-4563. Follow @pashtana_u on Twitter.