North Las Vegas K-9 injured while searching for Camp Fire victims
Updated November 27, 2018 - 5:23 pm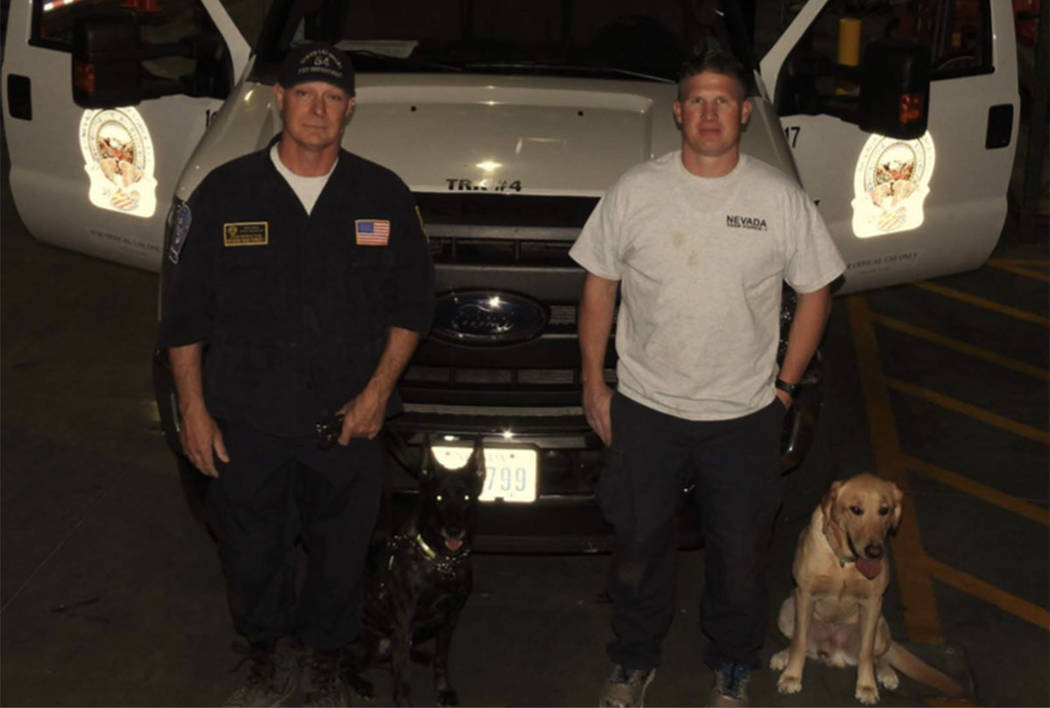 Debris slashed a North Las Vegas K-9's leg open Saturday while she and her handler searched for Camp Fire victims in Northern California, Clark County officials said Tuesday.
It's unclear what exactly injured the K-9, named Kya, but it may have been a shard of glass or sheet metal. A veterinarian at the scene gave her four staples just above the paw.
She returned to work in a limited role Tuesday.
"These K-9s have a very high drive to go to work," said Paul Bailey, who manages the task force that Kya is on. "So putting them in a down mode when they know there is work to be done — it bothers them. She's probably happy to be back."
Kya, 2, is specially trained to locate human remains. She typically works with North Las Vegas firefighters, but last week, she was deployed to the area of Paradise, California, to help with recovery efforts as part of Nevada Task Force 1.
The task force is based in Clark County and often responds to disaster zones to assist search and rescue operations.
Kya was one of three local K-9s sent to help — one with a civilian handler, the others with handlers from the Clark County Fire Department. Their mission may last through Dec. 6.
"All of our fire personnel are wearing protective gear, but the dogs are not," Bailey said. "They're moving across jagged surfaces, so an injury like this isn't uncommon."
But the dogs are used to the work, Bailey said. A veterinarian will continue traveling with the team in the event of more injuries. Their focus is still finding the dead.
As of Sunday, the Camp Fire was 100 percent contained. Officials confirmed 85 people died in the blaze, and more than 240 are still missing.
Contact Rachel Crosby at rcrosby@reviewjournal.com or 702-477-3801. Follow @rachelacrosby on Twitter. The Associated Press contributed to this report.