Seeds of hope sprout in North Las Vegas neighborhood
February 6, 2017 - 12:09 am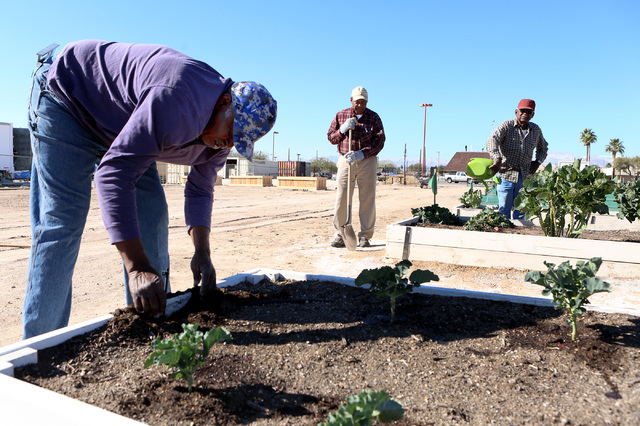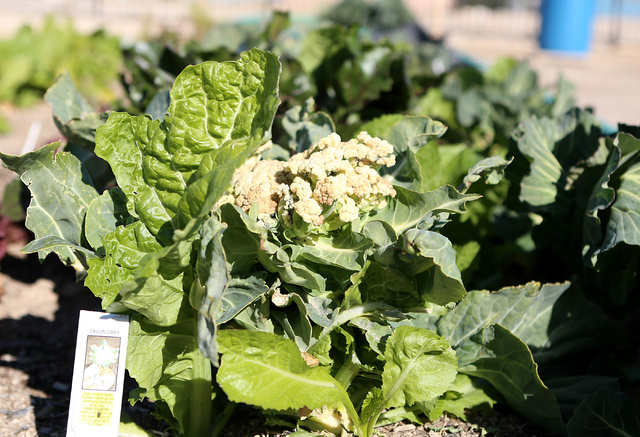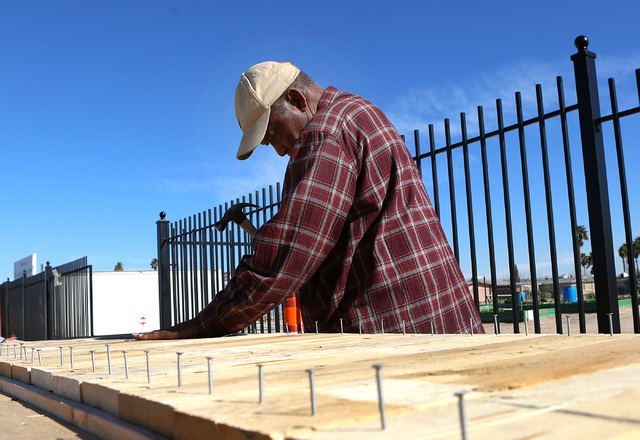 Charlie Blake proudly looked across the community garden at Zion Methodist Church in North Las Vegas, where heads of lettuce, broccoli bunches and other vegetables are sprouting from roughly 40 soil-rich beds rising from the desert land.
As a congregant and volunteer at the church for more than 20 years, Blake said the surrounding working-class neighborhood is "rough, where people are living day-to-day with nothing to look forward to."
Opening the community garden in June, Blake said, was like planting the first seed of hope in helping to transform an older, southern section of North Las Vegas that struggles with a 31 percent poverty rate.
"We're setting the bar high so we can become a beacon in the neighborhood," he said.
The garden opened with some help from the city of North Las Vegas and the Southern Nevada Regional Housing Authority, which have spent the last two years drawing up a larger strategy to revitalize an oddly shaped, high-crime area near the city's border with Las Vegas.
Bolstered by a $485,000 grant from the U.S. Department of Housing and Urban Development two years ago, city officials solicited input from residents on how to improve a neighborhood encompassing the Rose Garden senior housing development and the vacant chunk of land where the Buena Vista Spring apartment complex once stood as a hub of crime.
"It's going to bring a second chance to that area," said Councilwoman Pamela Goynes-Brown, whose Ward 2 takes in half of that area. "It's going to being a new vibe and a sense of accomplishment because the community has spoken, and we're excited to see what's coming down the road."
'WE HAVE A ROADMAP'
The lengthy planning effort, known as the Choice Neighborhood Initiative, is finally starting to bear fruit.
Construction is scheduled to start in May on a new Rose Garden public housing complex for senior citizens with 120 units on a vacant 2.7-acre parcel at Tonopah Avenue and Yale Street — not far from the aging structure that it will soon replace.
The $22 million project, set to open in mid-2018, will be spearheaded by the Housing Authority and the nonprofit Nevada HAND, which helps find affordable housing for low-income people.
"It's certainly going to be better than the deteriorated plumbing and electrical wiring that we have now," said Bill McCracken, who lived at the complex for four years and serves as president of the Rose Garden Resident Council.
"The neighborhood definitely needs to be upgraded so that there are better living conditions for everyone here," McCracken said. "I appreciate the city's efforts, and hopefully it will turn out as good as they're promising."
Improvement won't happen overnight.
Plans still are under development for an 18-acre swath of land where the Buena Vista Springs multifamily housing complex once stood. The collection of apartments, once notorious for drug deals, burglaries, assaults and other crimes, was acquired by the city and demolished three years ago.
Down the line, city officials are considering whether to fill the void with housing, shops and restaurants.
"We have a neighborhood that is challenged and has significant needs," said Amparo Gamazo, director of development and modernization for the Southern Nevada Regional Housing Authority.
"It's going to take some time," Gamazo said. "But we have a roadmap that will transform the neighborhood."
EXPANSION POSSIBLE
City officials recently applied for another federal grant in hopes of furthering the neighborhood's renewal over the next decade, said Jim Haye, neighborhood services coordinator for the North Las Vegas Community Services and Development Department.
If awarded, the funding could serve as leverage to attract developers and much-needed construction jobs, along with grocery stores, dental offices and medical services that residents have long sought.
"It's a challenge, but we want to make this a place where people want to live and want to do business," Haye said.
Councilman Isaac Barron said North Las Vegas' older neighborhoods shouldn't be left out of the surge of new housing developments and businesses springing up in the city's northern reaches.
Half of the area falls inside Barron's Ward 1, and the councilman said he would like to see a seamless connection with the city's parallel effort to redevelop the downtown area into a housing and retail mecca known as Lake Mead Village West.
"It's a fantastic project that will bring some life to the area," Barron said. "We're making the right improvements to North Las Vegas while being fiscally responsible about it."
Contact Art Marroquin at amarroquin@reviewjournal.com or 702-383-0336. Find @AMarroquin_LV on Twitter.