This subdivision, where new homes can't be built, getting big neighbors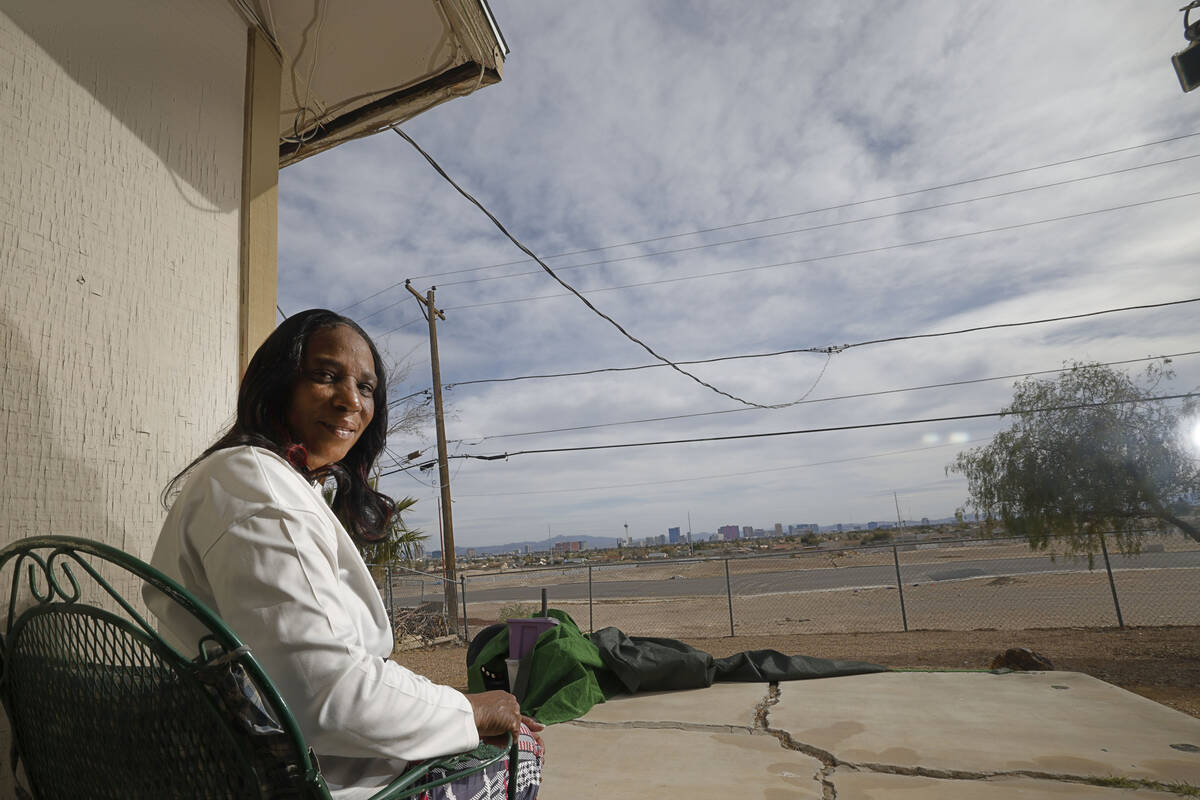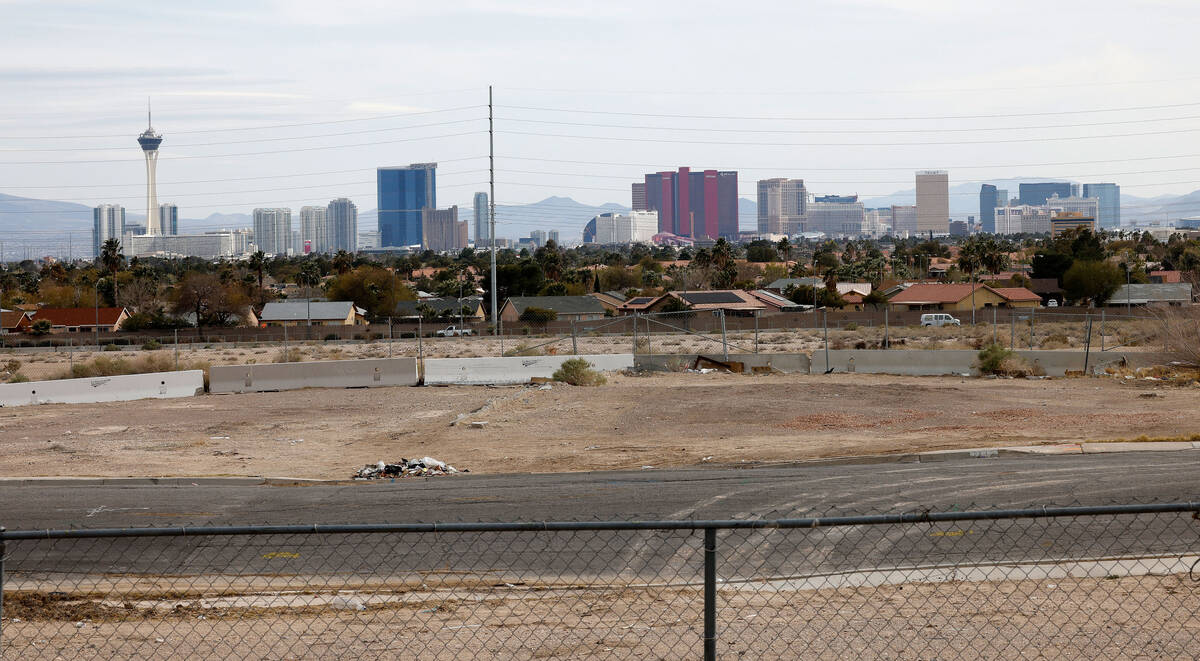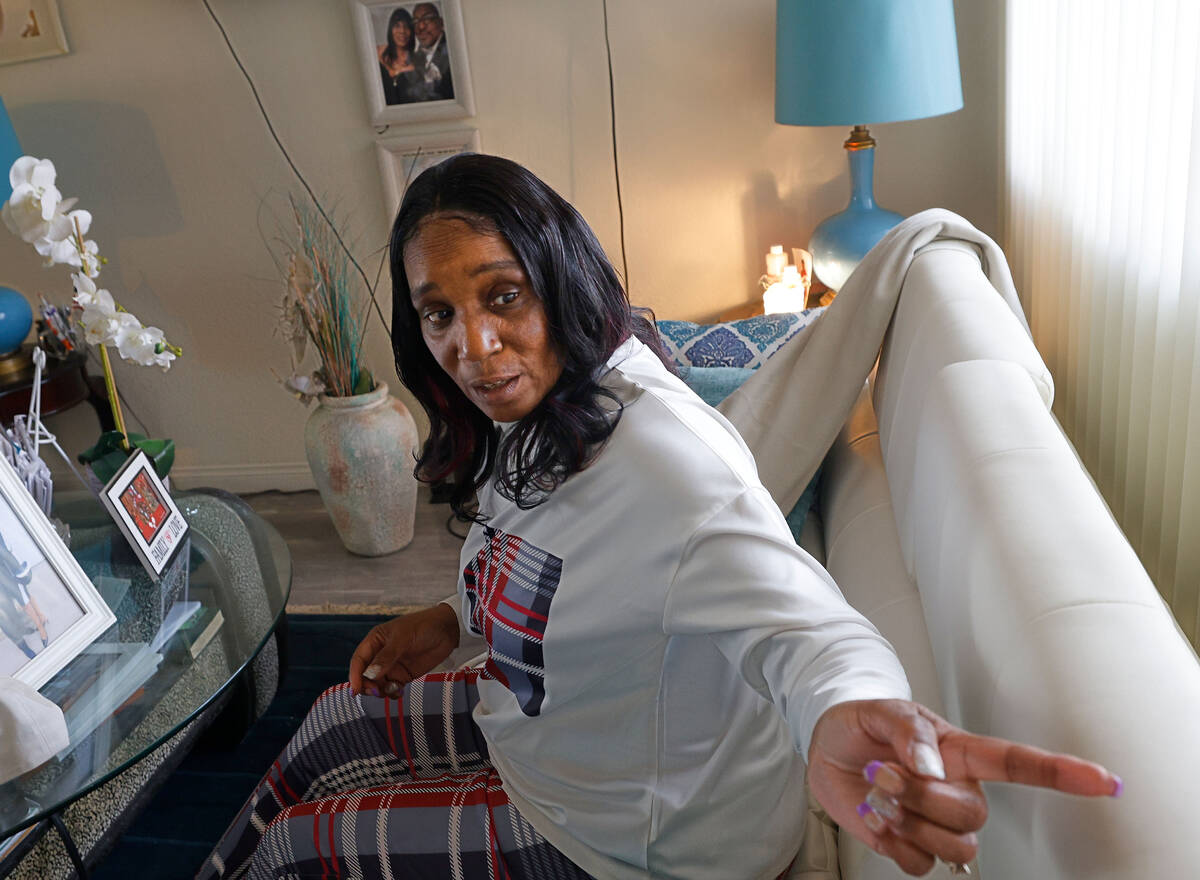 Ernest and Nancy Johnson watched last week as workers put in a fence around two large parcels to the west and southwest of their North Las Vegas neighborhood, the star-crossed Windsor Park, plagued for decades by sinking ground.
The land on the fringes of their residential area will serve as the site of Windsor Commerce Park, a massive, city-approved, eight-building industrial campus to open with 1.6 million square feet by the end of 2024, according to city planning records.
Windsor Park, a low-income housing area built in the 1960s, remains neglected and in generally shabby condition, with about 100 aging homes sitting amid scores of vacant lots and the crumbling cement foundations of homes that were demolished or removed.
The news about the huge new warehouse complex shocked the Johnsons and neighbors.
They questioned how the city, citing a 30-year history of ground collapsing from depleted underground water aquifers, could block the building of new homes, streets, community centers and other developments in Windsor Park but permit a huge development bordering the area.
"You all tell us that you can't build on this land because this land is sinking," said Ernest Johnson, 65, at his home on Hayworth Avenue. "So, what the hell are you going to build right there if this land is sinking and you can't build houses?"
"They can do what they want to do," Nancy Johnson, 67, said about the planned warehouses, "but they can't help us."
Leonard Davis, 68, a neighbor, called it bad enough that industrial complexes were recently built in the area near North Las Vegas Airport.
"We're in a dead zone," Davis said. "They won't build up our community. They keep saying they're going to straighten up the sidewalks, straighten the streets out. Clean the desert off. They haven't done any of that."
All three residents said they were unaware that the City Council was considering Windsor Commerce Park and had voted in favor of the development last summer.
"We didn't know it was approved," said Nancy Johnson, who has lived in Windsor Park since 1976. "We didn't know about any meeting. We weren't notified."
Another setback for the Johnsons is that Windsor Commerce Park will rise to 36 feet high, which the Johnsons fear will block the wonderful backyard view of downtown Las Vegas and the Strip that they and their extended family have enjoyed for many years.
"I really have a problem with that," Ernest Johnson said. "What they are doing now is they are building factories around us and we are sitting in the middle of nothing but factories. This is a residential area, not a commercial area."
Potential for fissuring, land subsidence
The Windsor Park housing subdivision was built between 1964 and 1968, according to a 2019 city draft environmental report.
A 1992 geotechnical study found that "the potential for fissuring and land subsidence was high" and recommended abandoning it or putting it to another use.
In 1996, the soil damage got worse, and so "the city accelerated the relocation of the homes," the 2019 report stated. An analysis in 2014 said the sinking had not worsened, but the city decided it was better to relocate the homes and convert it all into a 14.6-acre park with a sports field, trails and picnic areas.
That goal has proceeded slowly. Some residents, like the Johnsons, attribute it to several factors: Their homes are paid for, it's too expensive to move to another home given current prices ,and they cannot afford a new mortgage at their age and with their reliance on Social Security.
In July last year, the city council enacted a zoning change for the 86-acre Windsor Commerce Park site, on undeveloped desert land on the northeast corner of Carey Avenue and Simmons Street bordering the neighborhood, to accommodate the project.
Its developer is LPC Desert West of Phoenix, a subsidiary of Dallas-based Lincoln Property Group. Lincoln bought the acreage in August from Marc and Lori Mendenhall, heirs of Las Vegas Paving Co. founder Robert L. Mendenhall, who died in 2018, for $22 million.
LPC Desert West will build eight buildings ranging from 397,400 square feet to 49,920 square feet, up to 36 feet in height "with 24-foot glass entries as well as touchless technology," according to a company news release.
The Phoenix company did not respond to requests for comment.
Dispute with Mayor Goynes-Brown
The Johnsons have also had an ongoing dispute with North Las Vegas Mayor Pamela Goynes-Brown, going back to when she represented Windsor Park as a councilmember for Ward 2 before her election as mayor in November.
They blame Goynes-Brown for the lack of progress there and claim she did not advise them about the new warehouse project.
Brittany Toth, the mayor's spokesperson, said that two neighborhood meetings were held last summer on the project. About 25 people came to the first one, only 11 attended the second and just two people appeared when the council took its final vote to approve it in July, she said.
"The developer made numerous neighborhood meetings," Toth said, adding that the city "legally noticed" Windsor Park residents about the sessions.
The Johnsons said they were not notified about those sessions.
The 86-acre site of the planned buildings is also outside the boundaries of the Windsor Park residential area, Toth said.
The ground at the Windsor Commerce Park development would not pose the same sinking problems as the Windsor Park homes because of "the (advanced) technology that goes into industrial buildings today versus residential buildings in the '60s," Toth said.
The city allows homeowners in Windsor Park to make repairs to their homes based on city codes, but it does not allow any additions or expansions, she said.
Federal dollars are available to assist residents to relocate to homes outside of Windsor Park, but the city won't help pay for improvements to their homes because of the impacts posed by the area's unstable ground, she said
"We are not going to use federal funding for houses that are not structurally sound," Toth said.
Of the 241 homes originally built in Windsor Park, the city has quietly acquired 136 of them, using state, local and federal funds – spending $14.5 million since 1994 — and with residents voluntarily relocating and leaving their vacant lots behind, Toth said.
"We found solutions for more than half of the residents and we have continued to work for the rest of those residents," she said.
In the meantime, Goynes-Brown intends to meet with Marcia Fudge, the Secretary of the U.S. Department of Housing and Urban Development, on behalf of Windsor Park residents, Toth said.
State Sen. Dina Neal, D-North Las Vegas, who has come to the aid of the Johnsons and Windsor Park residents, said there was "a lot of opposition behind the scenes" to the warehouse project and that she has worked with UNLV's Williams S. Boyd School of Law to explore solutions.
"This is a matter of finding justice for the last 90 residents who are there," Neal said.
Nancy Johnson said that back in the 1960s, when Windsor Park started, it was the only place that Black people "were allowed to have."
"It was beautiful up here," she said. "The city made it look like this. They just want us all out."
Contact Jeff Burbank at jburbank@reviewjournal.com or 702-383-0382. Follow him @JeffBurbank2 on Twitter.