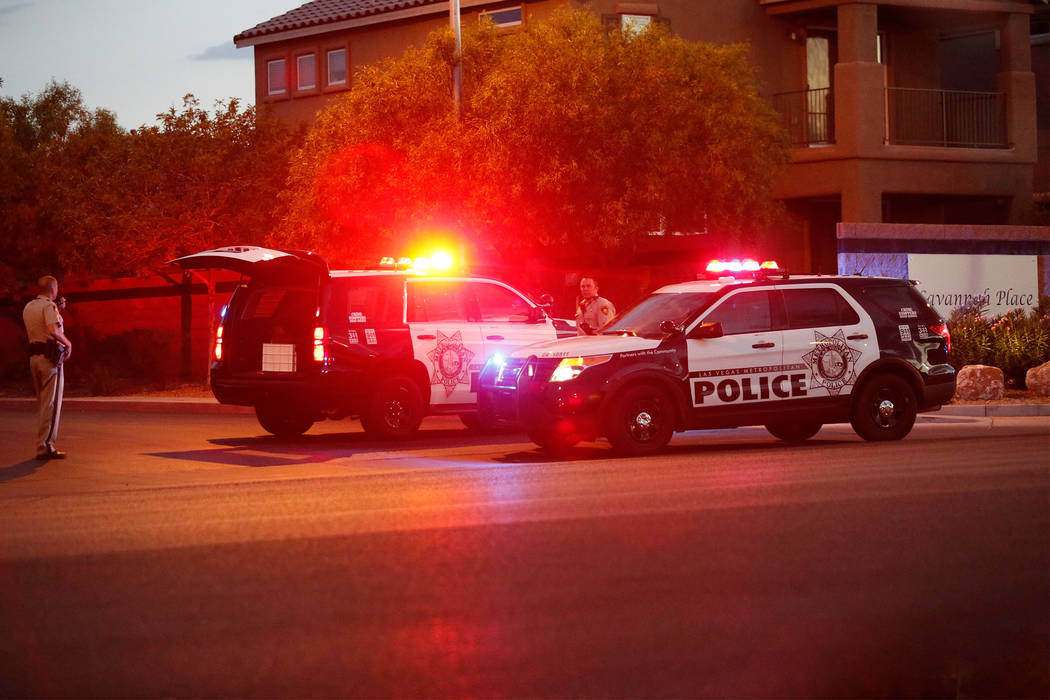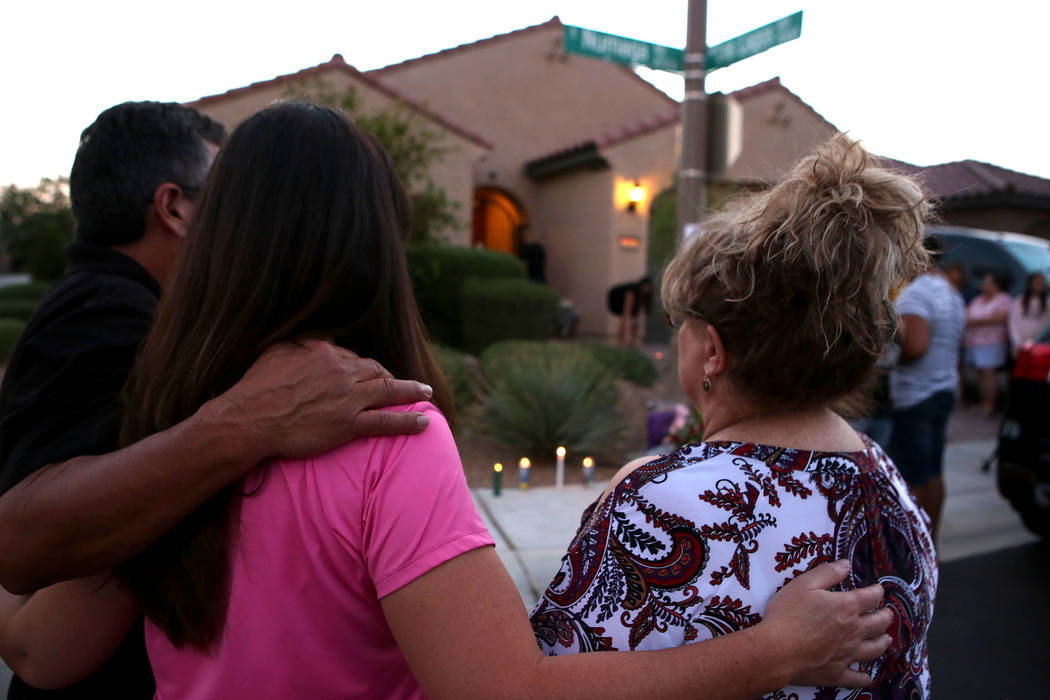 Still shaken after two murder-suicides in the southwest valley in July, police officers and residents gathered at the Windmill Library to discuss the ongoing issue of domestic violence and human trafficking during the Enterprise Area Command's First Tuesday.
The two incidents shocked neighbors and left residents in disbelief. On the evening of July 10, police were called to perform a welfare check on a home in the 10300 block of Numaga Road, near South Rainbow Boulevard and West Cactus Avenue. They found the bodies of John Henry Lunetta, 40, and Karen Michelle Jackson, 35, and their almost-1-year-old, John Jr.
On July 26, police responded to another murder-suicide a few miles away in the 8700 block of Norton Peak Avenue. Tyler Knaubq forced his way into the home, stabbing his estranged girlfriend and 4-year-old child before killing himself, police said. The mother, 35-year-old Cierra Cabrera, survived, but the child died at the Southern Hills Hospital that night.
In 2015, police responded to a domestic violence call at the same home, where Knaub was arrested on battery and domestic violence charges.
At the Windmill Library event, Gary McClain, community manager for the Mountain's Edge Master Association, thanked police officers for their service, which included going door to door in affected neighborhoods to discuss the events.
"These officers are taking the steps and going out and interacting with the residents to try to restore some normalcy," McClain said.
For the rest of the evening, Arlene Rivera, ombudsman for the Nevada attorney general's office, addressed the concerns of the audience, providing statistics and resources for victims and those wishing to help.
Rivera's job includes oversight of the Nevada Council for the Prevention of Domestic Violence, the attorney general's Domestic Violence Fatality Committee and the Committee of Domestic Violence.
"My division focuses on prevention and education," Rivera said. "There's a lot of work to do here. I'm not going to come here saying, 'We're doing all of it.'"
Nevada in 2014 had the third highest homicide rate for women killed by men in a single-victim, single-offender incident, after Alaska and Louisiana. Of the victims who knew their killers, 64 percent were wives, common-law wives, ex-wives or girlfriends.
"This is why we need to continue to work very hard to encourage people to have these conversations," Rivera said. One in three women and one in four men are victims of domestic abuse, Rivera said. Domestic violence hotlines receive about 21,000 calls daily in the U.S., or about 15 calls every minute, according to the National Coalition Against Domestic Violence.
There have been recent inroads made in the state Legislature: On June 8, Gov. Sandoval signed Senate Bill 124 into law, which bars people convicted of stalking or those under an extended protection order for domestic violence from possessing firearms.
Human trafficking in Nevada
Rivera also discussed human trafficking, including how the illegal industry has the potential to thrive in Las Vegas.
The Metropolitan Police Department has recovered more than 2,200 victims of sex trafficking since 1994, and it recovered 107 children victimized by human traffickers in 2016, according to the state attorney general's website.
Out of the 34,000 reports received by the National Human Trafficking Hotline last year, 245 phone calls, 45 emails and 18 online tip reports came from Nevada. Nevada's call volume was the 29th highest in the U.S. in 2016.
"The best resource we have is knowing that anyone can be a victim," Rivera said. "A lot of victims unfortunately don't see themselves … as victims of human trafficking." Often these victims are able to identify as a victim of domestic violence or sexual assault, she continued.
"This is why we're having this conversation, because it's all so interconnected," Rivera said.
Contact Madelyn Reese at mreese@viewnews.com or 702-383-0497. Follow @MadelynGReese on Twitter.
Domestic violence contacts
Rape Crisis Center: rcclv.org; hotline: 702-366-1640 or 888-366-1040
S.A.F.E. House : safehousenv.org; hotline: 702-564-3227; office: 702-451-4203
Safe Nest: safenest.org; hotline: 702-646-4981; rural hotline: 800-486-7282; office: 702-877-0133
Hermandad Mexicana Transnacional: hermandadlasvegas.org; office: 702-598-0052
Shade Tree: theshadetree.org; 702-385-0072
National Domestic Violence Hotline: thehotline.org; 800-799-7233 or 800-787-3224
National Dating Abuse Hotline: loveisrespect.org; 866-331-9474 or 866-331-8453 TTY
National Sexual Assault Hotline: rainn.org; 800-656-4673
Nevada resources: nevada211.org; for free, confidential information and referrals for resources, call 211; for those with speech or hearing disabilities, call 711
7060 W. Windmill Ln, Las Vegas, NV 89113