New spot near Strat offers 'picture-perfect' — and safe — views of arches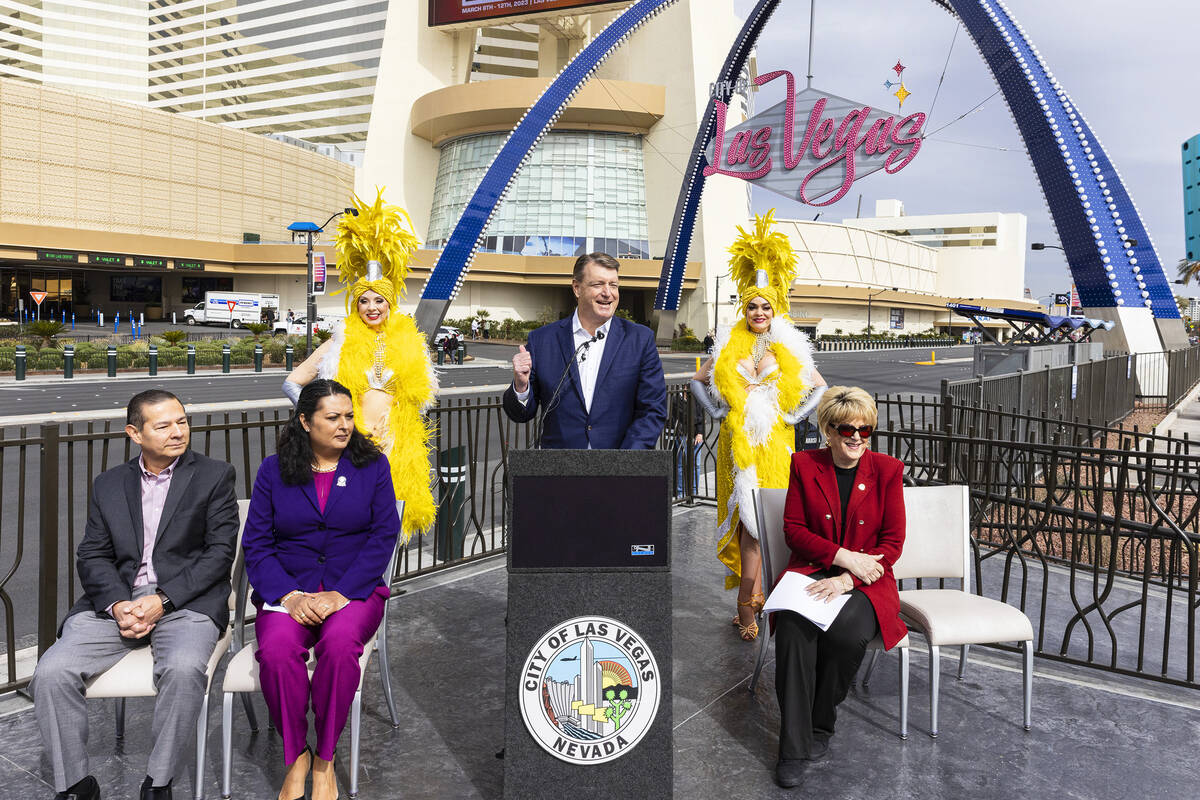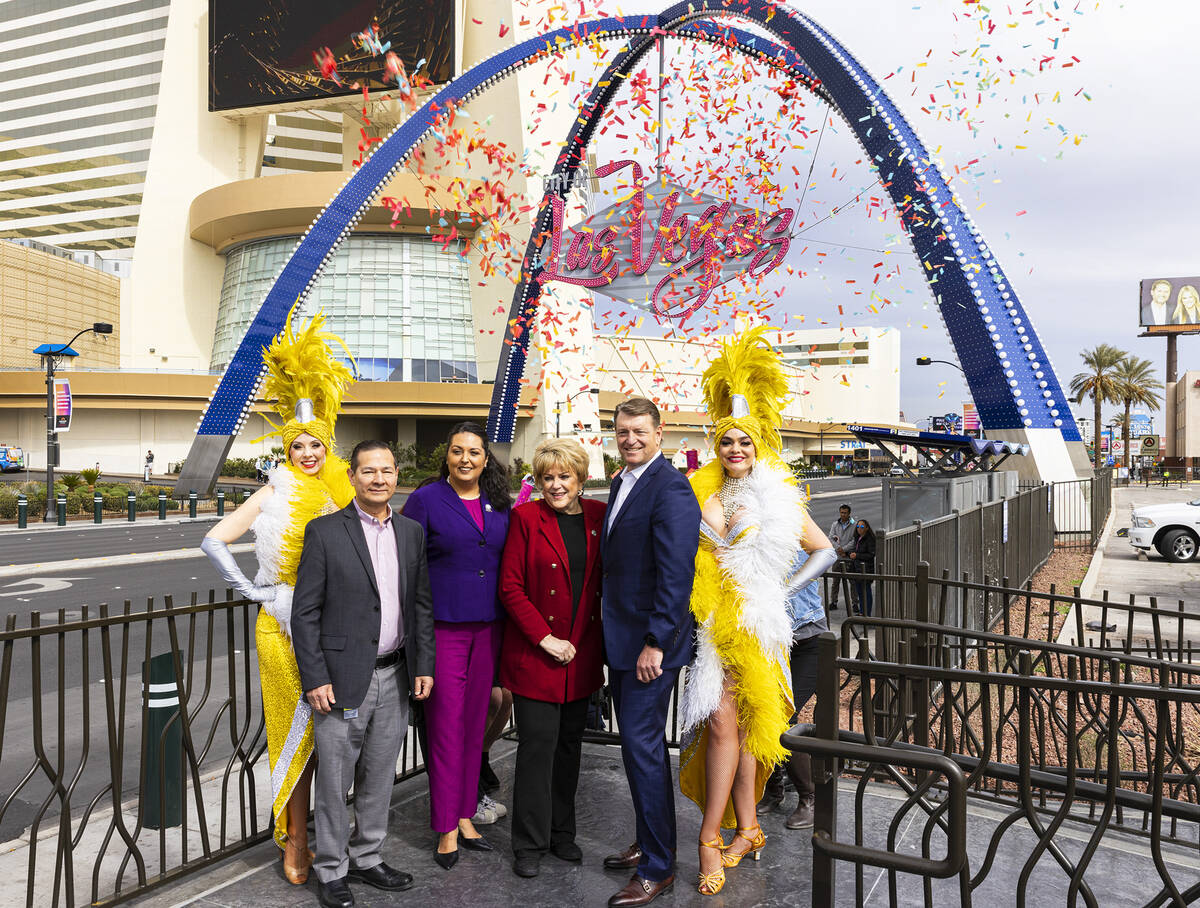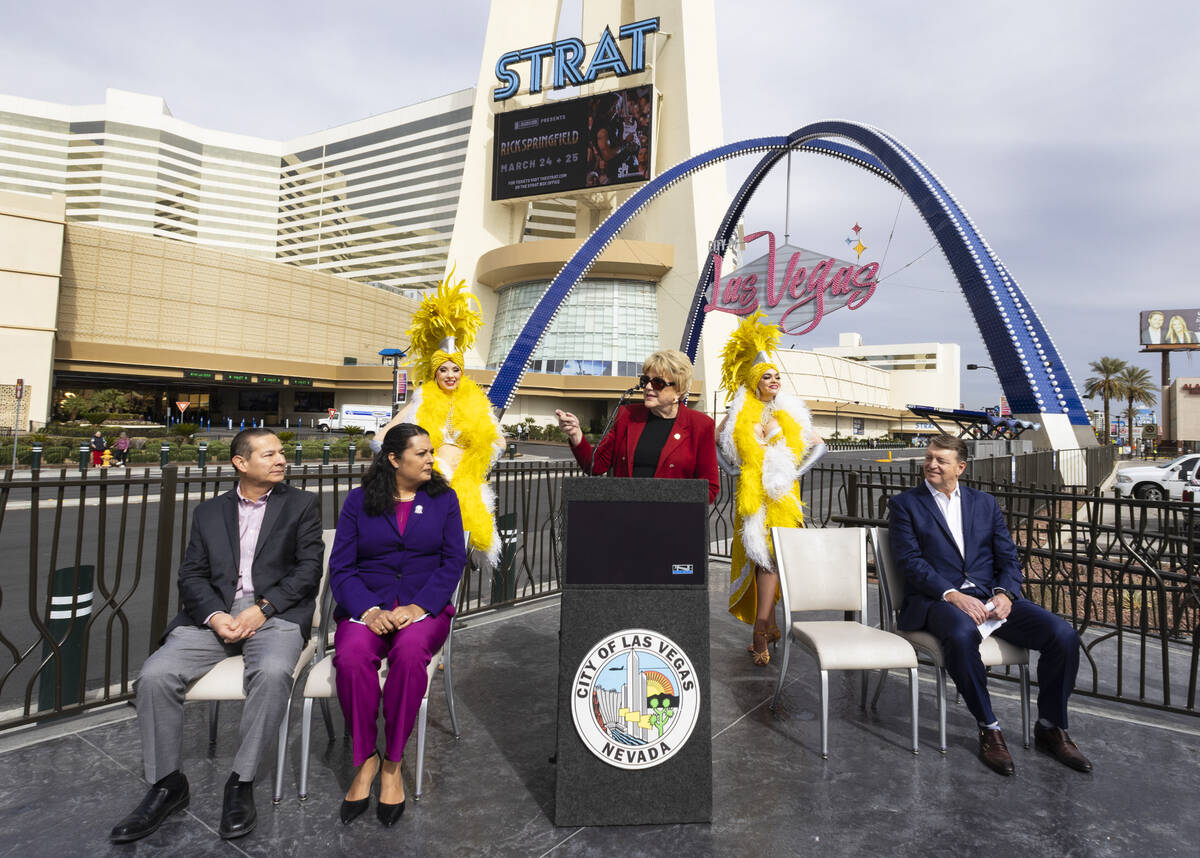 The view for picture takers at the mammoth Gateway Arches in the north Strip just improved significantly.
On Wednesday morning, the city of Las Vegas and the parent company of The Strat Hotel, Casino & SkyPod inaugurated an elevated, concrete observation deck.
Flanked by a pair of Las Vegas showgirls, Mayor Carolyn Goodman and Councilwoman Olivia Diaz were among the subjects of the first official selfie from the platform.
"What a great day," Goodman declared. "It's been a marriage in heaven," she said about the partnership with the resort.
The platform — designed as a place where visitors can safely take photos without the danger of being hit by a car — rests in a parking lot along Las Vegas Boulevard South owned by the Strat's operators.
About two dozen people fit with space to spare on the platform during the inauguration ceremony.
The project, including the acquisition of the land, was projected to cost the city $200,000, a city spokesman said when the deck was approved. The funds were taken from a larger $125 million construction project dedicated to beautifying the tourist corridor from Stewart Avenue to Sahara Avenue, City Manager Jorge Cervantes said.
Photos of the 80-foot Gateway Arches, built in 2020, quickly became must-haves for visitors' social media feeds.
"We didn't anticipate how popular the arches were going to become as a backdrop for these picture-perfect moments," Diaz said.
The city's public works department will be able to surveil the deck in real time over video, and will help maintain the deck as they do other public property, the city said. The city marshals will add the platform to the areas they patrol, Cervantes said.
The dual arches, a $6.5 million attraction designed by Selbert Perkins Design and built by YESCO are illuminated by thousands of programmable LED lights, and hoist a city of Las Vegas logo from their center.
Conversations to introduce visitors to the north Strip, by having the arches as an unofficial entrance to downtown Las Vegas, began about a decade ago, Cervantes said.
"This partnership really helped bring it to what it is today," he said.
Contact Ricardo Torres-Cortez at rtorres@reviewjournal.com. Follow @rickytwrites on Twitter.