Wounded Las Vegas woman was ferried to safety in garbage can
October 9, 2017 - 6:33 pm
Updated October 9, 2017 - 7:05 pm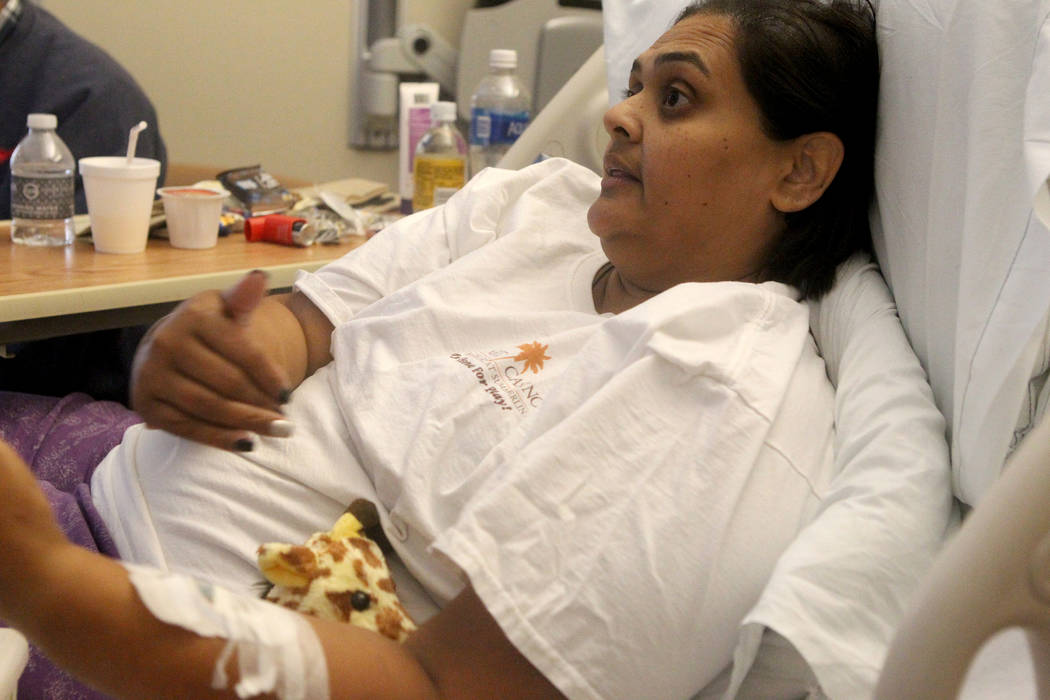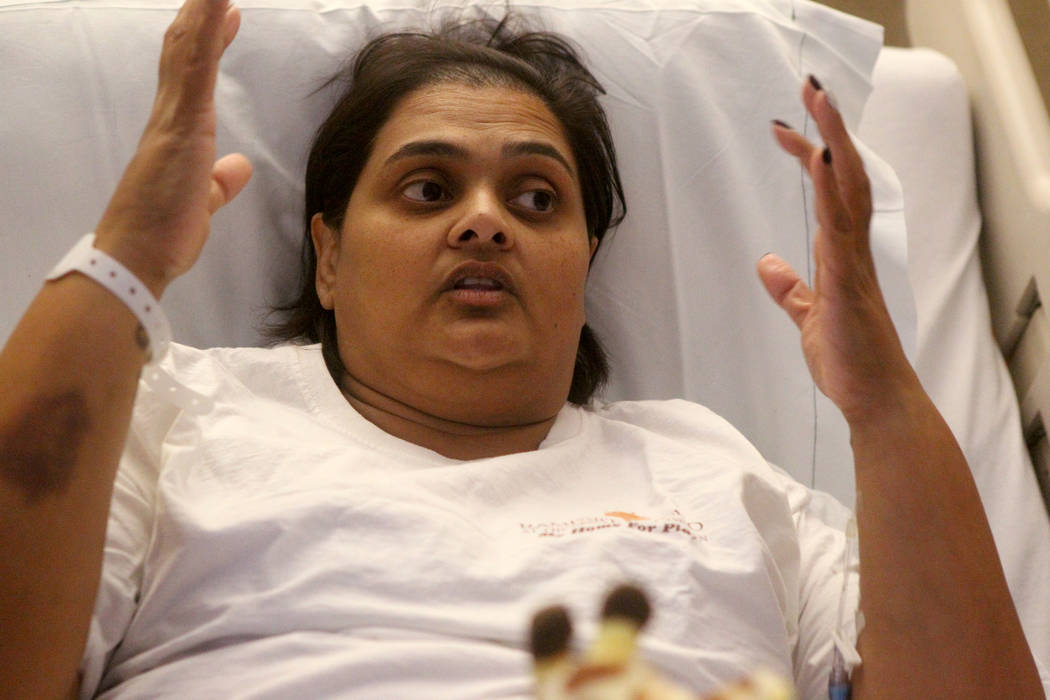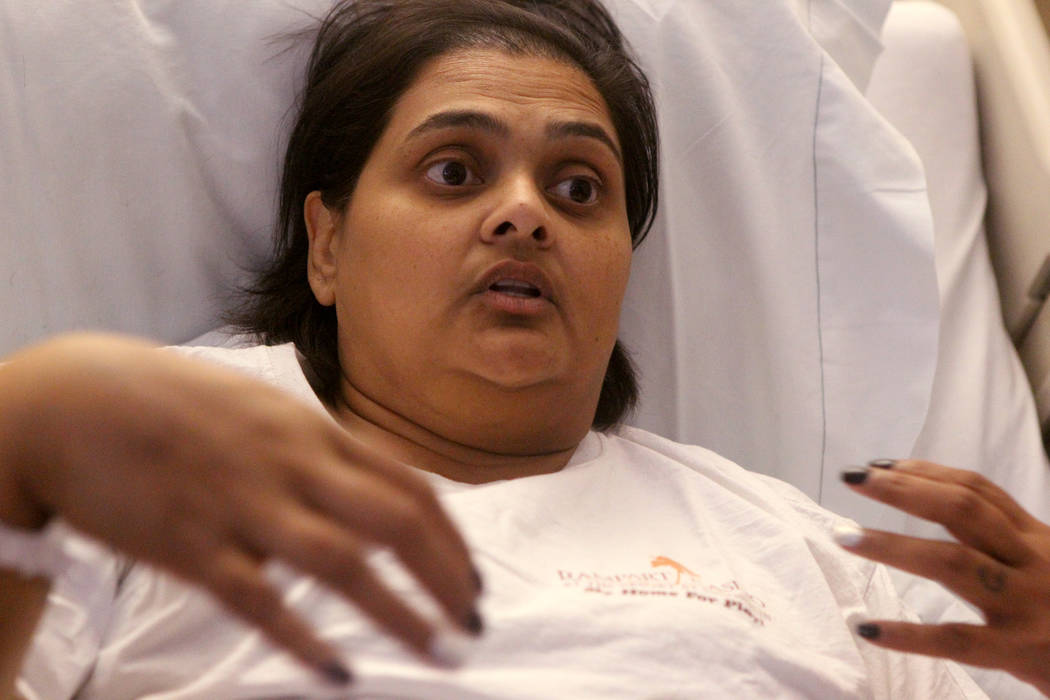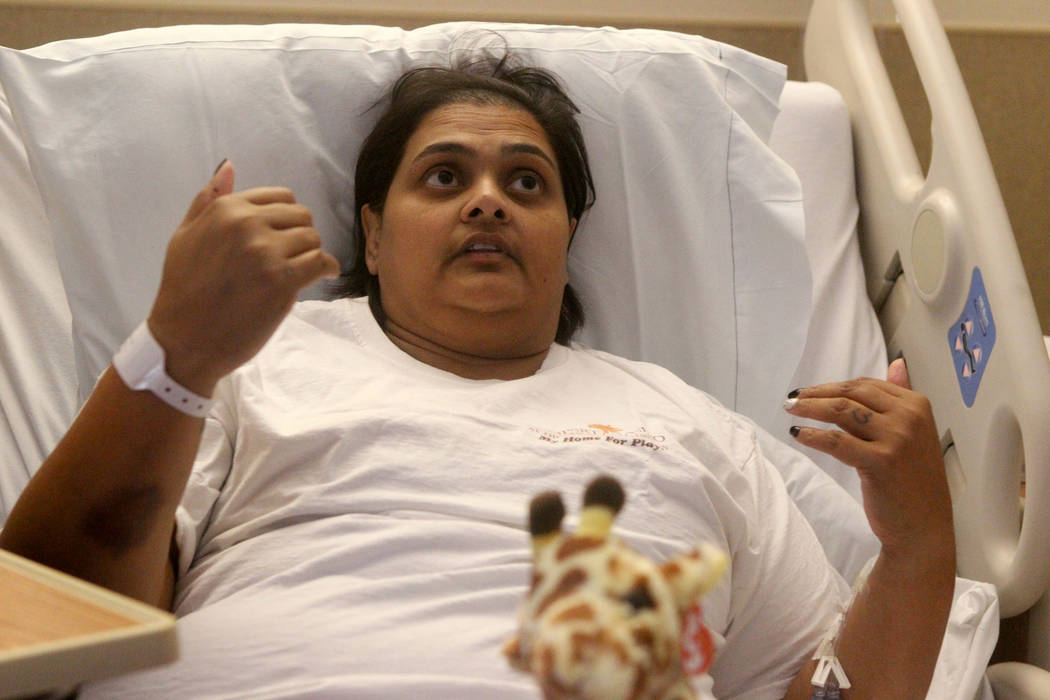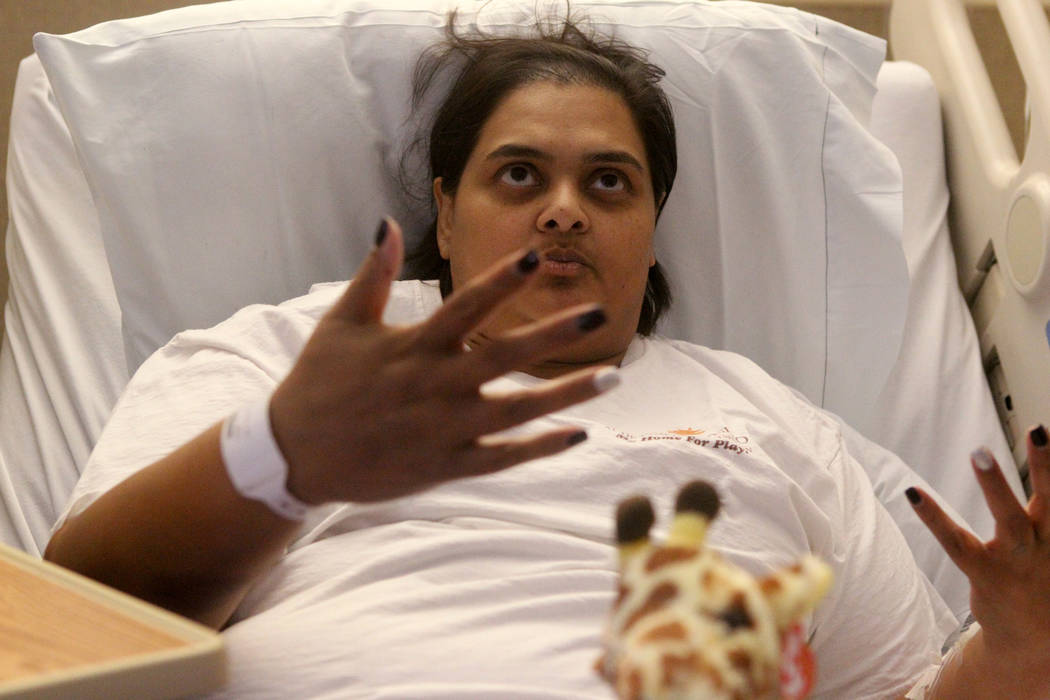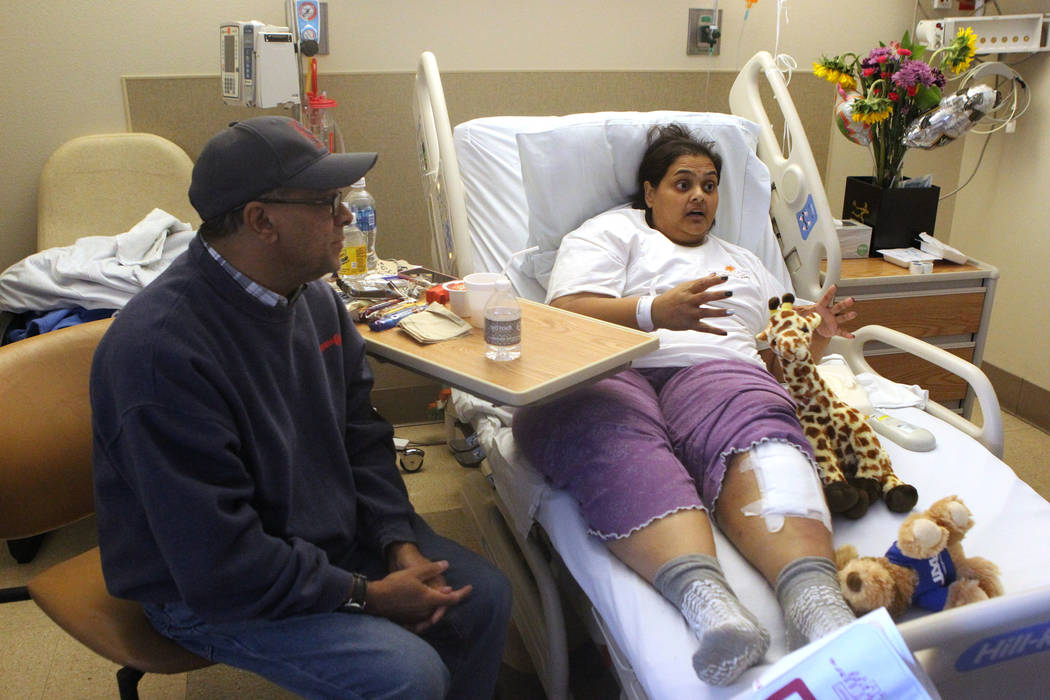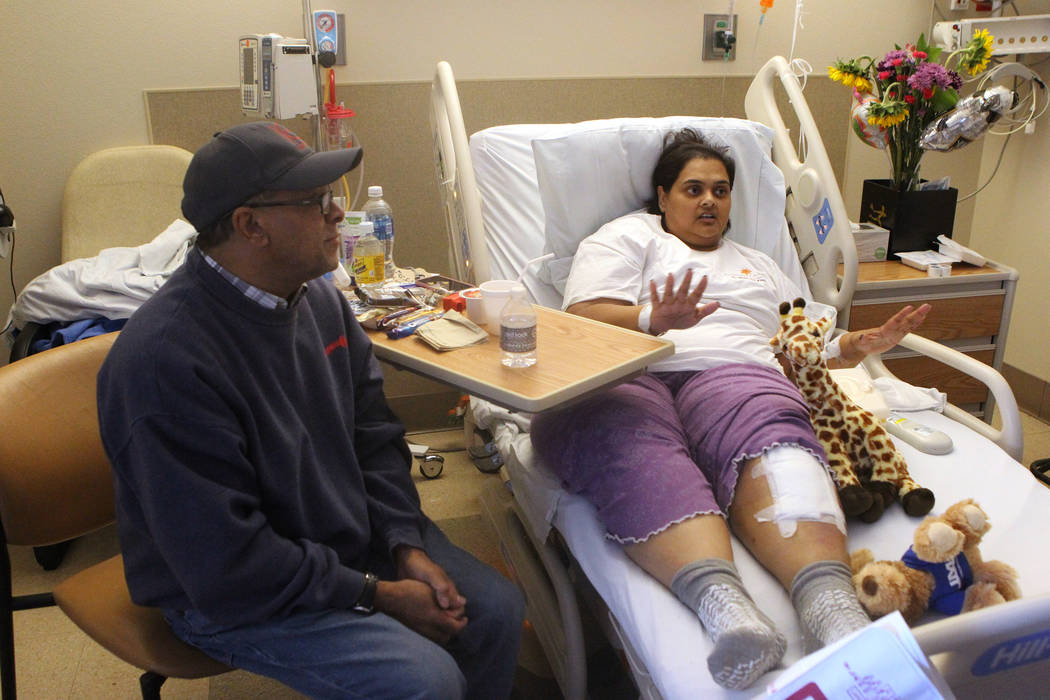 Samanta Arjune, who may have been the only person wounded at the Route 91 Harvest festival who was rolled to safety in a garbage can, bent forward in her hospital bed and showed where a bullet remained lodged in her left leg.
"They say if the bullet's taken out, it could do too much damage to my leg," said the 46-year-old Las Vegas resident, pointing to a large bandaged area just below her left knee and grimacing. "But I'm supposed to be able to walk again. I've just got to stay off my leg for a few weeks."
Arjune, the office manager for Exhibit City News, a Las Vegas business magazine reporting on conventions and trade shows, replaced gritted teeth with a smile Monday when Dr. Pinak Shah entered her University Medical Center room.
"There's my knight in shining armor," she said of the physician she first saw on the night she got shot. "He's helping me get well."
Shah examined Arjune's wound and pronounced her ready for transfer to a Las Vegas rehabilitation hospital.
"You're doing fine," he said.
Terrified by lights-out tribute
Fine for a gunshot victim who suffered a major wound eight days earlier, perhaps, but not really fine.
Arjune, one of 489 people injured in the mass shooting, still needs the strongest painkillers — morphine and Dilaudid, the brand name for the generic opioid hydromorphone hydrochloride — to get through the day. And she faces a painful rehabilitation to regain full use of her injured leg.
Then there are the mental effects of the terrifying ordeal.
When the lights briefly went out Sunday night on the Strip and at UMC to honor the 58 people who were killed in the Oct. 1 mass shooting, Arjune screamed.
"I totally freaked out," she admits. "I thought something terrible was happening again. Then I thought I was having an asthma attack, but they said I just had a panic attack."
Arjune, who wondered whether she will have post-traumatic stress disorder, spoke haltingly about what happened on the night she went to see one of her favorite country singers, Jason Aldean. Her brother, Malcolm Bissember, is no country music fan, but he went along to spend time with her.
They were about 50 feet from the stage.
"Jason had just finished his fourth song when I heard like 'pat, pat, pat,'" she recalled. "Everybody around us thought it was fireworks, but Malcolm thought it was gunfire."
Hit while sprinting for safety
"(Then) we heard a second spray, and everybody knew it was gunfire," she said.
Arjune said her brother took her by the hand, and they, along with everyone else, started running.
She soon fell.
"I got hit," she told her brother.
After he found blood flowing from the back of her leg, she remembers him covering her body with his as gunfire erupted again and again.
She said she sometimes still hears the gunshots when she closes her eyes.
In a late Monday afternoon interview, Malcolm Bissember, an Uber driver, said his sister was screaming as he tried to reassure her that everything would be all right.
"She was terrified," he said.
Passers-by asked the pair whether they needed help. Strangers they'd never met helped Malcolm carry his sister behind some bleachers, where they thought it was safer. Another stranger arrived and saw Arjune bleeding and said she needed medical assistance at once.
Transported via garbage can
"I don't know how he thought of it or where he got it from, but he brought over a big garbage can on wheels, and we slid my sister in it," Bissember recalled. "And then we pushed her low to the ground out to a street, and we got a ride to UMC."
A woman with a gunshot wound to the arm was also in the car, which was driven by a woman Arjune and her brother knew only as Judy.
"She was screaming that she was in so much pain that she was going to die," Arjune said. "Somehow, Judy remained calm through it all."
When they arrived at UMC, seeing Dr. Shah reassured her.
"I had a feeling I'd be all right then," she said.
At 8 a.m. on Oct. 2, doctors performed exploratory surgery and found the bullet couldn't be removed. It had traveled in the back of her calf and lodged in bone just below the knee.
But Arjune isn't worried about the invisible memento she will carry with her.
"I've got to learn to walk all over again, but I'm lucky," she said. "Think of all those poor people who died."
Contact Paul Harasim at pharasim@reviewjournal.com or 702 387-5273. Follow @paulharasim on Twitter.