15 injured, one critically, in RTC bus crash
April 17, 2016 - 10:14 pm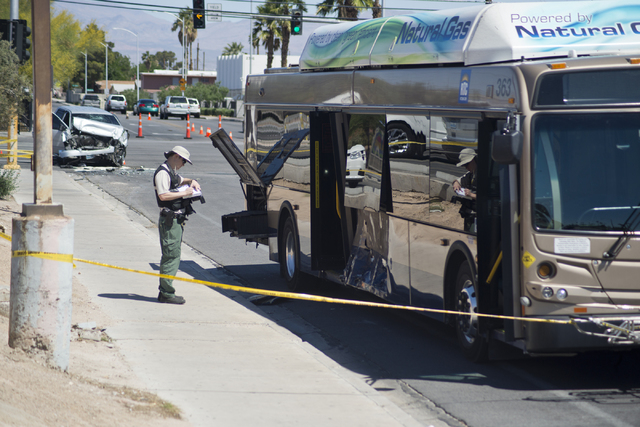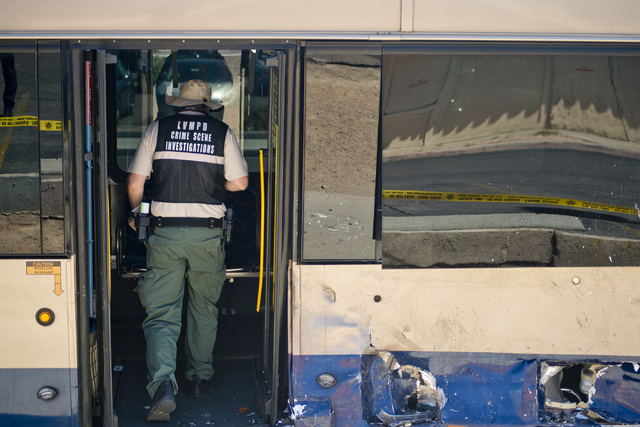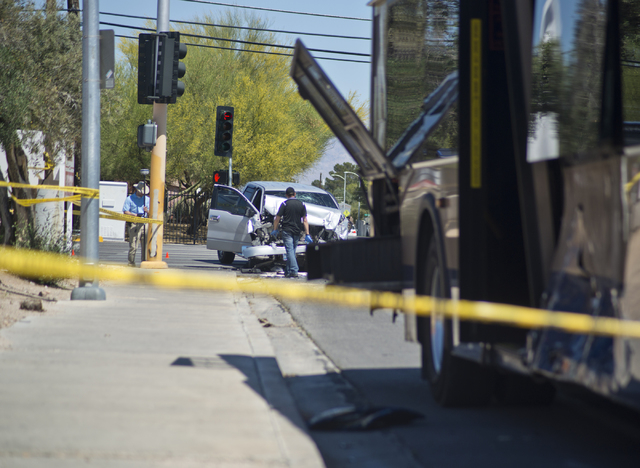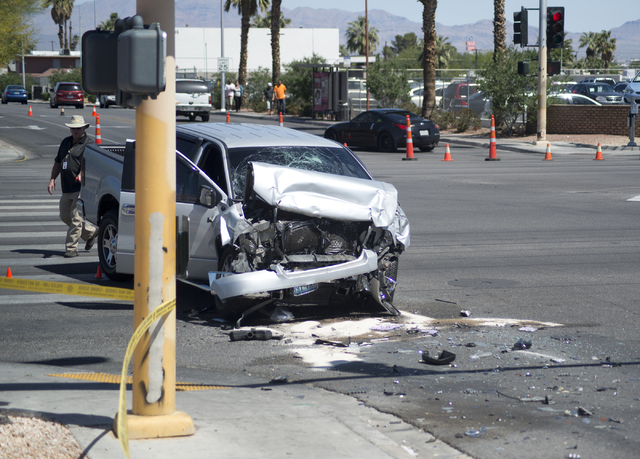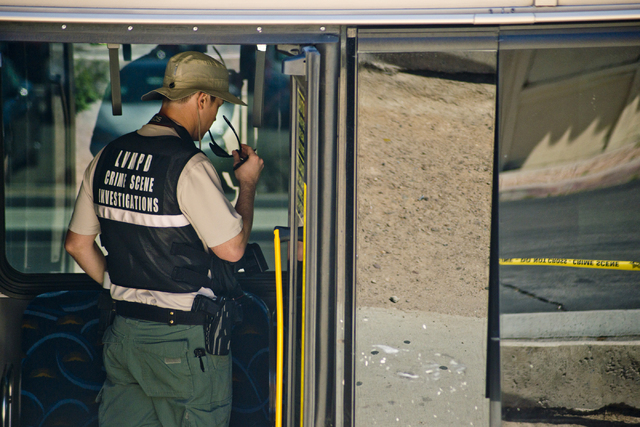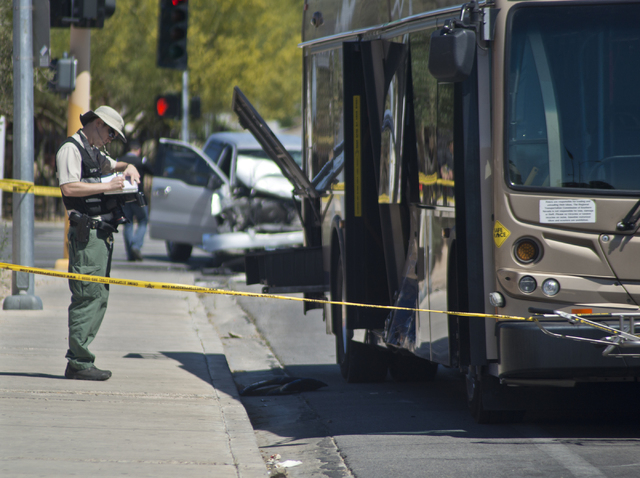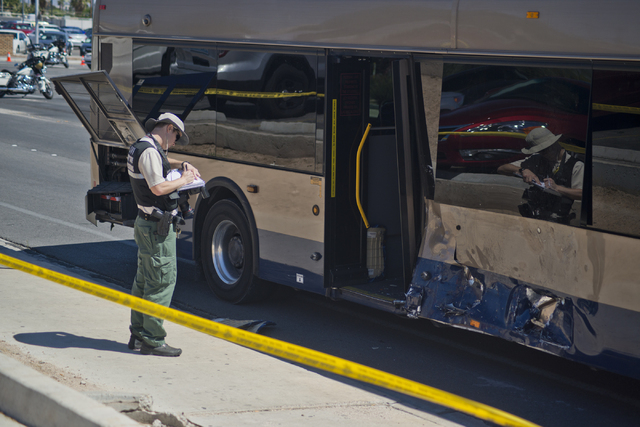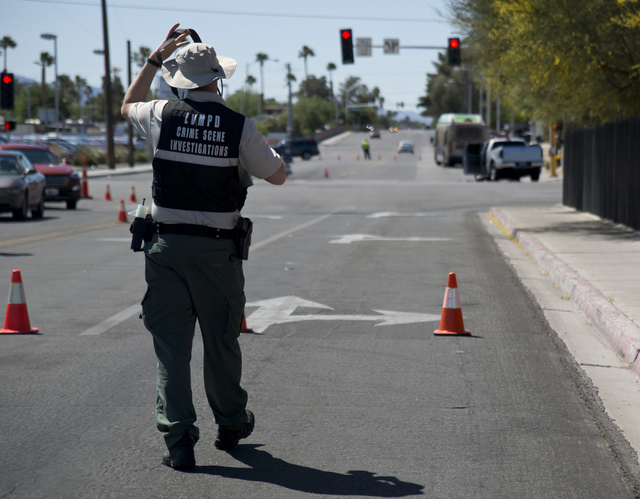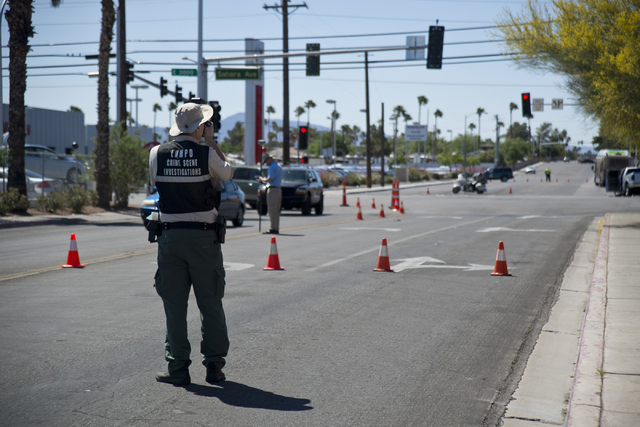 A man driving a truck ran a red light Sunday morning and crashed into a public bus in the eastern valley, leaving one woman critically injured and sending 14 other people to hospitals, police said.
Nicholas Escobar, 36, of Las Vegas, was driving a 2007 Ford F-150 pickup just before 7 a.m. when he failed to stop at a red light at the intersection of McLeod Drive and Sahara Avenue, the Metropolitan Police Department said in a statement.
His truck, which was carrying four passengers and heading east on Sahara Avenue, collided with a Regional Transportation Commission bus that was almost through the intersection, police said.
The bus, carrying 20 to 25 passengers and driven by 59-year-old Las Vegan Darryl Heeren, had been heading south on McLeod Drive. The truck struck the bus's right side.
One truck passenger, a woman who wasn't wearing a seat belt, is in critical condition with life-threatening injuries, Metropolitan Police Department Sgt. Richard Strader said. Escobar and three other occupants of the truck also were hospitalized, with nonlife-threatening injuries, including broken legs, he added.
The woman remained in critical condition Sunday night, an on-duty administrator at University Medical Center confirmed. Six other crash victims were treated and released from UMC, he said.
Ten bus passengers also were sent to hospitals, but their injuries were minor or nonlife-threatening. Escobar showed no signs of impairment, police said.
The bus had an onboard camera, and police will examine the video as part of their investigation, Strader said.
The RTC bus had a large, deep dent in the passenger side, and the truck's cab was smashed in after the crash. The ground was littered with debris from the collision, including glass and metal shards, a rearview mirror and pieces of the grille.
The intersection was closed for several hours following the crash, which attracted a lot of interest from passers-by. Many stopped to try to peer inside the bus and truck.
Metro Lt. Jeff Goodwin said Sunday night he had no information to release on whether Escobar will face charges in connection with the crash.
An RTC bus was involved in two other recent collisions that resulted in major injuries or fatalities.
A woman died last November when she ran a red light and hit an RTC bus. No passengers were on the bus at the time of the crash, but the bus driver was hospitalized with moderate injuries.
In January, Jooyoung Do was killed on Tropicana Avenue when a bus driver reportedly fell asleep at the wheel and drove onto the sidewalk, striking her and a bus shelter. Do, a 39-year-old South Korean, had been in Las Vegas to attend the CES, an international consumer electronics show, and was walking at the time of the crash. That incident remains under investigation.
Contact Rachel Crosby at rcrosby@reviewjournal.com or 702-387-5290. Find her on Twitter: @rachelacrosby. Contact Jessica Terrones at jterrones@reviewjournal.com and 702-383-0381. Find her on Twitter: @JessATerrones