2.5-mile segment of southbound I-11 opens to traffic
August 16, 2017 - 5:05 pm
Updated August 16, 2017 - 5:10 pm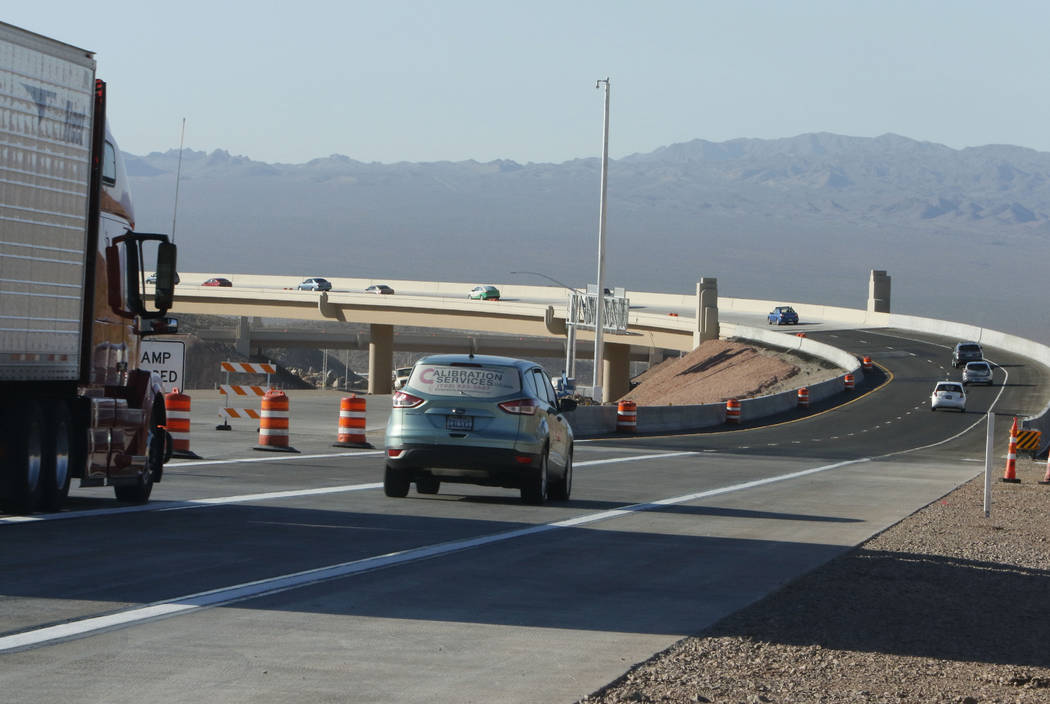 A small segment of Southern Nevada's newest freeway opened to drivers on Wednesday morning, marking the latest addition to the federal interstate system since 1992.
Just before sunrise, vehicles started rumbling down a 2½ mile stretch of southbound Interstate 11 between the U.S. Highway 95 interchange and Railroad Pass Casino in Henderson.
It came a day later than originally planned, but the small opening of I-11 signals the start of a freeway project that's expected to someday serve as a major trade route between the United States, Canada and Mexico.
"By opening this stretch piecemeal, it gives drivers a chance to slowly acclimate themselves with this new alignment," said Tony Illia, a spokesman for the Nevada Department of Transportation.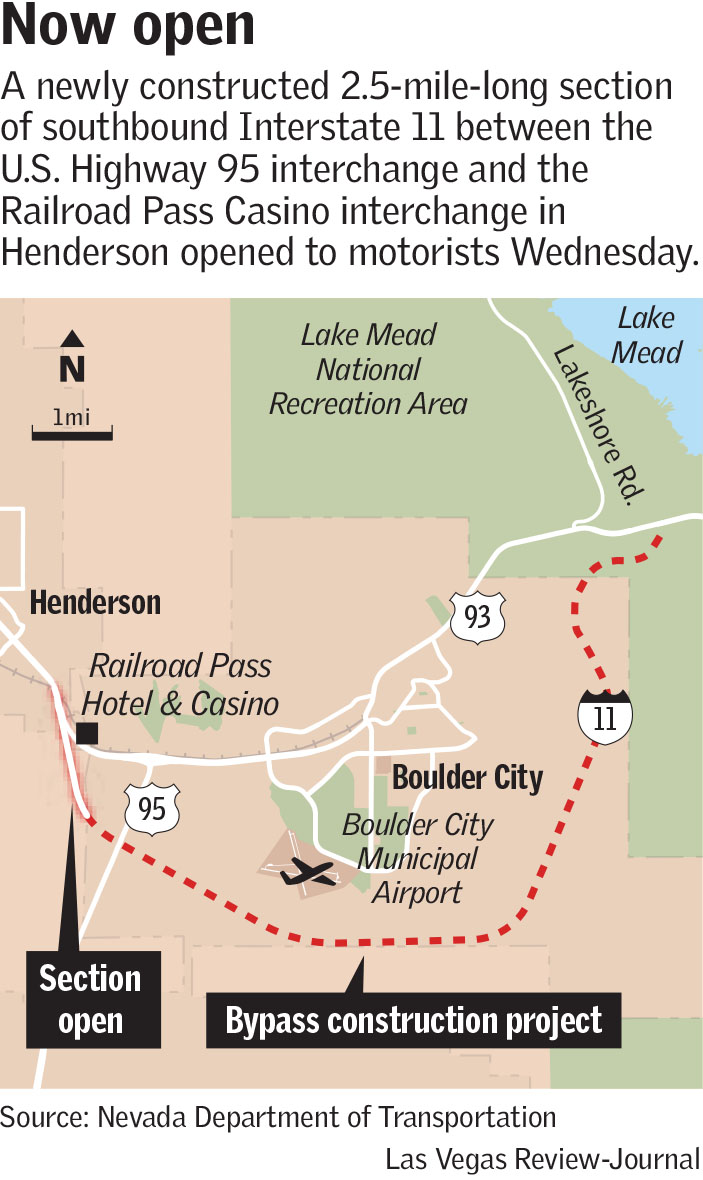 The $318 million freeway segment, funded by federal and state money along with the Clark County's fuel revenue indexing tax, started construction in April 2015 with work split between NDOT and the Regional Transportation Commission of Southern Nevada.
The northbound lanes of NDOT's 2.5-mile concrete stretch of I-11 will open by December. RTC officials said asphalt will cover the remaining 12.5 miles headed to the Colorado River, which is scheduled to open in June 2018.
With higher speeds and no traffic signals, the new four-lane highway is expected to reduce travel times up to 30 minutes between Henderson's southern border and the O'Callaghan-Tillman Bridge downstream from Hoover Dam, Illia said.
On a large scale, I-11 is expected to ease cross-border trade from the Mexico border to Canada by running through Arizona, Nevada and Idaho. Although the route could take decades to build, the new freeway would also provide a much-needed direct link between Las Vegas and Phoenix — the only two cities with populations of more than 1 million people that are not linked by an interstate.
NDOT is conducting a $5.3 million study of the Las Vegas Valley's freeway corridors, including the next segment of I-11. Three proposed routes are under consideration:
— West on the 215 Beltway, linking to a new connection with U.S. Highway 95;
— North on U.S. 95 through the Spaghetti Bowl freeway interchange to the northwest end of the valley; or
— Build a new freeway running from the Lake Mead National Recreation Area past Frenchman Mountain — about 8 miles east of Las Vegas — before emerging at Interstate 15 to connect with the 215 Beltway and west to U.S. 95.
Contact Art Marroquin at amarroquin@reviewjournal.com or 702-383-0336. Follow @AMarroquin_LV on Twitter.
Driving options
When the first segment of Interstate 11 is completed next year, motorists can bypass Boulder City or opt for the traditionally slower route that cuts through a quaint downtown dotted with small shops and restaurants.