Baker gets its first traffic signal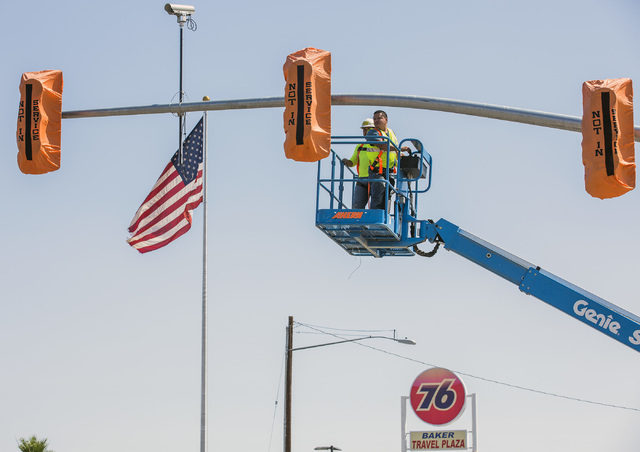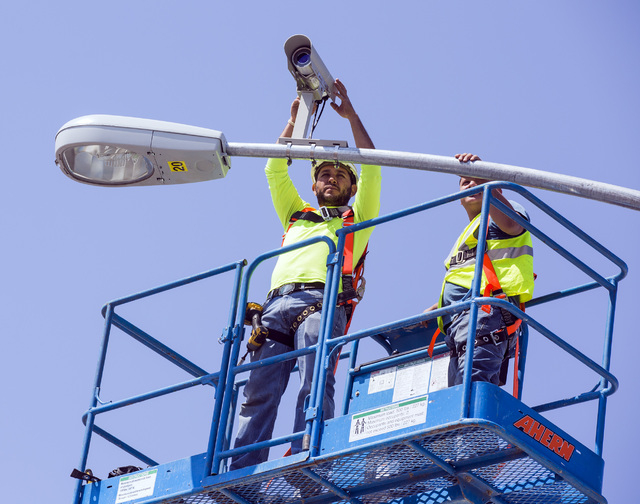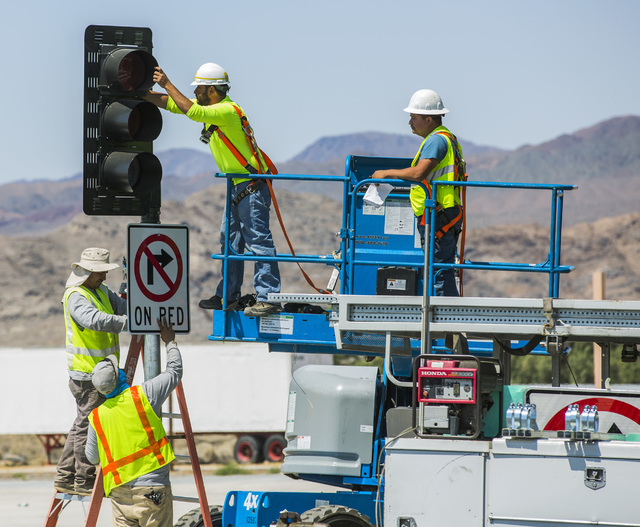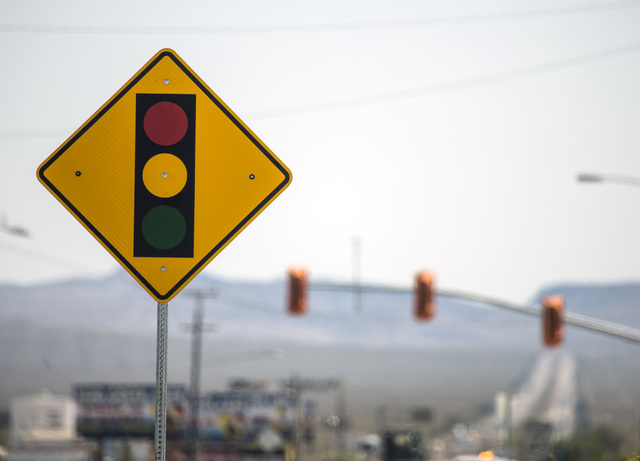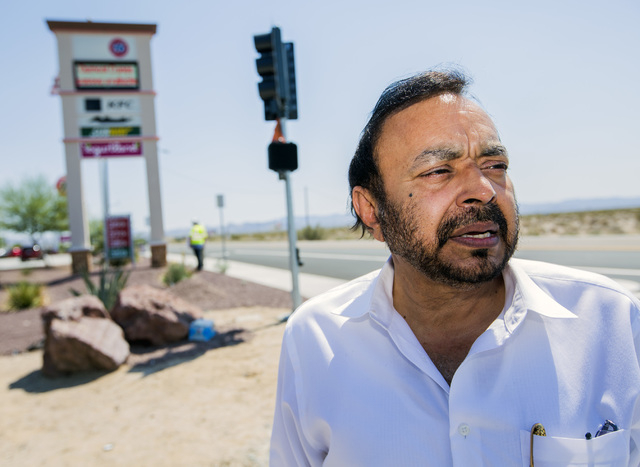 Baker is best known as the gateway to Death Valley, touting the world's tallest thermometer, a handful of gas stations and the tasty gyros served at The Mad Greek restaurant.
Now, the popular pit stop between Las Vegas and Los Angeles can boast its first traffic signal. A switch was unceremoniously flipped at noon Monday, in front of the Baker Travel Plaza on the north end of town.
"This makes Baker a grown-up town," said Clark Bryner, president of Baker's Community Services District.
Almost.
For now, motorists will encounter only flashing red lights when they roll off the southbound Interstate 15 onto Baker Boulevard. San Bernardino Public Works officials said they hope to install the necessary parts within the next two weeks to have a fully functioning signal where the main drag meets Caltrans Avenue.
"I thought something looked different," John Gonzalez of Upland said while fueling his car.
With help from the new signal, Ravi Grewal said he expects to see a 10 percent to 15 percent jump in business at his Baker Travel Plaza, a 10,000-square-foot oasis with a gas station, a convenience store and five fast-food restaurants.
"Most of the people have to stop here, and the customers will have everything they need right here," said Grewal, who paid about $250,000 to install the traffic signal as a condition to get his business permit — roughly half of what San Bernardino County wanted to charge him.
The long journey to get Baker's first stoplight started shortly after Grewal opened his rest stop four years ago. A contractor was hired, then promptly fired for not getting the work done.
Several other companies were offered the job but turned down the chance to be a part of local history.
"Nobody wants to come out here because it's too far from everything," Baker Travel Plaza manager Nono Khosa said.
Khosa and Grewal finally came across Northstar Electric Inc. of Las Vegas, which agreed last year to install the light poles, signal heads and necessary wiring. Northstar's crew spent most of Monday morning testing the lights and making final adjustments to the fixtures.
"It's so far and remote, so getting material and equipment out here was a challenge and the work hours were crazy," said Omid Moattar, Northstar Electric's vice president of operations.
"But it's a job," Moattar said. "And we got it done."
Almost immediately after the signal started flashing red lights on Tuesday, vehicles backed up along the I-15 offramp to Baker Boulevard. On average, 7,829 vehicles exit here daily, according to San Bernardino County's Public Works Department.
"Lots of times you see car after car, especially during busy holiday weekends," said Le Hayes, the former general manager of Baker's Community Services Department. "Now you have a red light that will stop everyone in their tracks," Hayes said. "I'm afraid there's going to be some pretty major accidents."
A new sign was installed to warn drivers that a signal is coming up. Cameras mounted on top of the poles will help trigger the lights.
"I'm really happy we finally have this signal," Khosa said. "But I don't think people will stop here to take pictures like they do with the thermometer."
Contact Art Marroquin at amarroquin@reviewjournal.com or 702-383-0336. Find @AMarroquin_LV on Twitter.