Boulder City bypass taking shape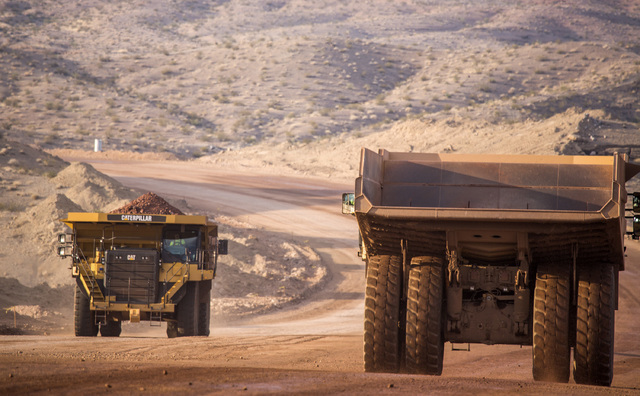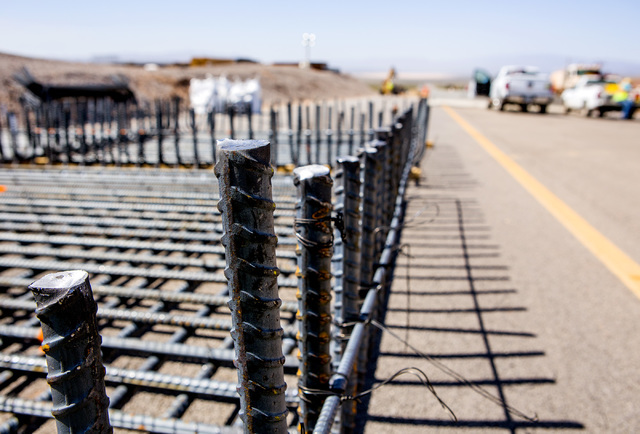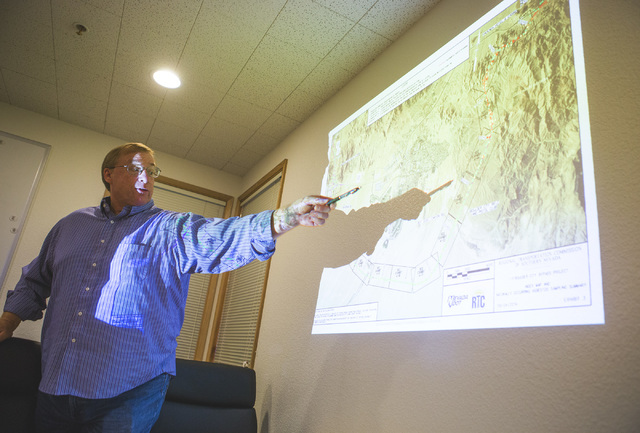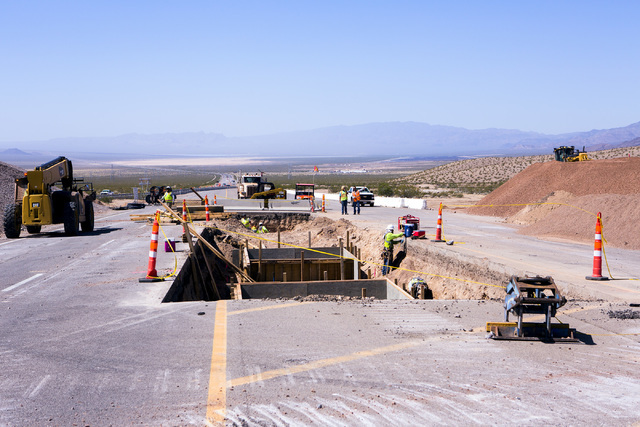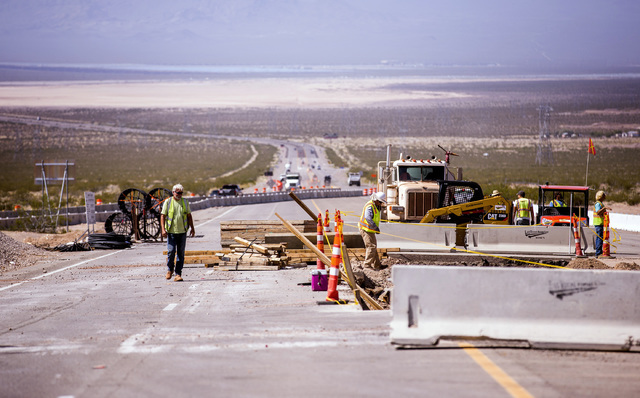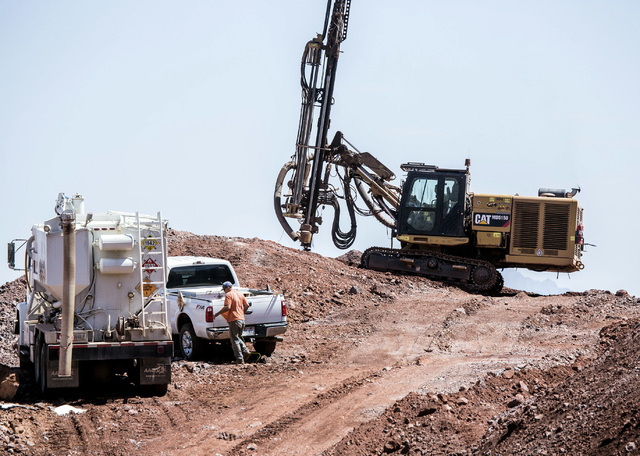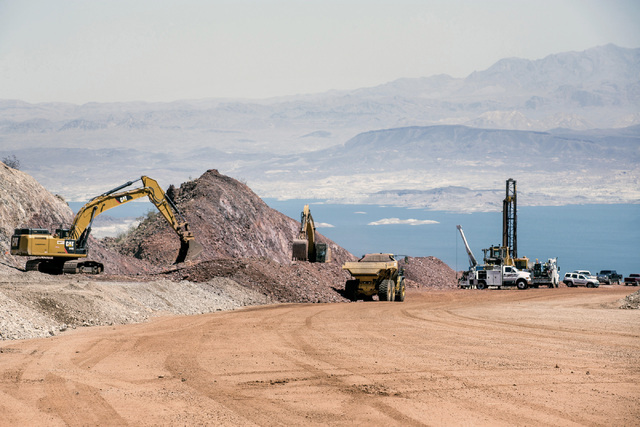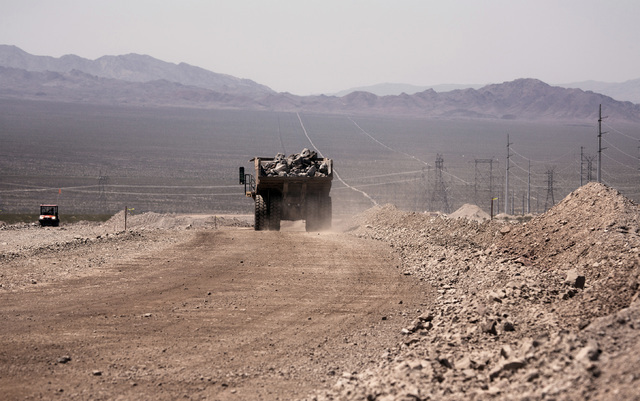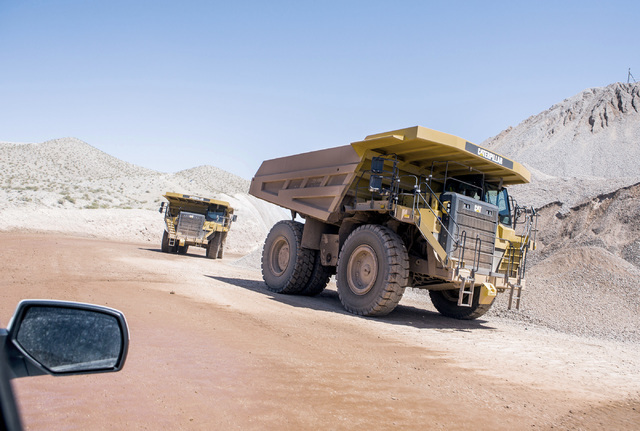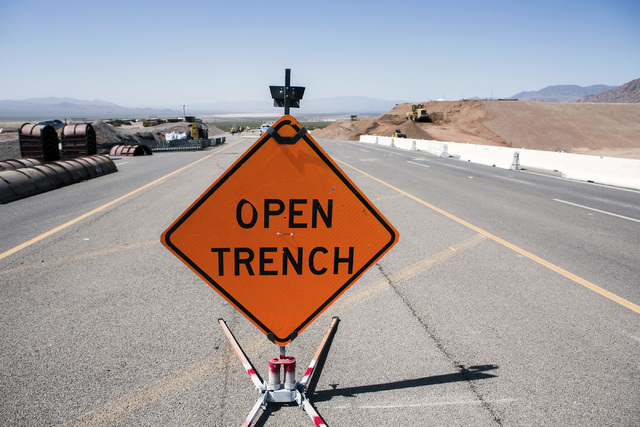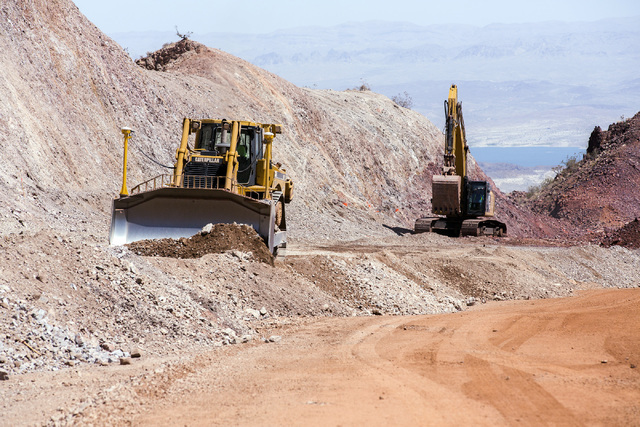 Controlled blasts carve a path through the Eldorado Mountains overlooking Lake Mead, making way for the first leg of a new freeway that's expected to become part of a trade route running between Mexico and Canada.
Now more than a year into construction, concrete bridges are taking shape along the 15-mile stretch of dirt road that's being transformed into Interstate 11. Builders say the project is on pace to open by fall 2018.
When completed, the four-lane highway is expected to reduce travel times up to 30 minutes between Henderson's southern border and the O'Callaghan-Tillman Bridge downstream from Hoover Dam, all while looping past Boulder City, a small town with roughly 15,000 residents.
"It's a huge, incredible project," Steven Ireland, a project engineer for Las Vegas Paving, said while driving along the bumpy desert route that will soon be smoothed with asphalt.
The $318 million freeway segment is already changing the physical landscape of Boulder City's outlying desert, funded by federal and state money along with the Clark County's fuel revenue indexing tax.
However, the real impact of I-11 won't be felt for another two years, when motorists can bypass Boulder City or opt for the traditionally slower route that cuts through a quaint downtown dotted with small shops and restaurants.
"It's going to be catastrophic for this community," said Kevin Devine, owner of Alpaca Imports, which sits on Boulder City's western edge.
"About three-quarters of my customers are tourists who happen to drive by, but that will change when all that traffic gets re-routed," Devine said. "There won't be a reason to slow down or stop unless you really want to go out of your way to check things out."
Eric Estes, president and CEO of the Boulder Dam Credit Union, has a different take. The reduction in traffic, he said, could be used as a marketing tool after the freeway opens.
"We can tell people that it's easier to get into town, so they should come out and visit us," Estes said.
SPLIT
On a large scale, I-11 is expected to ease cross-border trade from the Mexico border to Canada by running through Arizona, Nevada and Idaho. Although the route could take decades to build, the new freeway would also provide a much-needed direct link between Las Vegas and Phoenix — the only two cities with populations of more than 1 million people that are not linked by an interstate.
"Phoenix has emerged as our second-largest interstate trade partner after Los Angeles, so having a fully engaged interstate to Las Vegas would naturally create even more trade between our cities," said Robert Lang, an urban affairs professor and director of Brookings Mountain West at UNLV.
"Las Vegas is also one of the key tourist destinations for people who live in Phoenix," said Lang, who worked as a consultant during the freeway's design. "I only see this as improving tourism and commerce for the region."
Construction of the first I-11 segment started in April 2015, with work split between the Nevada Department of Transportation and the Regional Transportation Commission of Southern Nevada.
By the time the road opens in two years, discerning motorists will be able to distinguish the two segments, which are being built simultaneously. The transportation department's 2.5-mile stretch of I-11, closest to Las Vegas, will be paved with concrete as a way to save money on long-term maintenance costs. Asphalt, which costs less, will cover the remaining 12.5 miles headed to the Colorado River, transportation commission officials said.
ENJOYING
The RTC hired Las Vegas Paving to complete the largest portion of Interstate 11, which calls for blasting through wide swaths of the Eldorado Mountains. When completed, motorists will drive past exposed, rocky surfaces that give rise to sweeping views of Hoover Dam.
A turnoff will be built about three miles away from the dam, giving drivers a chance to safely snap pictures of the scenic vista.
"Everyone should get a chance to enjoy this view," said Ireland, the project engineer from Las Vegas Paving.
Contractors are also being mindful of plants and wildlife. Fencing was installed to keep desert tortoises, coyotes, bighorn sheep and other animals away from the construction zone. More than 2,000 cactuses were uprooted along the route and temporarily stored at a nursery, until crews can replant them in 2018.
Construction started earlier this month on a bridge where I-11 will cross above U.S. Highway 95, just south of Silverline Road. The transportation commission is redirecting traffic through March. With all the digging and blasting, Las Vegas Paving is expected to excavate about 5.3 million cubic yards of earth — enough dirt to fill T-Mobile Area eight times.
At the first project in Nevada dealing with naturally occurring asbestos, crews conduct daily ground tests along the route. So far, a fraction of less than 1 percent was uncovered, said Gary Pons, vice president of the environmental consulting firm SCS Engineers.
"The hazards of building a road are much higher than the asbestos found here," Pons said. "The blasting, the heat, the heavy equipment and everything else that goes into this is much more dangerous."
REOPENED RAIL ROUTE
Up by the Railroad Pass in Henderson, bridges are already visible along the state transportation department's share of the project, with highway paving expected to start later this year. Crews from Fisher Sand & Gravel moved 1 million cubic yards of dirt, which could fill about 400 average-sized swimming pools, agency spokesman Tony Illia said.
A new, 28-foot-tall retaining wall will soon be adorned with graphics illustrating the construction of Hoover Dam, while a pedestrian bridge will connect the River Mountains Loop and Henderson trail systems.
Nearby, crews are also building a 360-foot-long steel truss bridge over I-11, aimed at reconnecting the railroad tracks between Henderson and Boulder City. The transportation department paved over a section of the tracks at U.S. Highway 93 near Railroad Pass in 1998, which was considered dangerous at the time, Illia said.
Since then, the Nevada Southern Railroad Museum has operated train tours on the closed-off spur, but the Boulder City Chamber of Commerce is devising a plan to make use of the reconnected route. Options under review include themed rides that might include mystery theater, dinner or a ride to Henderson at sunset.
"We really want to capitalize on the reopening of that train route because it will be a pretty phenomenal way to boost tourism," said Jill Lagan, CEO of the Boulder City Chamber of Commerce.
"Interstate 11 captured our attention and we're stepping up to the plate to keep the visitors coming to Boulder City," Lagan said. "I need to find solutions now, and make sure our current businesses stay relevant."
'ONE HELL OF A DESTINATION'
Some of Boulder City's business owners offered varied opinions on how they think I-11 might affect the thriving downtown core. The freeway's designers complied with requests from vocal residents who didn't want any direct freeway exits leading into town.
"I know I might be in the minority, but I'm actually looking forward to the bypass because the traffic has gotten out of hand," said Izzy Collett, owner of Desert Adventures, which offers kayak rentals and guided tours to nearby destinations.
"I think the big-rigs and truckers who never thought of coming here will stay on Interstate 11, but I don't think the tourists will pass us up," Collett said. "Hopefully, any fear of the town drying up will open up some discussions to figure out how to promote our town."
While Boulder City will lose some of the commuter traffic, tourists headed to Lake Mead will likely need to stop by grab a bite to eat and to fill the car with gasoline. Nearly 7.3 million people visited the Lake Mead National Recreation Area last year, making it the fifth-most visited spot overseen by the National Park Service.
Just the same, officials with the Chamber of Commerce are developing a new marketing campaign and events aimed at luring motorists off I-11 and into Boulder City.
Soon, the chamber will launch a study with UNLV to determine what types of businesses are missing from the local landscape. Campsite, fine-dining restaurants and small inns are among the possibilities under consideration.
Milo Hurst, owner of Milo's Cellar Inn, said the city should be heavily promoted as a tourist destination that's markedly different from Las Vegas: a laid-back town with no casinos and plenty of hiking.
"We have all the ingredients to be one hell of a destination," Hurst said. "We need to take advantage of that."
Contact Art Marroquin at amarroquin@reviewjournal.com or 702-383-0336. Find @AMarroquin_LV on Twitter.