Brightline West agrees to build wildlife crossings along I-15
Updated February 15, 2023 - 3:56 pm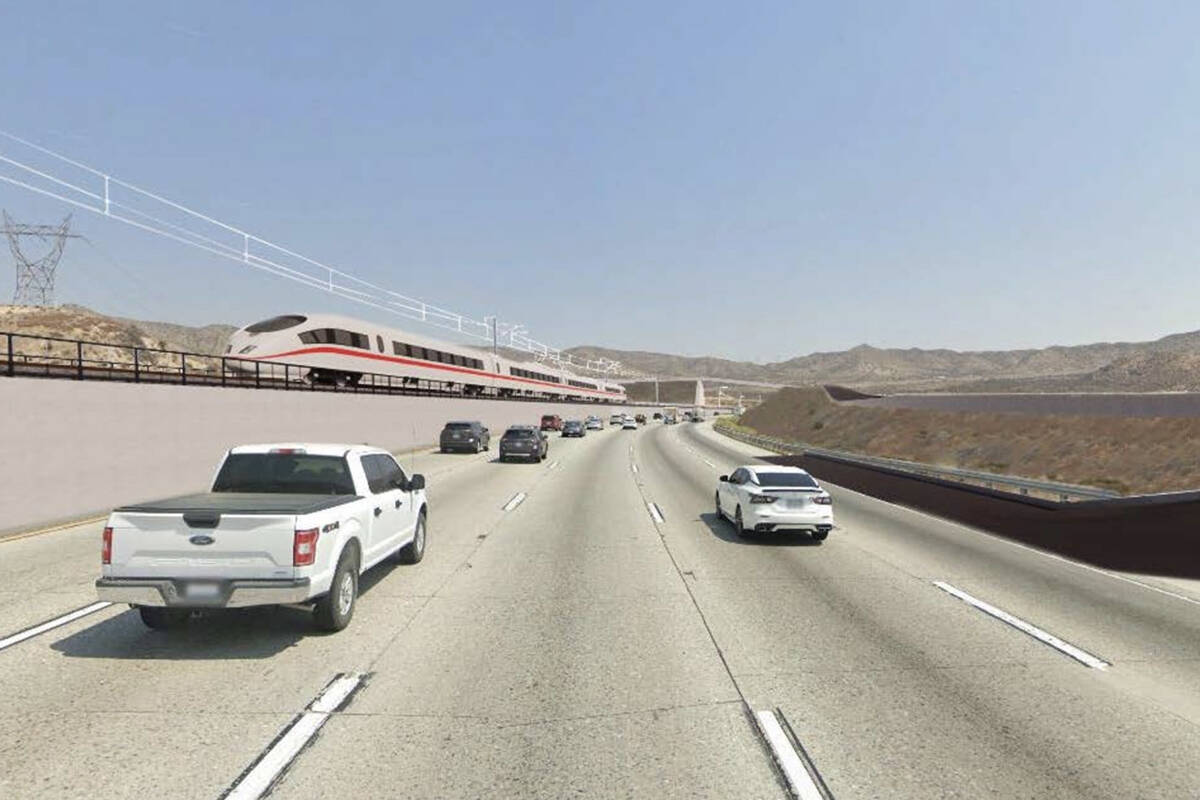 The long-talked-about high-speed rail project between Las Vegas and Southern California has cleared another hurdle.
Brightline West entered into an agreement with the California Department of Transportation, known as Caltrans, and the California Department of Fish and Wildlife to design and build three wildlife crossings across portions of Interstate 15, the company announced Wednesday.
"Roadways and rail lines must be designed to connect, not divide," California Gov. Gavin Newsom said in a statement. "This project will not only protect the precious wildlife and habitat of the Mojave Desert region but will also get people between Las Vegas and Southern California safely and efficiently – preserving one of the most popular corridors in our state."
The planned crossings will provide a safe path for wildlife, like bighorn sheep, over the existing northbound and southbound I-15 lanes and the future high-speed rail system slated to be built within the median.
The wildlife department identified three priority locations for the wildlife crossings, all located in San Bernardino County.
Bridges are planned to be constructed near Zzyzx Road, Mountain Pass and Rasor Road. They will span the entire width of I-15, including the Brightline West rail line.
The Brightline West project also will maintain or upgrade over 600 culverts and large-scale crossings already existing under I-15. Restoring and installing desert tortoise fencing and directional wildlife fencing also are planned.
The trio of involved parties plan to fund the crossings, in the works for over a year, using a mix of Caltrans, California Department of Fish and Wildlife, and Brightline West capital, while also seeking any available federal funds.
Giving wildlife freedom to roam despite the growing infrastructure needed to support the state's robust human population is a top priority, according to the California wildlife department. San Bernardino County, where these crossings will be constructed, is a particularly high-need area.
Brightline West plans to construct an $8 billion, 218-mile high-speed rail system connecting Las Vegas and Southern California. Plans call for rail stations in Las Vegas and Rancho Cucamonga, Hesperia and Apple Valley in California. Riders would be able to connect to and from Los Angeles at the Rancho Cucamonga station, via the Metrolink rail system.
Brightline is awaiting the finalization of its environmental assessment by the Federal Railroad Administration for the Victor Valley-to-Rancho Cucamonga segment. That is expected to be completed by March. The Las Vegas-to-Victorville portion already has been approved.
Funding for the major project would consist of a mix of federal grants and private activity bonds that Brightline would apply for in both Nevada and California.
Brightline previously was approved for $200 million in private activity bonds in Nevada and $600 million in California. IRS guidelines would allow Brightline to market those tax-exempt bonds for up to four times their amount, or a combined total of $3.2 billion.
Brightline also is set to apply for federal grant funding tied to the bipartisan infrastructure bill signed into law in 2021. The project could receive between $1 billion and $2 billion in grant funding, Nevada Department of Transportation Director Tracy Larkin-Thomason said Monday during the Transportation Board of Directors meeting. That application is due April 21, Larkin-Thomason noted.
The project could break ground later this year, depending on the Federal Railroad Administration decision and the awarding of funding.
Brightline estimates that the completed rail system will remove 3 million cars from I-15 annually, reduce more than 400,000 tons of carbon emissions each year, and create 35,000 jobs.
"When launched, Brightline West will be one of the greenest forms of transportation in America and an eco-friendly upgrade to the I-15," Sarah Watterson, president of Brightline West, said in a statement. "Beyond significantly cutting carbon emissions and creating a cleaner, more efficient way to travel, this is just one more way the introduction of this system will ensure vital and long-term protections for a diverse array of wildlife."
Contact Mick Akers at makers@reviewjournal.com or 702-387-2920. Follow @mickakers on Twitter.