Heller pursues more drone testing in Nevada, transportation options at McCarran
March 10, 2016 - 10:10 pm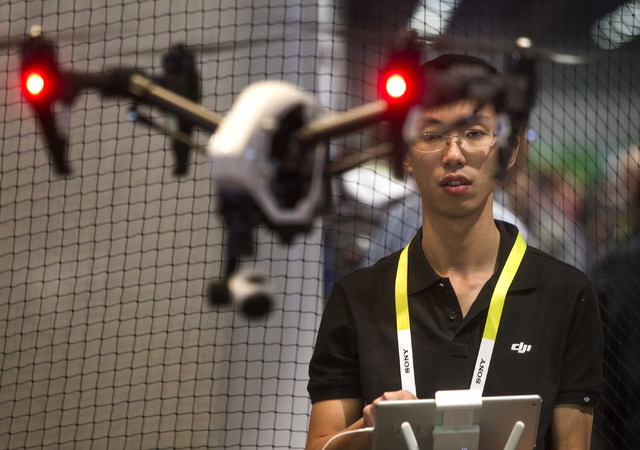 WASHINGTON — Nevada's drone testing sites would have more autonomy to partner with private industry on emerging technology, and McCarran International Airport could use federal funds to build facilities that offer multiple transportation modes under provisions Sen. Dean Heller inserted into a major aviation bill.
"Given the major role aviation plays in Nevada's economy, I am particularly grateful to have secured numerous priorities in the FAA reauthorization legislation that will benefit our state," Heller said.
The Nevada Republican sits on the Senate Commerce, Science and Transportation Committee, which is expected next week to take up the Federal Aviation Administration reauthorization bill introduced by Chairman John Thune, R-S.D.
Since Nevada is one of six Unmanned Aircraft Systems test site locations, the senator said the state will drive drone-related technological research and economic growth statewide.
Heller said his provisions in Thune's bill would provide Nevada's testing sites — Nellis Air Force Base and the Reno-Stead, Fallon and Boulder City airports — more autonomy and flexibility to partner with industry to test emerging technology, including beyond line-of-sight operations.
On ensuring use of federal dollars by McCarran to build facilities that offer bus, rail, taxi and Uber modes of transportation, Heller said that change could have a positive impact on tourist access and economic development opportunities in Nevada.
He worked with Gov. Brian Sandoval, whose economic development office is in charge of the test sites, and airport officials on those provisions, according to his press office.
Heller said other provisions inserted into Thune's FAA bill would change current law to make Reno Tahoe International Airport and eight others eligible for the Small Community Air Service Development Program that provides small airports with additional resources to attract new airline routes and make it clear mining and similar industries can use Unmanned Aircraft Systems for inspections, which would reduce risks to workers in underground facilities.
Contact Jim Myers at jmyers@reviewjournal.com or 202-783-1760. Find him on Twitter: @myers_dc