Las Vegas road work affects traffic for Electric Daisy Carnival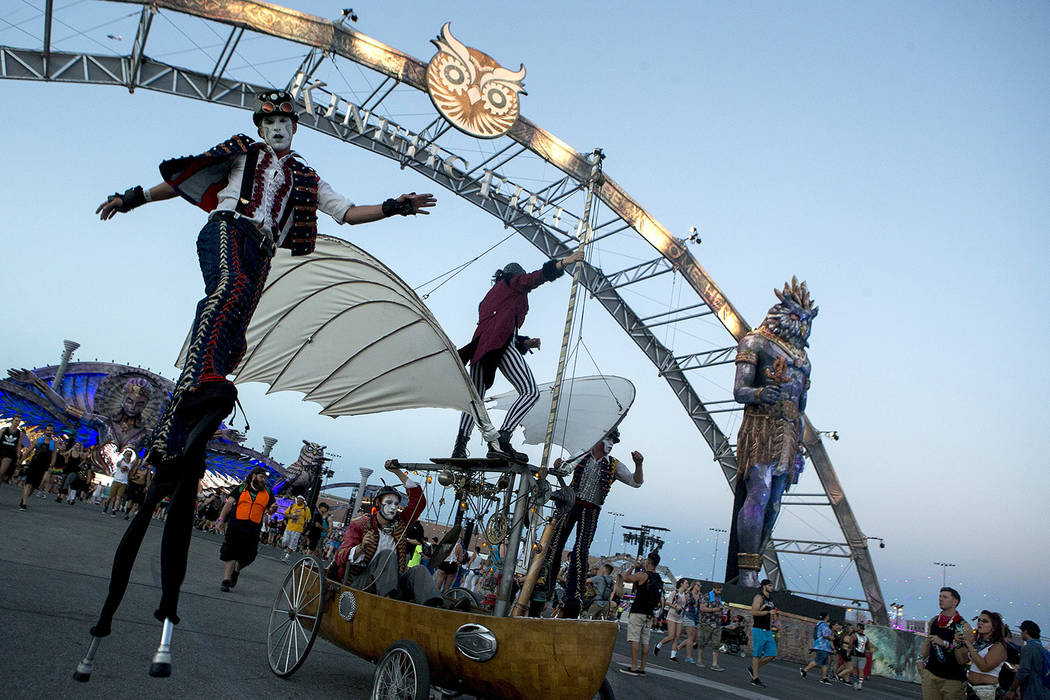 Traffic is typically a nightmare during the Electric Daisy Carnival, an event that draws roughly 400,000 revelers to the Las Vegas Motor Speedway for three days of high-energy music.
Conditions will be worse than usual this year during the music-filled weekend, when a heavily used section of the Spaghetti Bowl interchange closes in downtown Las Vegas, the Nevada Department of Transportation said.
Both directions of U.S. Highway 95 will close in the area just below Interstate 15 from 10 p.m. Friday to 5 a.m. May 21, essentially running the entire length of EDC, NDOT spokesman Tony Illia said. However, all the ramps connecting those freeways will remain open.
The U.S. 95 onramps and offramps at Martin Luther King Boulevard will also close during the same time frame, Illia said.
The festival begins Friday and runs through Sunday.
Illia said NDOT has worked with EDC organizers, who decided to hold the outdoor festival one month earlier than usual because of the extreme heat in June. With Memorial Day falling on the following weekend, Illia called the latest round of closures "unavoidable."
The weekend marks the second of six full closures along U.S. 95 slated for this year, allowing construction crews to build a freeway bridge as part of Project Neon, the $1 billion widening of I-15 between the Spaghetti Bowl and Sahara Avenue.
Festivalgoers, tourists and locals were advised to take Boulder Highway, Charleston Boulevard and Eastern Avenue as alternate routes to northbound U.S. 95. Those headed south could use Valley View Boulevard, Rancho Drive and Decatur Boulevard, Illia said.
Once they're past the Spaghetti Bowl, EDC attendees will find it easier to get to the festival. The bulk of the construction wrapped up in March on a $33.8 million project that widened I-15 between Craig Road and Speedway Boulevard in North Las Vegas.
The 5-mile stretch now has three travel lanes in each direction along with auxiliary lanes that give motorists additional time to merge on or off the freeway.
Crews are still paving and striping sections of the road through June, but Illia said the touch-up work will be suspended during EDC weekend.
Contact Art Marroquin at amarroquin@reviewjournal.com or 702-383-0336. Find @AMarroquin_LV on Twitter.