Las Vegas taxi fares could drop by $3 with cut of surcharge in early 2017
November 22, 2016 - 9:29 pm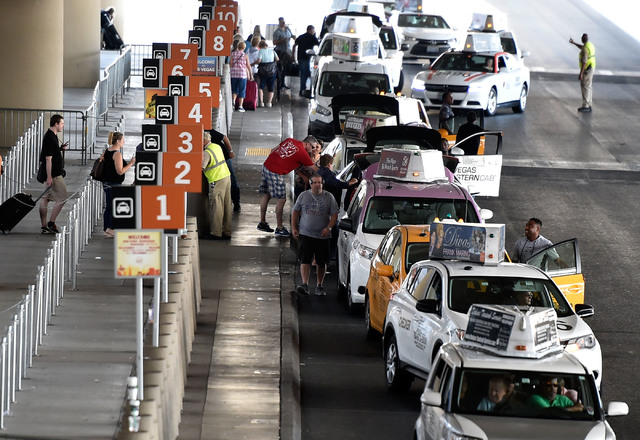 Las Vegas taxi passengers might see a $3 credit card surcharge eliminated from their fares — or at least reduced — in early 2017, the chairman of the Nevada Taxicab Authority said.
However, any adjustments would need to be made up somewhere, potentially from a small fare hike that's already opposed by a group representing several local taxi operators.
The move comes as Southern Nevada's cab companies struggle with declining revenue and passengers amid increasing competition from ride-sharing companies like Uber and Lyft, which tend to charge lower fares.
"I don't know yet where it will go, but I can tell you pretty comfortably that the credit card fee will not stay at the $3 level," said Stan Olsen, chairman of the agency that regulates Southern Nevada's taxicab industry.
Olsen also called for a "level playing field" between the local taxicab industry, Uber and Lyft.
Ending the $3 credit card processing fee — or at least reducing it to 90 cents — was first recommended in an audit released in January by the Executive Branch Audit Committee, which determined that Southern Nevada taxi riders were overcharged $47 million annually in various fees.
The state audit said the $3 credit card fee led to additional income amounting to $14.2 million to $20.3 million annually for local cab companies.
The issue was raised again by a report that suggested terminating the credit card fee.
The surcharge in Southern Nevada "compared poorly against other cities that charged less, or didn't charge at all," according to a study released this month by Taxi Research Partners, which analyzed taxi fares and the effects of competition coming from Uber and Lyft.
Bill Tuntas, a taxi driver for the past decade at Checker Cab Co., said he supports efforts to ditch the $3 credit card fee because it "gouges customers."
"People in the cab ask us about the fee and think it's our tip," Tuntas said, adding that about 75 percent of his passengers pay their fares with a credit card.
"We're losing a lot of money because they're not tipping us the way that they should because of that fee," Tuntas said. "It feels like that money is being taken out of our pockets."
Removing or reducing the credit card fee would mean the money would need to be generated elsewhere, likely from a 1.99 percent fare hike that was suggested in the report by Taxi Research Partners. The report also recommended that companies should be allowed to offer discounted fares "where they feel it is in their competitive interest to do so."
The notion of replacing the credit card fee with increased fares doesn't sit well with Brent Bell, president of Whittlesea-Bell Transportation and head of the Livery Operators Association, which represents some of the local taxi companies.
Cash-paying customers should not be penalized with increased fares that are meant to cover the fees incurred by those who pay with credit cards, Bell said.
"We don't like that idea," Bell said, adding that his group is still reviewing the report.
"Any person using a credit card knows in advance how much that fee will cost," Bell said. "The credit card fee is transparent and keeps the rates down for people who pay with cash."
Olsen, the Taxicab Authority chairman, said Uber and Lyft should abide by the same rules, permits and tax obligations as traditional taxicab companies. The authority neither oversees operations nor sets rules for ride-sharing companies, but Olsen suggested the state Legislature should discuss those changes when it convenes in February.
"In my belief there's room for both groups in Nevada, but it will require a change in the business model," Olsen said. "It rises to the legislative level to make sure it's done right."
Olsen's call comes amid plummeting revenue and ridership for Southern Nevada's taxicab companies. About 20 million taxi trips have been logged during the first 10 months of 2016, a 16 percent decline compared to the same period in 2015.
Through October, the region's 16 certified taxicab companies reported a combined $320.89 million in revenue this year, down 12.5 percent from the same period last year. Much of that decline was blamed on increased competition from Uber and Lyft.
An Uber spokeswoman declined to comment. A Lyft spokeswoman could not be reached for comment.
Olsen said the Taxicab Authority will review the recommendations listed in both the study and the state audit before deciding how to proceed.
The issue is expected to be discussed further during the authority's next meeting at 9 a.m. Dec. 8 at the agency's hearing room, 2080 E. Flamingo Road, Suite 114.
"The study has got some good points that we can compare to the audit so that we can develop a plan of action to improve the industry as a whole," Olsen said.
Contact Art Marroquin at amarroquin@reviewjournal.com or 702-383-0336. Find @AMarroquin_LV on Twitter.