Project Neon funding moves forward
January 13, 2014 - 3:06 pm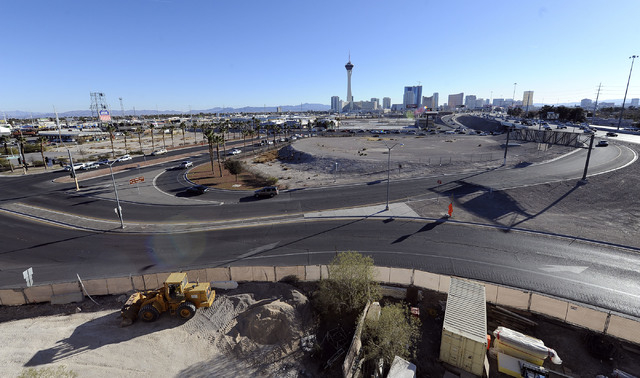 CARSON CITY – The massive Interstate 15 widening effort in Las Vegas known as Project Neon took another step forward Monday when the state Transportation Board unanimously approved a resolution seeking approval to borrow up to $100 million to purchase right-of-way for the project.
The highway revenue bond request will be considered Tuesday by the Board of Finance.
Project Neon is an expansion and improvement project between Sahara Avenue and the Spaghetti Bowl. The Nevada Department of Transportation Board of Directors, including Gov. Brian Sandoval, previously approved the use of a public-private partnership, called a P-3, to get the complex project completed more quickly than by using traditional construction methods.
The Transportation Department is still at least a year away from entering into an agreement with one of three construction-financing teams to move forward with the project. The project will be the largest in the agency's history and could end up costing $1.3 billion.
Some lawmakers have expressed concerns with the novel construction approach, but signed off on the right-of-way bonding request last year.
Sandoval said Monday the P-3 proposal will save as much as $100 million in hard construction costs, but there will also be time savings for drivers who won't be stuck in traffic through the construction of multiple phases under a traditional building approach.
He urged Transportation Department officials to continue to work with lawmakers to answer any questions or concerns they might have.
Under the P-3 concept, one consortium would be responsible for construction and maintenance of the project. The advantage is that it could be constructed in four to five years and be finished by 2020.
Traditional funding would require piecemeal construction for up to 15 years.
The selected consortium will also be responsible for maintaining the improvements for a period of 35 years.
The winning team would be paid $200 million upon project completion in 2020, with another about $34 million a year to maintain it over that time.
The agency announced earlier this year the three teams shortlisted for the project:
– Kiewit-Meridiam NEON Partners – Kiewit Development Company & Meridiam Infrastructure Neon, LLC.
– Las Vegas NEON Ventures – Las Vegas Paving Corporation & Macquarie Capital Group Limited.
– NEON Mobility Group – ACS Infrastructure Development, Inc. & Fengate Capital Management, Ltd. & Star America Fund GP LLC.
NDOT's request for proposals this spring will include several provisions to guard against shoddy work and other possible problems. The agency will create detailed specifications and performance benchmarks for Project Neon.
The Transportation Board could finalize a request for proposals for the P-3 project by April.
The board also approved several contract changes for professional groups working on the project, including up to $2 million in additional spending by a legal firm, Nossaman LLP, to assist in the development of a request for proposals for the project. The increased authority brings the total contract with the firm to $3.4 million.
Contact Capital Bureau reporter Sean Whaley at swhaley@reviewjournal.com or 775-687-3900. Follow him on Twitter @seanw801.