State agency that develops test sites for drone broadening scope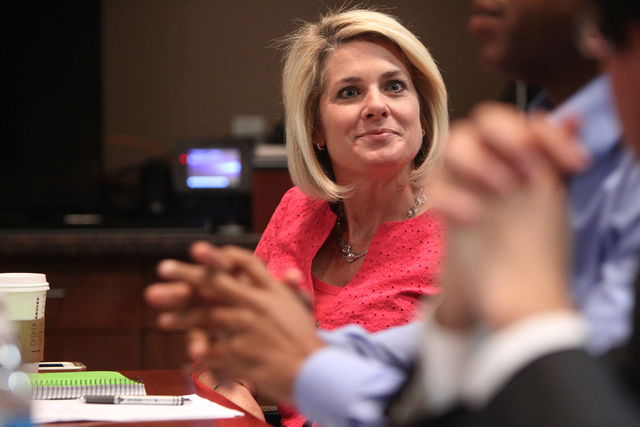 The state nonprofit group that develops test sites for drones is broadening its scope.
Earlier this week, Tina Quigley, general manager of the Regional Transportation Commission of Southern Nevada, accepted a position on the Nevada Institute for Autonomous Systems board.
"We are at a tipping point for a lot of big change coming forward," Quigley said. "At a national level, there will be continued focus on advancement in autonomous technology, whether it's ground or air. And, inevitably, there will be links and partnerships and synergies."
Quigley's addition to the board is "explicit recognition" of the driverless vehicle industry, said Tom Wilczek, the defense aerospace industry representative at the governor's economic development office.
For several years, the institute has been concerned heavily on the drone side or unmanned aerial vehicles, he said. "Interestingly, in parallel, there has been a ground swell of opportunity and movement within the advanced mobility industry."
For example, he said there was a "dramatic increase" in license applications to operate a driverless vehicle in the state.
"It increased even more so with this year's Consumer Electronics Show, where we had a lot of people at that event … looking at trends and watching where the consumer electronics industry was going. And we noticed and saw that the traditional automobile manufacturing industry was moving hard into that space."
State leaders decided it was time for the institute to look at the advanced mobility industry, Wilczek said.
The institute's board also nominated Lynn Fenstermaker of the Desert Research Institute and Adam Kramer, executive vice president of strategy for Switch, the builder and operator of collection data centers.
"The addition of Mr. Kramer also is explicit recognition that Nevada understands that, whether it's UAVs or advanced mobility, those applications are very, very data intensive," Wilczek said. "So, it's recognition that we also want to integrate in the data management storage component."
Nevada has a long-term vision with unmanned systems that includes driverless vehicles and vehicle-to-vehicle communication, he added.
Contact Nicole Raz at nraz@reviewjournal.com or 702-380-4512. Find @JournalistNikki on Twitter.