1 missing, 7 rescued after flooding near Las Vegas Strip — VIDEO
Updated August 4, 2017 - 9:45 pm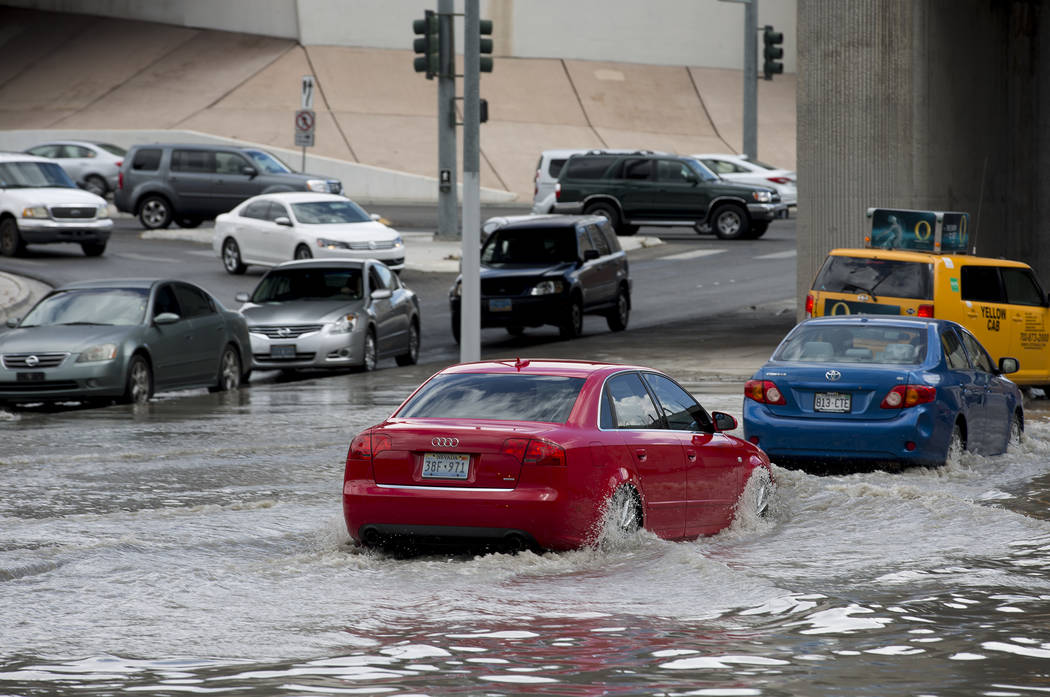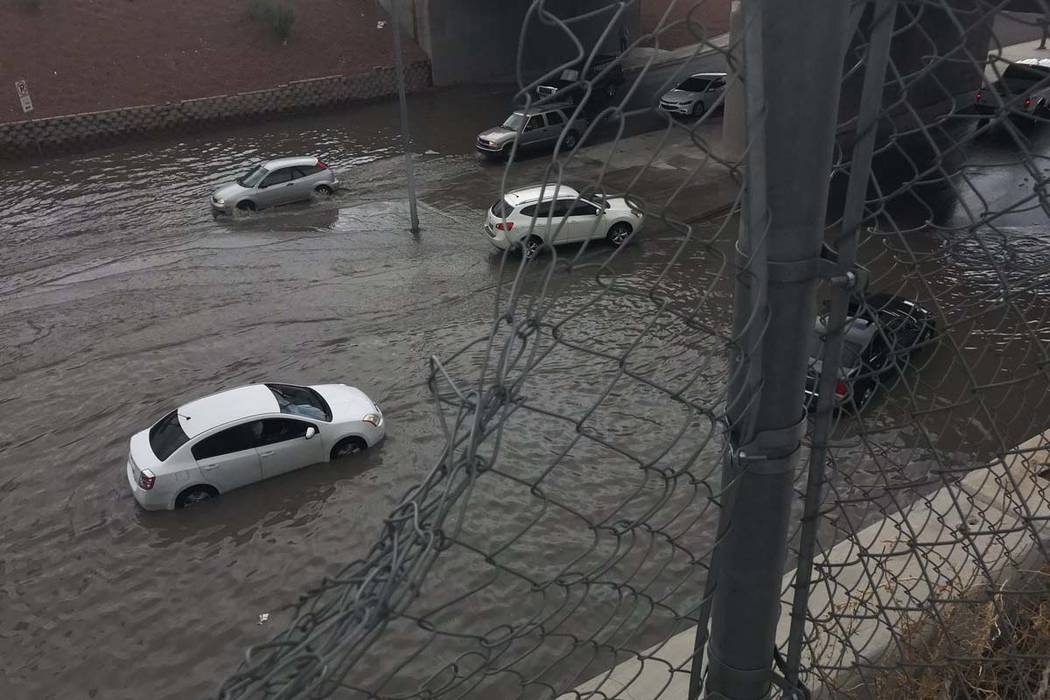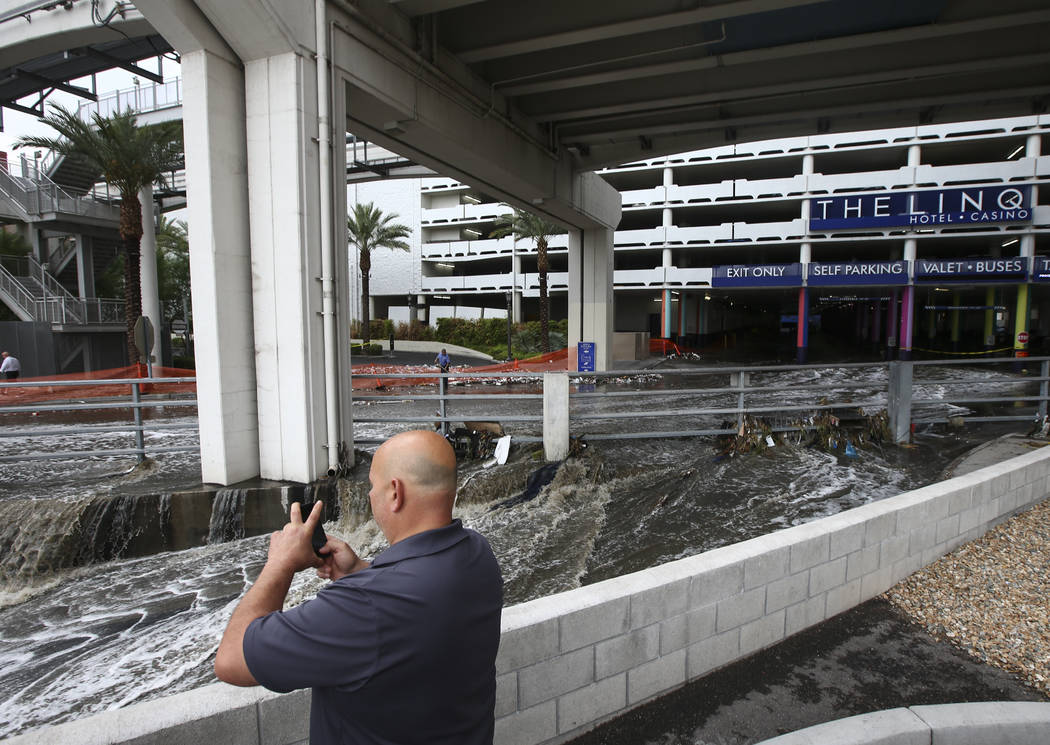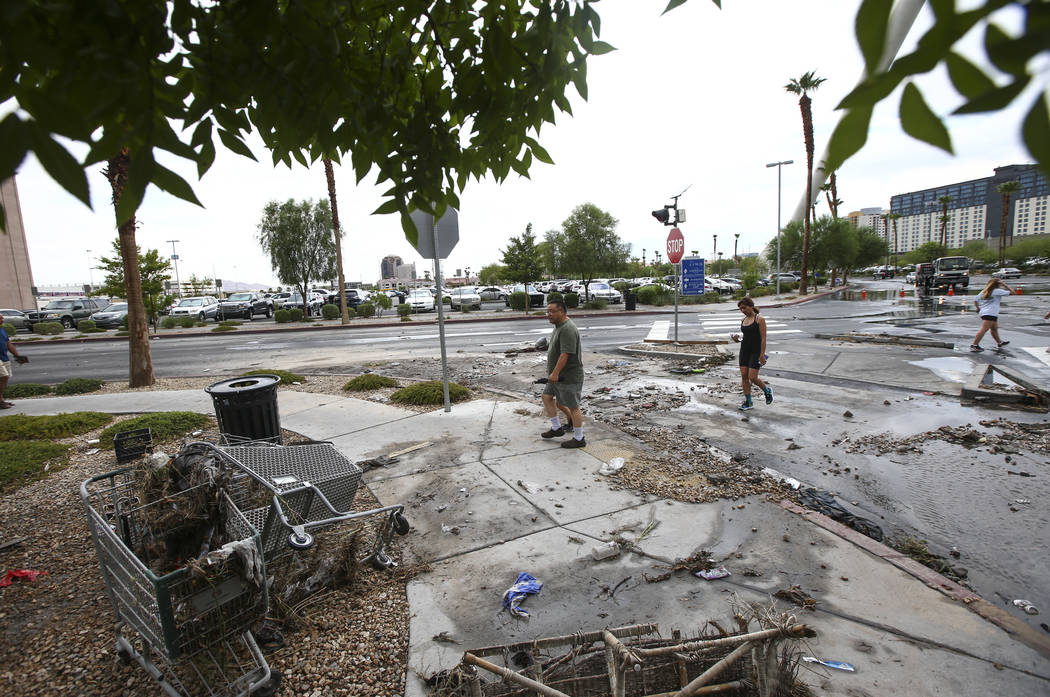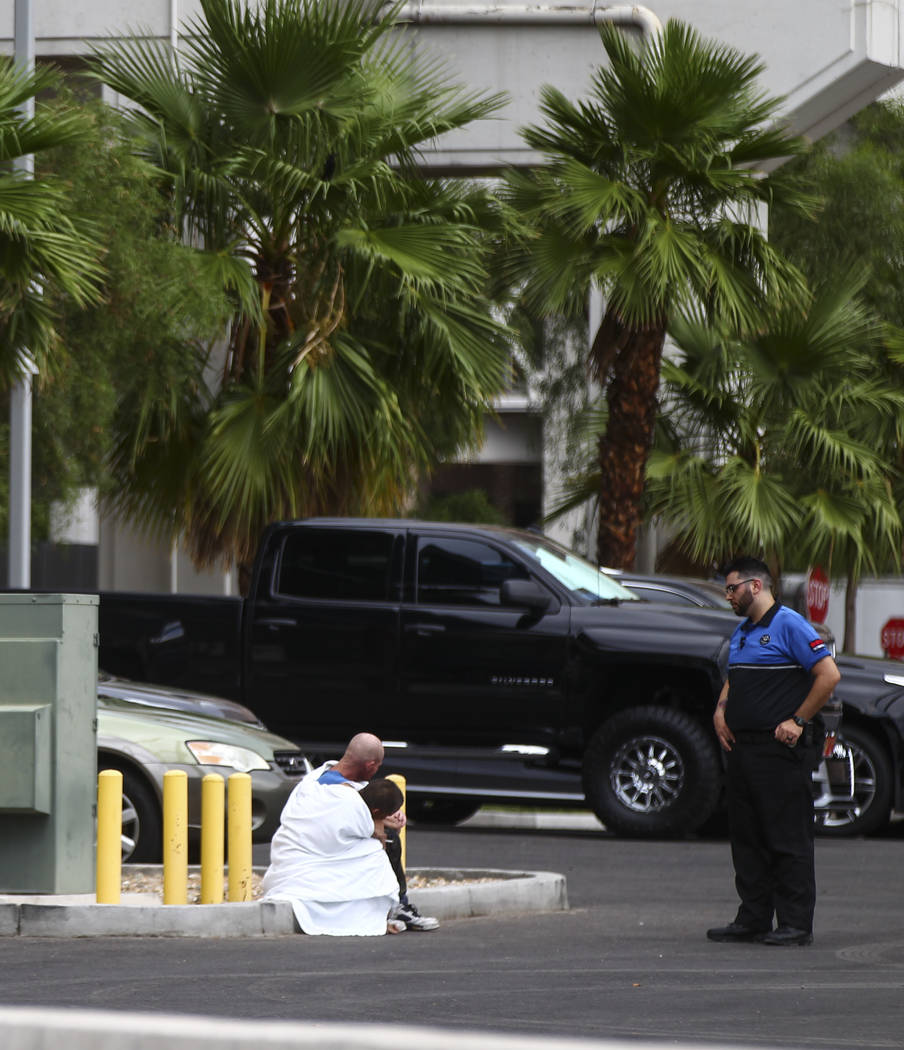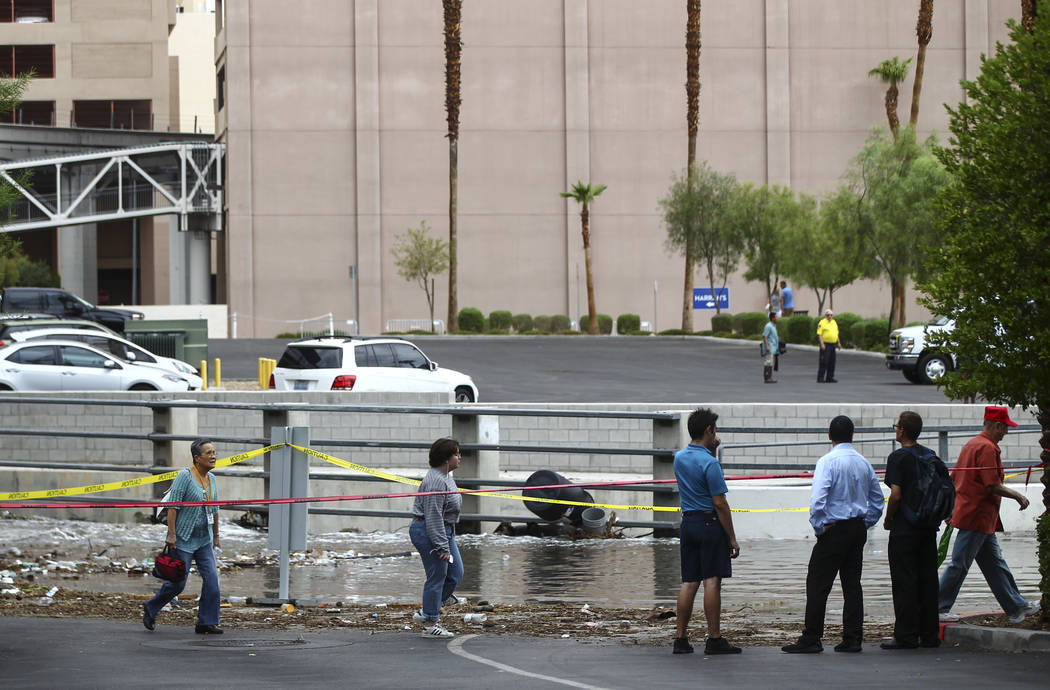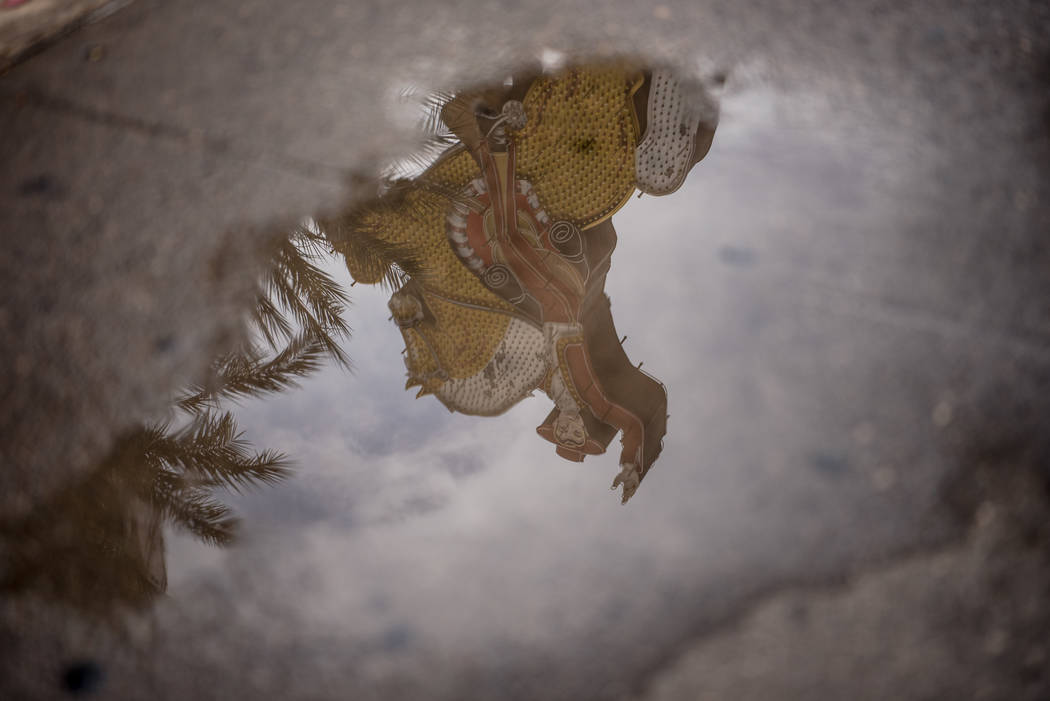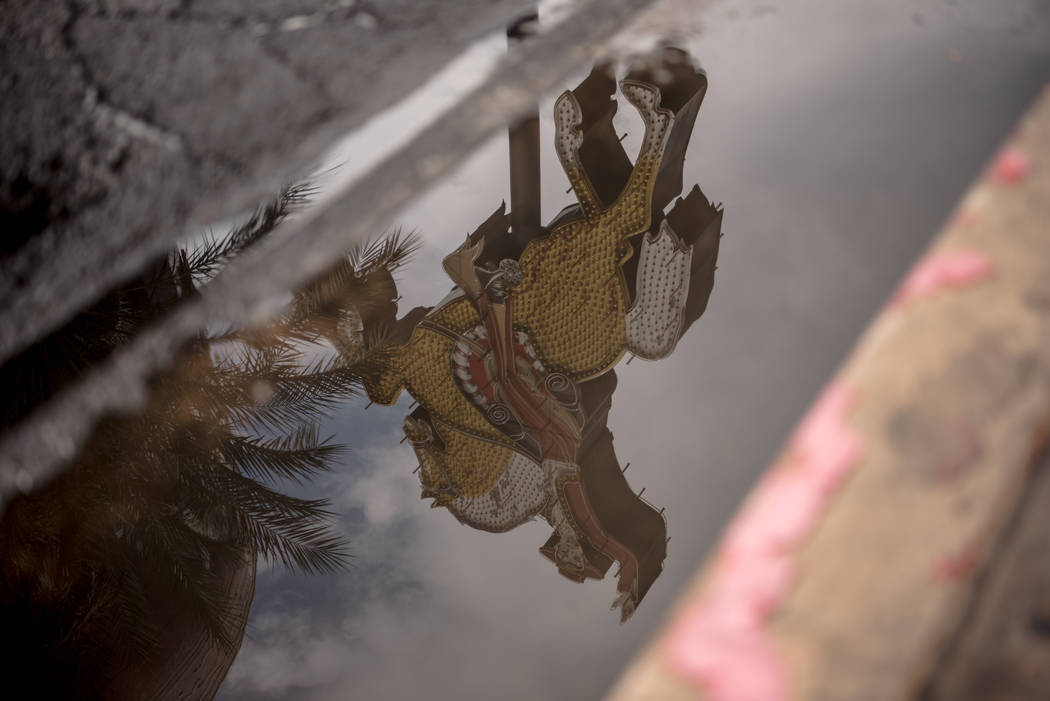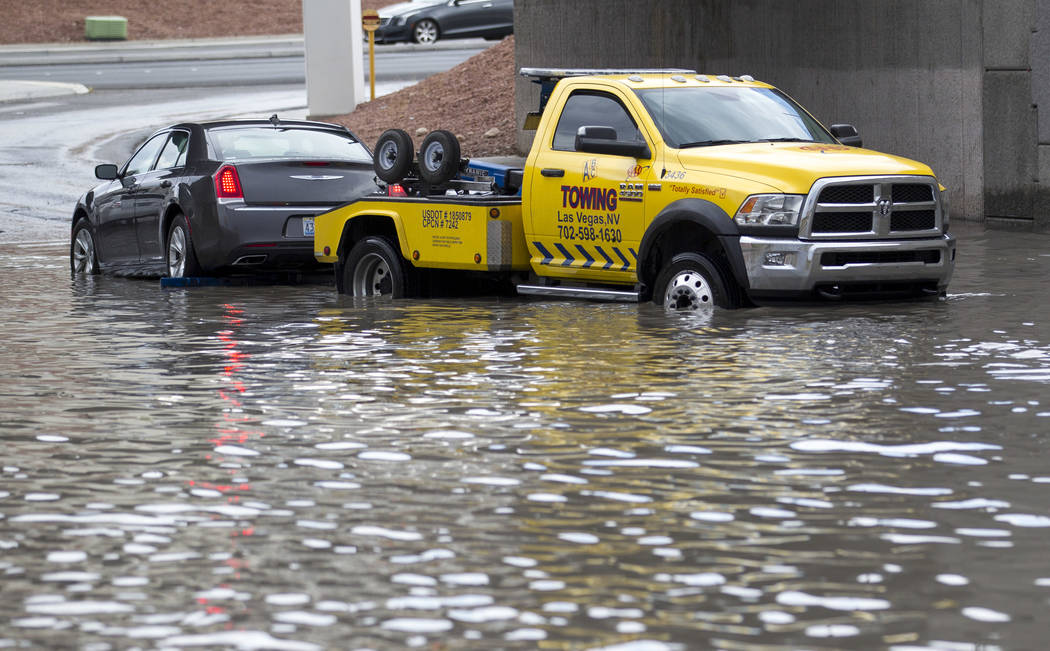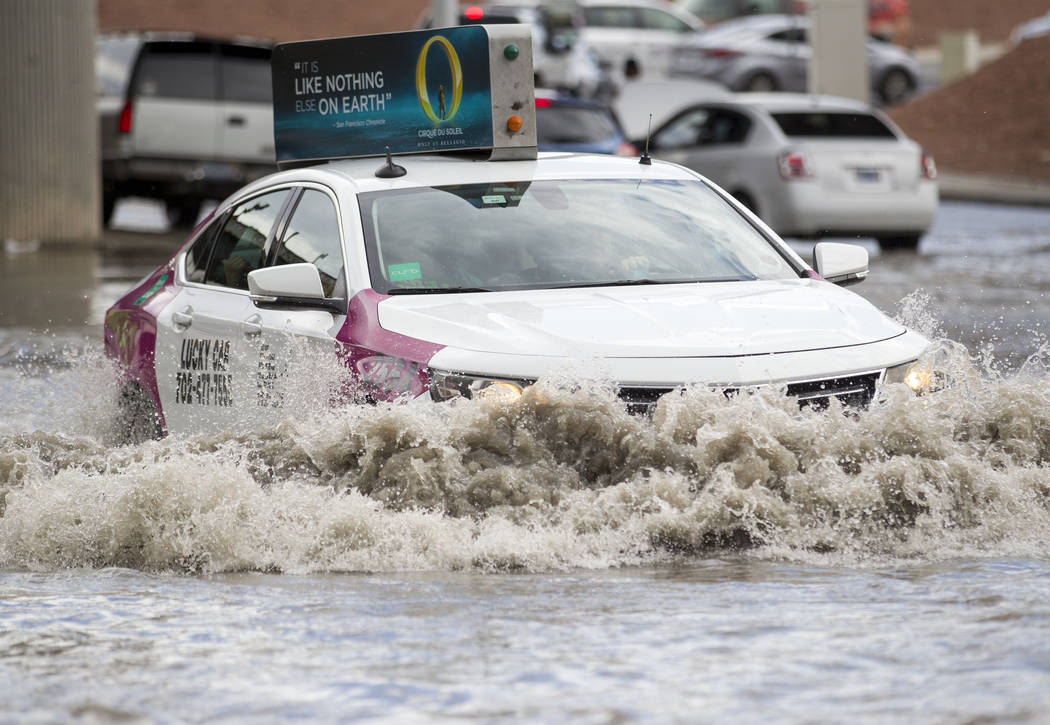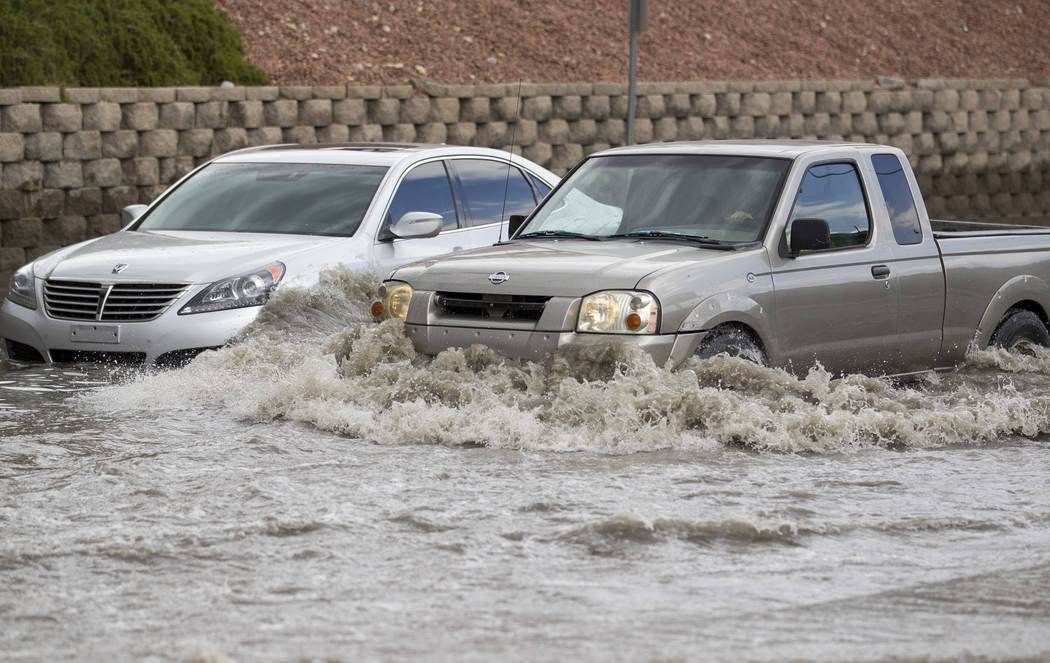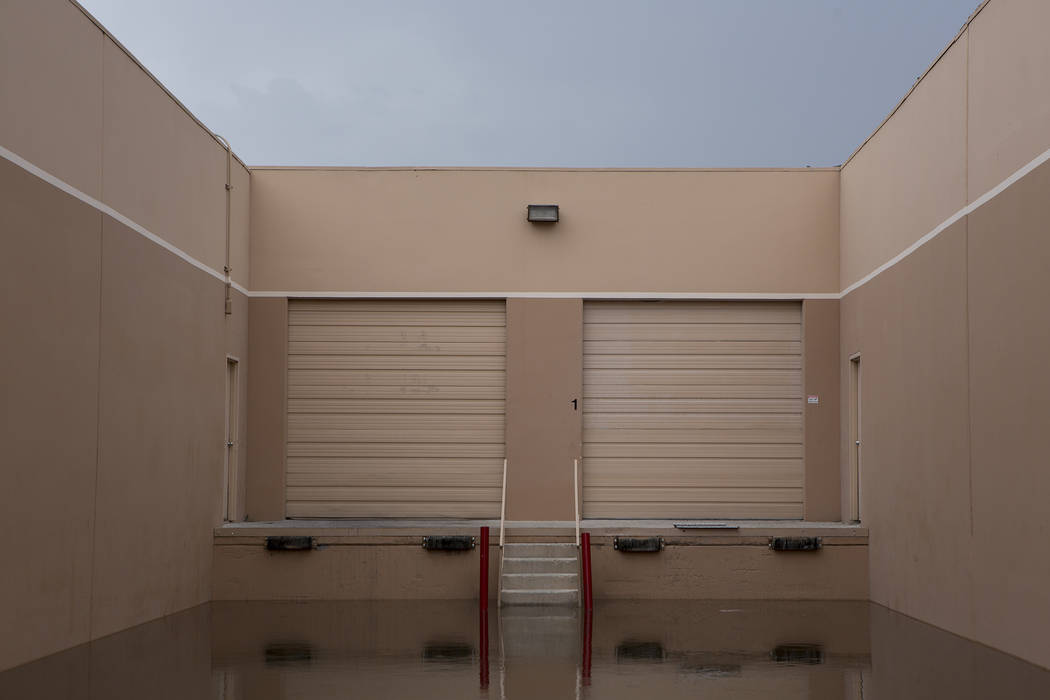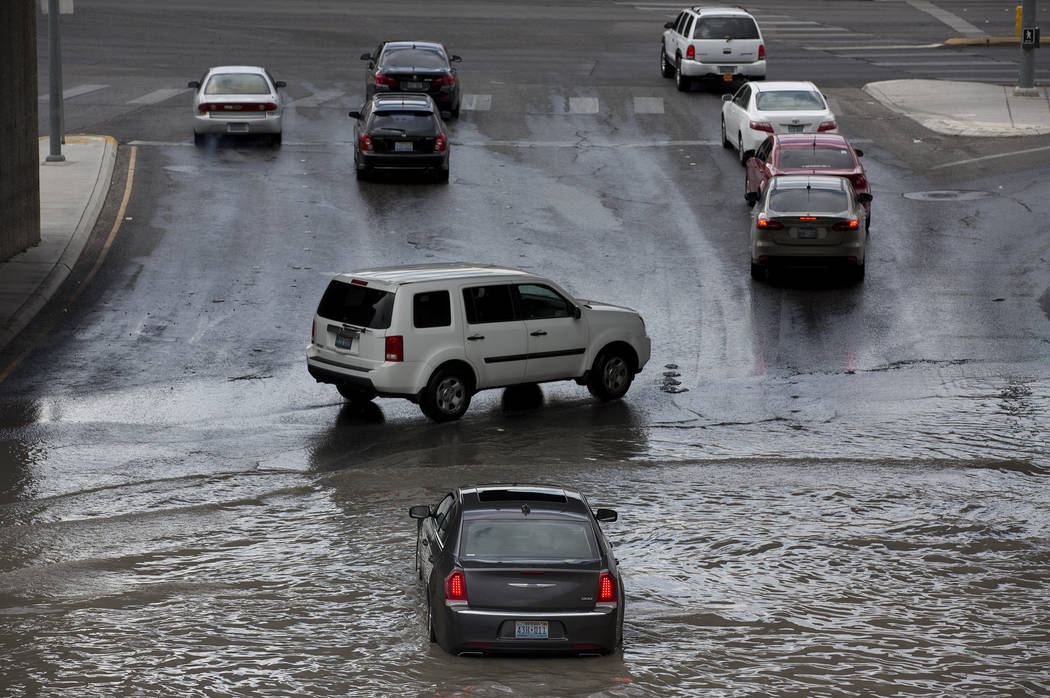 One person is missing after being swept away by water in a Las Vegas wash during Friday afternoon thunderstorms, according to the Clark County Fire Department.
About 2 p.m., a person was reported missing in the wash near Siegel Suites at 3625 Boulder Highway. Another person was rescued and taken to a hospital with unknown injuries, Fire Department spokesman Jeff Buchanan said.
Six people were rescued from the wash behind The Linq Hotel about 1:30 p.m., Buchanan said. One of those people was missing for more than an hour before being rescued by firefighters.
Travel troubles
The storms, which prompted the National Weather Service to issue a flash-flood warning for west-central Clark County until 7:45 p.m. Friday, created havoc on roads throughout the area.
Flooding was reported near the Rio and The Linq hotels, and water pooled on roads throughout the Las Vegas Valley, Boothe said. Hidden Valley Road off Interstate 15 was closed at 4:15 p.m., Assistant Fire Chief Larry Haydu said.
The Las Vegas Fire Department tweeted about 1:15 p.m. that lightning hit a palm tree by an office building near downtown at 1325 S. Maryland Parkway.
The burning embers fell onto the roof and caused $20,000 of damage, the department said. The fire caused no damage inside the building. As of Friday afternoon, the fire was put out, and no injuries were reported.
Pahrump Fire-Rescue reported a road closure at the Tecopa Road exit on state Route 160, about an hour southwest of Las Vegas, that forced about 100 vehicles to stop on the highway and wait for the water to recede, Haydu said. The road has since reopened.
Other road closures in the Pahrump area include state Route 373 at Mecca Road and state Route 160 and U.S. Highway 95, the Nevada Department of Transportation tweeted about 4:40 p.m.
As of 9:30 p.m., Hidden Valley Road remained closed, but it was unclear whether roads closed in the Pahrump area had reopened.
The storms also caused trouble at McCarran International Airport, where afternoon and evening departing flights were delayed 45 minutes to an hour, McCarran spokeswoman Christine Crews said.
The washes
Not even an hour after someone was rescued from the wash on Boulder Highway, Henry Miles walked along the side, stopped and gripped his fingers on the fence. He watched as the water, now half a foot deep, continuously surged.
"Most likely there might have been some people down there, and when the flood comes — it's unexpected," the 64-year-old said, pointing at the debris that traveled with the water. "I wouldn't be surprised if somebody got caught in it."
Inside the Siegel Suites right next door, Alexandria Thompson sat behind the front desk. She said she had seen at least three people stuck in the water after it had rained.
"I've never seen it like that," she said, adding that the water was probably 3 feet high.
Before the Fire Department arrived, six or seven bystanders were throwing ropes and whatever they could in the wash to try to save people, Thompson said. She saw fire crews rescue one man. Another person was washed away by the current and remains missing.
"It was really rushing," she said. "It was almost like a river."
Haydu said the department wasn't able to recover the missing person Friday, because there was just too much water in the channel.
"It's too dangerous to put people in," he said. "They're going to wait until the water recedes to a safe level."
Back behind The Linq Hotel at 6:26 p.m., Metropolitan Police Department officers directed traffic, and yellow and red tape had closed off the entrance to the wash where six people were rescued.
Water was still flowing as two white trucks worked on draining the wash. Meanwhile, hundreds of cars were backed up into four lanes on the narrow intersection of South Koval Lane and East Albert Avenue, behind The Westin.
Rain to wane
The weather service, which saw its radar go out for more than two hours, said Friday had a 40 percent chance of light rain overnight.
Rain chances continue to diminish, with partly cloudy skies and a 10 percent chance of rain Saturday through Tuesday.
Thunderstorms dropped a total of 0.47 inches of rain on the central valley between 12:30 p.m. and 7 p.m., weather service meteorologist Alex Boothe said.
Mount Charleston was hit the hardest, receiving 2.80 inches of rain in total that caused heavy flooding and debris to clutter roads, the Mount Charleston Fire Protection District reported. Fire Chief Jorge Gonzalez advised residents not to travel on highways 156 or 157.
Contact Isabelle Delgado at idelgado@reviewjournal.com or 702-383-0381. Follow @izzydd_ on Twitter. Review-Journal reporters Briana Erickson and Dana Rutkin contributed to this story.
Monsoon season in Vegas
Monsoon season, defined as a shift in wind pattern, brings thunderstorms to the valley when hot temperatures and tropical moisture meet. Changes in the wind pattern destabilizes the atmosphere when there is deep moisture over the desert, the weather service said.
The wind pattern allows favorable wind to bring up moisture from the Gulf of California to the valley, they said.
The valley is so prone to flooding due to lack of of vegetation in the dry soil, the weather service explained. The dry ground doesn't take a lot of moisture, so the ground becomes more hydrophobic and creates runoffs into washes that flow into Lake Mead.