Las Vegas sweats through hottest June on record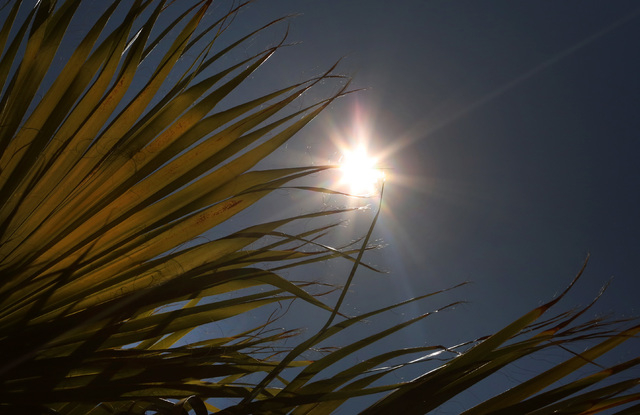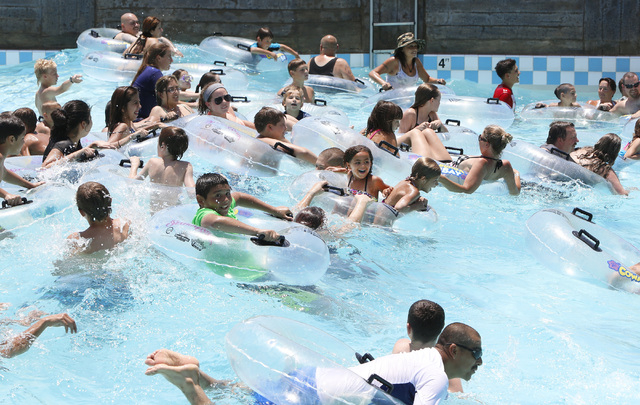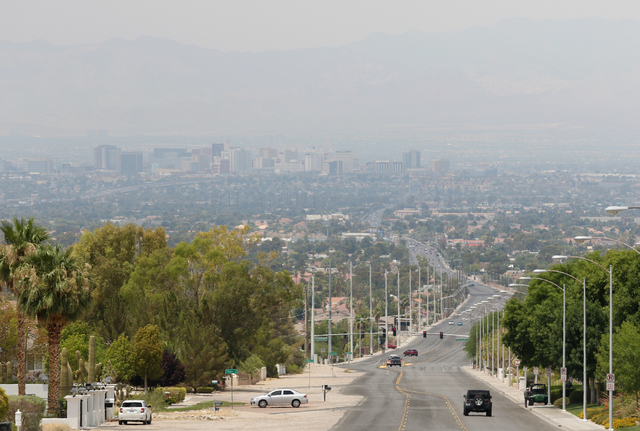 June of 2015 was the hottest June in Las Vegas history, the National Weather Service said Wednesday.
The average temperature of 91.9 degrees beat the previous record set in June 2013, when the average temperature was 91.5.
Seven days in June set records for "high minimums" — days when the lowest temperature was hotter than any in previously recorded history. The days were June 15, 16, and 26-30.
Weather Service meteorologist Jim Harrison attributed the heat to a long period of high pressure over the Western United States and the "heat island" effect, by which the asphalt and concrete of Las Vegas absorbs heat during the day and releases it at night.
"There's a bigger difference in our low temperatures at night than there is in our high temperatures at day compared to 20, 30, 40 years ago," Harrison said. "The high temperatures haven't really increased that much, overall."
Weather data has been recorded in Las Vegas dating back to 1937, Harrison said. Temperatures are measured at McCarran International Airport.
The heat wave is expected to continue through the first week of July, with high temperatures of 106, 108, 106, 105, 105 and 105 from Thursday through Tuesday.
The Climate Prediction Center, an arm of the Weather Service that studies long-range trends in weather as far out as one year, has predicted an outlook for July with a small probability of above-normal temperatures.
"It's not a clear signal, they're highlighting the Pacific Northwest as above-normal temperatures, (and Las Vegas is) kind of on the edge of that," Harrison said.
Las Vegans who work outdoors weren't surprised to hear this June has been the hottest on record. Tracey Ponder, super­intendent at an Adaven Homes construction site in the western Las Vegas Valley, said Wednesday this June's heat has been rough.
"The humidity this week has added to it," she said. "…We didn't get a spring this year, so it's been a hotter June than before."
The workers start at 6:30 a.m. and go to 4:30 p.m. or 5 p.m., taking about an hour break, she said. To beat the heat, she wets her hair, shirt and jeans, and drinks Powerade Zero and bottled water on the site. She's recently noticed roofers, who face the heat most directly, covering their entire faces to block the sun.
"I hadn't noticed that in years before," Ponder said.
The heat the day before had been "really hot," said Maximino Rodriguez, foreman at the site. That also happened to be the record "high minimum" for Las Vegas.
"What we do is drink a lot of water," Rodriguez said. "Maybe once in a while, go in the shade."
At Charlie Frias Park off Decatur Boulevard and Flamingo Road, Angelica Torres watched her nephew and four young children splash in the water park, grimacing at the news that this June was the hottest ever in Vegas. A native of upstate New York with its comparatively mild summers, Torres said she keeps her family indoors when the heat makes even the water park unbearable.
"Today it's not too hot," she said. A faint wind blew and the temperature read 102.
Torres has a simple wish for July.
"Hopefully better weather," she said. "Not too hot."
The last day of the month went out with a suitable bang: June 30 set a record for the warmest low temperature ever, 93, for the month of June.
Good news, though, Harrison said. It's not the warmest low of all time in Las Vegas. That would be 95, set on July 19, 2005, the same day President George W. Bush nominated John Roberts as chief justice of the U.S. Supreme Court.
There's still a chance to make history.
Contact Knowles Adkisson at kadkisson@reviewjournal.com or 702-224-5529. Find him on Twitter: @knowlesadkisson.