Rare March snowstorm blankets parts of Las Vegas region
Updated March 2, 2023 - 12:19 am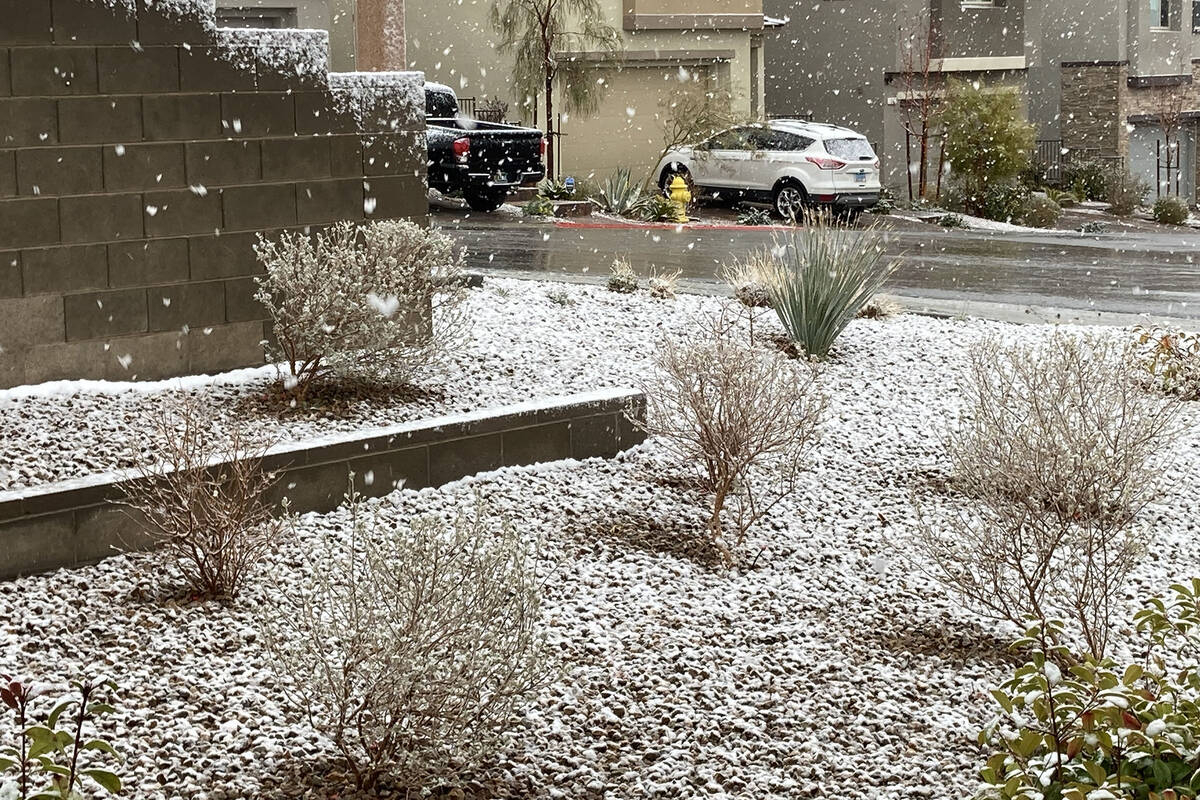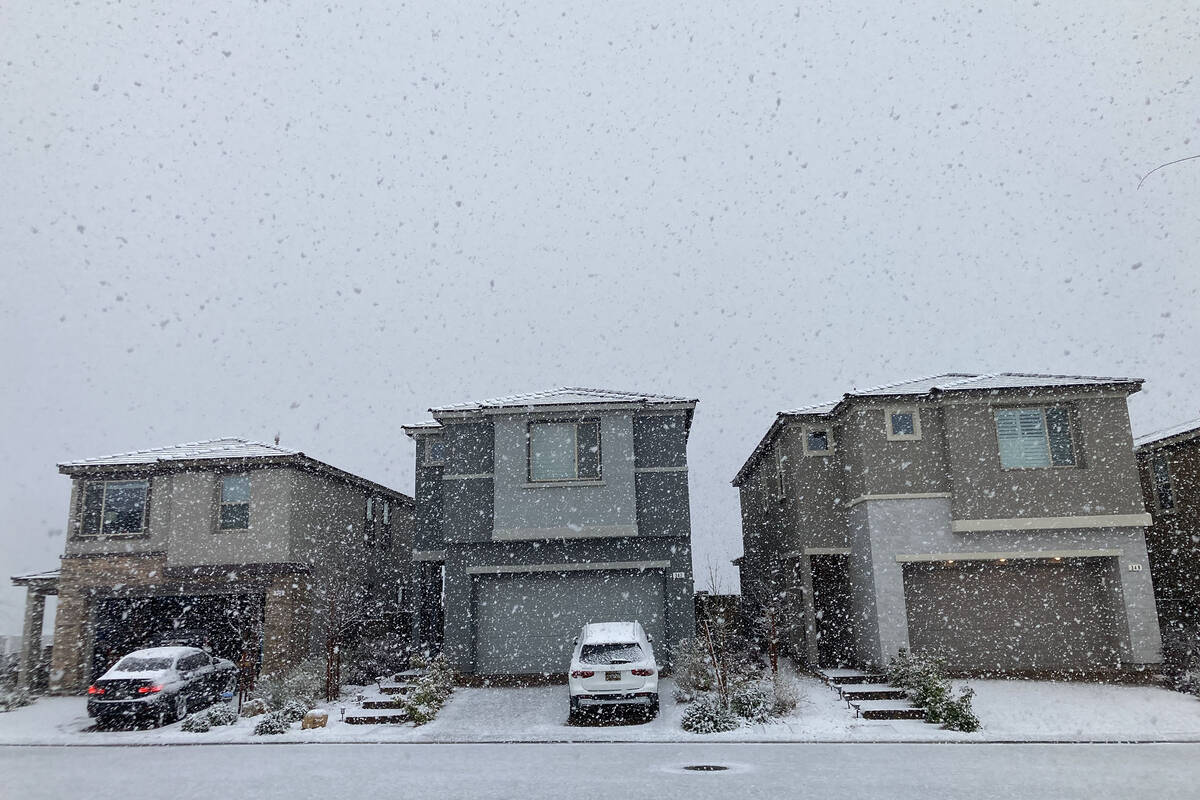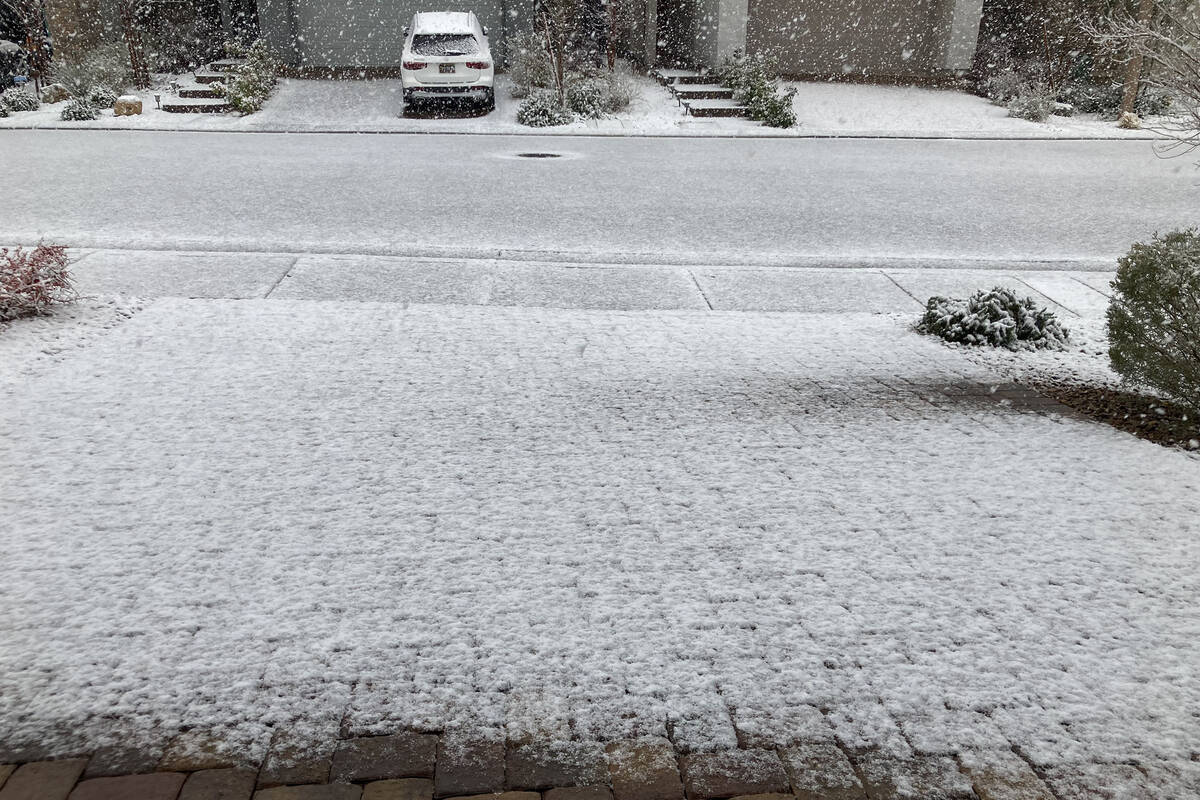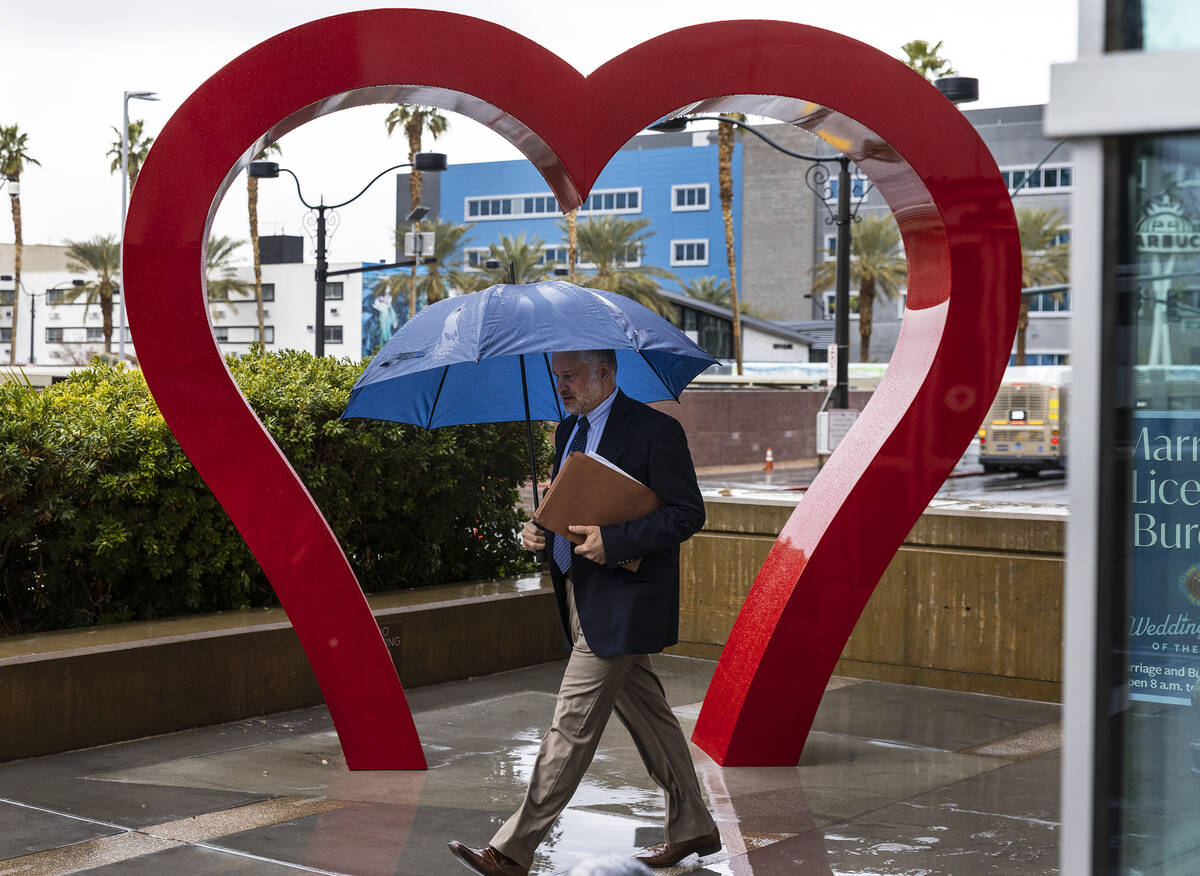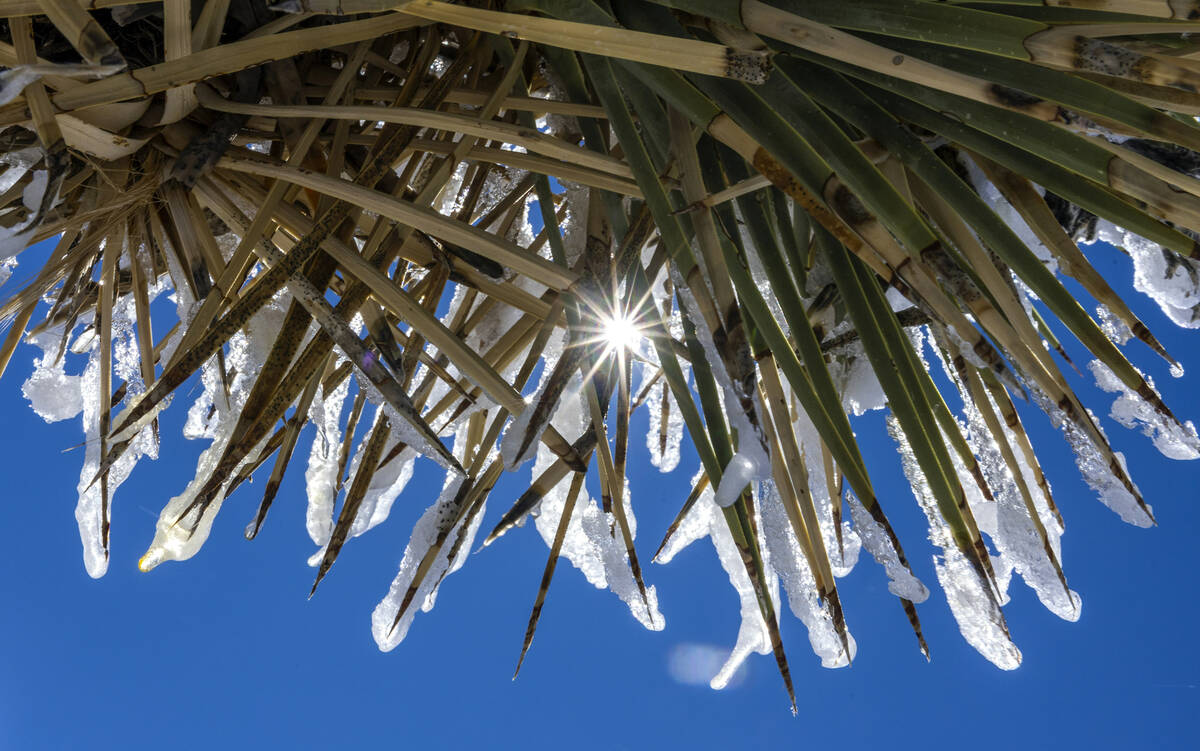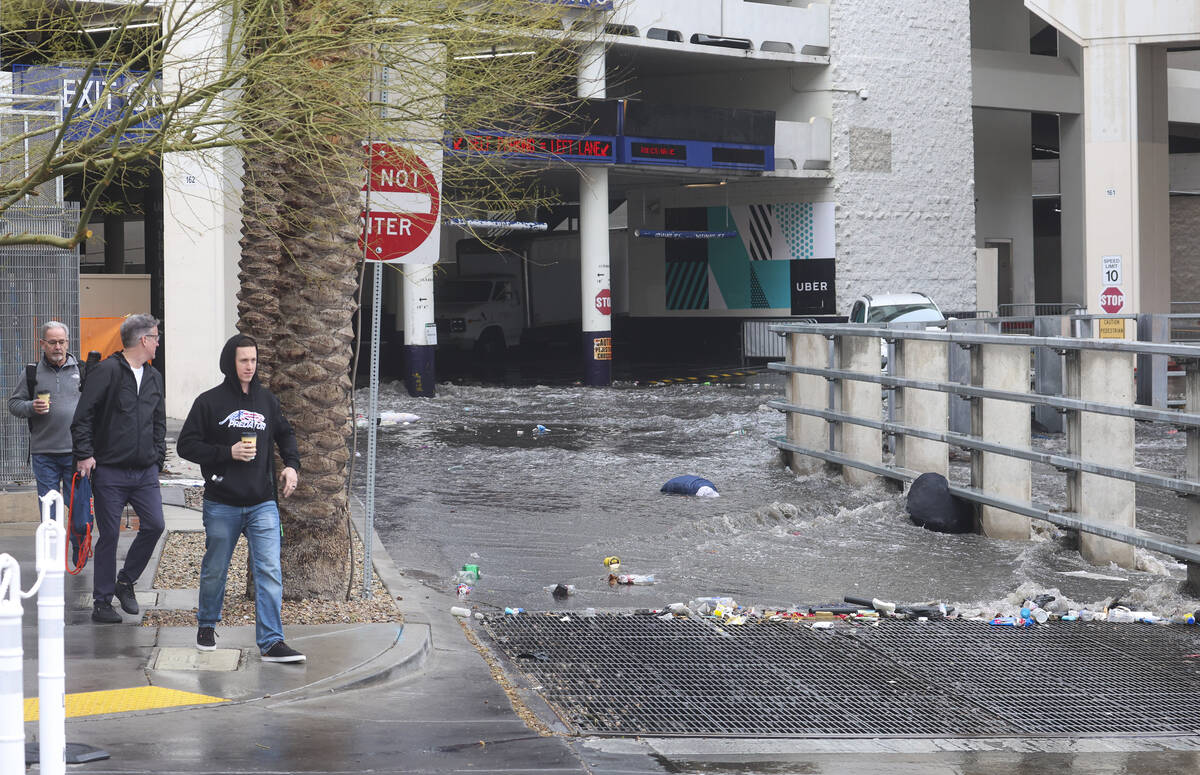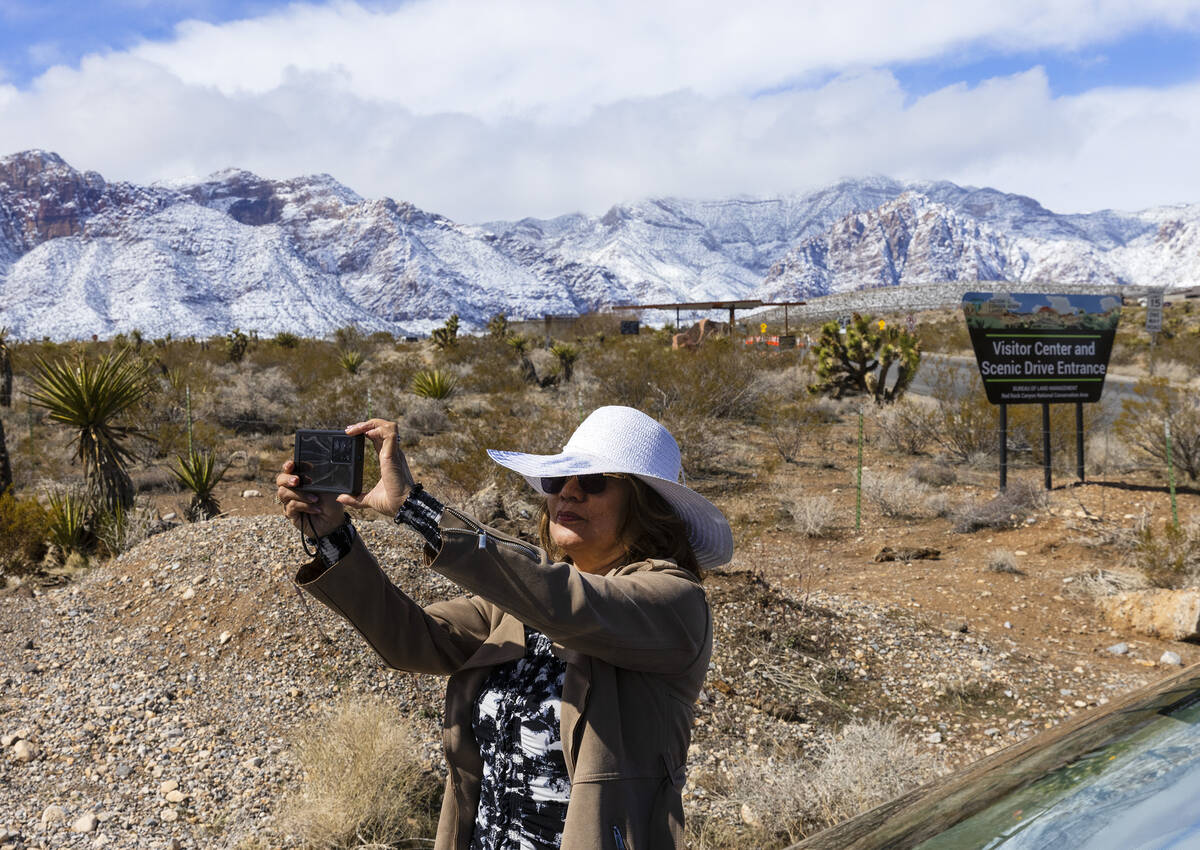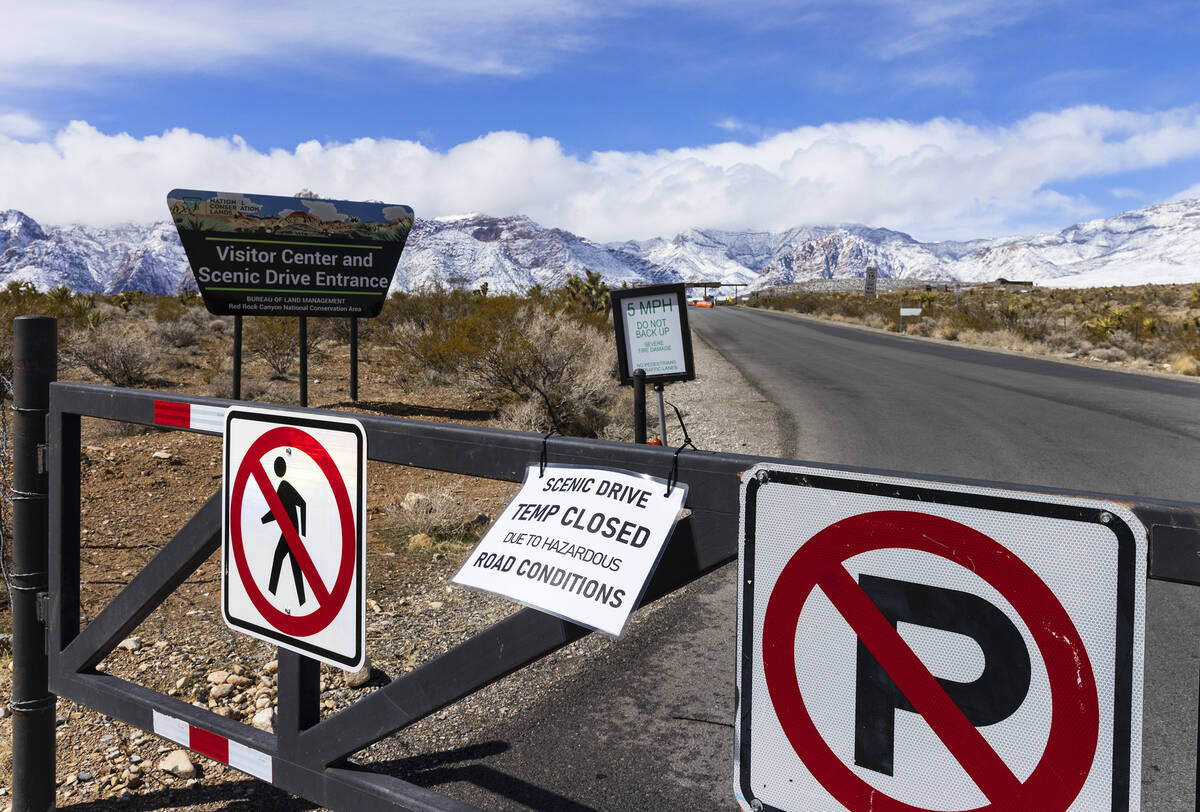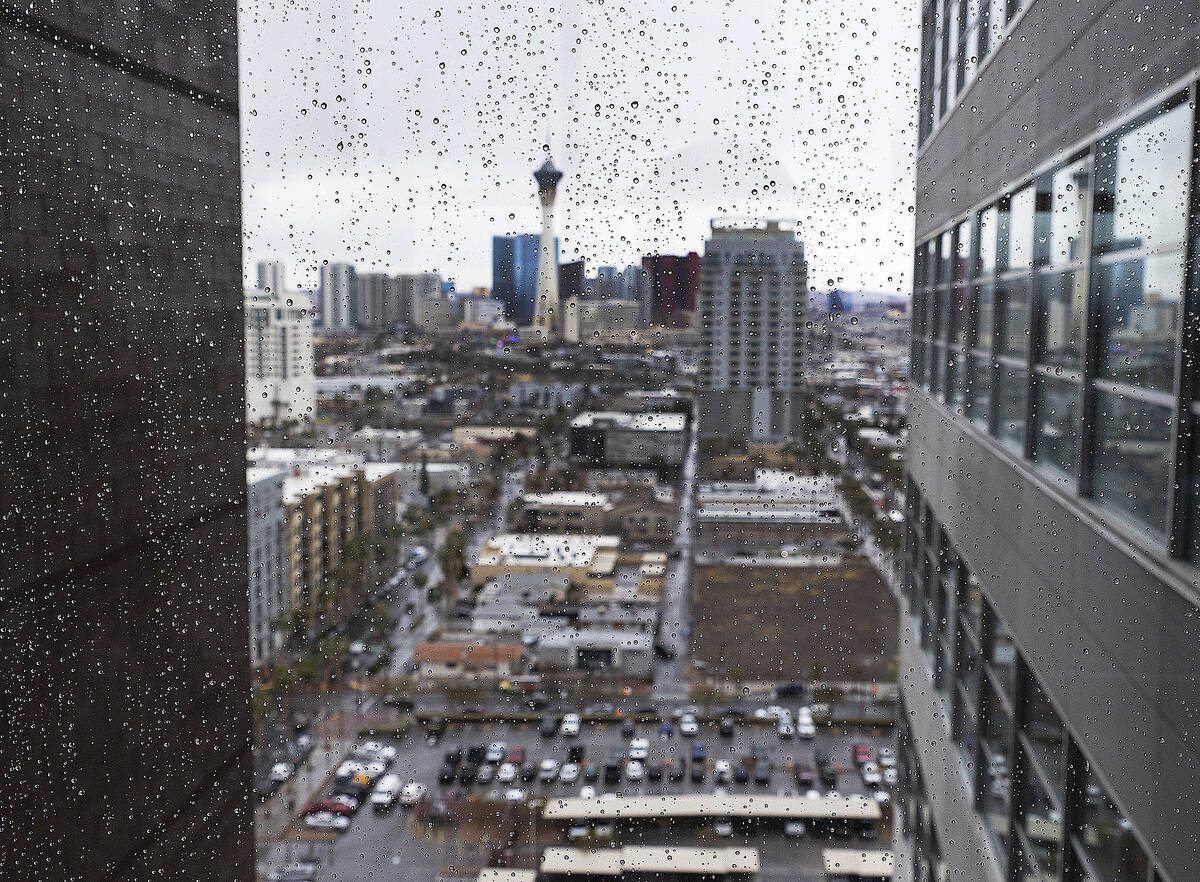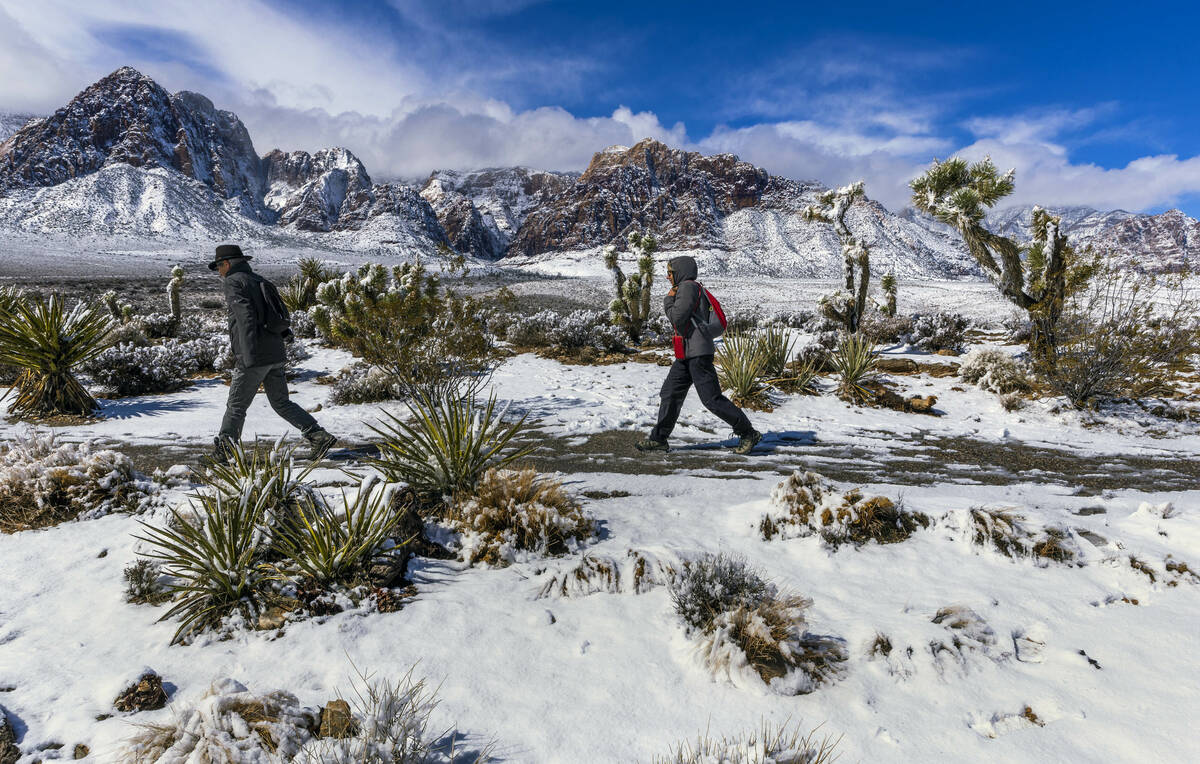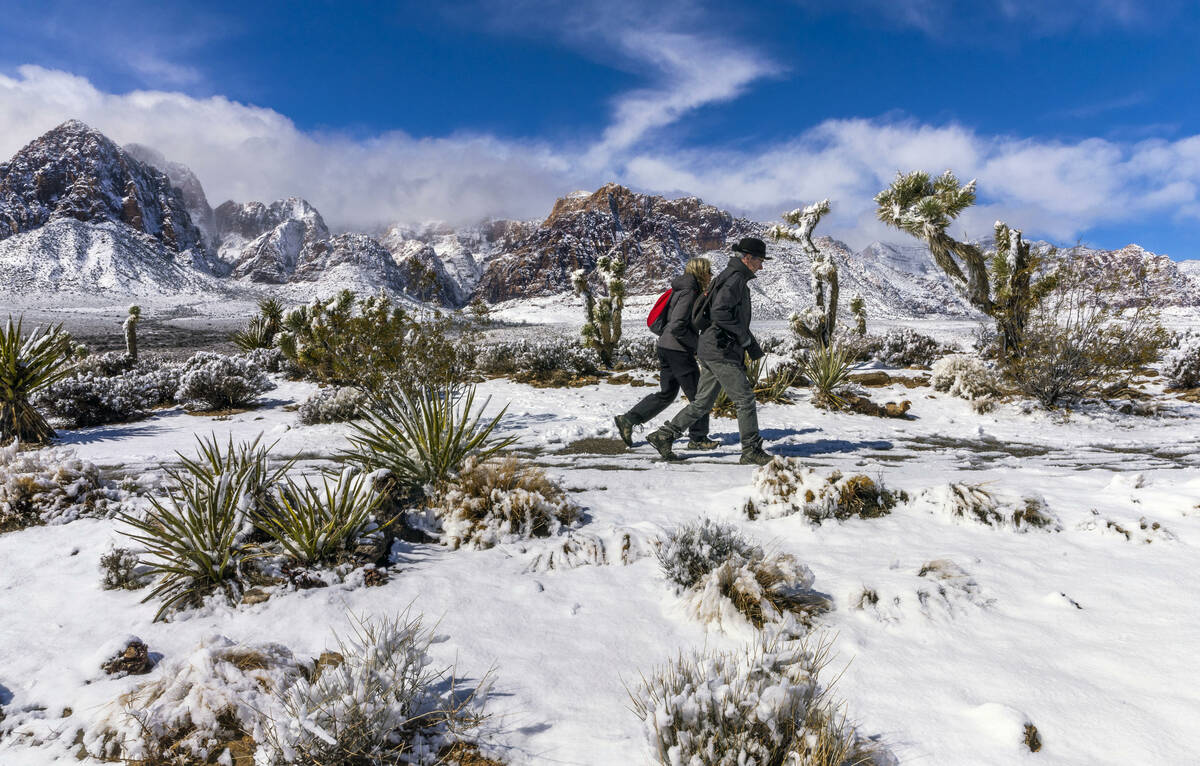 The calendar may have read March 1, but it felt more like Jan. 1 in the western part of the Las Vegas Valley on Wednesday.
Heavy snow closed several of the major roads leading to and from Las Vegas for parts of the day on Wednesday.
The road closures included Interstate 15 southbound at Primm, Route 160 from Las Vegas to Pahrump, Highway 93 from Hoover Dam to Interstate 40 in Kingman, Nevada Routes 156 and 157 in the Spring Mountains, Interstate 11 Southbound near Hoover Dam, and Route 164 between Searchlight and Nipton, California.
Snow fell over parts of Summerlin on Wednesday morning, with rain covering the rest of the Las Vegas Valley, until clearing began about 9:30 a.m. While most of the snow in Summerlin was gone by the afternoon, the mountainous landscapes in the nearby Red Rock Canyon area remained coated with it throughout the day, a rare sight this time of year.
'Not too surprised'
While the National Weather Service no longer measures snowfall at Red Rock Canyon, meteorologist Barry Pierce estimated about an inch of snow fell in the area. While it's rare to have a March snowfall in the Las Vegas area, Pierce said it hasn't been a typical season so far.
"We've had quite a few snow events already (in 2023), so I'm not too surprised based on what's happened this calendar year so far," Pierce said.
The NWS tracked snowfall data from 1977 to 2017 at Red Rock Canyon. In that 40-year span, snow was only measured six times in March — the most coming on March 27, 1991, when a whopping 6 inches fell. But historically, most other March snowfalls have involved just trace amounts.
In addition to the snowfall, gusty winds blew throughout the Las Vegas area Wednesday. The National Weather Service issued a wind advisory on through 4 a.m. Thursday, warning wind gusts of up to 50 mph could potentially blow down tree limbs and cause power outages.
The weather was expected to moderate Thursday, with a forecast of sunny and a high near 58.
Wednesday's picturesque scenes prompted a slew of photographers, both professional and amateur, to head out to the Red Rock area with their cameras.
Professional photographer Ivan Vidic has lived in the Las Vegas area for about seven to eight years, and told the Review-Journal that this was the largest snowfall he's seen since moving here.
"This much snow? Never," Vidic said. "It's interesting to see."
Vidic was using his drone camera to capture unique angles of the mountains, but worried there wasn't enough lighting to truly do the landscapes justice.
"I wish there was more sun to give more contrast and vibrancy," Vidic said.
Some weather for you … #RJNow @reviewjournal pic.twitter.com/ct7cuRDw3s

— John Katsilometes (@johnnykats) March 1, 2023
'First time I've ever seen snow like this'
Friends Julian Jacobs and Angela Stoneback also were out surveying the wintry weather. The pair brought Jacobs' niece out to enjoy the rare snowfall.
"She's excited about it," Jacobs said.
Jacobs grew up in the area and said this is the first significant snowfall he's seen in 15 years.
"The last time I think it snowed, we were in middle school," Jacobs said. "Hopefully we get a little bit more of this weather a little longer."
"This is the first time I've ever seen snow like this," Stoneback added.
Part-time photographer Jorge Monroe of Las Vegas used two cameras to capture what he thinks will be the last wintry landscape of this season.
"We are at the beginning of March, and the winter is almost over," Monroe said. "This isn't gonna happen again until next year."
One of Monroe's cameras was a time-lapse camera set up to take 400 pictures in the span of half an hour. He said the effort of hauling two cameras was worth it, "because you don't see it every day. We see desert, brown, all the time, but now it's white, like Christmastime."
Contact Justin Razavi at jrazavi@reviewjournal.com. Follow @justin_razavi on Twitter. Contact Marvin Clemons at mclemons@reviewjournal.com. Follow @Marv_in_Vegas on Twitter.