'Where are they supposed to go?' County cracks down on homeless encampments
Updated May 12, 2023 - 6:16 am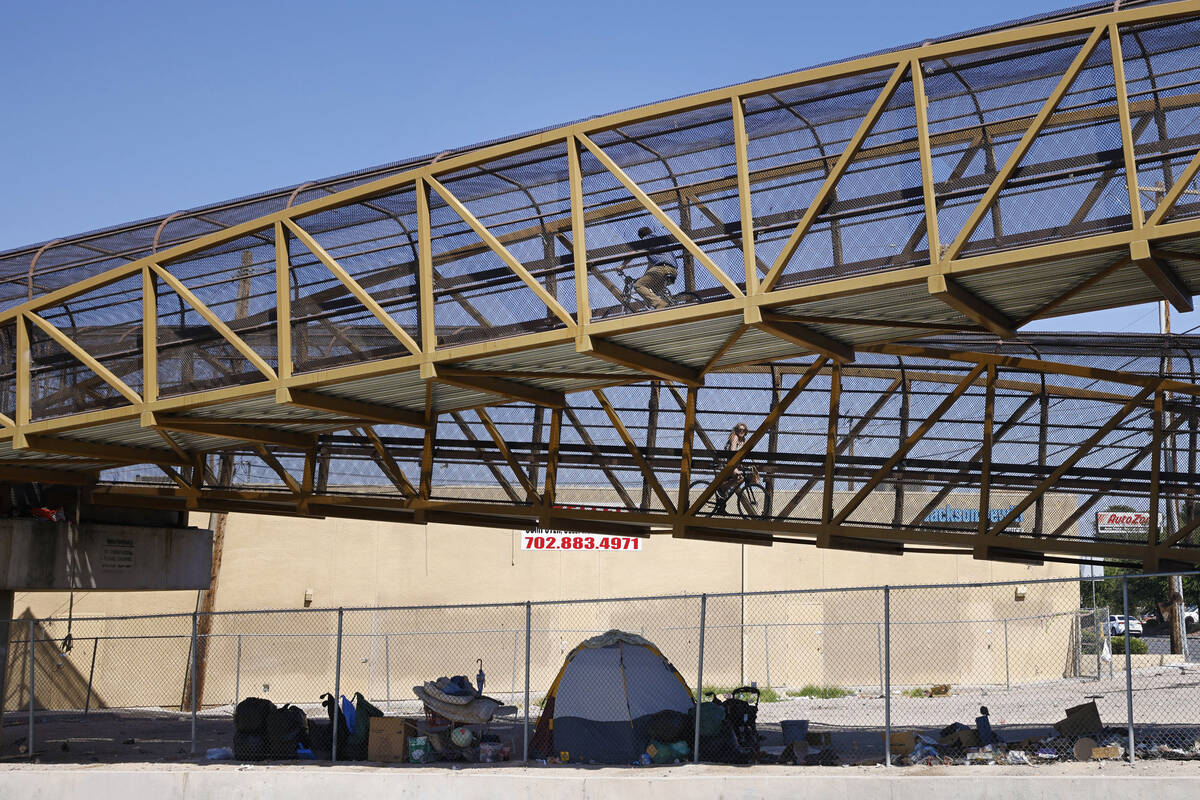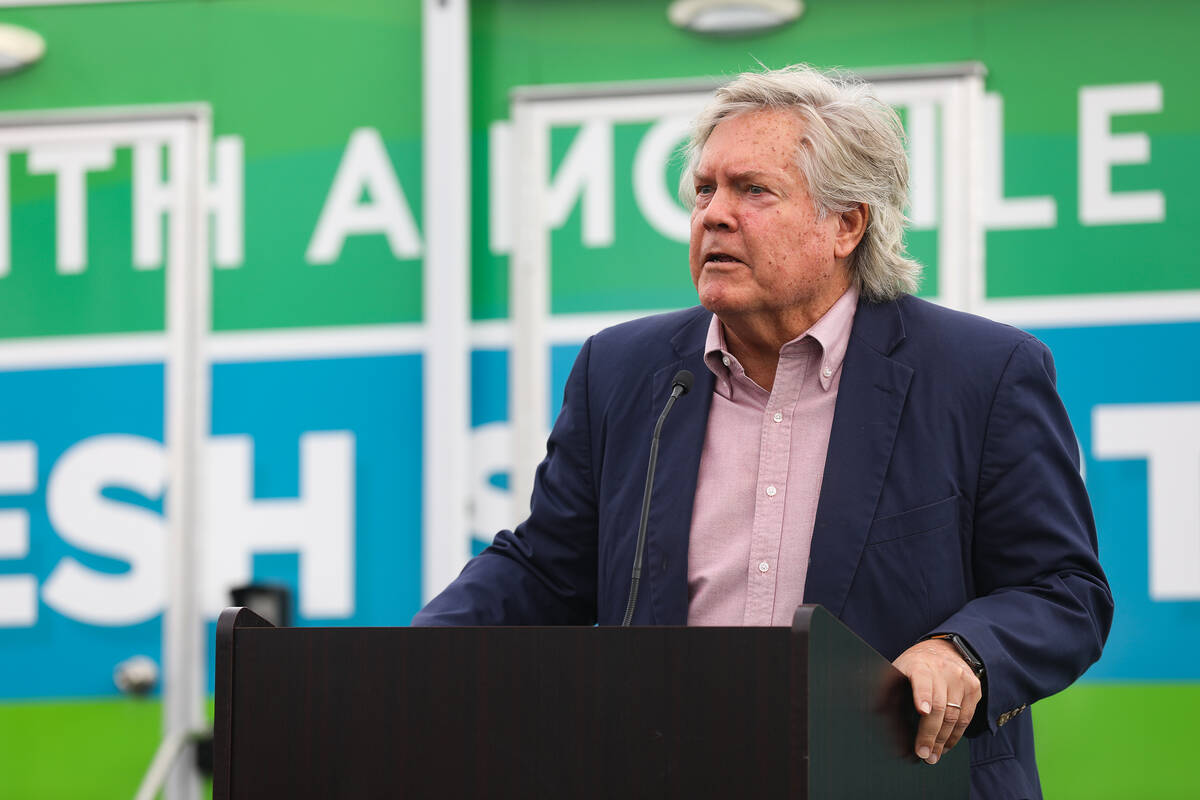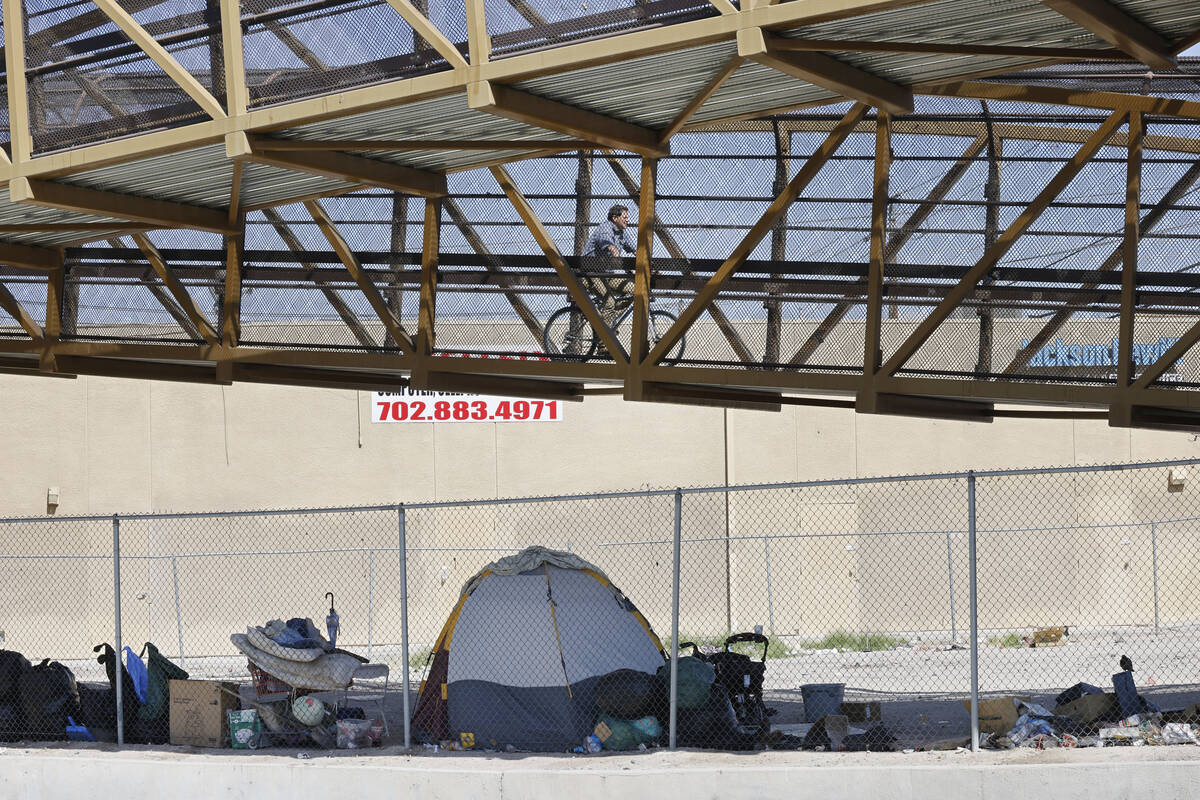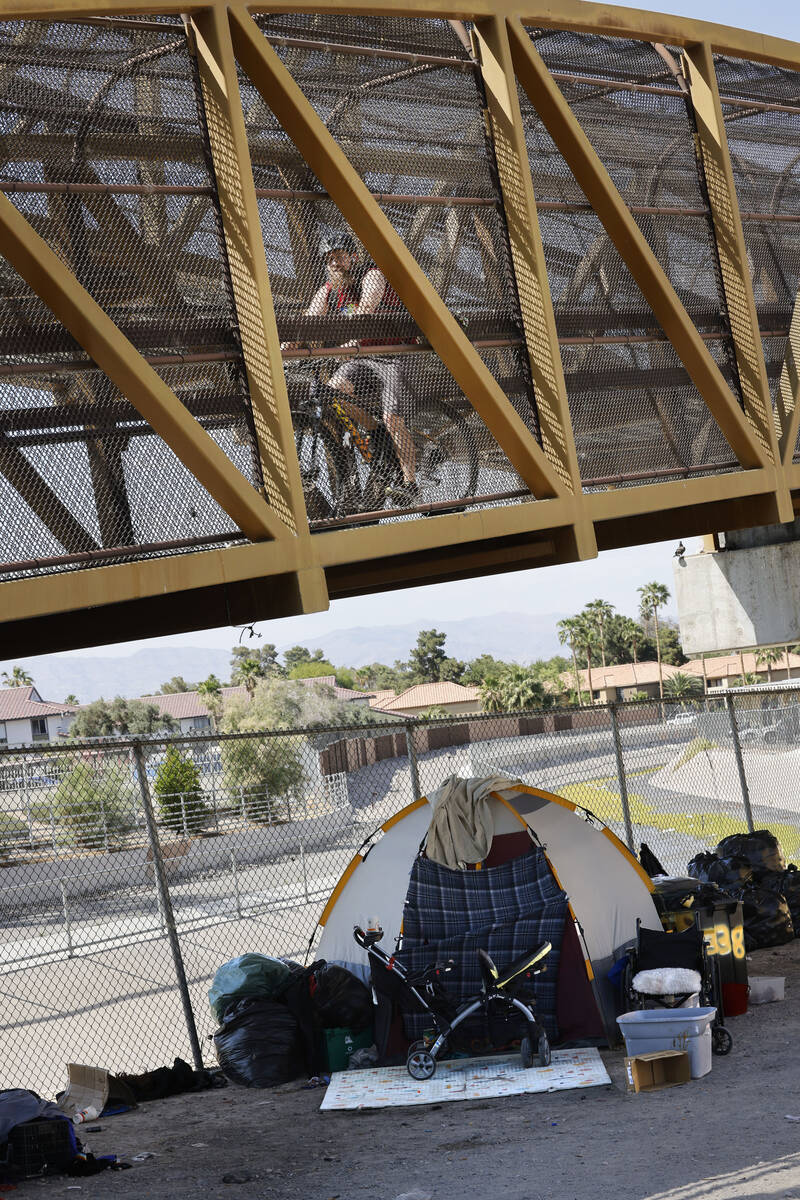 Clark County is moving to "take back" east Las Vegas trails where an increasing number of people experiencing homelessness have migrated since the onset of the pandemic.
For now, the plan involves shutting down pedestrian bridges overnight at four of the major walking and biking trails in Commissioner Tick Segerblom's district.
Public works staff has installed gates at the caged pedestrian overpass on East Desert Inn Road and South Mojave Road, but the closures there hadn't started as of this week, Segerblom said.
Segerblom described the measure as "just an idea" that can be revisited, geared to try to deter the homeless people from setting up camp. The county and police have been cracking down on the encampments with regular sweeps.
He added social workers visit beforehand to offer services, which the county can't force upon anyone.
"We need to have places people feel comfortable; not in the washes, not in the neighborhoods," Segerblom said about the homeless population, which last year was tallied in a day-long census at 5,645, although there was an estimated 14,000 people living in the street "at some point during the year."
Segerblom said the county is announcing a transitional housing project for the area.
'We're outside'
Timothy Plaster, a union member who worked conventions, has been in the street since early 2020, when he didn't qualify for pandemic-era unemployment benefits.
He, his girlfriend, Diane Garay, and her small dog, Chichi, stay in tent off the Pecos-McLeod Trailhead.
Plaster said police regularly give them no more than five minutes to clear out of their encampment with the threat of jail.
The belongings not packed during that time get trashed, he said. Plaster said he's lost money, tools he uses to stay afloat, clothes and identification cards, which prevents him from getting a job. And that's aside from them having to watch their belongings at all times so they're not tossed by cleaning crews or stolen.
Garay said one time crews destroyed the ashes of her husband and dog, and handwritten notebooks from the deceased man.
"I'll never get that stuff back," she said.
In January, with freezing temperatures, crews threw away their blankets, clothes and food, they said.
Plaster said that some of the tents on the bridge residents had complained about were bigger than others, but that the bridge was passable.
He described a "family" atmosphere, with people watching each others' backs. On Tuesday afternoon, he shared some convenience store pizza with a fellow resident.
"They're inside, they have jobs," he said about residents' complaints. "We're outside."
Garay added: "(Some) don't realize they're a paycheck away from being homeless themselves."
'Massive moral and systemic failure'
West Juhl, director of communications and campaigns with the American Civil Liberties Union of Nevada, said resources used in the sweeps could be applied to homeless people, and that criminalizing homelessness is "misguided."
"The 'not in my backyard' mentality doesn't actually solve the main problems at the end of the day," Juhl wrote. "There's also this massive moral and systemic failure at the center of Nevada's homelessness crisis that cannot be understated. People are not getting the help they need. They're ending up on the streets, and people are dying there."
Area resident Sharlene Bosworth walks at the trail every day with her dog, Winnie.
She noted that some of the outdoor residents are short housing options.
"Most of them are pretty nice," she said. "They all have a story, they all have a situation."
Bosworth, a veteran, said that she was homeless until about a decade ago when she got clean, sober and employed. The bridge residents were respectful and kept their areas tidy, she added.
"Where are they supposed to go," she asked. "Further, further where?"
Contact Ricardo Torres-Cortez at rtorres@reviewjournal.com. Follow @rickytwrites on Twitter.