Roundup: Clark scores in final seconds to clip Durango
January 17, 2019 - 9:01 pm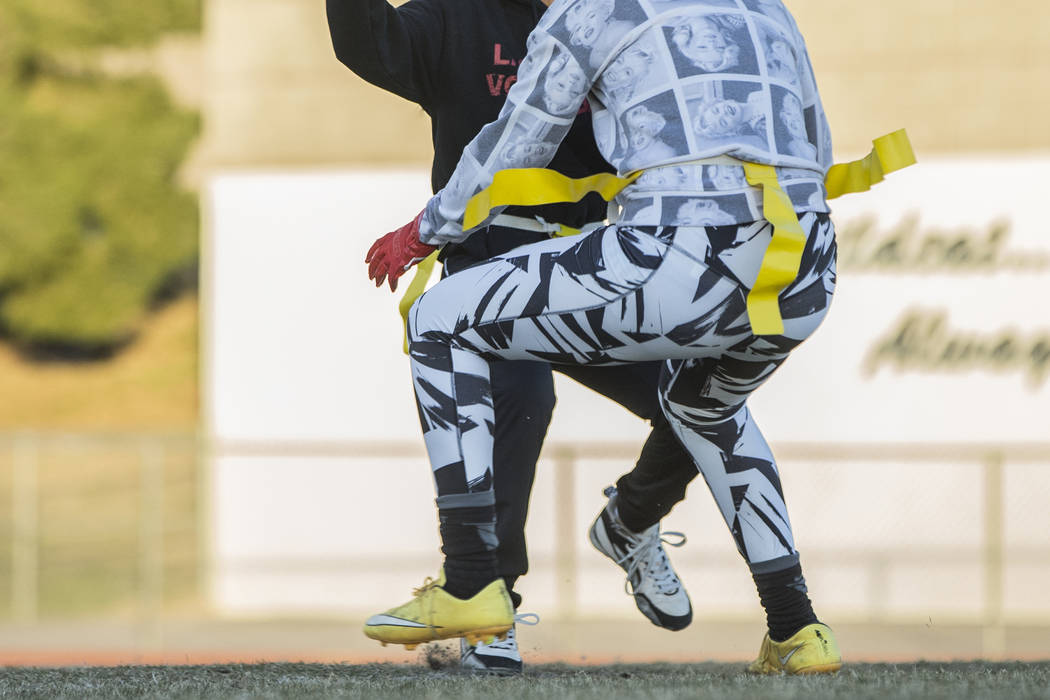 Jagayra Gomes scored on a 6-yard run with 18 seconds to play to give Clark a 43-40 flag football victory at Durango on Thursday.
Gomes completed 8 of 16 passes for 170 yards and three TDs and had 11 carries for 153 yards and two scores.
Jania Quinones-Teran had 14 carries for 120 yards and two scores, and Samantha Malley had a rushing touchdown and a receiving touchdown for the Chargers.
Malley finished with four catches for 114 yards and had eight tackles.
Durango quarterback Nayeli Silva-Kahalewai completed 13 of 28 passes for 296 yards and four TDs and had a rushing touchdown.
Dezirae Castillo caught five passes for 207 yards and two TDs, and Jaden Brown rushed for 101 yards and a touchdown for the Trailblazers.
Cimarron-Memorial 20, Shadow Ridge 12 — At Cimarron, Tiarra Del Rosario had a hand in three touchdowns to lead the Spartans over the Mustangs.
Del Rosario completed 22 of 34 passes for 209 yards and two touchdowns. She also rushed for 74 yards and a TD on 10 carries.
Dina Lee caught eight passes for 62 yards and a touchdown and intercepted two passes for Cimarron, which got a TD catch from Skylar Smith.
Centennial 12, Arbor View 8 — At Arbor View, Shania Brathwaite supplied an 80-yard touchdown run to help the Bulldogs get by the Aggies.
Daphne Boyd tossed a 60-yard TD pass to Denae Benites for Centennial, which held Arbor View scoreless in the second half.
Lea Angione threw a 15-yard touchdown pass to Makayla Rucks for the Aggies.
Palo Verde 19, Bonanza 18 — At Bonanza, the Panthers scored two second-half touchdowns to rally by the Bengals.
Bonanza led 12-6 at the half.
Cindylou Rasiang threw for 135 yards and three scores for Bonanza. Ashley Vasquez caught two TD passes for the Bengals, who got 12 tackles from Laura Valle.
Silverado 40, Spring Valley 0 — At Spring Valley, Katie Mulligan threw five touchdowns and rushed for another to help the Skyhawks knock off the Grizzlies.
Mulligan threw for 242 yards, and Maile Gardner had four catches for 151 yards and two receiving TDs.
Brielen Aquino added two TD catches.
Sierra Vista 34, Desert Oasis 7 — At Sierra Vista, the Mountain Lions defeated the Diamondbacks.
Desert Oasis' Jaid Raval had four catches for 84 yards, including a TD pass from Makayla Rickard.