Roundup: Interception return keys Tech win
November 30, 2018 - 9:11 pm
Updated November 30, 2018 - 9:58 pm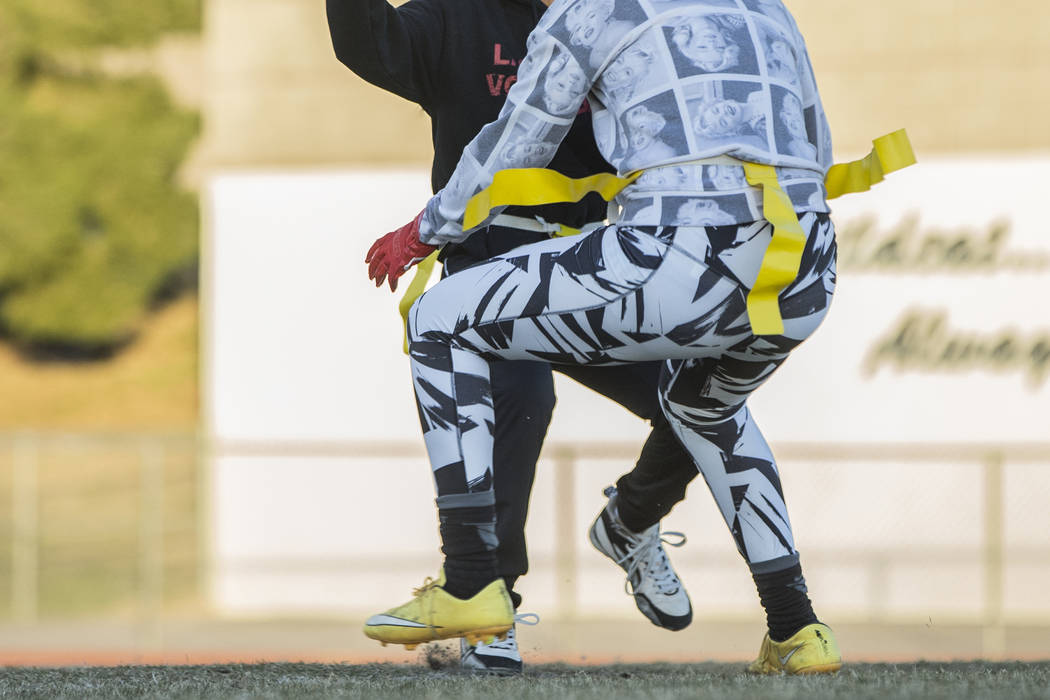 Gabrielle DeGuzman returned an interception for a touchdown Friday to lead Tech's flag football team to a 32-22 road win over Arbor View.
Arbor View led 20-12 before Taylor Ritayik threw a 45-yard TD pass to Emily Sepulveda and DeGuzman's interception return gave the Roadrunners the lead.
Ritayik completed 14 of 18 passes for 205 yards and three TDs and rushed for a score. Adriana Carillo and Madsion Bennett also had TD catches for Tech.
Arbor View's Makayla Rucks caught seven passes for 160 yards and two touchdowns.
Brittnee Kublick threw for 249 yards, two touchdowns and two interceptions for the Aggies.
Brynn Covington intercepted two passes, returning one for a touchdown and another for a 2-point play, and recorded six tackles to lead the Aggies defense.
Bonanza 21, Spring Valley 6 — At Bonanza, Charlene Beck rushed for 163 yards and a touchdown as the Bengals topped the Grizzlies.
Alicia Kestner caught 14 passes for 166 yards and a score for the Bengals, who led 8-6 at the half.
Cindylou Rasiang completed 18 of 36 passes for 200 yards and two TDs for Bonanza. Ashley Vasquez caught the other TD pass for the Bengals.
Palo Verde 27, Desert Oasis 6 — At Palo Verde, Mya Boykin had a rushing touchdown and a receiving touchdown as the Panthers beat the Diamondbacks.
Boykin rushed for 110 yards, and Maiya Baker had a TD reception for Palo Verde. Emily Allen added two TD passes and a rushing touchdown for the Panthers.
Ashlyn Tuss had four catches for 55 yards and a touchdown to lead Desert Oasis.
Coronado 41, Cheyenne 8 — At Coronado, Jaelyn Eisenhart rushed for 138 yards and two touchdowns on 15 carries to lead the Cougars past the Desert Shields.
Ashley Taibi had nine catches for 63 yards and two scores, and Sydnee Hansen and Ava Yarbro each caught a TD pass for Coronado.
Quarterback Kaylin Hall completed 12 of 19 passes for 89 yards and four TDs for the Cougars.
Canyon Springs 31, Sunrise Mountain 14 — At Sunrise Mountain, Alexis Mathis rushed for 227 yards and four TDs on 17 carries as the Pioneers defeated the Miners.