Roundup: Nayeli Silva-Kahalewai's day passing, receiving power Durango
January 11, 2018 - 10:01 pm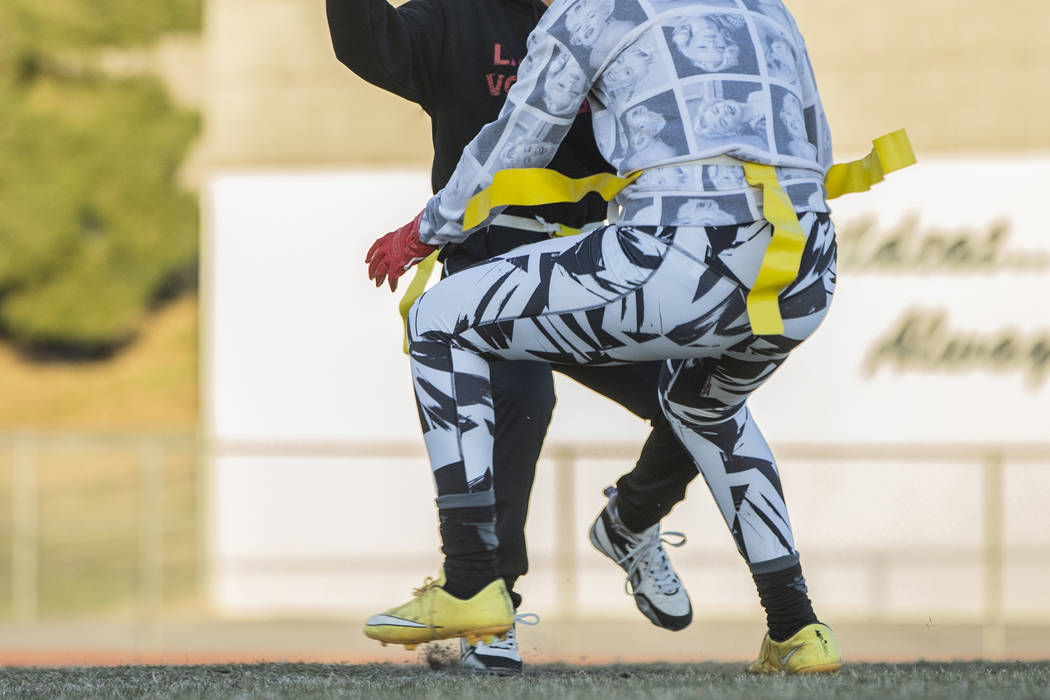 Nayeli Silva-Kahalewai tossed two touchdown passes and caught two TDs for Durango's flag football team Thursday, and the Trailblazers downed visiting Desert Oasis, 36-29.
Gabriela Corchado hauled in three passes for 136 yards and two scores for Durango, which got two touchdown passes and a rushing TD from Marina Bacon.
Makayla Rickard had 171 passing yards and a touchdown for the Diamondbacks.
Virgin Valley 40, Chaparral 6 — At Chaparral, Kallie Graves passed for 137 yards and two touchdowns and ran for another score to lead the Bulldogs past the Cowboys.
Katie Zuniga had 14 carries for 88 yards and three touchdowns for Virgin Valley.
Angelica Rivera scored for the Cowboys.
Bonanza 27, Clark 0 — At Bonanza, Ashley Vazquez caught five passes for 77 yards and two touchdowns in the Bengals' shutout over the Chargers.
Bonanza's Cindylou Rasiang threw for 194 yards and three touchdowns, with the other score going to Shayne Dunn.
Madisen Cherry rushed in a score for the Bengals.
Del Sol 40, Moapa Valley 6 — At Overton, Stephanie Tewart passed two touchdowns and rushed for two scores to lead the Dragons over the Pirates.
Tewart completed 9 of 15 passes for 138 yards, including TD strikes to Cora Butorac and Janeth Varela.
Tarika Poullard and Kassandra Medina-Bernal each added a rushing touchdown for Del Sol.
Saleena Quichocho had two interceptions, and Butorac intercepted a pass for the Dragons.
Sierra Vista 38, Spring Valley 0 — At Spring Valley, Courtney O'Neal had a touchdown rushing and receiving, and the Mountain Lions routed the Grizzlies.
Elisa Gow had a receiving touchdown for Sierra Vista.
Las Vegas 42, Valley 12 — At Las Vegas High, Brinkley McCoy rushed for 155 yards and two touchdowns to help the Wildcats blow by the Vikings.
Tech 20, Boulder City 14 — At Boulder City, the Roadrunners beat the Eagles.
Boulder City's Ryann Reese had six catches for 113 yards and two touchdowns.
Canyon Springs 34, Eldorado 26 — At Canyon Springs, Mohn'Ai Roberson ran for 178 yards and four touchdowns in the Sundevils' loss to the Pioneers.
Box scores:
Canyon Springs 34, Eldorado 26
Sierra Vista 38, Spring Valley 0