Roundup: Sunrise Mountain edges Moapa Valley
December 7, 2018 - 9:32 pm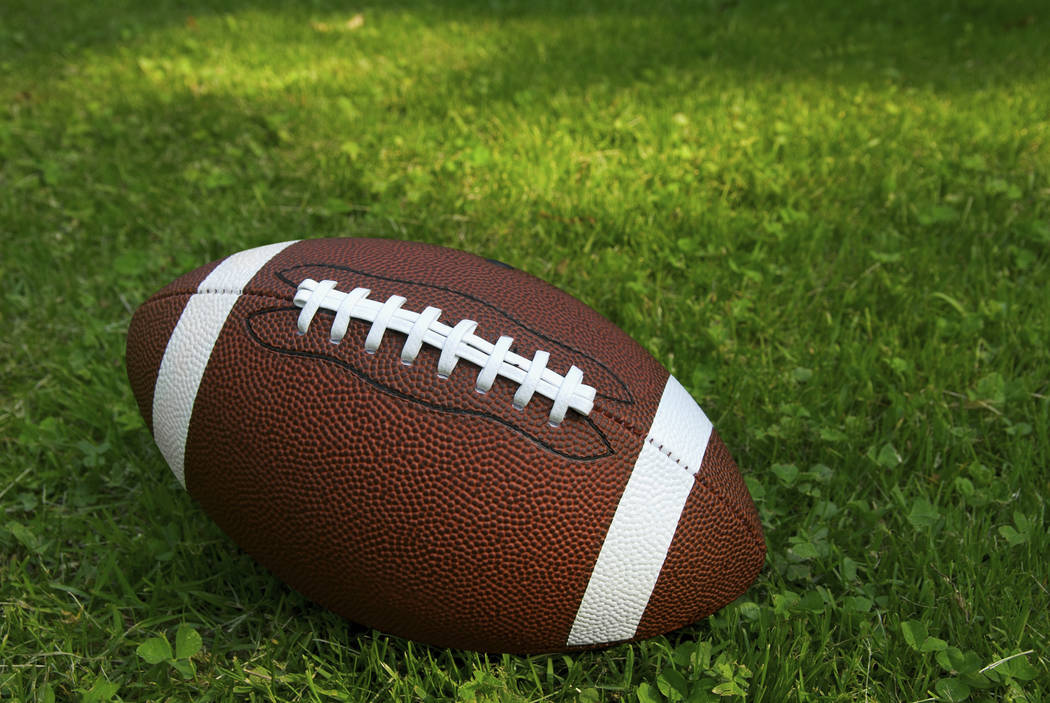 Ruth Cano caught three passes for 75 yards and two touchdowns as Sunrise Mountain's flag football team rallied for a 13-12 home win over Moapa Valley on Friday.
Hope Humes ran for 176 yards on 17 carries and scored the deciding points on a conversion for the Miners.
Moapa Valley's Jerzie Anderson scored on runs of 27 and 47 yards.
Boulder City 20, Valley 12 — At Valley, Makaela Perkins threw three touchdown passes as the Eagles took down the Vikings.
Perkins completed 12 of 17 passes for 144 yards, throwing TDs to Erin Taggard, Haley Jackson and Sara Harvey.
Makenna Arboreen had six tackles, including two sacks, to key the defense. Emily Rinella added nine tackles and a sack, and Clarissa Sitko had eight tackles and an interception for boulder City.
Valley's Heather Robinson had an interception returned for a touchdown, and teammate Frida Ochoa-Uribe had a rushing touchdown.
Green Valley 12, Palo Verde 6 — At Green Valley, Jennifer Haberstock completed 16 of 24 passes for 182 yards and two touchdowns as the Gators defeated the Panthers.
Christina Mayberry had both touchdown receptions for Green Valley.
Anna Marie Arce had nine tackles, and Mayberry had eight tackles for the Gators.
Foothill 32, Sierra Vista 26 — At Sierra Vista, Whitley Brow caught three touchdown passes and had three interceptions to lead the Falcons over the Mountain Lions.
Brow had six catches for 106 yards. Brooke Lynch completed 20 of 32 passes for 266 yards and three TDs for Foothill.
Makenzie Yeoman added 99 yards and two TDs on 11 carries for the Falcons.
Jianna Kurtz had 10 tackles to key the Foothill defense.
Coronado 34, Arbor View 0 — At Coronado, the Cougars intercepted five passes and routed the Aggies.
Reagan Raimer had two interceptions and returned one for a touchdown for Coronado. Rachel Burt picked off two passes, and Lexie Potts added an interception for the Cougars.
Kaylin Hall threw four TD passes, including two to Sydnee Hansen for Coronado. Ava Yarbro and Sophia Coronel added TD catches for the Cougars.
Virgin Valley 44, Western 0 — At Western, Ally Wright completed 16 of 26 passes for 218 yards and three touchdowns to help the Bulldogs rout the Warriors.
Macee Bundy, Rianee Brito and Taylor Marshall each caught a TD pass for Virgin Valley. Brito also had 10 carries for 96 yards.
Nikita Eskelsen had seven carries for 83 yards and a touchdown, and Nataly Serna-Ramirez and Julia Ramirez each added a TD run for the Bulldogs.
Bonanza 32, Durango 6 — At Durango, Cindylou Rasiang threw four touchdown passes to lead the Bengals by the Trailblazers.
Rasiang completed 15 of 26 passes for 206 yards, including two touchdown passes apiece to Ashley Vasquez and Shayne Dunn.
Charlene Beck rushed for 145 yards and a touchdown on 15 carries for Bonanza.
Durango's Tatiana Baes rushed for 138 yards and a touchdown on 16 carries.
Clark 21, Liberty 12 — At Liberty, Jagayra Gomes threw two TD passes and rushed for a score to lead the Chargers over the Patriots.
Gomes completed 12 of 26 passes for 149 yards and rushed for 83 yards on nine carries.