Bishop Gorman looks to end state baseball title drought
Updated May 8, 2023 - 10:21 am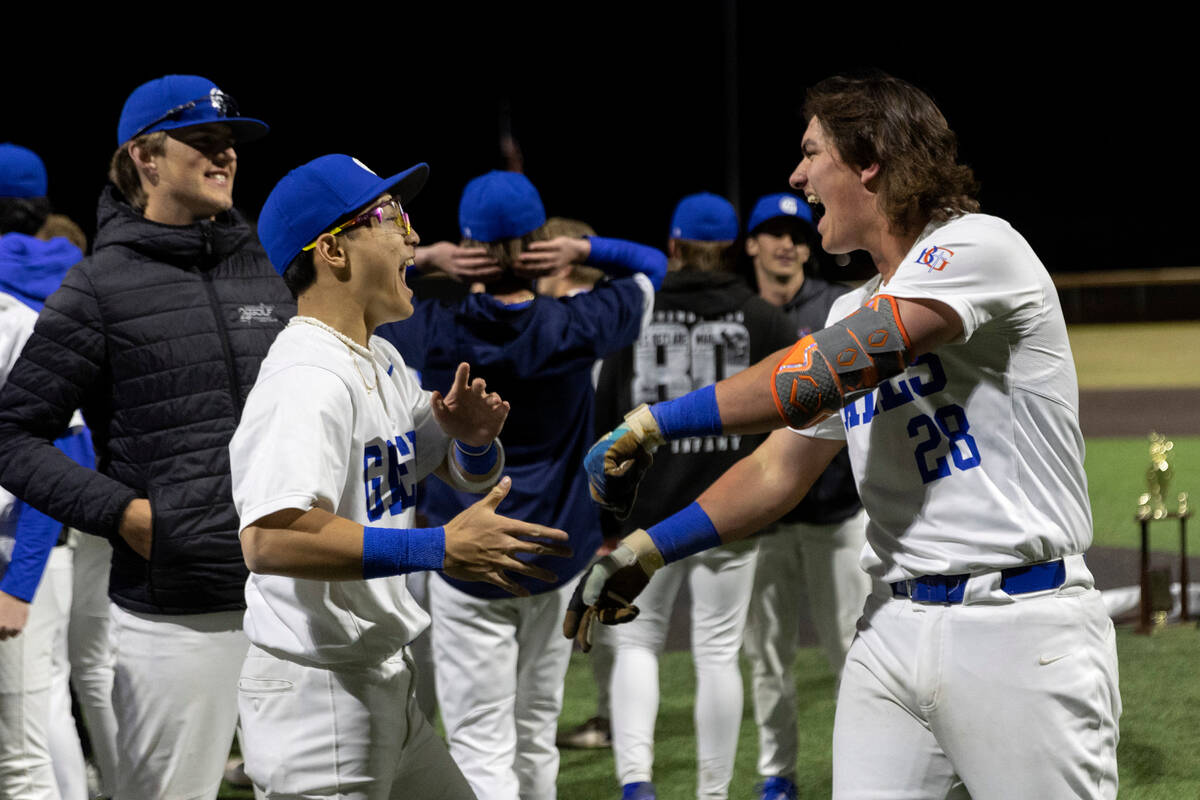 In Chris Sheff's first year of his second stint as the Bishop Gorman baseball coach, the Gaels look primed to win their first state title since 2015.
It was the same scenario last year, when Gorman was favored to end the drought, but Basic won four straight to claim the Class 5A Southern Region and state titles.
The Gaels defeated Basic in a regular-season meeting in April, as they did last year, but Sheff said the road still goes through the Wolves. The journey to a state title begins Monday for 5A and 3A with the Southern Region playoffs, and the 4A state playoffs begin Wednesday.
Here's a breakdown of how the playoffs shake up:
Class 5A
■ League champions: Bishop Gorman (Mountain), Green Valley (Desert).
■ The favorite: Bishop Gorman.
It's been a dominant season for Gorman, which finished 28-2 and outscored opponents 211-52. The Gaels have won 17 straight. Whether it's the power hitting led by Easton Shelton, shutout pitching with Kaden Soder and Kamdyn Perry or stellar defense, the Gaels are the complete package.
■ The dark horse: Desert Oasis.
Gorman's kryptonite appears to be Desert Oasis starting pitcher Seth Graham-Pippin. The Diamondbacks' senior right-hander gave the Gaels one of their two losses and gave them fits most of their second meeting. The question will be if Desert Oasis' bats can provide enough run support for its star pitcher to make a deep playoff run.
■ Potential first-round upset: Faith Lutheran over Basic.
Times have changed since Basic's 7-2 win over Faith Lutheran on March 6. The Wolves are still capable of winning the state title, but appeared vulnerable in 5A Desert League play, finishing tied for second at 8-4. An off night and the reigning state champion could find itself in an elimination game on the second day.
Class 4A
■ League champions: Shadow Ridge (Desert), Foothill and Sierra Vista (shared Mountain League title).
■ The favorite: Shadow Ridge.
The reigning 4A state champion hasn't made it easy on its competition. Shadow Ridge rolled to a 25-5 season by its ability to score in bunches and shut out opponents. Everyone in the lineup is capable of a big night, and so are any of their pitchers.
■ The dark horse: Foothill.
A co-league champion as a dark horse? With how dominant Shadow Ridge is, the Falcons might be the only competition for the heavily favored Mustangs. Shadow Ridge's 3-1 win over Foothill on March 31 was the closest a 4A team was to the Mustangs this season.
■ Potential first-round upset: Durango over Del Sol.
Despite Del Sol being the higher seed, the Dragons were outscored 205-115 in their 19 games. Durango finished fifth in the tougher Mountain League and has won six of its nine road games.
Class 3A
■ League champions: Boulder City (Mountain), Moapa Valley and Virgin Valley (shared Desert League title).
■ Co-favorites: Boulder City and Moapa Valley.
Four teams have separated themselves in 3A — Boulder City, Moapa Valley, Pahrump Valley and Virgin Valley. Any one of them is capable of winning the title, but give the advantage to the No. 1 seeds, Boulder City and Moapa Valley, with home-field advantage.
■ The dark horse: Pahrump Valley.
The Trojans had won 12 straight before Boulder City won the regular-season finale and claimed the league title. They allowed the fewest runs among 3A Southern teams (81) while scoring 250 in 28 games. They beat Boulder City and Virgin Valley in the regular season and lost to Moapa Valley by one run in their season opener.
■ Potential first-round upset: None.
The top four teams in 3A are head and shoulders ahead of their competition. They should each win their opening-round games.
Contact Alex Wright at awright@reviewjournal.com. Follow @AlexWright1028 on Twitter.
Baseball playoff schedule
Class 5A
Southern Region tournament
Monday
All games at 4 p.m. at higher seed
Game 1: No. 4D Coronado at No. 1M Bishop Gorman
Game 2: No. 3M Faith Lutheran at No. 2D Basic
Game 3: No. 4M Arbor View at No. 1 Green Valley
Game 4: No. 3D Centennial at No. 2M Desert Oasis
Class 4A state tournament
Wednesday
All games at 4 p.m. at higher seed unless otherwise noted
Game 1: No. 5D Desert Pines at No. 4M Silverado
Game 2: No. 3D Doral Academy at No. 6 Legacy
Game 3: No. 5M Durango at No. 4D Del Sol
Game 4: No. 6D Chaparral at No. 3M Tech
Thursday
All games at 4 p.m. at higher seed
Game 5: Game 1 winner at No. 1D Shadow Ridge
Game 6: Game 2 winner at No. 2M Sierra Vista
Game 7: Game 3 winner at No. 1M Foothill
Game 8: Game 4 winner at No. 2D Bonanza
Class 3A
Southern Region tournament
Monday
All games at 4 p.m., at higher seed
Game 1: No. 8 Eldorado at No. 1M Boulder City
Game 2: No. 5 SLAM Academy at No. 2D Virgin Valley
Game 3: No. 7 Western at No. 1D Moapa Valley
Game 4: No. 6 Clark at No. 2M Pahrump Valley