Coronado's Cristian Herrera keys Sunrise win in senior all-star game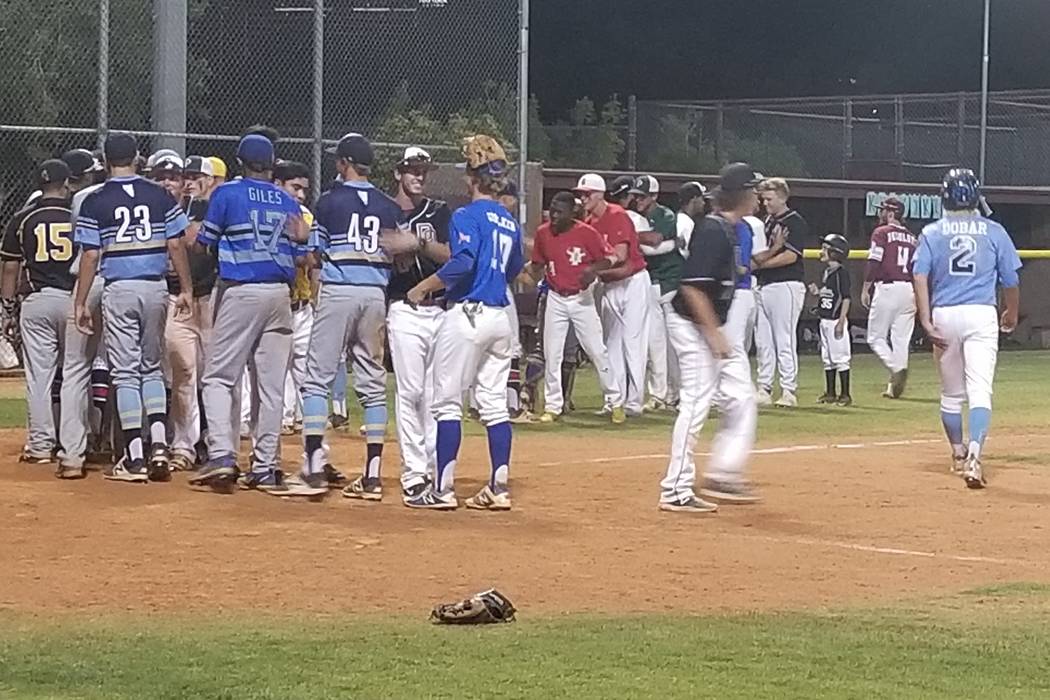 Coronado's baseball season didn't end with a championship, but Cougars first baseman Cristian Herrera made sure he ended his senior year with a victory.
Herrera was 3-for-3 with a double, a home run and two RBIs on Thursday to lead the Sunrise Region to an 11-5 victory over the Sunset in the Class 4A Senior All-Star Game at Faith Lutheran.
Herrera had an RBI single as part of a three-run fifth inning that gave the Sunrise the lead for good. Liberty's Andrew Gallegos led off with a bloop single, stole second and went to third when the throw went into center field.
Rancho's Jimmy Gamboa walked and then got caught between first and second. When he drew a throw to second, Gallegos raced home with the go-ahead run. Herrera's single and a sacrifice fly by Foothill's Andrew Hauck gave the Sunrise a 6-3 advantage.
Rancho's Kagen Kennedy went 2-for-2 with two doubles, two RBIs and two runs, and Gallegos was 2-for-3 for the Sunrise.
Trevor Berkemeyer of Canyon Springs added a two-run single for the Sunrise.
Desert Oasis' Jay Sharman had a solo home run, and Diamandbacks teammate Izzy Gutierrez added a pair of sacrifice flies for the Sunset Region. His second sacrifice fly tied the game at 3 in the fourth inning.
Class 3A
Virgin Valley's Jayden Perkins hit an RBI single in the top of the eighth to break a 6-6 tie, and the Sunrise earned a 10-7 win over the Sunset in the Class 3A Senior All-Star Game.
The Sunrise added a run on a passed ball and got RBI singles from Moapa Valley's Luke Bennett and Tech's Jose Leon to go up 10-7.
The Sunset got a run in the bottom of th eighth on an RBI single by Desert Pines' Salvador Becerra.
The Sunset was hitless through four innings before breaking through with three runs, keyed by a two-run triple by Sunrise Mountain's Cecil Hall.
The Sunset tied the game in the sixth on a two-run double off the left field fence by Pahrump Valley's Tyler Floyd.