Izzy Gutierrez pitches Desert Oasis to American Legion regional win
Updated August 8, 2018 - 8:01 pm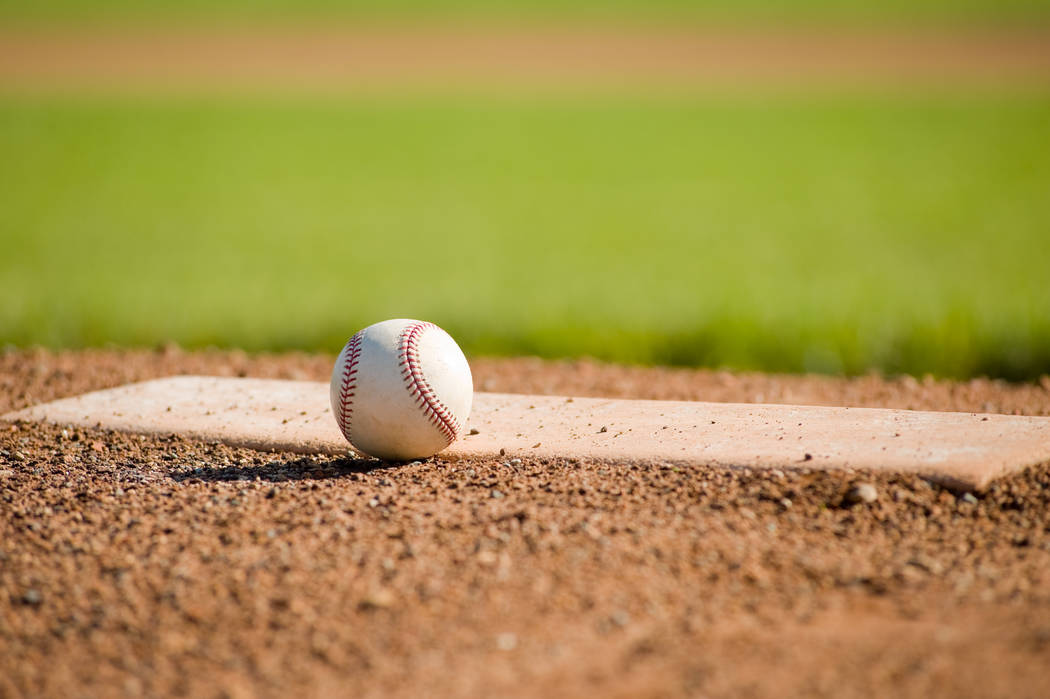 The Desert Oasis Aces got to the American Legion Western Regional by mashing the baseball all around the field. On Wednesday, they advanced in the regional with stellar pitching and just enough offense to survive.
Izzy Gutierrez threw 6⅔ innings and allowed one earned run as the Aces knocked off California state champion Petaluma 3-2 in the opener of the regional tournament in Denver.
Gutierrez allowed five hits and struck out five. He surrendered a run in the first and one in the third, but nothing after that. He cruised to the end of the game before Jimmy Gamboa came on for the last out to get the save.
"Izzy Gutierrez threw a phenomenal game for us," Desert Oasis coach Paul Buboltz said. "Throwing his off-speed for strikes, locating his fastball really good and kept a really good California team off balance all game. And we did just enough offensively to get the win."
Down 2-0 in the bottom of the third, the Aces loaded the bases with nobody out, but Aaron Roberts' sacrifice fly was the only run of the frame.
With two outs in the fourth and Jordan Demarce on second, Parker Schmidt came up with Desert Oasis' biggest hit of the day, a game-tying double on a 2-2 count. Schmidt came around to score on Edarian Williams' single, and Gutierrez and Gamboa took it from there.
"Parker got the big hit and Edarian came up and got him in and that was the story of the game," Buboltz said.
The Aces are guaranteed at least two more games in the double-elimination tournament, and will play Greeley (Colorado) at 6 p.m. Thursday. When the Aces advanced to the regional in 2016 they went 0-2, so starting off with a win was a weight off everyone's shoulders.
"Getting the win today, everybody just kind of took a deep breath and exhaled and we're ready to roll," Buboltz said.
Contact Justin Emerson at jemerson@reviewjournal.com or (702) 387-2944. Follow @J15Emerson on Twitter.
American Legion Western Regional
At Denver
Wednesday's Results
League City (Texas) 6, Albuquerque (N.M.) 2
Desert Oasis 3, Petaluma (Calif.) 2
Fort Collins (Colo.) 5, Tucson (Ariz.) 3
Greeley (Colo.) 2, Pleasant Grove (Utah) 0
Thursday's Games
Game 5 — Albuquerque (N.M.) vs. Tucson (Ariz.), 9 a.m.
Game 6 — Petaluma (Calif.) vs. Loser Game 4, noon
Game 7 — League City (Texas) vs. Fort Collins (Colo.), 3 p.m.
Game 8 — Desert Oasis vs. Greeley (Colo.), 6 p.m.
Friday's Games
Game 9 — Winner Game 6 vs. Loser Game 7, 11 a.m.
Game 10 — Winner Game 5 vs. Loser Game 8, 2:30 p.m.
Game 11 — Winner Game 7 vs. Winner Game 8, 6 p.m.
Saturday's Games
Game 12 — Winner Game 9 vs. Loser Game 11, 2 p.m.
Game 13 — Winner Game 10 vs. Winner Game 11, 6 p.m.
Sunday's Games
Game 14 — Winner Game 12 vs. Winner Game 13, 11 a.m.
Game 15 — Winner Game 14 vs. Loser Game 14, if necessary, 2:30 p.m.